Stakecube faucets are growing, but still no Hive
New listings take place and new faucets are being deployed. Recently I have reproached their telegram channel to remind that I have already raised about $70 in Hive for faucet if they listed Hive. This was welcomed by the audience but the staff remains silent. No rush here. When the Hive price returns to its regular levels we would become even better offer. And you know that this project is growing day by day. It is so, because it's on Hive. You can't make people do see things thy need to see for themselves.
Down below you can see the list of their faucets and it's quite large at the moment.
Here's the announcement
Dear StakeCube Community,
We're excited to share an update regarding our ongoing efforts to enhance our platform's offerings. Over time, we've received numerous requests from both community members and projects to include additional coins in our faucet page. We are pleased to announce that we have been gradually fulfilling these requests behind the scenes.
You may have already noticed the initial inclusion of the first batch of coins, and we are delighted to inform you that we have now added a second batch of coins as well.
Each coin's dedicated address is now prominently displayed on its corresponding row, allowing anyone to easily fill up the faucets. We've already seen several users taking advantage of this feature. With faucets having a balance we seeing several users participating in the faucet experience.
With our expanded faucet offerings, we aim to facilitate broader engagement with various projects. Claiming coins from our faucets not only provides users with access to different cryptocurrencies but also encourages them to delve deeper into each project's details and functionalities.
Moving forward, our focus will be on ensuring that each coin is accompanied by updated and comprehensive information on their respective coin pages within the platform. While recent listings might currently lack such information, rest assured that we are committed to progressively adding and updating these details.
We sincerely appreciate your continued support and utilization of our platform. These advancements are a testament to our dedication to creating a more diverse and informed crypto community.
Thank you for being part of the StakeCube journey.
Warm regards,
The StakeCube Team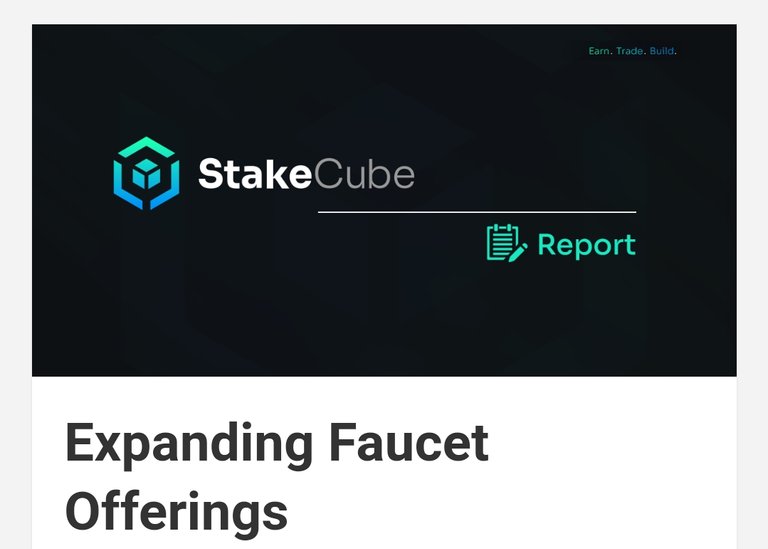 ---
---