Walking in Wellington to meet a mate from Hive | The value in meeting face-to-face.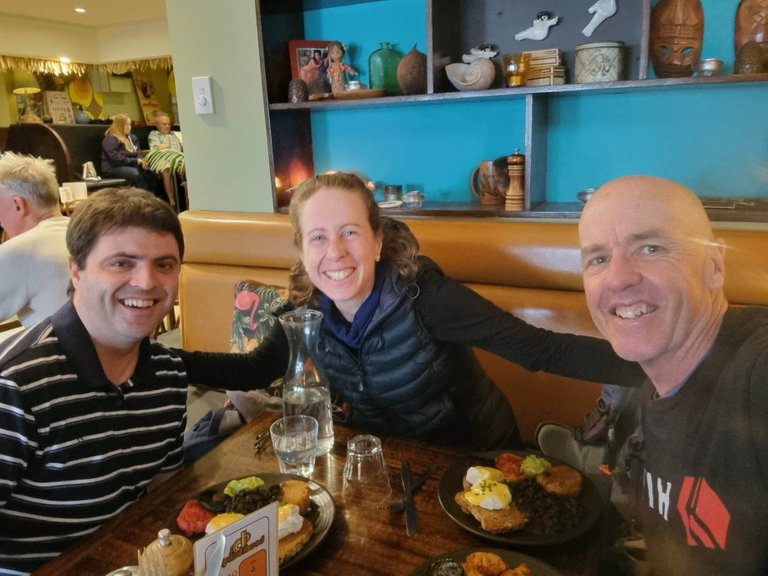 It's not every day that @new.things and I can take a walk and meet up with a mate from Hive. But yesterday was no ordinary day!
We're here in Wellington (New Zealand) where José, aka @forykw, a long time Hivean lives and works. He's been encouraging and supportive of both Brad and I, it feels like, from almost the first day we got onto Hive. I have no idea how he found us but I feel like he took us under his wing and has had our back ever since.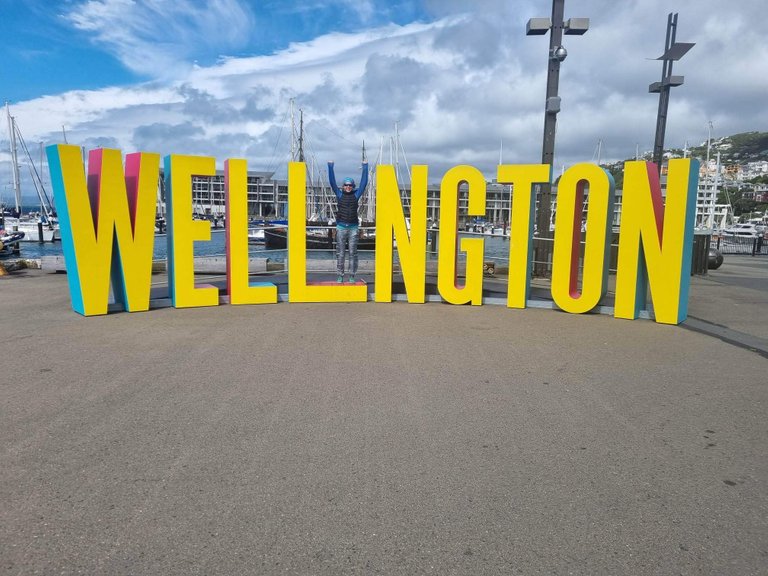 To get from our village apartment right in the middle of the city (this being the nation's capital) we've been using a combination of Brad's phone (that we bought a NZ sim card for) and this trusty paper map. I love maps, so does Brad. We've been highlighting the roads as we walk along them to tick them off, so to speak.
The photo below shows much of Wellington CBD (Central Business District) and all the streets we've walked along so far.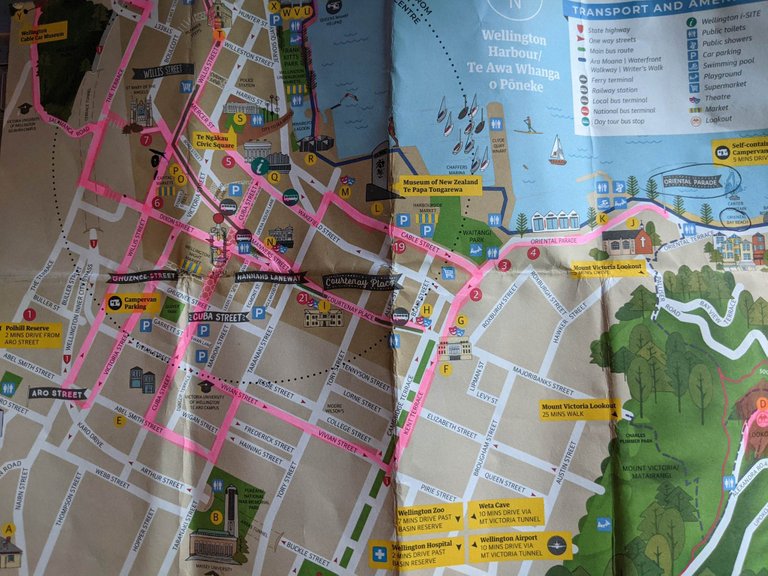 To meet José we walked towards the harbor past Te Papa (the NZ Museum) and along Oriental Parade until we saw his car parked at Oriental Bay Beach.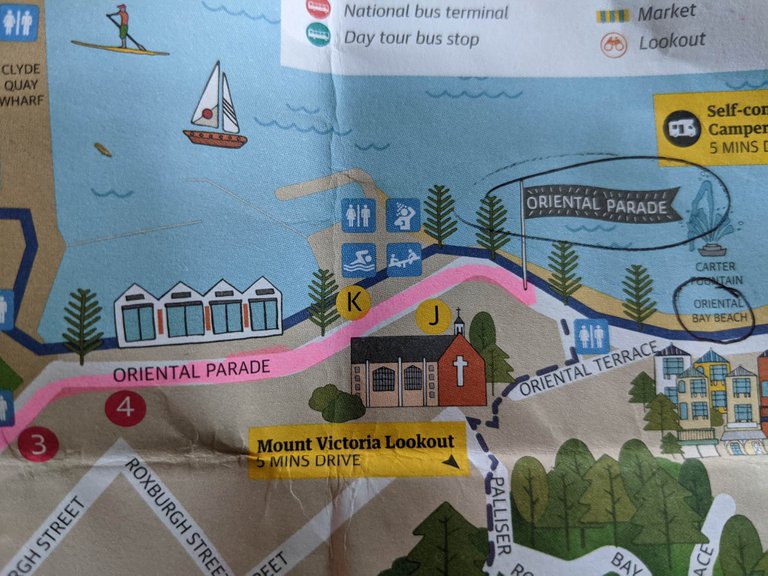 Oriental Bay Beach looks like this. (On a day that's warm enough to think about swimming, that is!)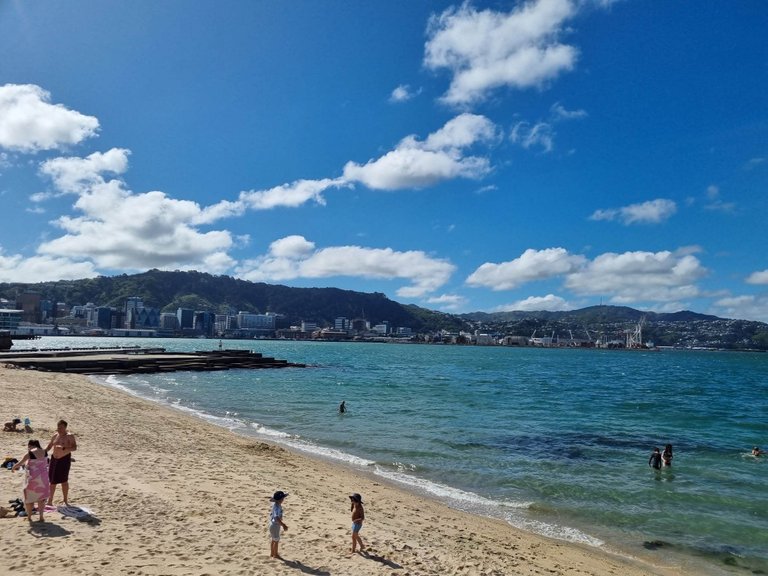 José's plan was to take us on a bit of a local tour, starting with driving up the very steep and impressive Mount Victoria (its local Māori name is Matairangi). The views from the top were awesome. And there were clear views, on this day, in mulitple directions. We felt so lucky to get up there. But it was also windy as heck (and wind is not my favourite thing in the world) so I asked if we could just head to a local café instead. We wanted to chat and doing so out of the wind, with food, sounded way more fun to me.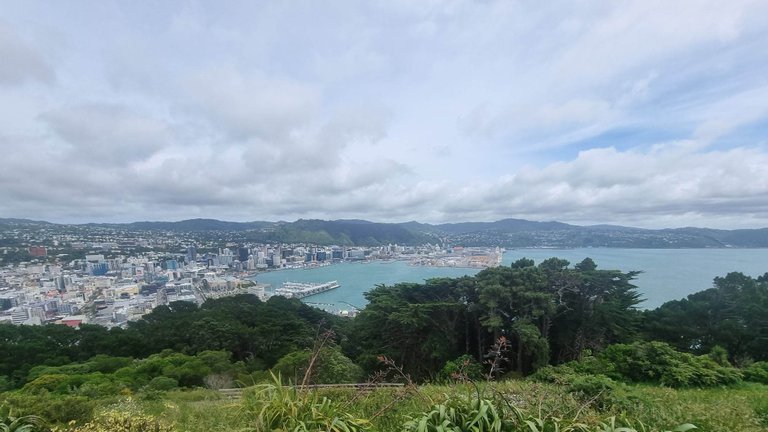 Brad and I had looked up "healthy, hippy" café options (as Brad calls it!) before we met up with José so we could have the healthy (gluten free, dairy free, mostly vegan) options we try to eat for most meals. We ended up at Beach Babylon, at Oriental Bay. It was fabulous! If you're ever in Wellington and want similar food to what we eat then I can highly recommend this spot. I'd happily go back. Every day 😂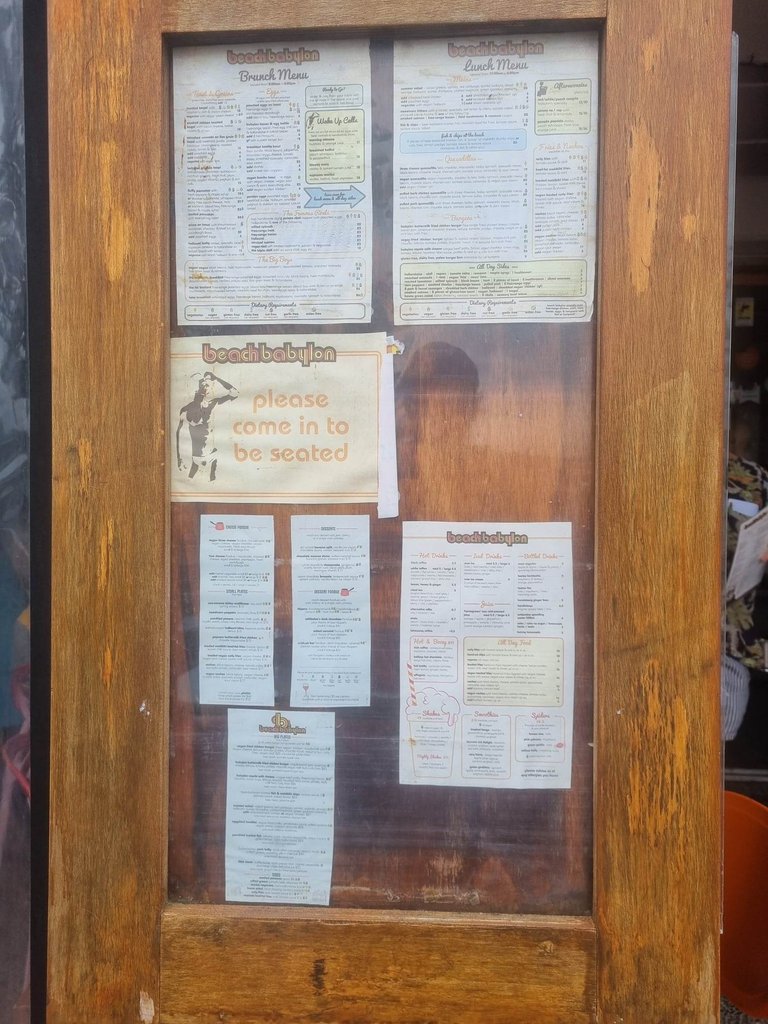 Most of our time together was spent chatting. We talked life in NZ. We talked about travelling. But mostly we talked about Hive.
I came away from our chat feeling very lucky to have met up with this awesome character. He's brilliant, kind and humble. (He'll struggle to take my kind words about him, I'm sure 😉 But they're all true 🙏)
I came away from our chat with the confirmation that meeting people in person is vitally important when it comes to working on any kind of project. While we three are not (presently) working on any specific project together, in some ways, Hive is a project. And it's a project we're all working on together. We're paving the future of finance that makes the world work better for us all.
Which brings me to my last thought: I came away from our chat feeling renewed and excited and more serious (or focused, maybe?) about what we're building with Hive. This is an incredible platform we're playing on here. It has the potential to do more great things than many of us may realise in the lives of many more people than we might ever have the priviledge of meeting in person.
So as I wrap up Day 30 of 30 days of posting for Hive Blog Posting Month I'm feeling like I'm in the right place at the right time to contribute to and benefit from all sorts of wonderful things that are happening here on Hive.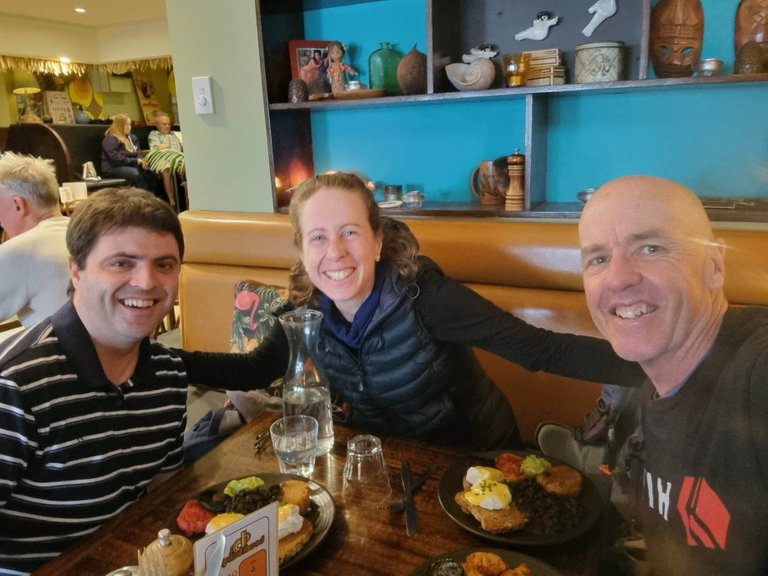 All photos taken by Brad (@new.things) with the exception of the highlighted map which was, enthusiastically, taken by me 🙂
---
---