Coffee Curation: No. 16

Hello Hive & Community Members
Welcome to 3CsCoffeeCuration.
(Issue No.16)
A compilation shining the spotlight on this week's awesome coffee posts from Cinnamon Cup Coffee members.
The selected authors share their passion through stories and photos, for their favourite black liquid gold, commonly called coffee, and some special meals that complimented it.
---
👐 Coming up, get affirmations that coffee is the cure for many things, including wobbly grumpy days;
Witness different kinds of Coffee Wagon conversions, from a Horse Box, to the back of a van.
Lovely photos of coffee, and recipes with cinnamon.
Stories of Coffee Mornings and Moonlight coffees;
Take a peek on the inside of the world's biggest Starbucks Coffee Roastery; Coffee with Sugarcane, to the collection of Wild Tea, and recipes for using tea as a natural sleeping aid, and much more.
---
Click on the following links for treats to brighten your day, and if you like the stories, would you upvote, reblog and drop the authors a comment to let them know.

---
---
Pogon Coffee Bar: The Best Coffee In Novi Sad Serbia
---
To Me Who Bathes Coffee In The Moonlight
Coffee Corner: Best Place To Get Brewed Coffee In Batayan


To You Who Sips Coffee In The Morning
---
Delicious Coffee With Milk Accompanied With Biscuit
Cooking With Coffee: Coffee And Cinnamon Cookies
---
Having Coffee With My Close Friend
Hippo Cafe And Off Piste Ordering, The Art Of Being Awkward

Coffee And The Beneficial Properties Of This Drink
I Need To Get Back On The Coffee Wagon
---
Visiting Starbucks Roastery Shangai With Me
---
Wohoo! Unexpected Coffee Deals
Enjoy Sugarcane Coffee At Jameun Kupi

---
A Cup Of Sanger Espresso In Koppi Tomi
---
A Coffee With The Best Company
Coffee At Dawn And Random Ramblings
---
Office Coffee Break On Saturdays
---

Summer And Another Trip To The Forest
Cinnamon And Lemongrass Tea Before Sleeping

---
Enjoying The Summer With Nature Tea
👉Watch VLOG On 3Speak👀
@aswita
---
Coffee Drinks At The Wedding Reception
👉Watch VLOG On 3Speak👀
@afridany1
---
Coffee Car
👉Watch VLOG On 3Speak👀
@yayan
---

---
---
Thank you for checking out 3 Cs Coffee Curation of awesome coffee posts from across the blockchain.

If you are a coffee lover and looking for somewhere to share your experiences, please check out
Cinnamon Cup Coffee
and subscribe
right here.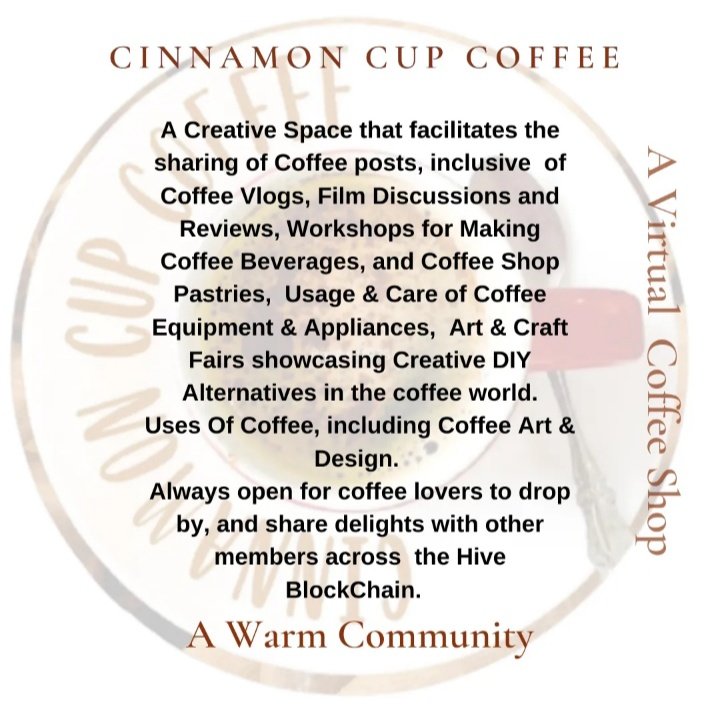 ---
---