NFT news CTPSB WAX NFTs, $NEFTY Mining tricks, Splinterlands observations, Crypto Monkeys, & Gnomes Game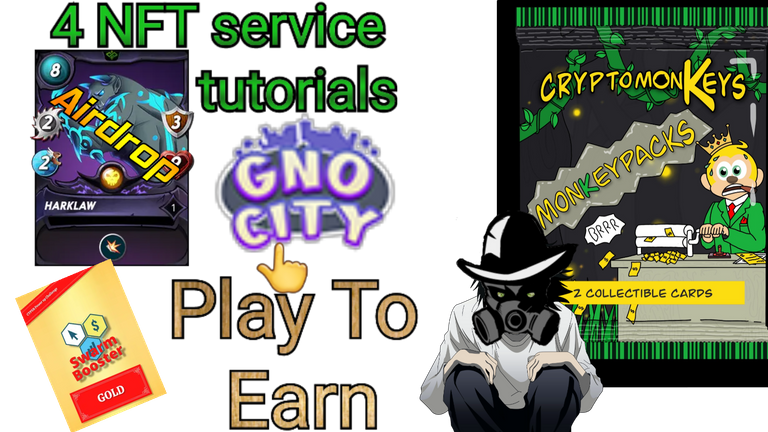 A ground breaking announcement regarding WAX NFTs, & HIVE services. Followed by a few WAX Dapp walkthroughs including Gnomes game & $NEFTY Mining. If there is time go over my plan for my palnet NFT roll out.
CPT Gets NFTs
I have no clue why this isn't bigger news but it should be, CTP (Click Trade Profit) a tribe here on Hive centered around investments has a few offshoot projects with other HIVE alts and now WAX NFTs.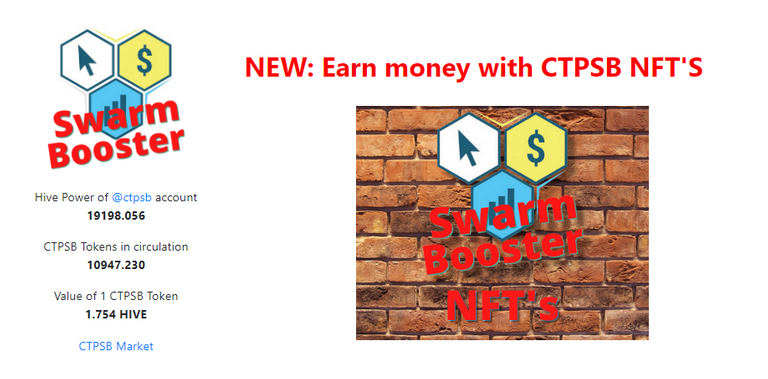 So what are these how do they work and how do I not already know about them / own one?





WAX Market
https://wax.atomichub.io/market?collection_name=swarmbooster
Hive based market
https://liotes.com/index.php/product-category/to-buy/
The delegation account
https://peakd.com/@ctpsb



I'm guessing like me the devil is in the details & I'm required to blend and produce the CTPSB Collector WAX NFT. This is something literally no one has ever done.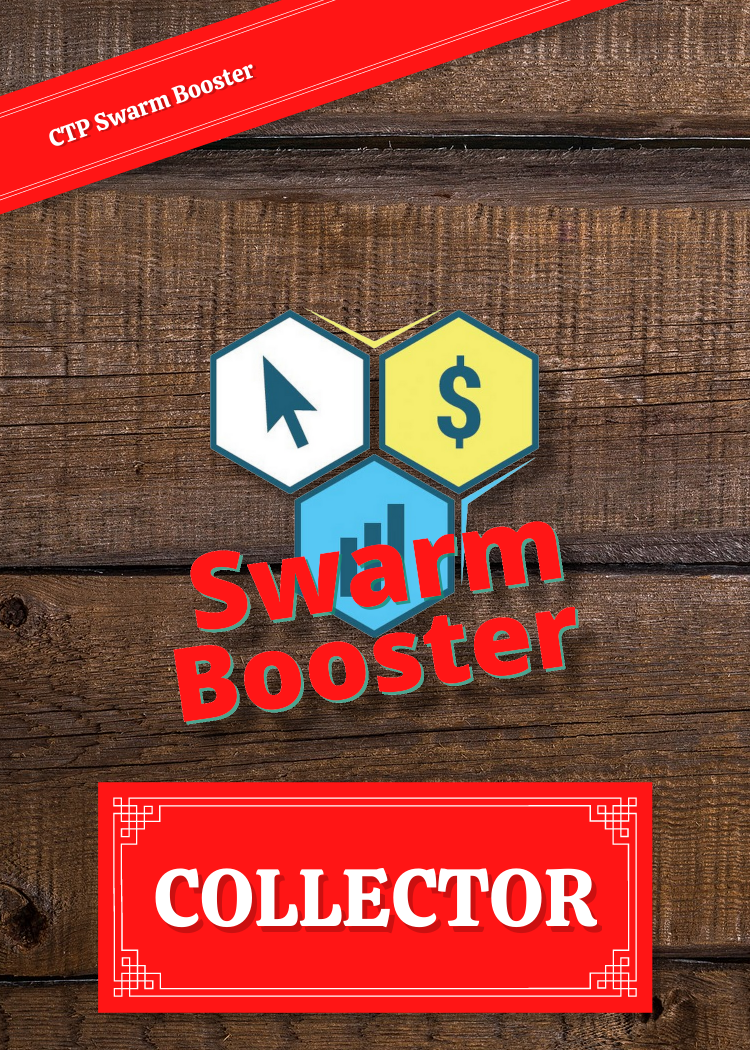 As doing so costs roughly $60 in WAX or $75 in Hive, that being said it may actually be worth it.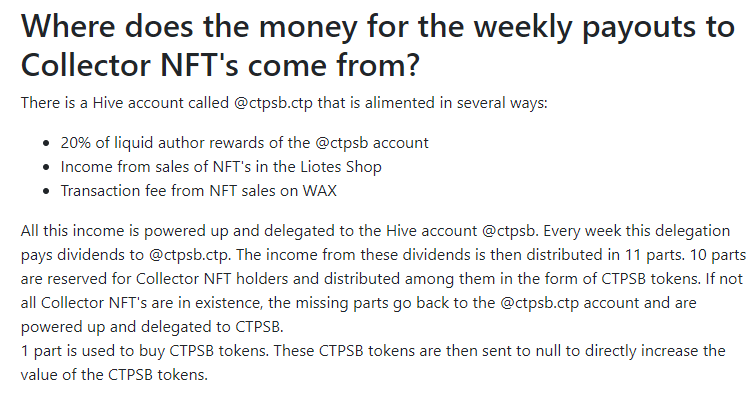 So though the market doesn't hold it in to high a regard that's irrelevant. As this NFTs value isn't determined solely by the WAX market & blockchain.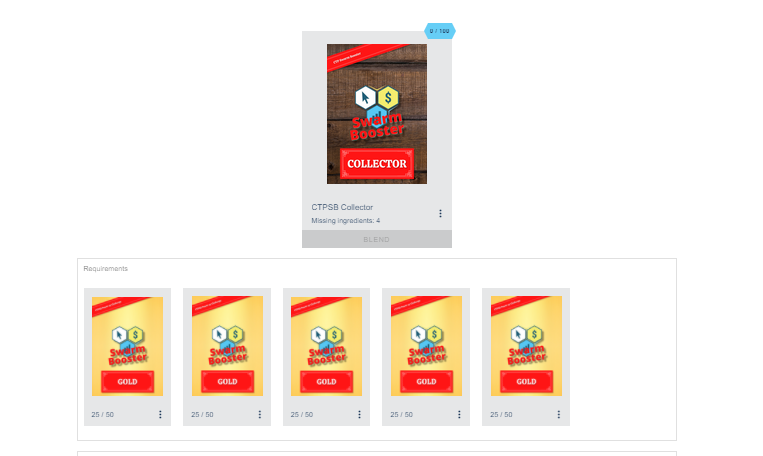 Once I get the funds available ill be completing this blend use case & getting the very first one. Unless one of you readers beats me to it lol.
$NEFTY
Yeah this one is a bit much to wrap your head around, but after many attempts at fully understanding the distribution mechanisms of $NEFTY.
As for the more simplistic aspect of the $NEFTY mining, Staking of $NEFTY though not required is recommended Staking $NEFTY adds a multiplier for Mining Staking 1000 $NEFTY gets you a 1x multiplier added.
Which can be stacked with other multipliers which amplify the $NEFTY mined based on the money spent that week on Nefty Blocks purchasing NFTs.
Now where this gets profitable is the purchase of the NFT off Nefty blocks is all that is required to qualify for the Mining. Once purchased you could then sell it & repeat the process. Another possibility would be NFT games which are facilitated through Nefty Blocks.
Zombie coin Miner can more or less be made free this way cycling through endlessly opening (packs) job tickets.
Now many of these NFT collections on Nefty I agree are long shots there are a few I would call worth while but nothing time tested.
It is for this reason I recommend Rising star & Crypto brew master NFTs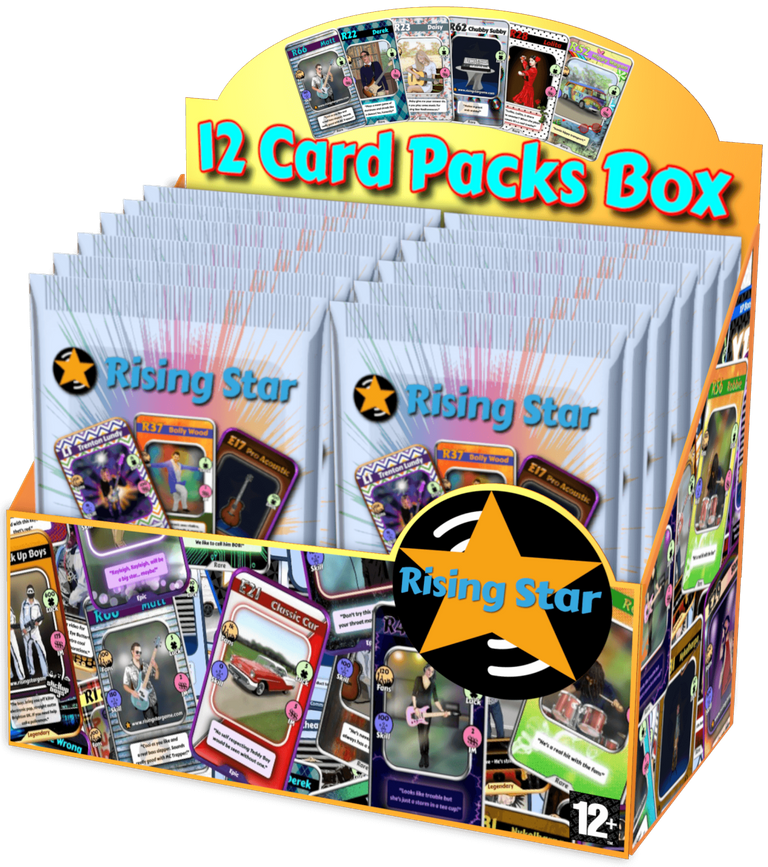 You can buy large packs open them sell the NFTs and re roll the money yeah you may tie up funds or get a slight deficit until the Mining rewards for that week pay out.
As for crypto brew masters here's something no one new I bet soon they will be pairing WAX wallets in game on Crypto brew masters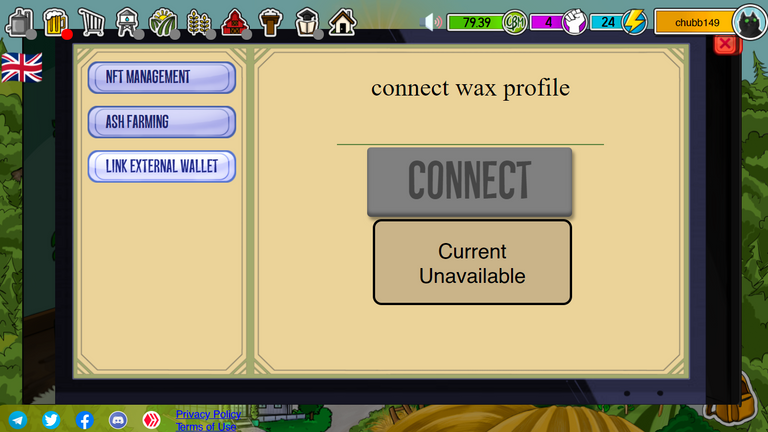 Meaning the NFTs that double in game earnings will be active.
So if you already play CBM & want that earnings boost $NEFTY mining can make it a little more cost effective.
NFT artists Mining $NEFTY
Though not among those with a WAX white listing any artists selling on Nefty Blocks with a WAX white listing can generate 3x the rewards a buyer does provided their colection sells.
With staking $NEFTY as an artist you can get a myriad of new features to utilize when producing your NFT colection. Including governance of the markets functions on Nefty Blocks, when staking enough.
So If your a Hive service game or NFT producer with a white listing on WAX $NEFTY Mining is new & will change your collections earnings potential. Not to mention cross colection burn use cases & Defi options on the horizon for level 3 $NEFTY staking collections.
https://neftyblocks.com/
Crypto monkeys
First time ever I sat down and tried to get to the bottom of the monkey business that is the BAN, Crypto monkeys, upland, & Alien worlds to find out how its all connected. Seems fitting as yesterday was Crypto monkeys first anniversary. To commemorate they released the first packs i have seen from this NFT colection.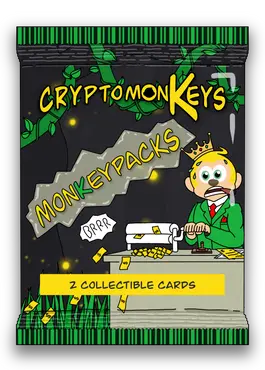 Of course lets see what's in this thing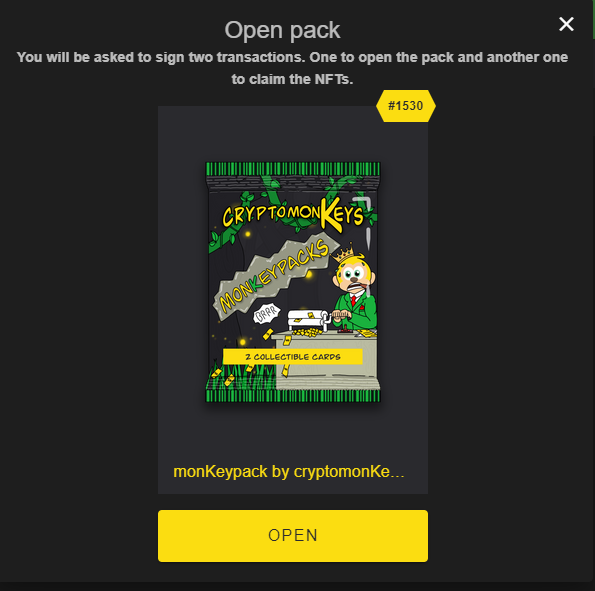 I feel like I got ripped off but that is my fault it was a free pack but only a few where released.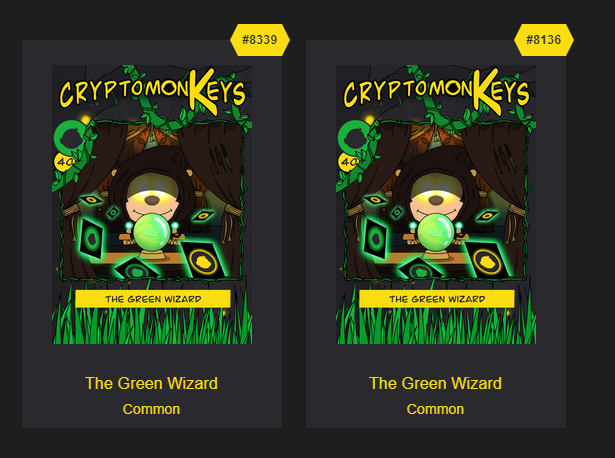 Though my luck on the pack sucks I still struck gold in the form of this site which centralizes all of their services and your accounts attached to the bano & crypto monkeys network.
https://connect.cryptomonkeys.cc/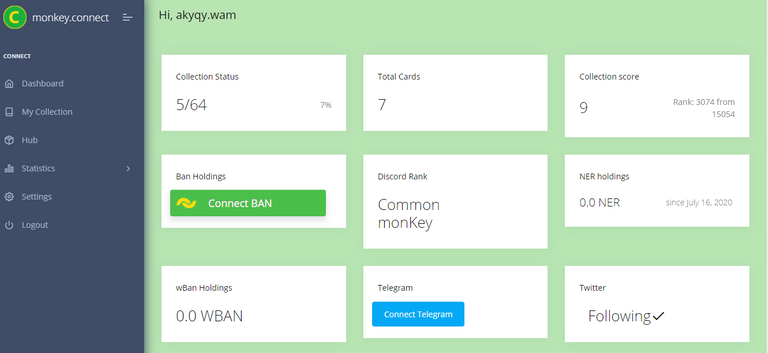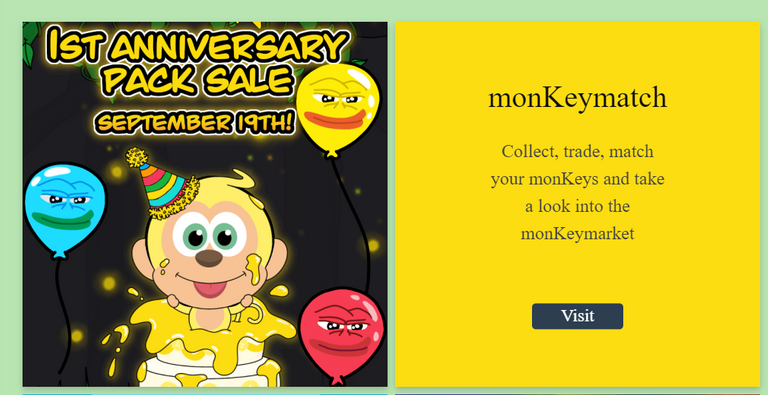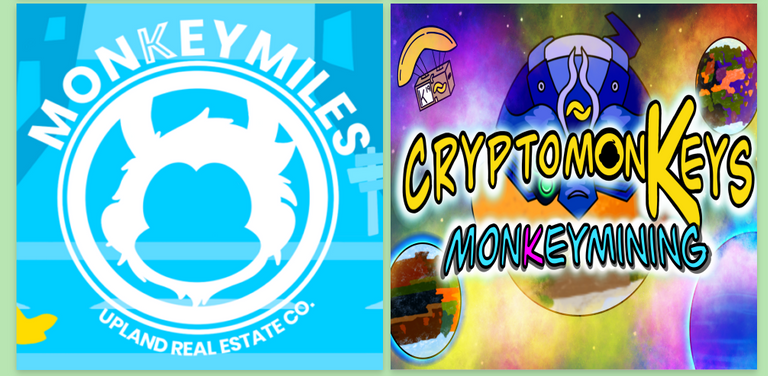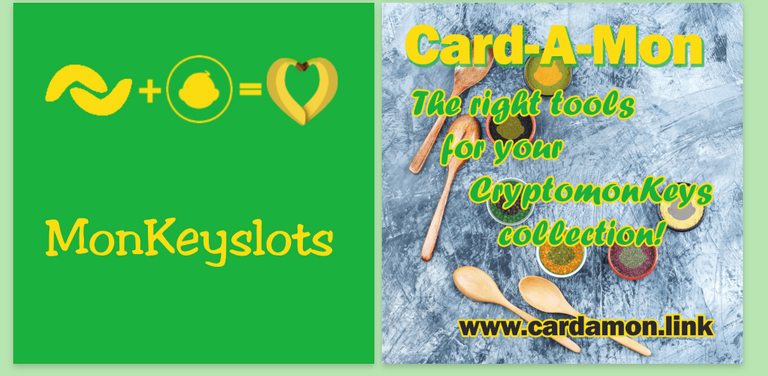 One service that stood out was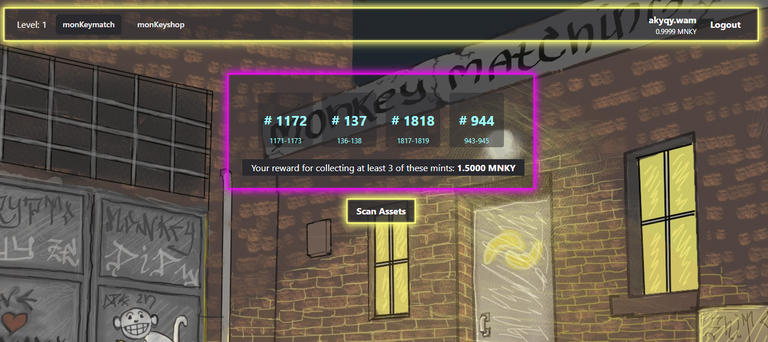 a game rewarding colection completion monkey match
https://match.cryptomonkeys.cc/
Add in this secondary NFT market with 3 separate blockchain payment types.
https://cardamon.link/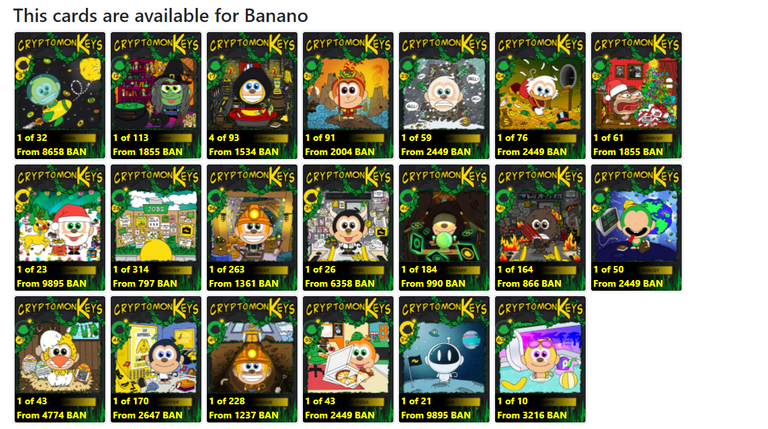 Then of course their discord give aways the fact their colection is part of Nefty blocks & the mining farming and upland involvement there is much more to these monkeys than you would think.
Not to mention its tied into bano which has more then crypto monkeys for free services and sites.
Gnomes
Yeah taking my serious demeaner and just tossing it out the widow today as we are going from monkeys to gnomes.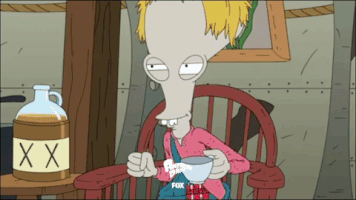 Cant see how this goes wrong gnome investments good grief, I will say they have a fully functioning play to earn game. Yeah that just blew your mind, even more impressive they have several functions to the game including staking pvp. Their own faucet WAX alt & more then you ever would have thought.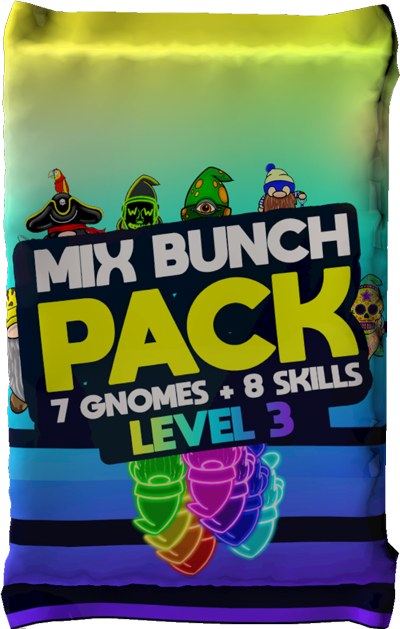 The pack above I bought from their in game market with GNOKEN. You can Stake GNOKEN in game and gain access to exclusive NFT sales.
Lets see if I get luckier this time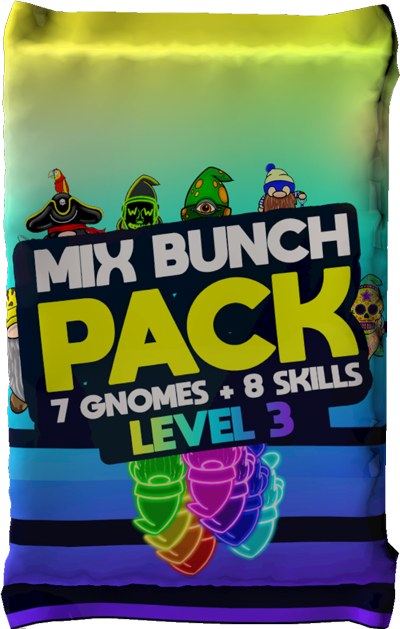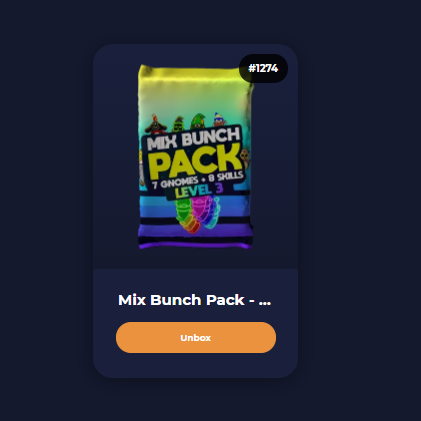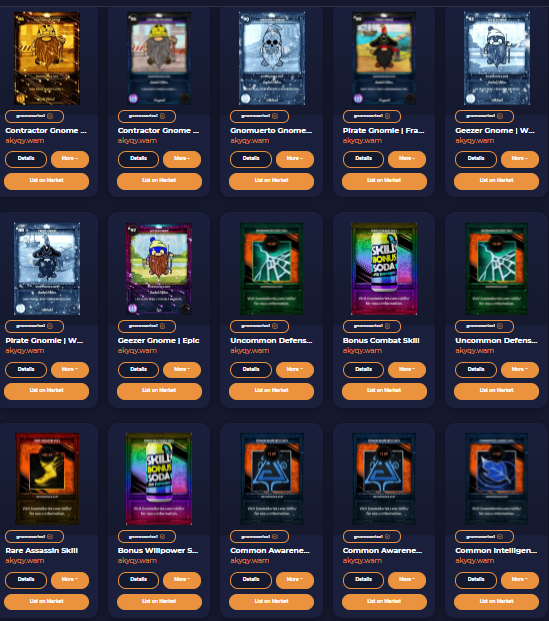 Ok what I have pieced together is your line up has to have cards at least level 1.
So of those new cards I combine the skill cards with my Gnomes to level them up.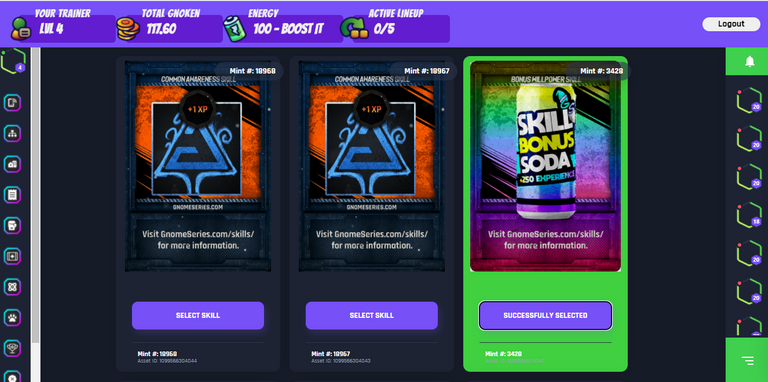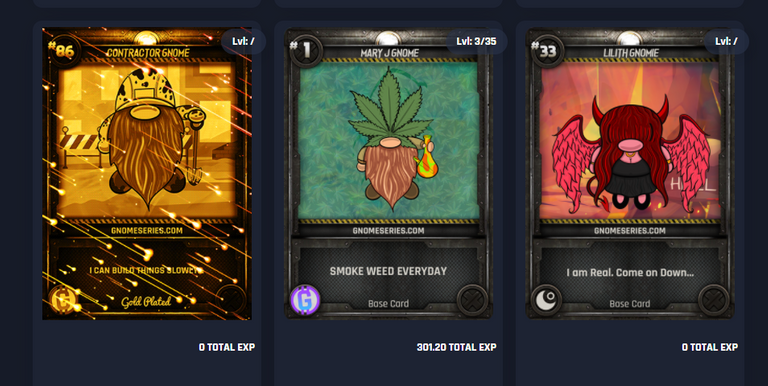 Already leveled up the marijuana gnome & to the entire line up I have the contractor, marijuana gnome, & Pirate gnome.
Requiring energy food health and skill levels getting started is a big to do on this game that being said the daily sales are worth checking out as certain NFTs can only be bought for a limited time.
The in game market found here
https://www.gnocity.io/
Utilizes GNOKEN their WAX Alt for payment you can obtain by GNOKEN playing the pvp mode and winning a faucet or trade for WAX / WAX alts.
GNOKEN faucet
https://caittoken.io/account/faucet/
GNOKEN WAX exchange
https://wax.alcor.exchange/swap?output=GNOKEN-gnokentokens&input=WAX-eosio.token
You see I have not played enough to for certain call this play to earn but you do get their WAX alt for winning PVP.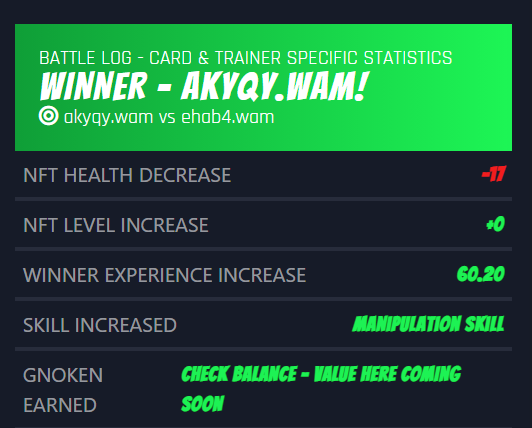 Effectively this would in theory pay for the food and leveling up your party.
Never thought I would say this but yeah check out this play to earn gnome game. I will be airdropping a pack of cards for one lucky reader.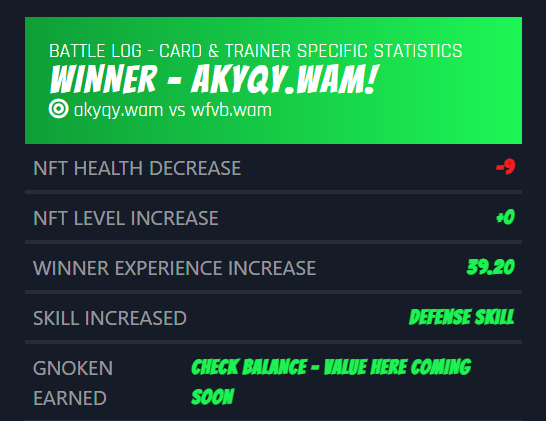 Once I sank like $15 into this endeavor winning becomes easy, just keeping your health up is the hard part.
https://www.gnocity.io/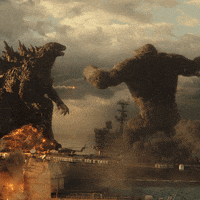 As a game feature they have something called story missions basically give rewards to players with certain Gnome NFTs.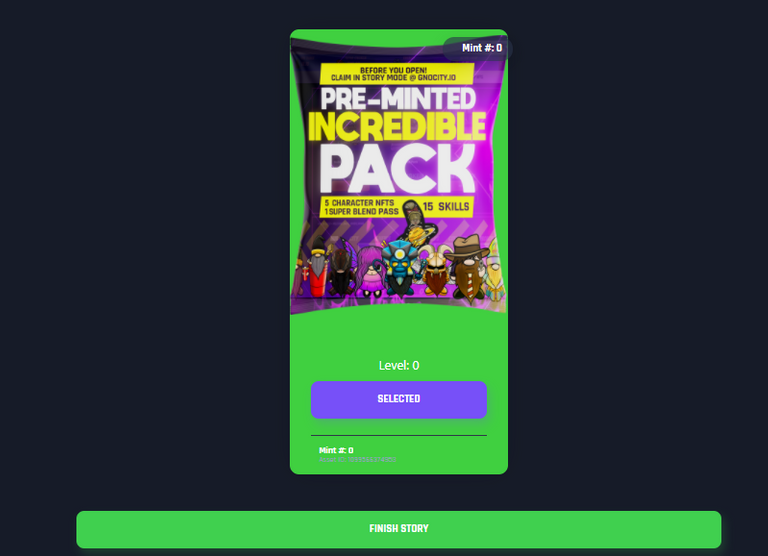 Bought this frankly overpriced pack to test it (Cost:$25)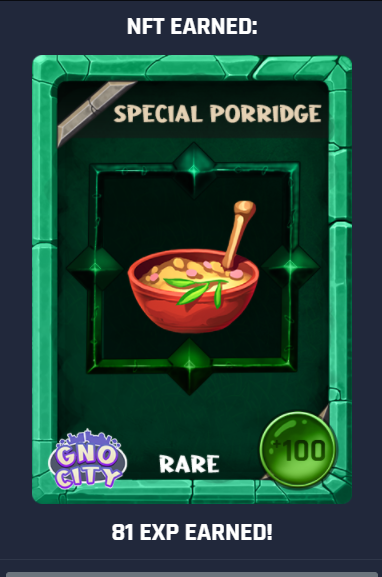 Not really worth it but I still have a pack to open so lets go get further disappointing news.
Didn't even get that far this expensive ass pack cant be opened fail. Though I'm making mistakes here obviously its so you can avoid them their play to earn mechanic while unpolished works great once you have your account set up.
Splinterlands market
First off chicken little the sky is not falling though the Splinterlands market is a little down at the moment that is to be expected. With the new cards being distributed so quickly the market is in a state of panic.
Like a looter I work best in the chaos snaking cheap packs and cards as people panic sell. I will say this about the current market now is a good opportunity for new players to get a leg up.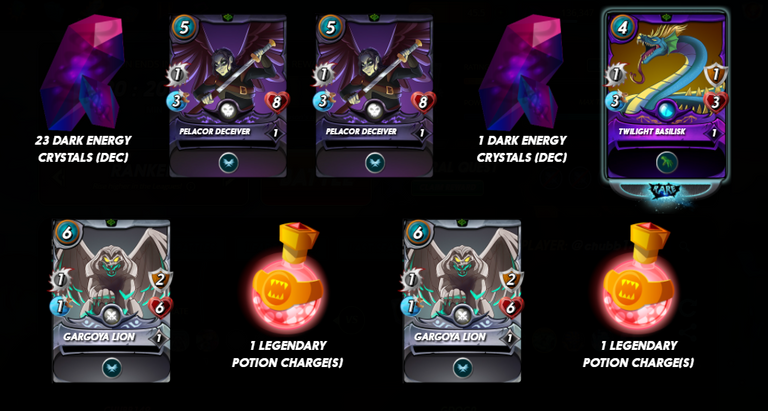 My recommendation is target the more useful of the new rewards NFTs. Personally I have been buying the legendries that fall under $10 & Gold cards under $3.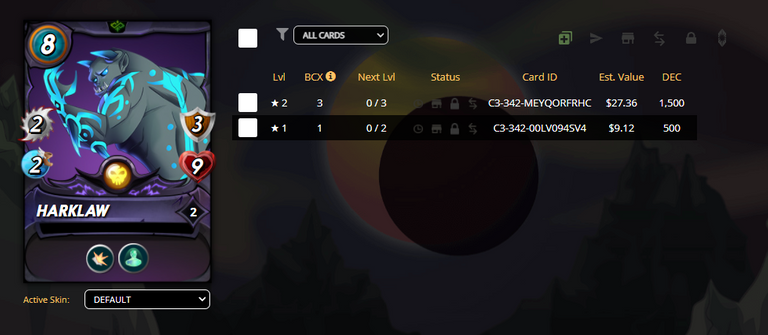 See I can get these for $9 a piece and combine them to get to level 2 (3 NFTs).
Doing so unlocks this NFTs ability known as immunity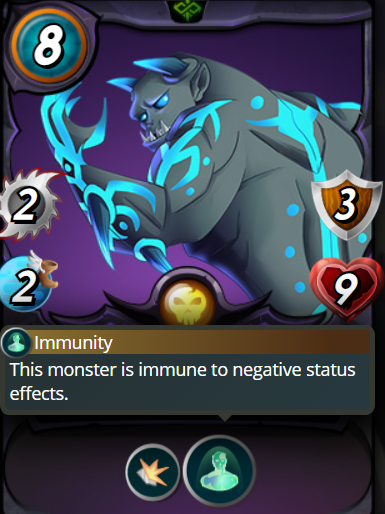 Basically there are only 3 cards that have this poison immunity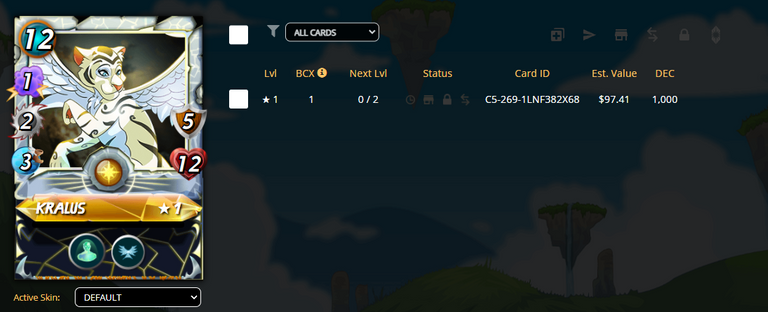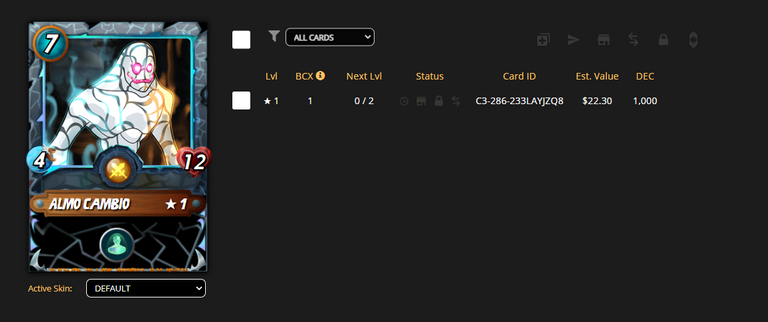 When the poison rule set is active in a match playing one of these three cards means you win. Unless the opponent also plays one of the 3 in which case its a toss up to whomever brought the better secondary NFTs.
So markets crashing good this means more for me
Oh good for you readers to, today why not ill just airdrop a legendary Splinterlands NFT.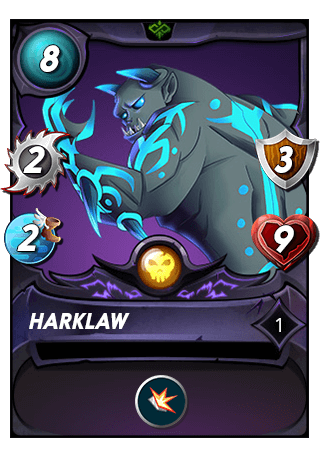 Funko Pop
Get your pepe silvia board out because I have some theories to run by you.


Well actually a hypothesis a common misconception, My Hypothesis about Funko Pop involves both the new Funko Pop NFTs recently added to WAX. As well as the FNAF NFT line that was announced months ago.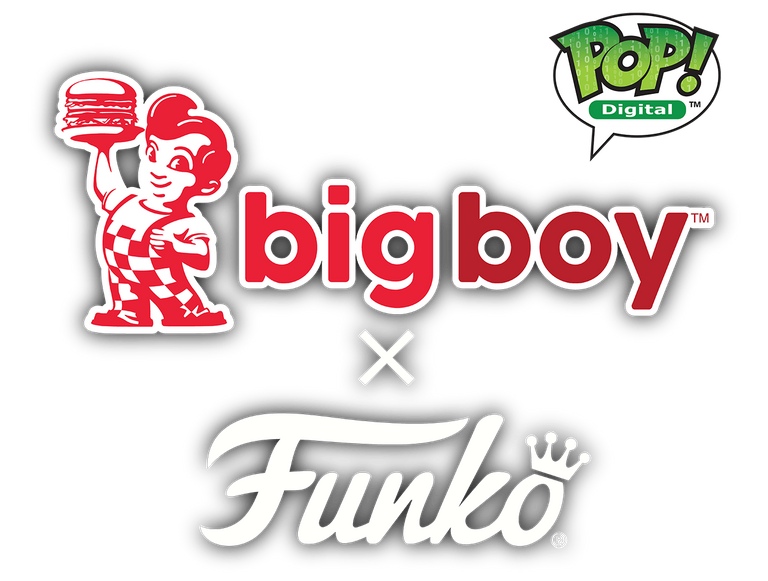 So the Funko Pop Merchandise that accompanies video game & other IP launches also has Five nights at Freddy's FNAF Merch.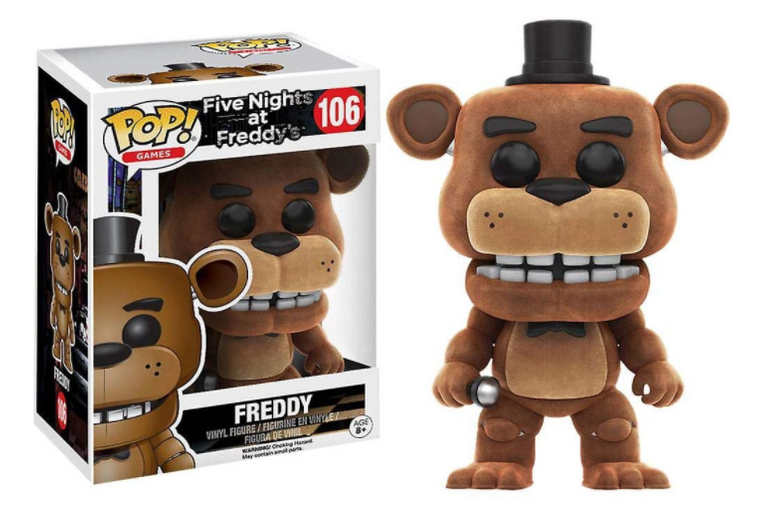 So my thought is Funko NFTs a WAX FNAF announcement and Funko Handling FNAF Merch adds up to seeing FNAF NFTs soon. The game launches soon which the merchandise is meant to promote the timing feels right.
Hive SBI
When ever I happen to get a brief moment of lucidity I remember I have the Hive SBI challenge sorta ongoing. Basically I select a few commenters at random and sponsor their account with Hive SBI.



https://peakd.com/hive-189312/@steembasicincome/hive-sbi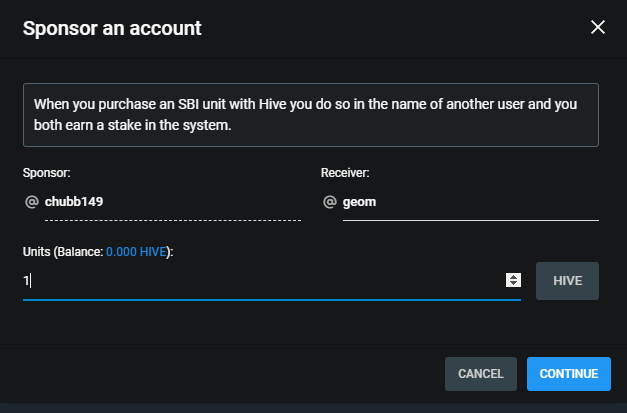 Got to shout out https://ecency.com/@geom who honestly is the first ever reader to send me NFTs.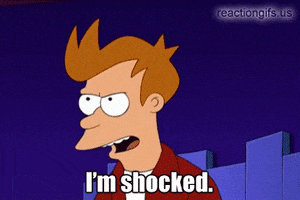 I believe this is the second time you have done so, so in addition I sent your WAX account...



15 $NEFTY utilize it on NFTs in the Nefty Blocks NFT market & gain $NEFTY mining power for that week. or just trade it for WAX your call https://neftyblocks.com/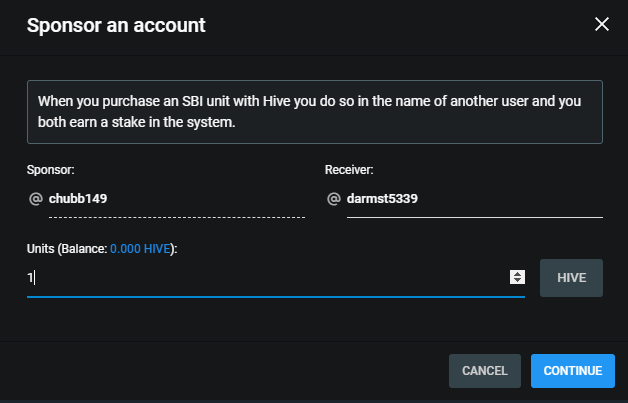 Second SBI sponsor goes to
https://ecency.com/@darmst5339
For participating in the Tip bot NFT airdrop so often
Summery
Things to check out
Crypto monkey bano account manager
https://connect.cryptomonkeys.cc/
Play to ern gnome game
https://www.gnocity.io/
$NEFTY Mining
https://neftyblocks.com/
My posts can get a little lacking in structure so the sites above are the important parts.
My Palnet NFTs


Thus far I have only minted 3 types of NFTs on Palnet, Each of which thus far is a variation on cronic cards. Most of the challenge is getting a feel for file size photo dimensions down.
Which are shifting factors from blockchain to blockchain when minting NFTs. I also can upload audio files and video files though I haven't tested that yet.
If you want to buy any of the 3 Cronic Cards minted thus far you can do so here.
https://www.palnet.io/nfts/market
Personally I like the gorilla glue one, but I'm starting to rethink what it is I want to do with this NFT white listing.
Palnet NFT ideas
So let me ask you the readers what ideas come to mind with NFTs?
lately I have been focusing on not the creative aspect of NFTs but their utility. In other words utilize the blockchain to verify ownership & at a set time reward the owners for Having the NFT in their possession.
Personally I'm leaning towards a NFT line with a Airdrop attached so like a Snapshot Airdrop the wallets with the appropriate NFT or assets at time of snap shot get rewards.
The beauty of this is the Hive ecosystem would have everything necessary as long as we handle this in house IE on HIVE.
So say I would do one for Weed cash the owner of the NFT at the designated time will receive rewards outlined in the NFT description like a set amount of WEED. The accounts holding the NFT at set times will get that front ends crypto.
Delegation also seems like a god call for NFT ownership, this however presents complications as automating the delegation transfer with the ownership transfer is to the best of my knowledge not possible.
Got any ideas proposals I'm all ears let me know in the comments or on twitter.
https://twitter.com/Brandon36907436
Legendary NFT airdrop
In every post I airdrop WAX NFTs via a URL which can be claimed by the first lucky reader to click it, after its claimed once the link will no longer be active. If your the lucky reader that claims the airdrop please let other readers know in the comments it helps.
https://wax.atomichub.io/trading/link/355261?key=5J6BKrAZHX53uP4aQhU7aQZvzpWVXkrnUmLVhXpGV46r8wtZYhN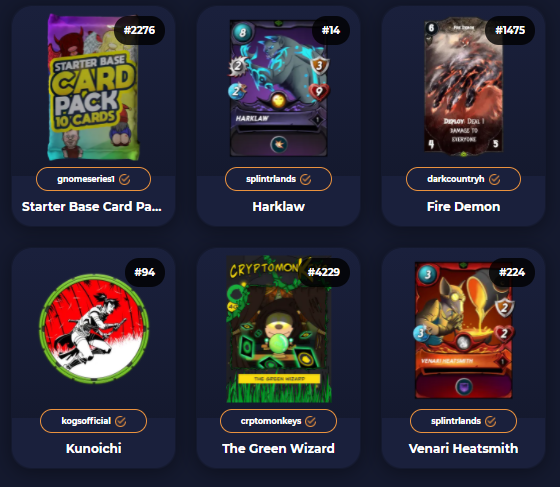 Dont forget if your the lucky reader to let the other readers know in the comments it helps. Also If you have any comments or questions about todays write up let me know in the comments.
When my posts do well airdrops get better so please re blog, like, comment, and subscribe to get larger airdrops just like this one.
Triger a Tip bot get a NFT
Given the rise of popularity of my NFT airdrops & Since there are a few forms of Hive crypto which you can trigger a bot to distribute via a command.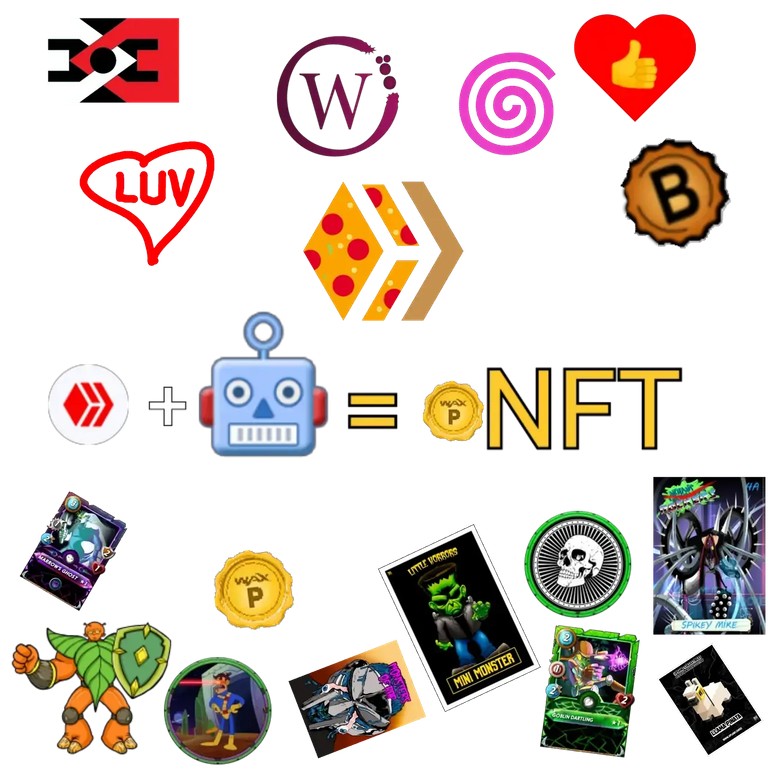 Why not do a secondary airdrop for those that want to participate simply trigger one of the (Tip bot HIVE alts) In the comments followed by your WAX wallet address.
Once I'm aware you have done so I will send a verified NFT for every coin triggered.



BERR is currently out of order but the rest should work fine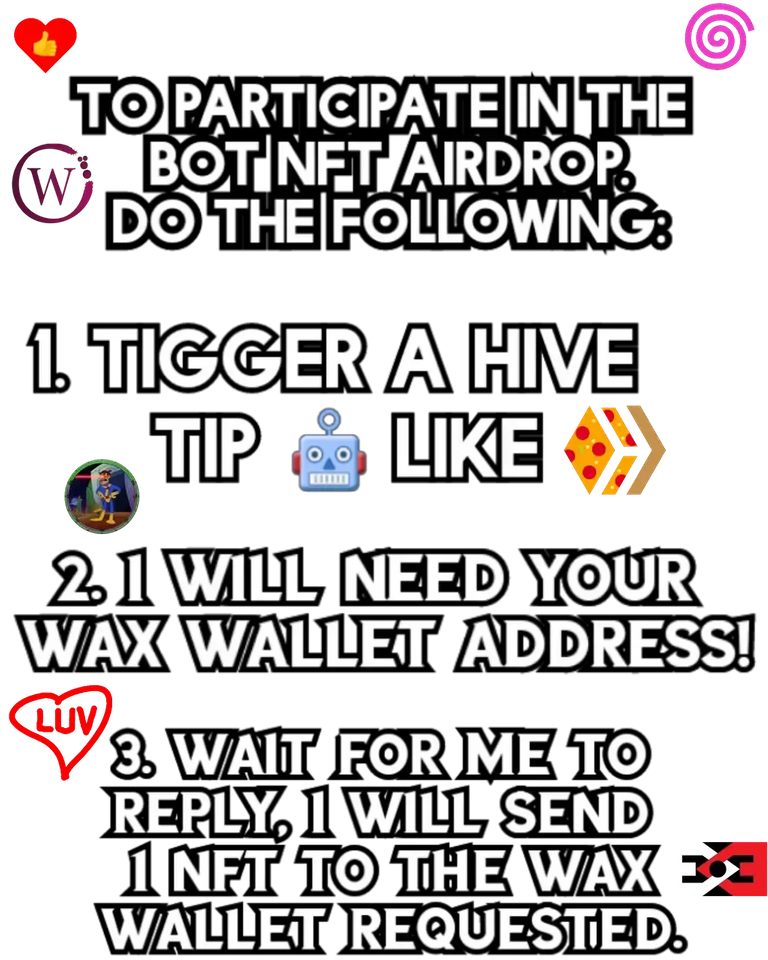 It may take a while but I will respond once the NFT(s) are sent to verify I have done so.
Links
Perhaps your interested in purchasing any of my NFTs from my ever expanding collection you may do so here.
My stock constantly rotates so it changes daily
https://wax.atomichub.io/explorer/account/akyqy.wam
Free WAX game play to earn
https://prospectors.io?waxref=akyqy.wam
https://rplanet.io/
https://collect.social/referral?r=akyqy.wam
BSC ALT tipping Social media platform
https://www.torum.com/signup?referral_code=chubb149



https://www.risingstargame.com/?referrer=chubb149
https://www.cryptobrewmaster.io/game/invite?ref=3d5efa435682425384e9aeb6236ab07e&code=AlphaBonus
https://splinterlands.com/?ref=chubb149
https://www.hashkings.app/login
https://www.dcrops.com/?ref=chubb149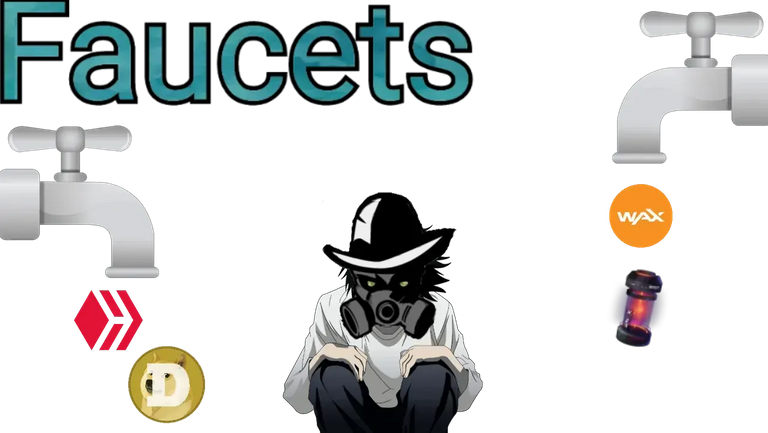 Hive direct payout
https://giftgiver.site/faucet
WAX alt direct pay out has GNOKEN
https://caittoken.io/account/faucet/
WAX & HIVE indirect pay out also SHIB
https://coinfaucet.net/?ref=4e6a49344d54673d
Play to earn BTC ETH DOGE
https://rollercoin.com/?r=k3801qv5
DOGE + ZEC
https://pipeflare.io/r/2nh2
---
---