First 1Up Post, Splinterlands year 1 recap, & Gold Splinterlands NFT airdrop!!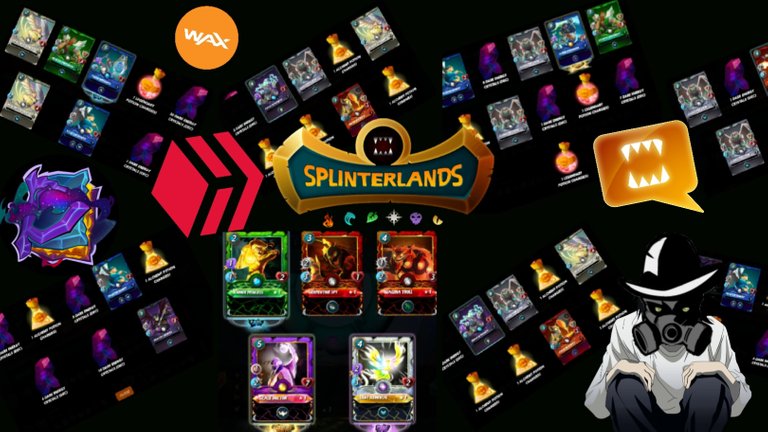 I have Been playing Splinterlands & amassing my NFT colection for 1 year this November. This year has been the most successful year of my entire life during the pandemic no less.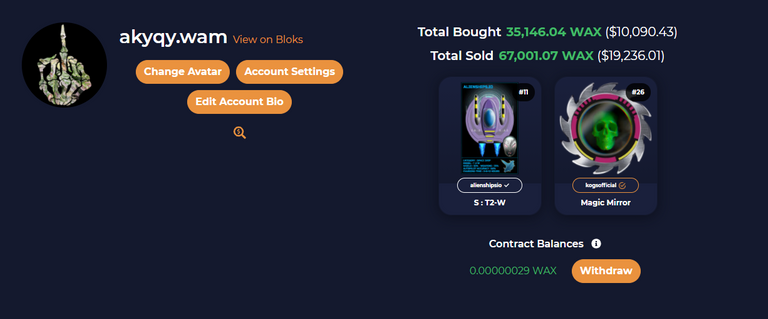 @chubb149's cards
Total Value (filterable): $ 6,656.01 using List Prices // $ 6,463.37 using Market Prices // 151,495 DEC. According to peakd monsters



All of the money I made started her with Splinterlands, Hive, & NFTs. This will be my first post to 1UP likely my new haunt here on HIVE.



Some thing to note for anyone new, I always have an NFT airdrop on every post 6 WAX NFTs each.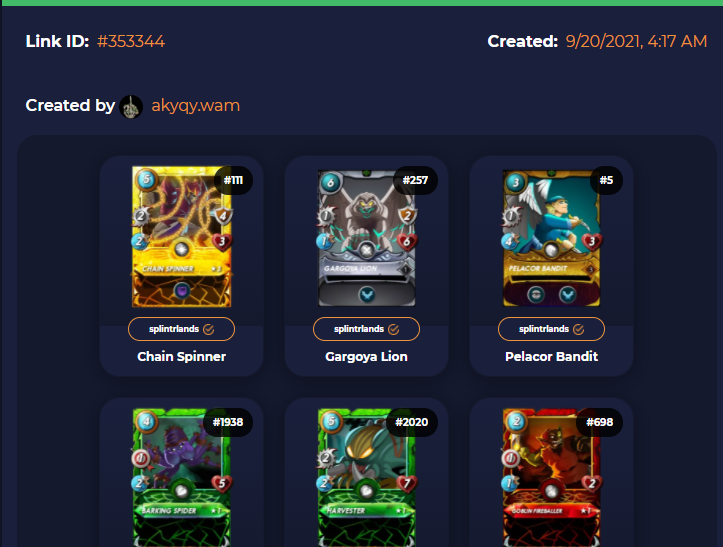 I give away a great many valuable NFTs Hoping readers take that & My helpful info to make themselves a portfolio that rivals my own.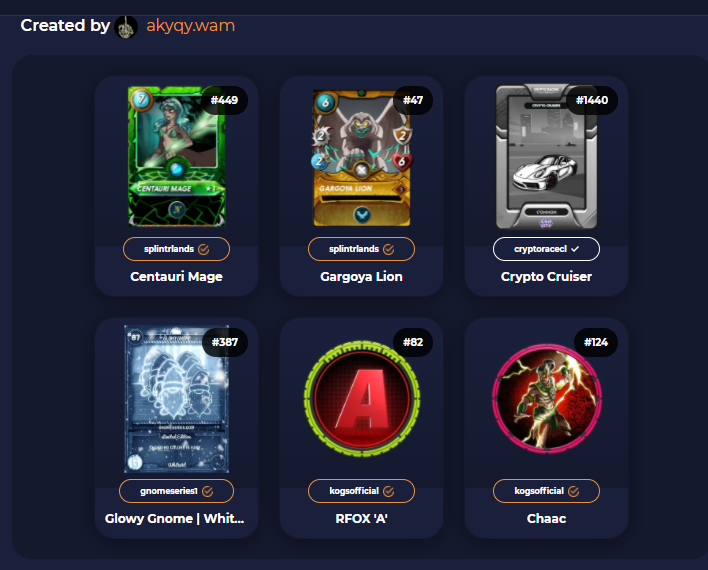 Not every Airdrop will make you Rich but they certainly have value I see to that.
Here's Hoping every reader all of HIVE Has NFTs make them rich #oneup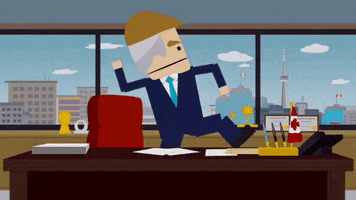 Splinterlands
My favorite NFT colection bar none Splinterlands is about to get much better, as if by some sort of magic my first year on Splinterlands ends with New packs.


Horrible Win loss ratio but to be honest I'm not that good at the game. Yes as My first year closes out the new Chaos legion Arises.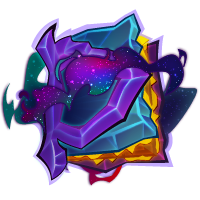 Excited doesn't quite cover my elation, you like a video game franchise I Live Splinterlands, So to me its more then just fun & games.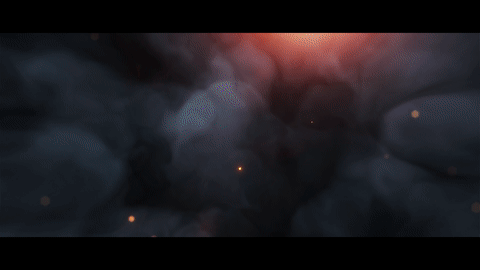 My number one rule now a days is try not to sell anything, but life can surprise you and having not only the option but the tools to Rent or sell is unrivaled in importance.
Renting now handled in game is the number one tool new users get I wish I had, while yes 3rd party services could do rentals it was harder to use for most so it was ignored by the majority of players.
This makes it cheaper to get new users the tools necessary to rank up, It gives NFT vendors like me a secondary option to selling.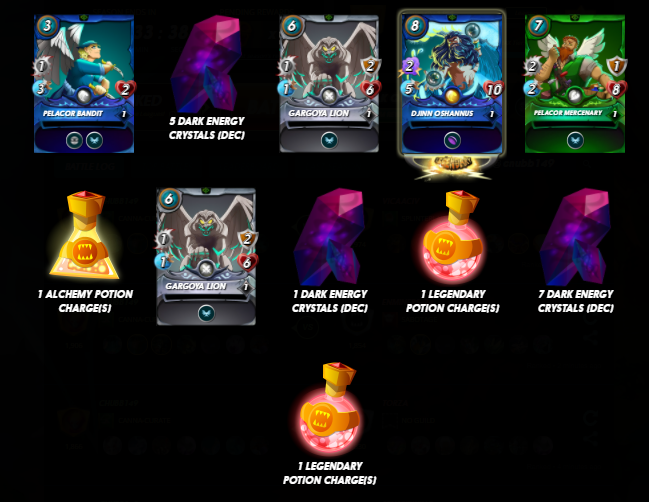 I try to screen grab every Daily reward, doing this & seeing what my friends get I have developed a hypothesis.
Your daily rewards get better in quality as your rank increases, as does your quantity of them.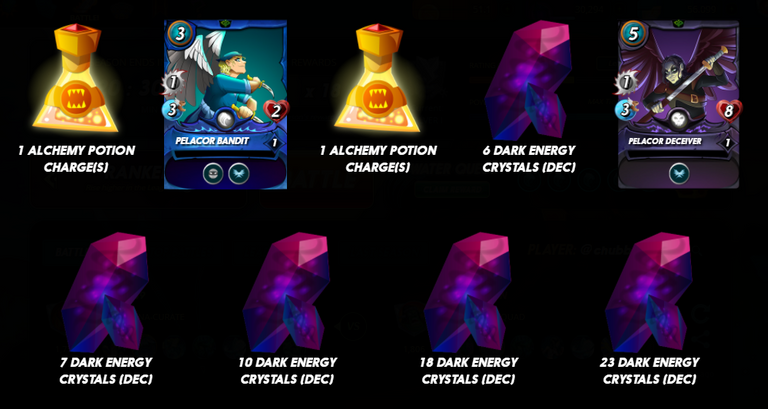 Not that I'm Splinterlands staff and can for certain, this is simply an observation.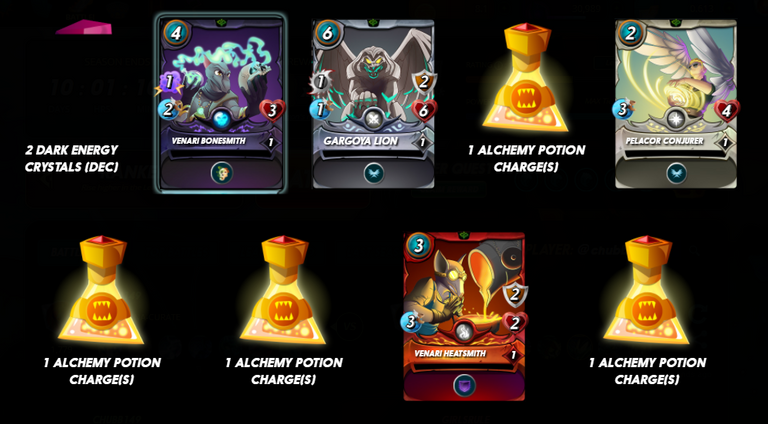 Based on my recordings of the last few seasons the higher the League I'm in the better rewards I earned from my daily quest.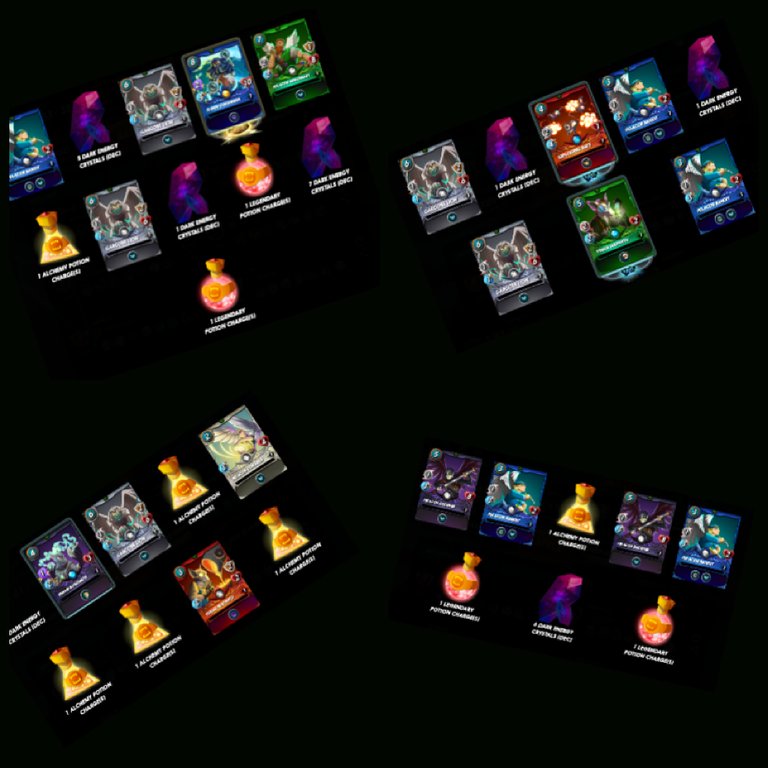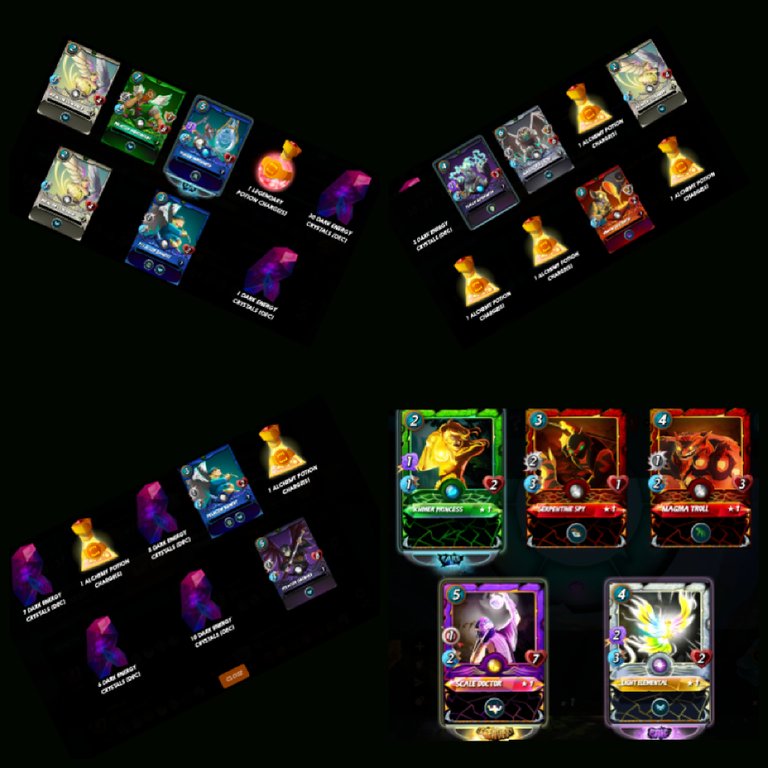 RNG Gods favor
My first big score in game was one of my biggest mistakes but it still started off my NFT portfolio & for this I'm grateful.



Yes It was a epic mistake to sell this Gold First edition Legendary NFT for only $191 USD.
I got this for free if you dont count the requisite spell book which is more then worth the $10 USD if you want the truth.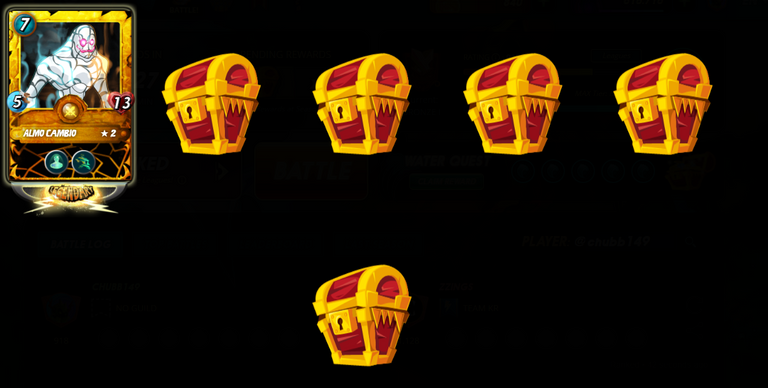 From this favor granted to me by the RNG gods of Splinterlands I have made thousands of dollars.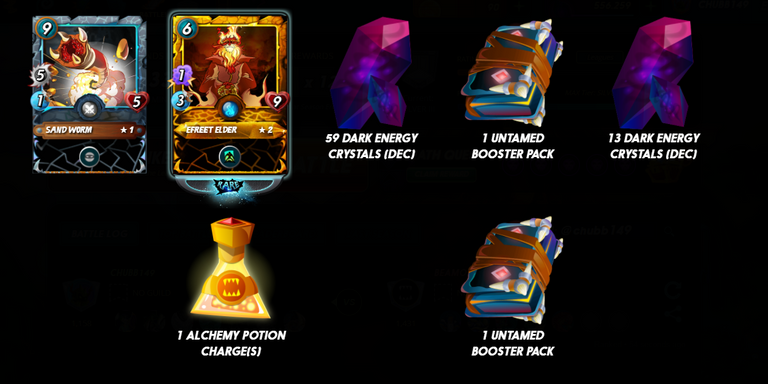 Just goes to show this game makes anyone & everyone a winner if you stick with it. Not a day passes I dont play my Splinterlands daily challenge.
I'm calling the Splinterlands RNG system a god as a inside joke as that's what https://peakd.com/@monster-curator commented on my post about my Gold Almo Cambio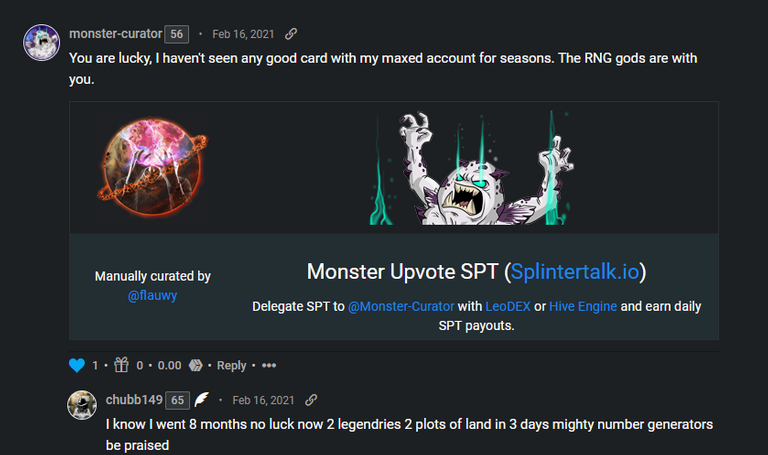 Happened 8 months ago & I still think about this frequently, To me there might as well be RNG gods granting favor.
https://peakd.com/hive-13323/@chubb149/lets-get-legendary-splinterlands-a
That's the post that started it all above
Regrets
My regrets with NFTs & all of crypto really stem from one thing selling. While in some cases its advisable to do so I find myself thinking I wish I didn't sell, rather then wishing I did.
So maybe the market panics If you believe in the project HODL that shit they are making the mistake not you.
Most of my regrets are parting with Splinterlands cards to soon, hell even land plots.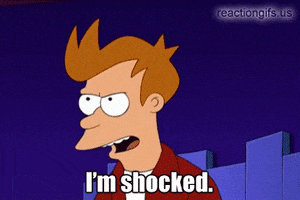 That's the one thing I caution new players from doing selling because you will regret it I do every day.

Pay it forward
I may regret selling but I dont regret giving NFTs away, even going so far as to give away NFTs I believe will shoot up in value.
Blockchain in general but especially HIVE has an extremely helpful & generous user base.
Helping a new user is not an inconvenience, on the contrary we appreciate someone new adopting the technology.
Its due to Splinterlands, WAX, & HIVE I may not have to work next summer unless I want to, So my airdrops serve as a way to show new users the opportunity Splinterlands, WAX, & HIVE offer.
So the 500+ NFTs & counting I have just airdropped for free are something I will never regret, but my means of paying it forward.
Potions
With new packs coming out you new users need to know to always utilize potions.



I opened over 3,000 packs while playing Splinterlands, So I'm confident when I say potions work.



Matter of fact this is part of why I like Splinterlands so much the packs contents are not determined until you open the pack.
You see normally packs of NFTs are pre minted not the case with Splinterlands and as such your contents in each pack can be changed.
For instance the cards given out after every 100,000 Packs sold in an airdrop are then added to all packs of that type.
Meaning even packs bought before the airdrop will have a possibility of getting the airdropped card.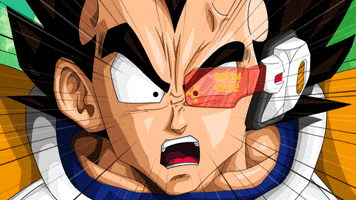 Its due to the mechanism at play when opening a pack I swear by potions & to open a pack without 5 of each is a bad idea.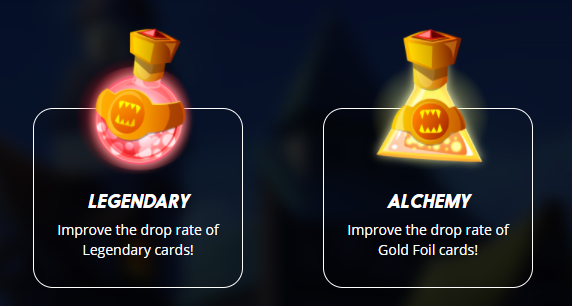 Think about it they are magic potions in a game that can make you rich in real life what's not to like. You may get frustrated now in a little over a month you will like these potions as much as I do.
1up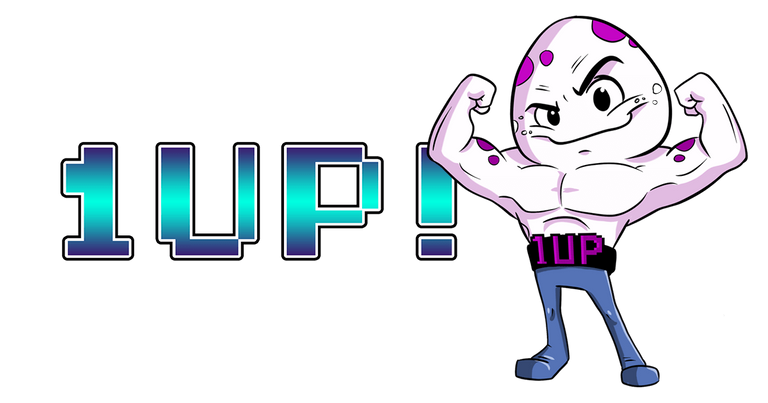 My focus of my Hive posts is NFTs / blockchain games of HIVE & WAX meaning this tribe is one I have wished for.
Thanks https://peakd.com/@flauwy for giving HIVE users a place meant for posts about NFTs & blockchain games as this doesn't quite fit the other tribes as a topic.
Needless to say you will be seeing my posts on 1up every week sometimes a few times a week. Not all bad as I airdrop quality NFTs on every write up.


What to expect
Now that we have established Ill be posting to #oneup all the time here's what readers can expect.
NFT market info on HIVE & WAX primarily for example here's a new site which many WAX NFT owners may find useful.
https://niftycap.com/

Unboxings of NFT packs

Game Strategy in blockchain games

Events both info on & potentially some of my own.

New user guides

Airdrops

Everything NFT & Blockchain gaming
Post(s) Revenue
My revenue from posting on Hive, PublishOx, & Twitter (Monetized via Brave Content creators) goes to the NFT Airdrops.
In other words the more money made by the posts the bigger & better the airdrops get.
Just another example of paying it forward. So please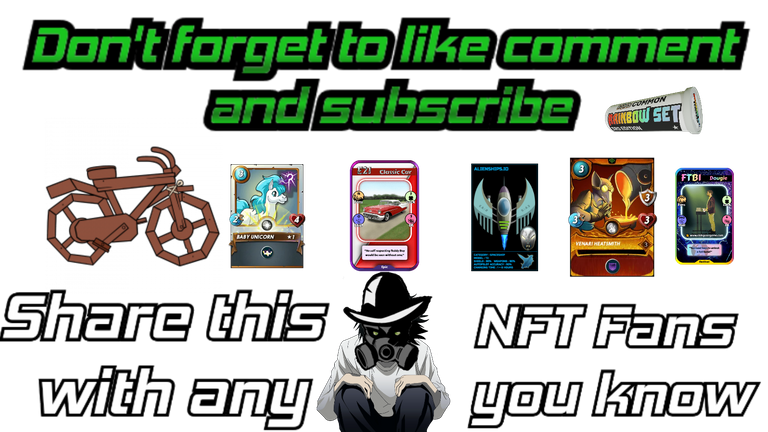 Big thanks to all that have before & continue to support these NFT airdrops / posts.
Projects of Note
In my daily NFT research I come across so many projects that show both potential & talent. Right now a few projects I find note worthy in the world of HIVE / WAX NFTs include:
This list isn't meant to be a ranking list simply just projects to look into.
Hashkings- A great Hive game in which you grow & harvest NFT Marijuana plants. Having gone through many changes & upgrades this game is just getting started.
https://www.hashkings.app/

Hashkings with its bridge Raids game mode launching soon & new seeds is impressing me in ways I could never have predicted for a weed game.

WAX NFT Markets with DeFi- 2 major names in this category which represent WAXs first real step into DeFi.

Cait- A Non profit with a faucet, NFT market, & much more
https://caittoken.io/ Cait the site may look simple but Cait is helping as a non profit give musical artists a platform & setting up WAX NFT collections DeFi systems . You register your WAX account with Cait to get your NFTs DeFi systems to work .

Nefty Blocks- NFT market crypto mining now a thing with WAXs NFT market / NFT production tool Nefty Blocks.
https://neftyblocks.com/

Back to Hive for a moment the next project on this list is reminiscent of Dcity https://dcity.io/info but easier to play.
Everyone seems to be rushing towards an NFT metaverse though not on WAX these two metaverse projects do Have WAX NFT collections intended to be integrated or currently integrated.
Upland- Not my favorite Dapp, But this EOS based Game has is the first metaverse with a WAX colection & asset portal to the best of my knowledge.

https://r.upland.me/z7pn
My referral is above, I just started taking this Dapp sereously as the NFL has events planed with Upland now & they signed a contract for NFL NFT production.
The other Metaverse is a work in progress as is their play to earn game KOGs By RFOX Labs is a WAX NFT colection connected to all these & staking.
https://kogs.gg/
RFOX Vault- Based of BSC still a work in progress but as a Beta tester of the Rfox Games Play to earn Game KOGs Slam. I can attest to this companies devs & their talent. This is why pre launch I know this will be big news in the NFT world.
https://rfoxvalt.com/
Haven't tested either of these collections or games, but their sales indicate the WAX NFT markets obsessed with them.
https://farmersworld.io/
https://nftbattleminers.com/



I use most everything I write about these + RFOX vault are the only exceptions as I'm short on free time lately & & the RFOX Vault isn't yet live. Its just unfair not to include them due to my personal scheduling issue.
Green Rabbit- Started off strong with WAX alt coin NFT mining functioning but now its been silent awhile in terms of updates so use cation.
https://greenrabbitgame.io/
You have no Idea this list could literally fill 30 minutes of read time, probably hard to believe this list is shortened significantly.
Hivelist- Happy to add this to my NFT projects list Hivelist is a recent addition to HIVEs NFT markets. What sets this one apart from all others on Hive is multi chain NFT Markets. Matter of fact the Hive List digital vendors may soon feature some of my NFT portfolios rarer Listings. I still have to get my act together & apply for white listing but its on my to do list for sure.
https://hivelist.io/nft-marketplace/


1up- Now this Hive tribe has my full attention I have been dealing with Hive + NFTs a while now & 1up is giving me the NFT spidey sense thing where I cant tell why, but I believe 1up will be ground breaking.
https://www.1up.zone/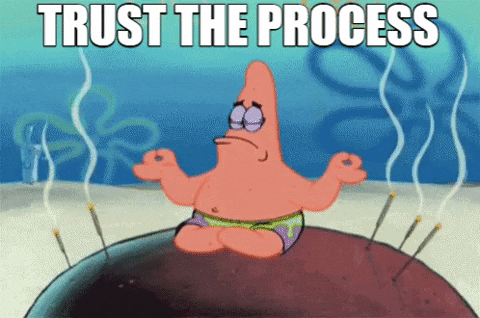 My only NFT colection that to date has cost me $0 out of pocket is Rising Star.
Some other games or NFT services of Note
https://alienworlds.io/
https://prospectors.io?waxref=akyqy.wam
https://collect.social/referral?r=akyqy.wam
Farmers World, NFT battle Miners, Uplift, & technically 1up as this is my first post are the only services I have not personally used or tested. RFOX vault as well but that's not launched yet so I cant.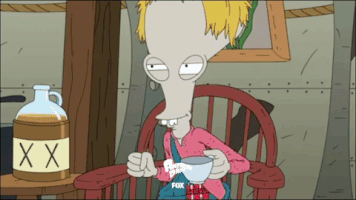 Rising Star Delegation
Just a random unboxing Something I do rather frequently, Currently I'm getting my Rising Star NFTs at a level I can delegate NFTs upon request.
To help new users go further in the game as getting stuck can be common in stage one of the game stage 2 is much more lucrative.
I like to help so expect Rising Star NFT delegation project some time in the future.
Splinterlands FTW
Before it was all the rage I knew Splinterlands was, better then its competitors Due to a few key Mechanics.
NFT Burn Blend Use case
active NFT market
Talented & committed dev team
Multi Blockchain connectivity
Provably fair & Fun game play
No Gas Fees (a must have)
You find NFT collections with all this you basically struck gold...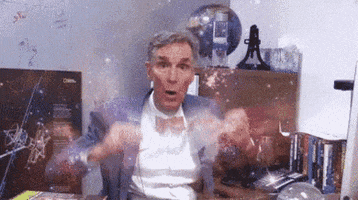 Which I'm just now realizing Gold is worth less then my Splinterlands legendary gold NFTs.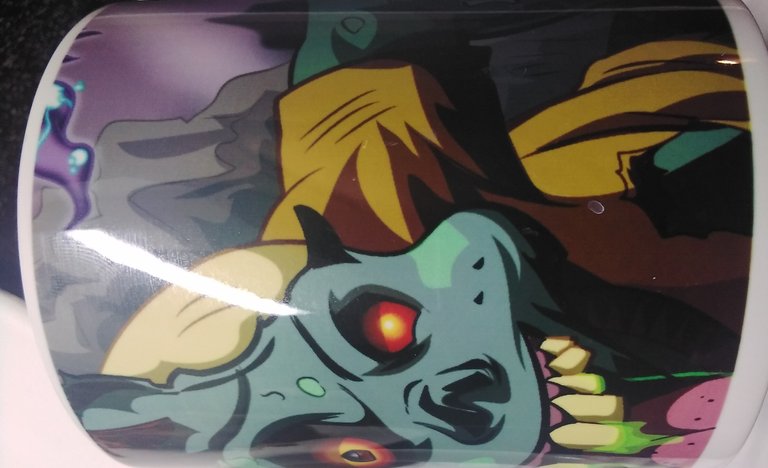 I bought this cup 7 months ago with proceeds from Splinterlands, this is now my favorite game on or off blockchain.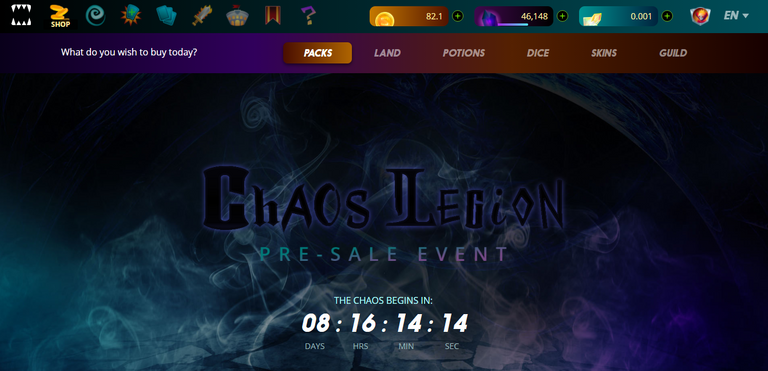 Once these packs go on sale the market is going to react fairly chaotically with prices likely going insanely high then crashing.
When the packs can finally be opened the NFTs will do the same, just look to the new rewards cards & how their prices where nothing now they are climbing back up.
This is how I was able to afford to give away 2 legendary Splinterlands NFTs, & 7 Splinterlands Gold NFTs.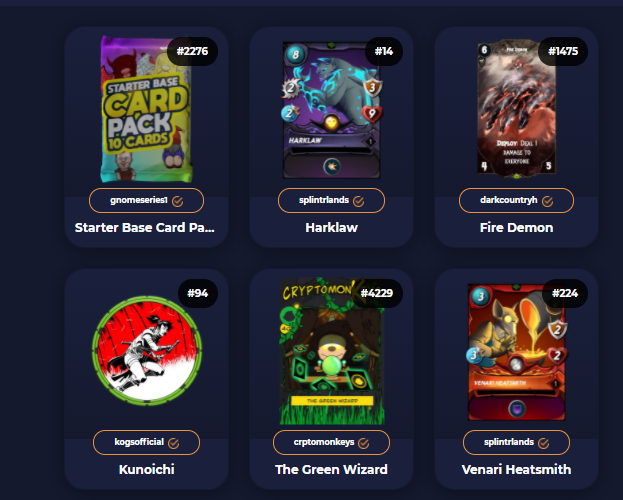 This airdrops can sell for roughly $25 now I got it for considerably less as the Market fluctuates so wildly.
I buy & sell NFTs or packs to make a profit normally I just Hodl then resell usually on WAX.
That instance I simply gave away something that I was sure would appreciate in value.
Which is why I airdropped so many Gold NFTs I knew the markets price was wrong & would self right in the near future.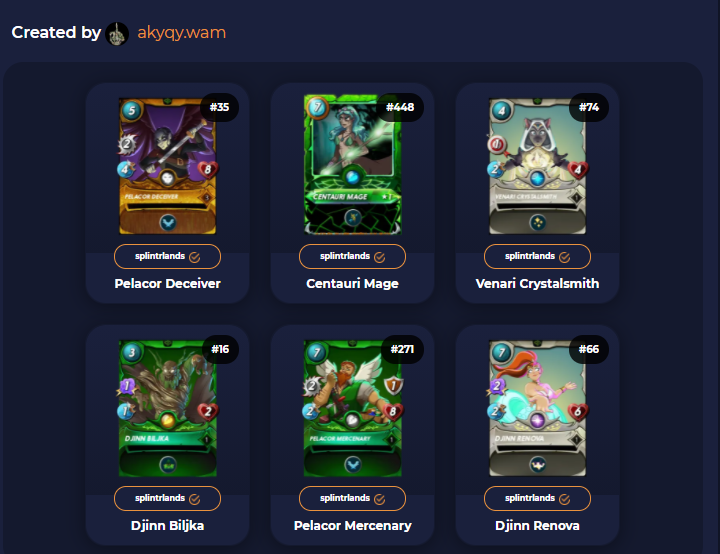 Lucky recipient here got a 2 for 1, Gold & legendary realistically this cost about half it does now at the time of writing.
Now I give out 12 NFTs with 2 Airdrops per post with a re-blogged post later that day on PublishOx containing a second airdrop.


Little convoluted but I think it works, I will say since I have began doing this I have on boarded 5 people to Hive so its a powerful form of advertising that's for certain.
With these posts I try to both give you something to start with & teach you how to turn that into something more.


Be that gaming tips, NFT market tips, or advice on utilizing Hive
to its fullest. I try to answer or respond to every comment I can but I'm fairly busy lately.
Diesel pools
Goin to leave off with a tip that has been making me the most as of late Diesel pools. https://tribaldex.com/dieselpools/pools



Liquidity pools can be dangerous due to how they function please understand the risks before utilizing liquidity pools.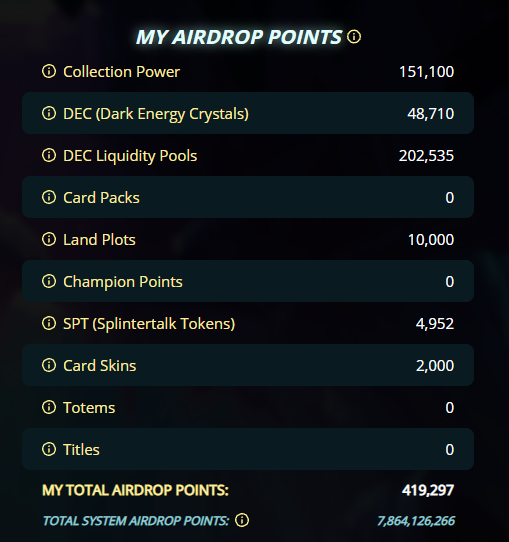 See the airdrop points I know for certain are connected to this liquidity pool on Tribal Dex.



Makes the $1000 USD worth of DEC 100,000 DEC & 1892.678 SPS worth 200,000 airdrop points for the SPS airdrop.
However High risk = High reward as liquidity & temporary loss can be quite the risky situation if handled incorrectly.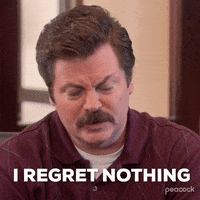 Now Its as if I'm back where I started with the benefit of all the assets & knowledge gained over the last year.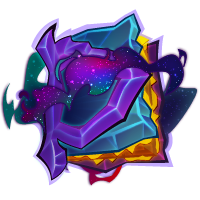 Chaos legion Packs may be slightly different then last packs, but I have a patience & funding I lacked before.
I have enough data to know for certain how the packs & potions function I'm ready for chaos.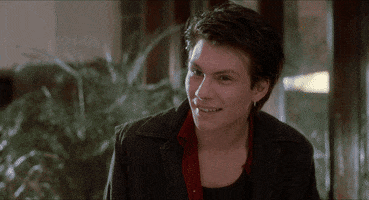 Alien Worlds Makeover
I'm not the biggest fan of alien worlds as it had not shown any signs of improving the (game) I guess you can call it that.
Being a game or not aside the Games interface has been recently updated significantly.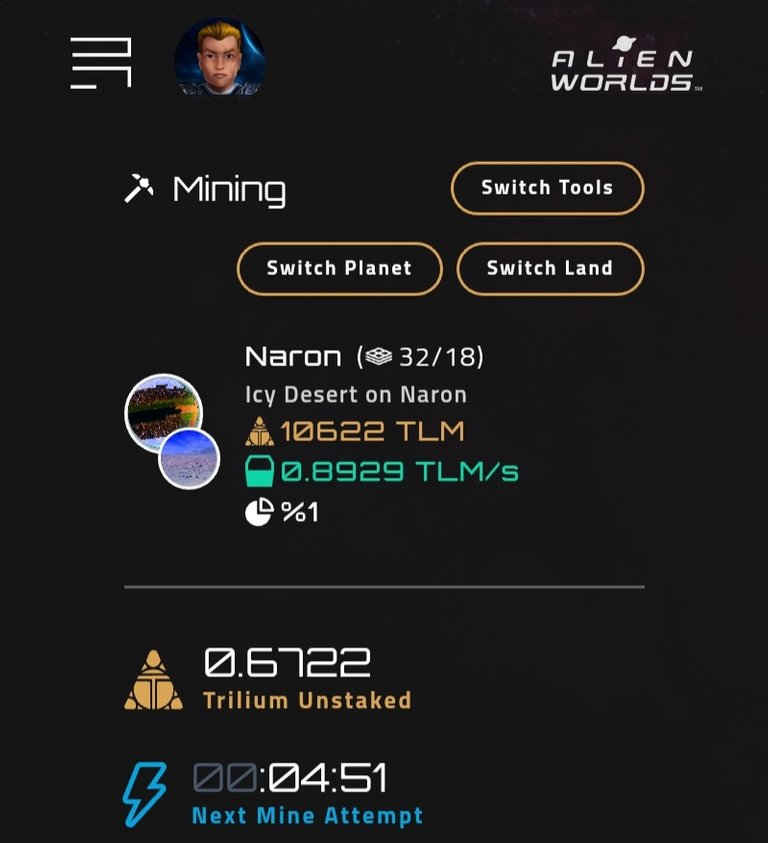 Binance is supposedly going to have their planet live soon & you can equip weapon NFTs now. There is also a radically improved NFT combination system & improved land plot governance.
This update is of a major significance last time when TLM their WAX al was integrated with BSC Alien worlds shot to the top of the charts.
Recently everyone has forgotten about it so now's the perfect storm sort of situation for NFT investors.
Yeah alien worlds free to play on WAX they give you 2 NFTs to sign up & NFTs can be earned as well as TLM their crypto by mining in game.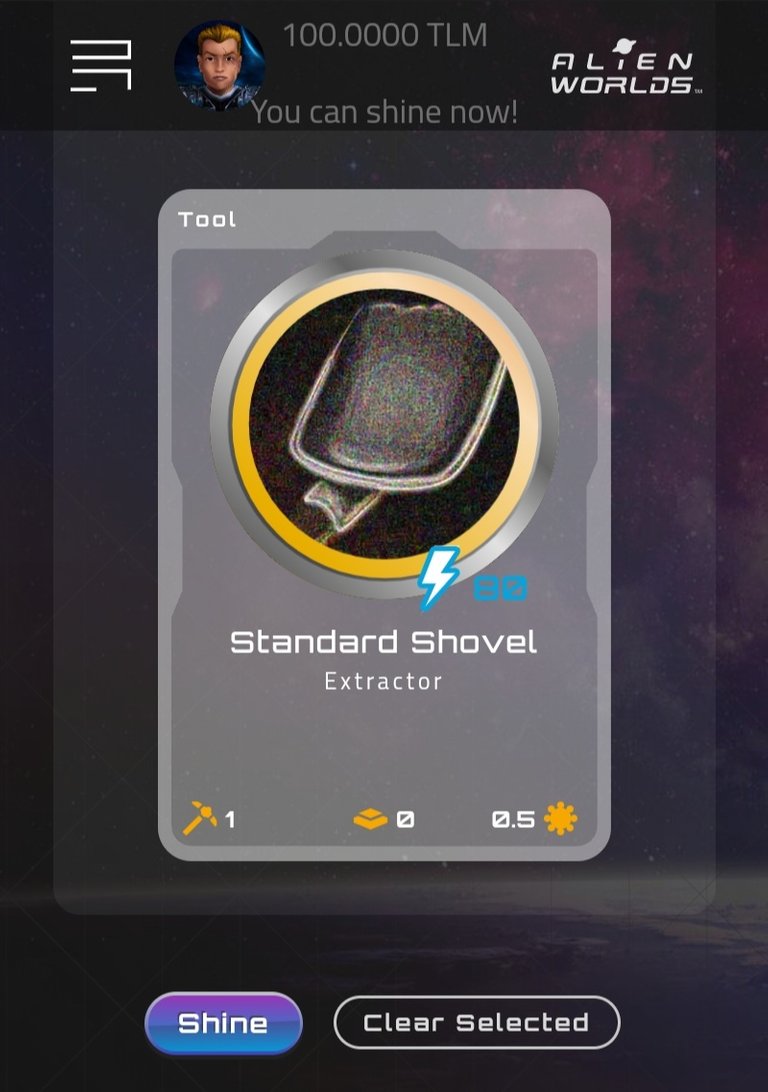 Now sporting a new simple burn blend use case Alien worlds is likely due for a rally in popularity.
https://alienworlds.io/
Air drop(s) changes
Attention Readers ill begin posting to both HIVE & Publish OX.
Publish OX being about 20 min to an hour later ill re post both to twitter.
Both will now have an airdrop so you miss Hive try my PublishOX post later that same day.
https://www.publish0x.com/#
https://twitter.com/Brandon36907436
This will all start with the normal Hive post with airdrop & shortly after PublishOx Will have the same post with a second airdrop check twitter for a quick reference on each.
Airdrop
One of 2 WAX NFT airdrops, containing 6 NFTs each posted first to Hive then shortly after a second one goes on my post to Publish OX.
You can find updates here & ill try to post the second URL from PublishOx in the comments.
https://twitter.com/Brandon36907436
https://www.publish0x.com/#
WAX NFT URL Airdrop
https://wax.atomichub.io/trading/link/385580?key=5Kd8oShy1eoukhZyy9jYfG1bxR48PZ4CWpsbZbGyMXYVFBpNNYv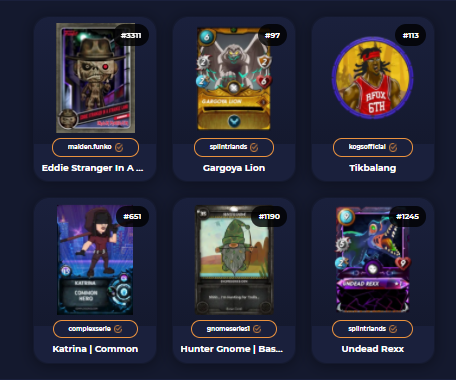 Please this is more important then ever to let others know in the comments, & thanks for participating enjoy your NFTs lucky reader.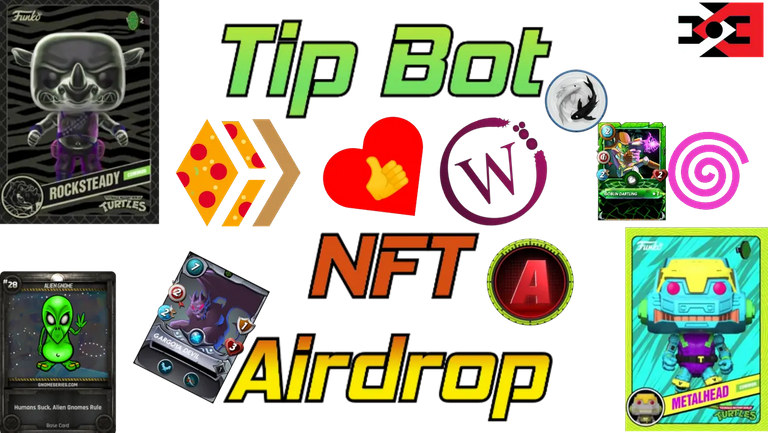 May take a min to respond but this is still active if you want t try it out Trigger a tip bot leave your WAX address in the comments I send you an NFT.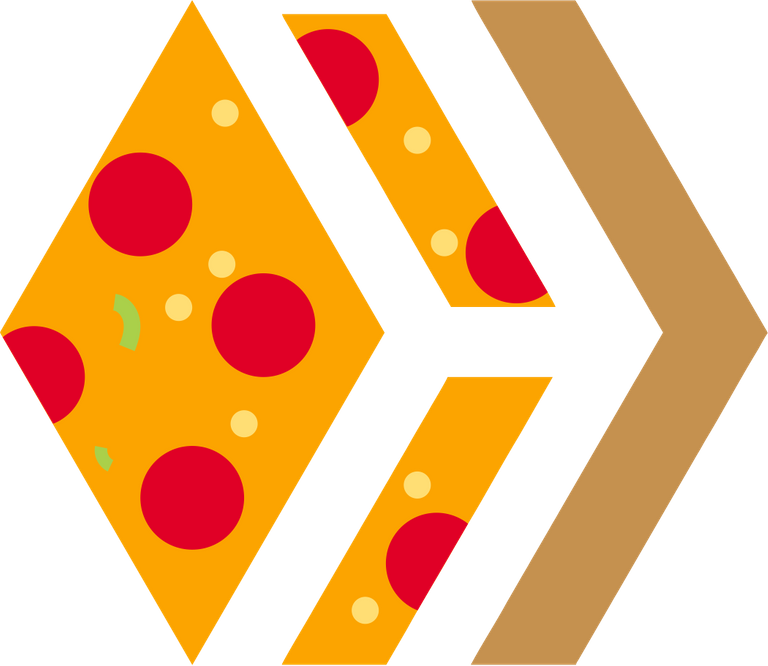 2 for 1 on triggering !PIZZA bot I'm currently running a special wow that's fun to type.
The statement while fun to type is still true 2 NFTs just trigger Pizza Bot & comment your WAX wallet address.
Links
WAX NFT guide
https://wax-io.medium.com/everything-you-need-to-know-about-wax-nfts-eb9dfa59117e?source=rss-e40d7875f82f------2
Perhaps your interested in purchasing any of my NFTs from my ever expanding collection you may do so here.
My stock constantly rotates so it changes daily
https://wax.atomichub.io/explorer/account/akyqy.wam
Free WAX game play to earn
https://prospectors.io?waxref=akyqy.wam
https://rplanet.io/
https://collect.social/referral?r=akyqy.wam
BSC ALT tipping Social media platform
https://www.torum.com/signup?referral_code=chubb149
Hive Games
https://www.risingstargame.com/?referrer=chubb149
https://www.cryptobrewmaster.io/game/invite?ref=3d5efa435682425384e9aeb6236ab07e&code=AlphaBonus
https://splinterlands.com/?ref=chubb149
https://www.hashkings.app/login
https://www.dcrops.com/?ref=chubb149
Social Media Second airdrop link PublishOX
Hive profile
@chubb149
Hive referral
https://peakd.com/register?ref=chubb149
NFT airdrops after Hive
https://www.publish0x.com/@Chubbie149
Join publish Ox
https://www.publish0x.com/?a=4QbYRK0dzq
Twitter
https://twitter.com/Brandon36907436
I accept donations if you feel like supporting more fantastic airdrops & ok posts. You can share / upvote via HIVE or PublishOx.
Donate WAX NFTs or Crypto here:
akyqy.wam
or here
https://wax.atomichub.io/explorer/account/akyqy.wam
My Twitter is linked to both Mask Network & Brave content creators, so you can also donate MASK or BAT to my twitter.
https://twitter.com/Brandon36907436
Under no obligation to do so it simply goes to increase the Airdrops & Possible future NFT give away events.

---
---