Those Crazy Crows
The Great Cheeto Heist
Hello everyone and Welcome to another Feathered Friends post.
Today I'm posting some images of a couple of Crows Stealing from children and then each other. O.o
We have a small pre school/datcare next door and today was an eat outside day for lunch and a birthday party so there was lots of booty for our little feathered bandits to plunder and pillage.
Now there was probably pounds of food out for them to loot but one goes in and scores a couple of Cheetos as a child yells HEEEYYY those are mine.
Then one, then two crows come swooping into the yard, one with two Cheetos and the other chasing.
They ripped around the yard at high speed banking, diving and circling around the the trees then out and back over the preschool.
Still a bit bewildered why that other one didn't go down and get his own Cheetos, or cake, or any of the many other goodies over there.


Now I was trying to capture this battle and I got a bunch of blurry birds untill they flew up a little higher and out in the open.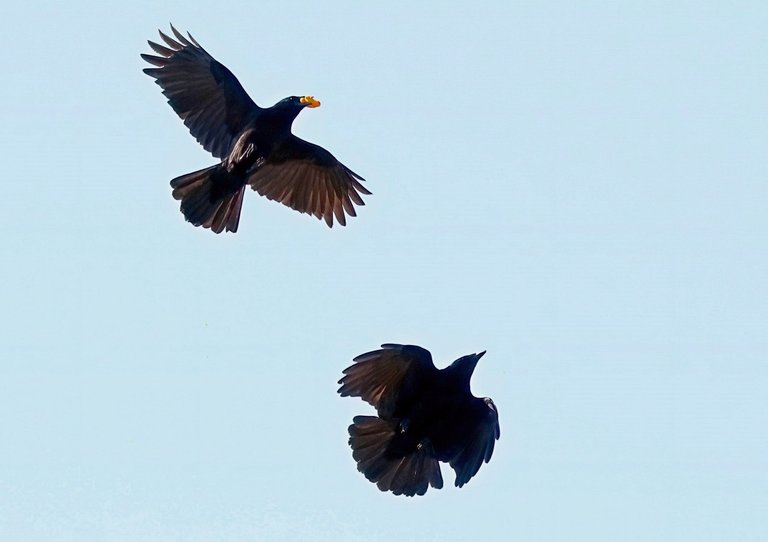 I had to zoom out to about 200mm to get both in frame and then crop in more than a little to enlarge them.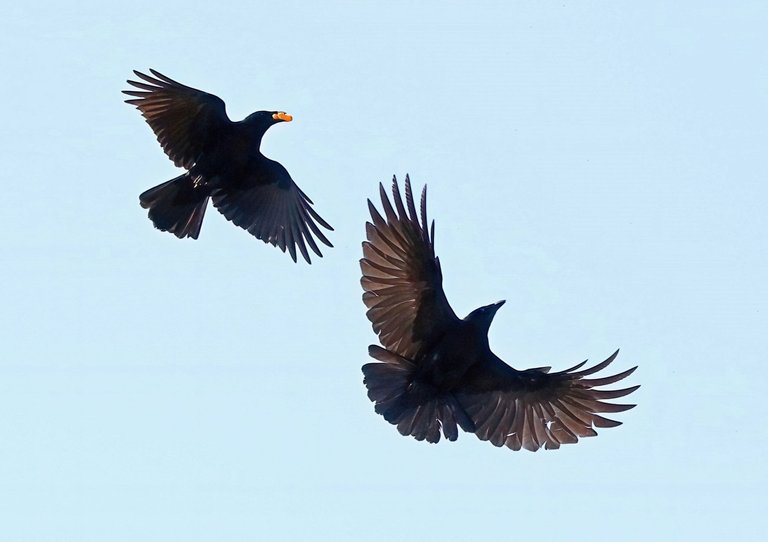 Nice spread, see that tore up wing at the lower right ? That make this crow the one I named Lucky two days ago. I named him Lucky because he almost got taken out by a hawk the other day when he overflew the yard... of course I didn't have my camera out yet but no way could I have captured it. That hawk was going about 70 miles per hour, just a blur till it hit the crow.
Lucky screamed like a little girl and pulled off some impressive acrobatics and the Hawk was chasing him as they flew out of sight.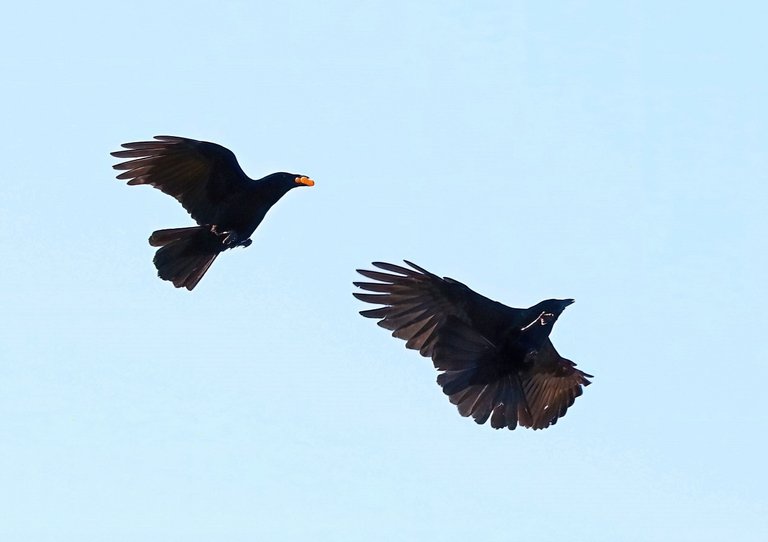 I only had about 3 seconds max to capture this as the are moving fairly fast.
My 7D does 10 frames per second so I was able to get a lot more images that I did with the ol T7.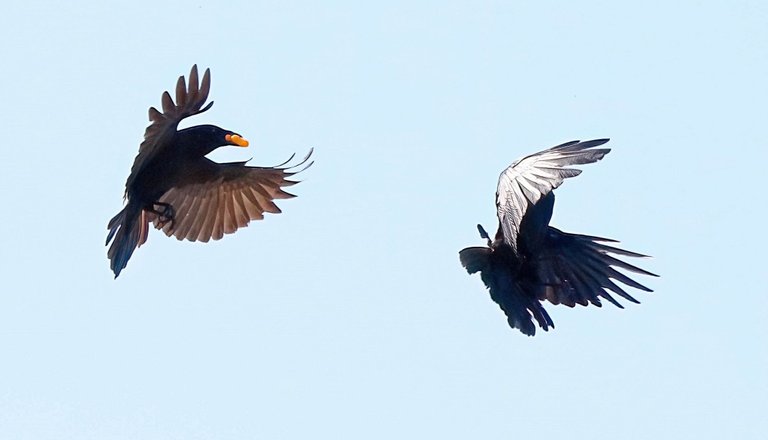 These frames are all in sequince, I have more images of these two but they split up as the Cheeto Bandito went into a snap dive and reversed getting some distance and evading before I lost sight.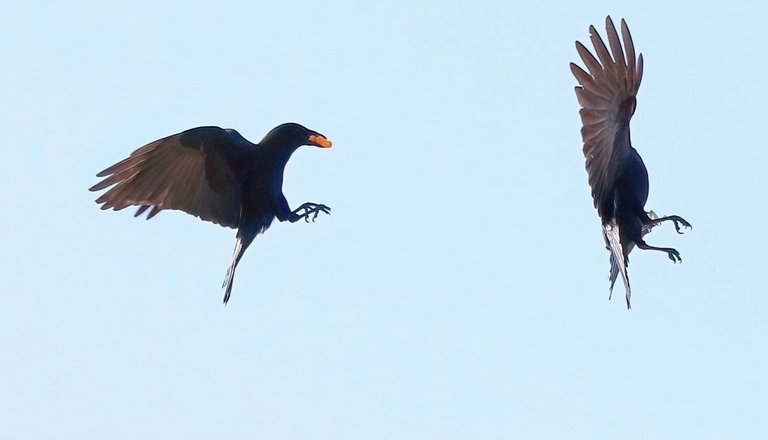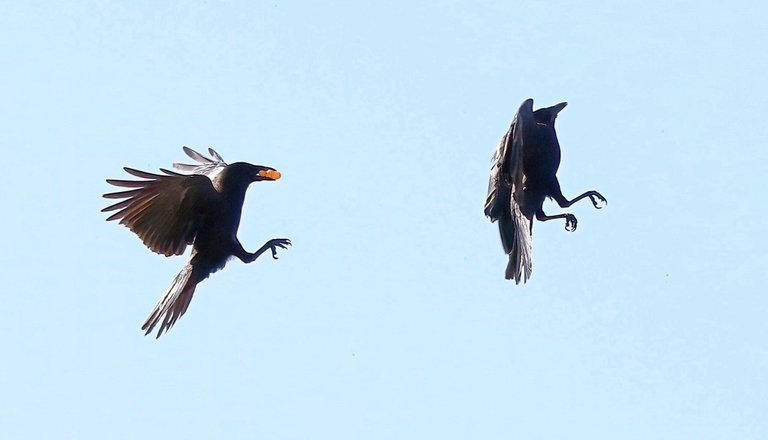 The whole time I'm like pleasebeinfocus, pleasebeinfocus, pleasebeinfocus. lol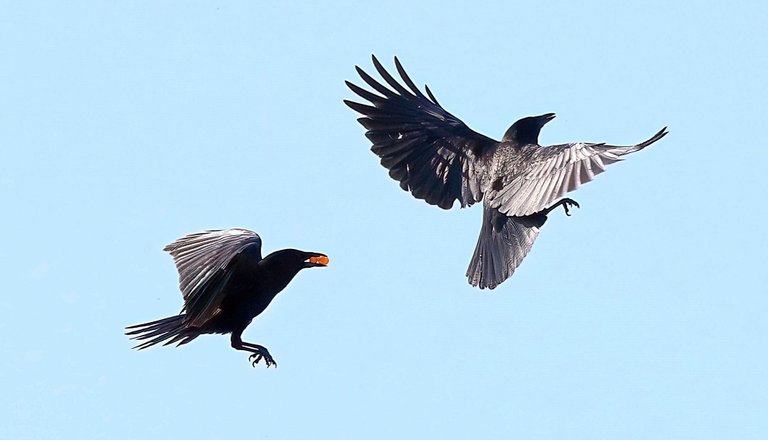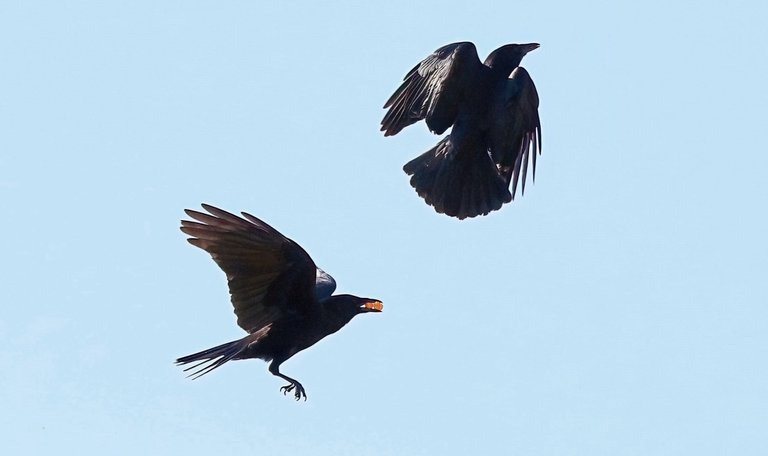 This looks like the cobra manuver from Top Gun lol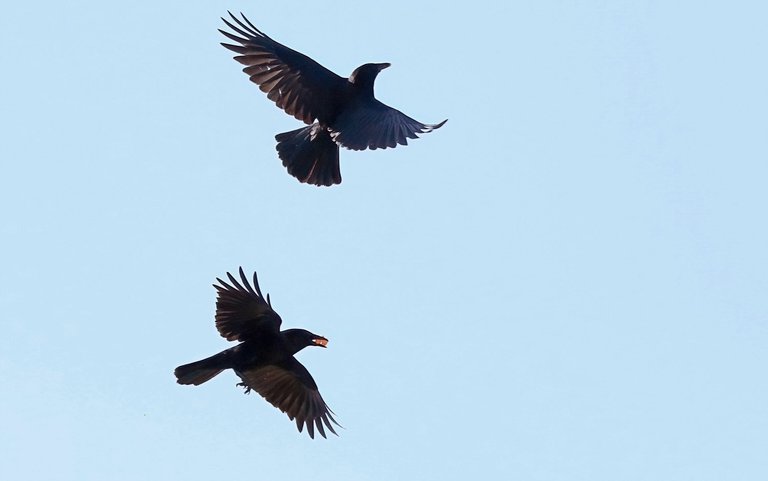 13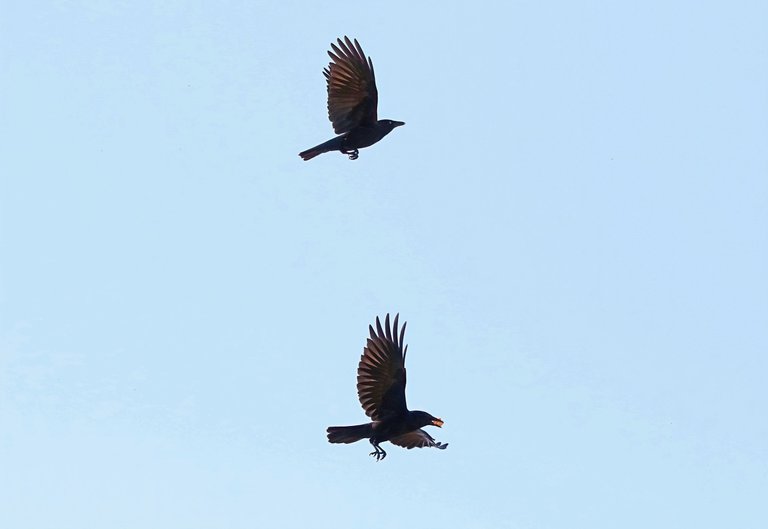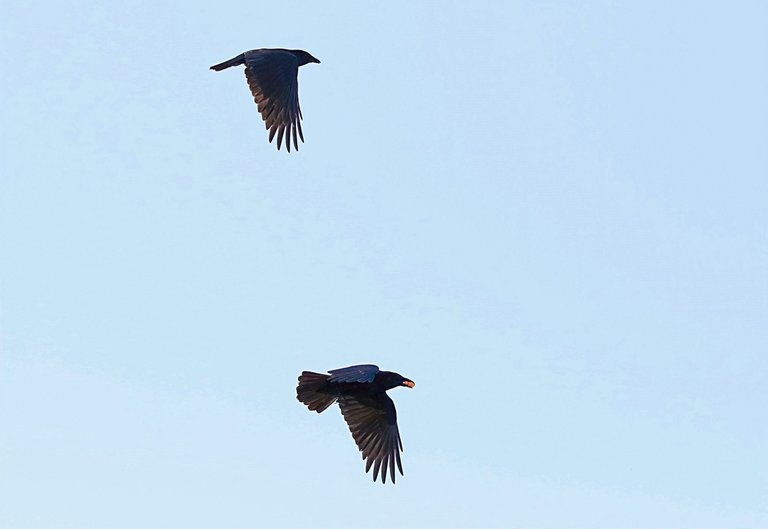 Just when he gets above and behind the Cheeto Bandit I couldn't keep them both in frame but Bandit was able to do that snap dive and ecape

Well that brings a to a close to todays post but just the first of many Corvid posts coming at you in the following days, so stay tuned to your local Feather Friends Network.
Oh crap, I almost forgot to give a Caw out to @corvidae
She is most interested in the subject as you can imagin by the name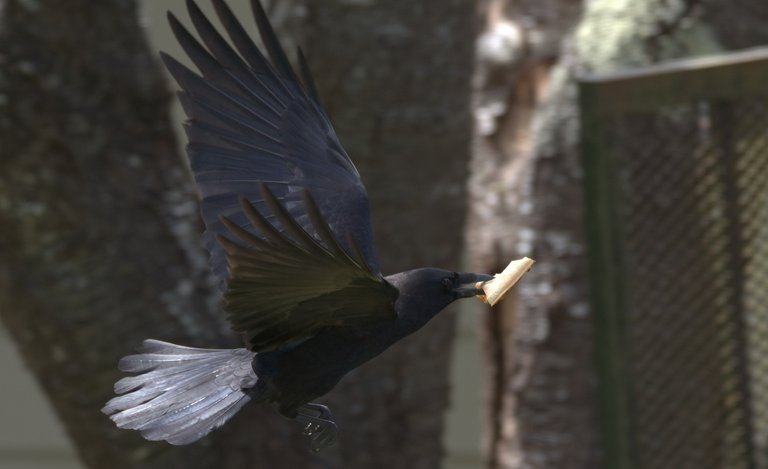 Lucky making off with a slice a few days before he earned the name.....
I was calling him something else at this time, like little @#$%. lol

Buzz on over to the Feathered Friends community and join
@melinda010100
@nelinoeva
@barbara-orenya
and the rest of the gang at Feathered Friends for all your feathered odds and ends.

10% of this Post proceeds go to @hive-106444 aka The Feathered Friends Community Account.
Every little bit helps.
The rest will end up going to the Birds.

Thanks for visiting my post. If you enjoyed it please consider upvoting and following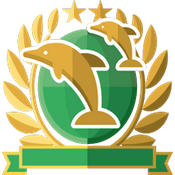 Unless otherwise noted:
All images original, by me.
All Rights Reserved.
Chromium AutographOnline Signature Maker
---
---