Hummingbirds - Built for Speed
Hello My Fine Feathered Friends and Welcome to Today's Post.
I've returned to the neighborhood garden that's in Sequoia Park today, not for the Dahlias this time but for the Hummingbirds.
All along the back left of the image below are giant Fuchsias.
The Hummingbirds love these and they roll in every 15 - 20 minutes to feed on the necter.
...... Oh and squabble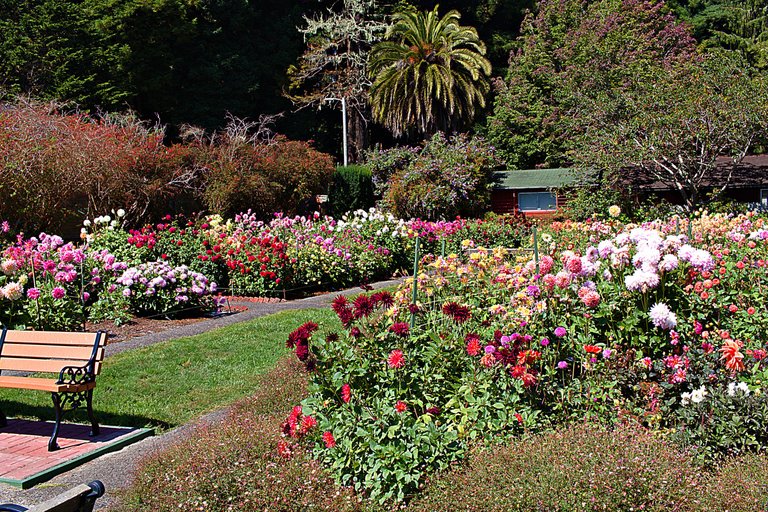 The Fuchsias here are the biggest I've ever seen and they are more trees now than bushes, and they have hundreds of bright red and purple blooms to entice hungry little Hummingbirds to them.

Some Camera info for those who want it. All images shot in RAW then changed to JPEG for posting.
Dimensions: 6012 x 4008
File Size: 26.4MB (27,722,211)
Camera Make: Canon
Camera Model: Canon EOS Rebel T7
Lens Model: 150-600mm F5-6.3 DG OS HSM | Contemporary 015
Lens Specification: 150-600mm F/0
F-Stop: F6.3
Aperture: F6.4
Focal Length: 600 mm
Shutter Speed: 1/2048 s
Exposure Time: 1/2000 s
Exposure Compensation: 0 EV
ISO Speed Rating: 400
Artist: @ChromiumOne
Copyright: 2022

I shot a few hundred images on burst mode to see if I could capture some in flight Hummingbirds.
These shots are the "pick of the litter" for today.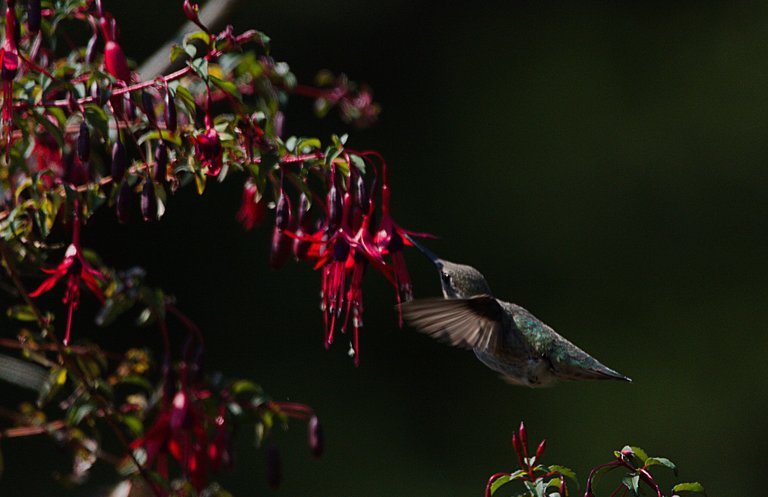 I was able to capture a surprising number of good images..... so many in fact that I had to reduce the number of shots I was concidering for this post.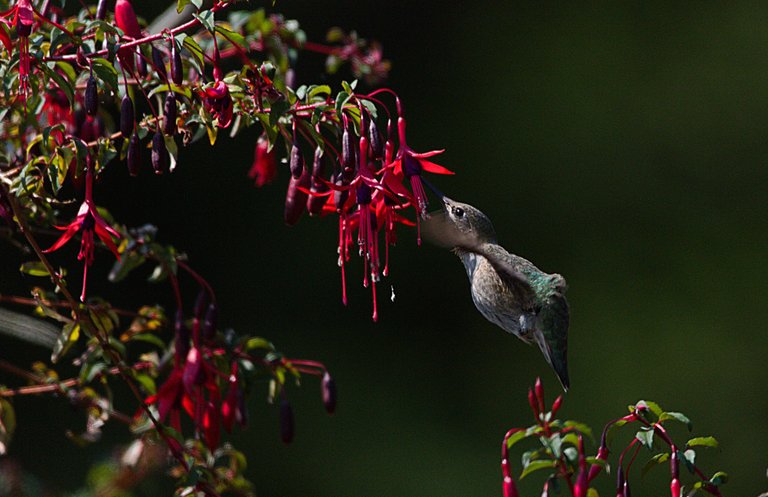 This was one of my favorite bursts of the day, 9 images over about 3 seconds, the most my poor ol T7 can choke down and it needs a short rest after 10 images to process.
I could shoot in JPEG and blast away at 3 per second but I like to shoot in RAW,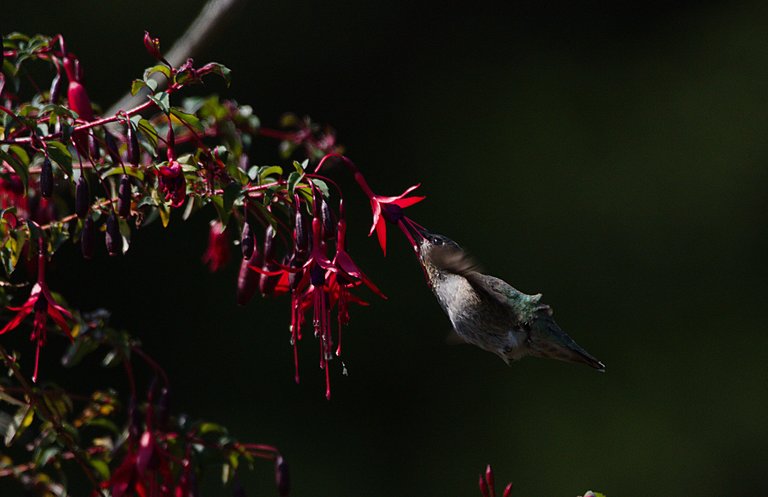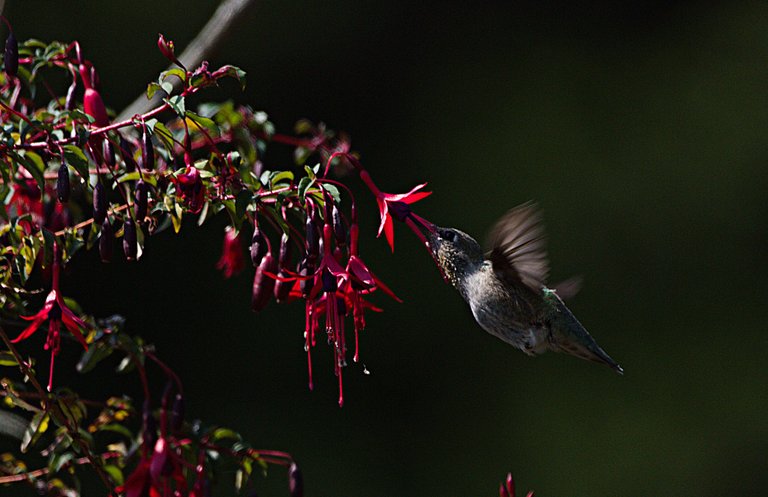 I'm fighting with the sun a bit here as it it right behind the Fuchsias and I'm trying get a good angle.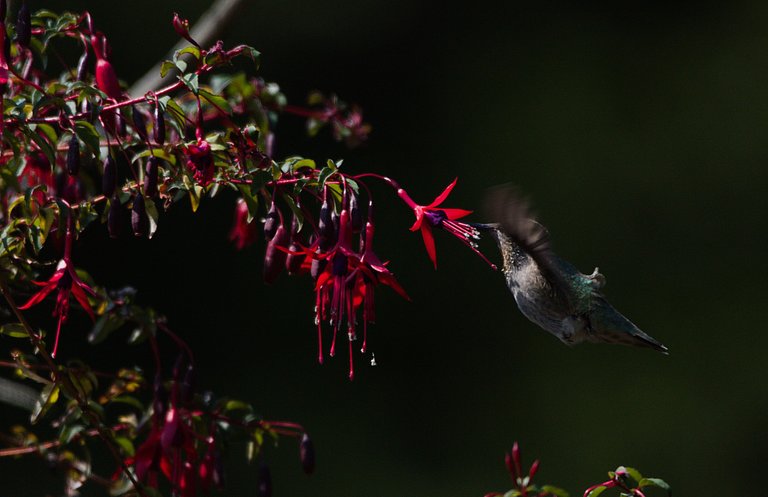 The one above could have been good if only that wing was....anywhere else lol.
How many of those "if only" images have you got =)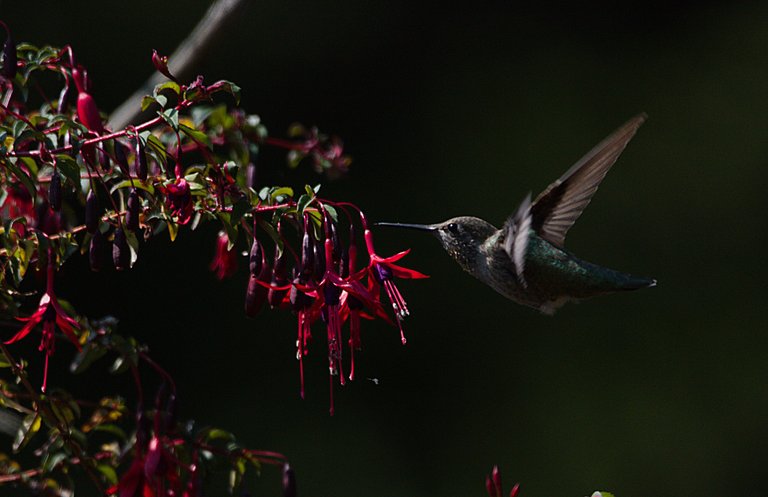 The next image in the burst and the wing is out of the way.
Then it starts moving to a new cluster.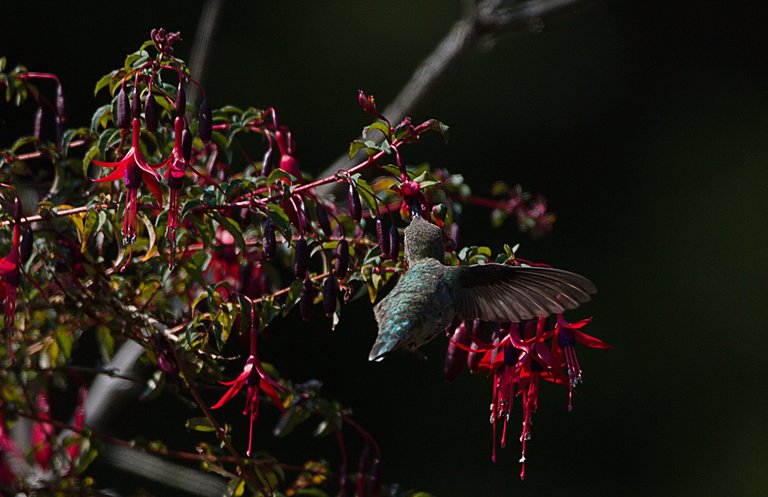 It spun a bit and put it's back to me for the last couple of shots in the burst.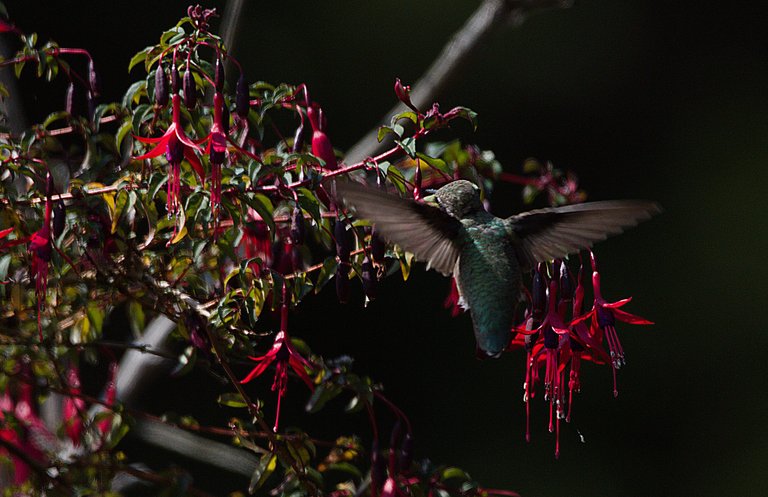 At a shutter speed of 2000 th of a Sec. I still can't freeze the beating wing....
Have to try 2500 or 3000 next time and see if I can get a total freeze.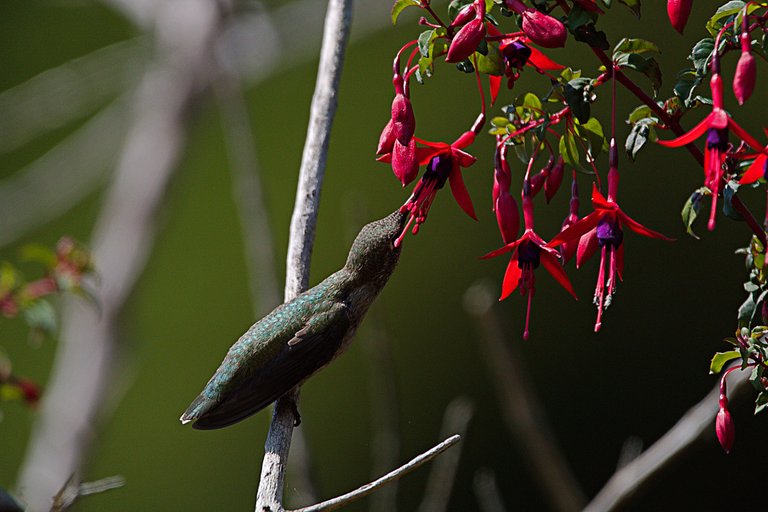 I shot this burst just after it landed and began feeing wile being still =) ....something they don't do that often here.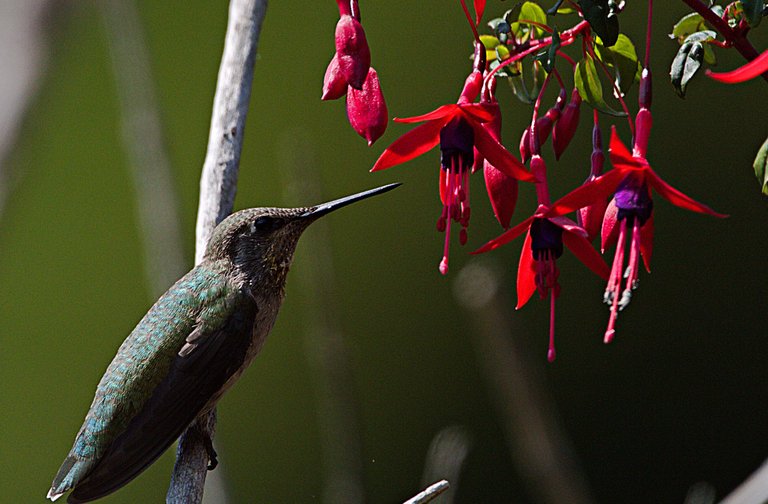 Still fighting the sun angle here and everthing is backlit but still getting some decent images if I do say so.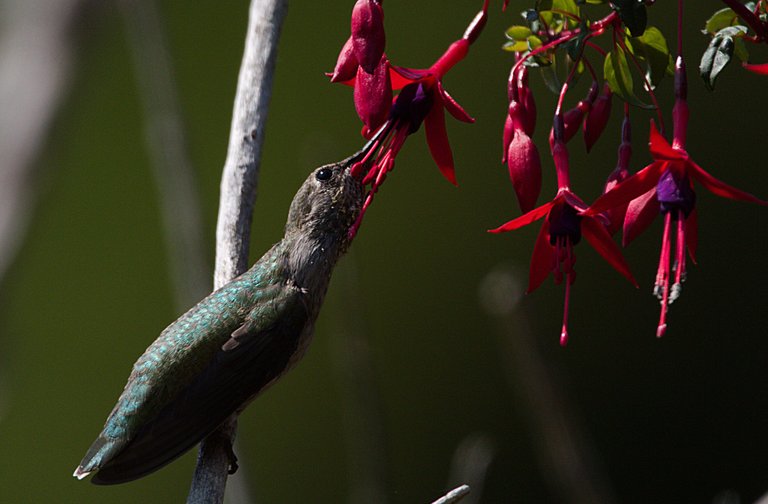 I have a fair amount of success today with the focus, got those nice clear eyes I love to get O.o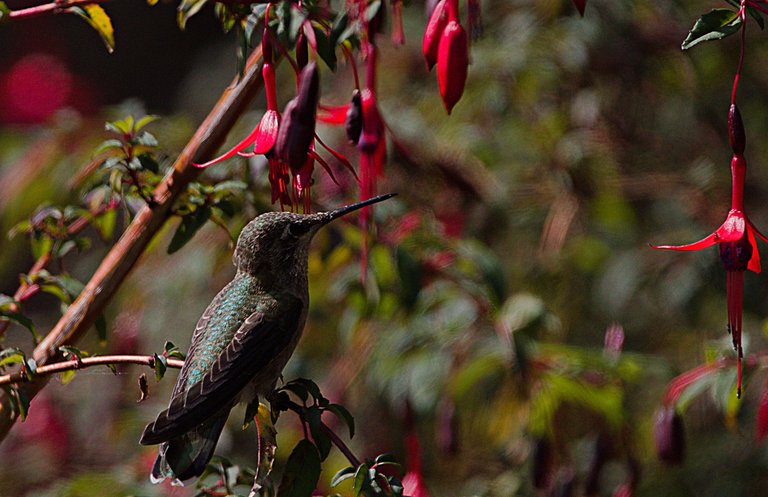 Another favorite burst of images.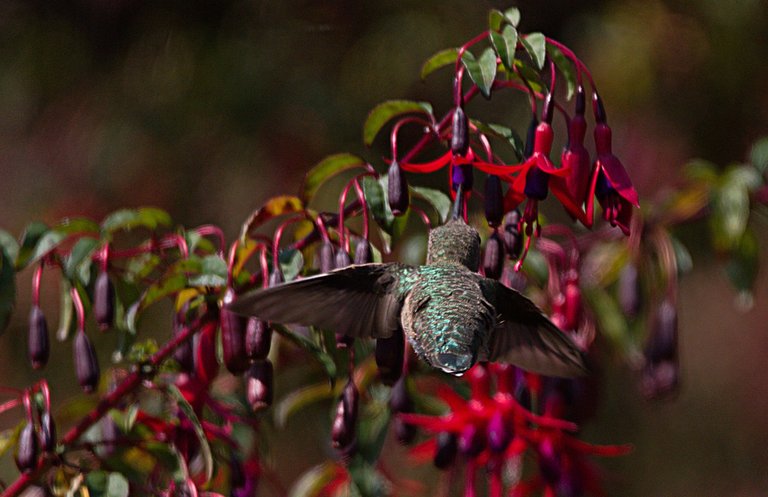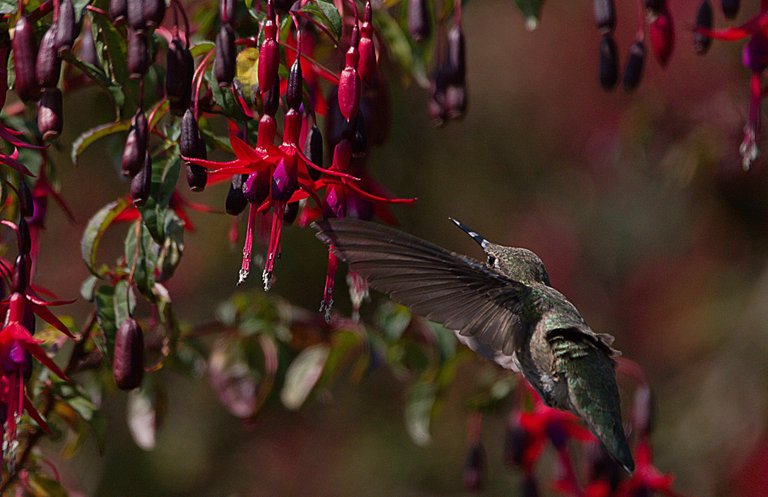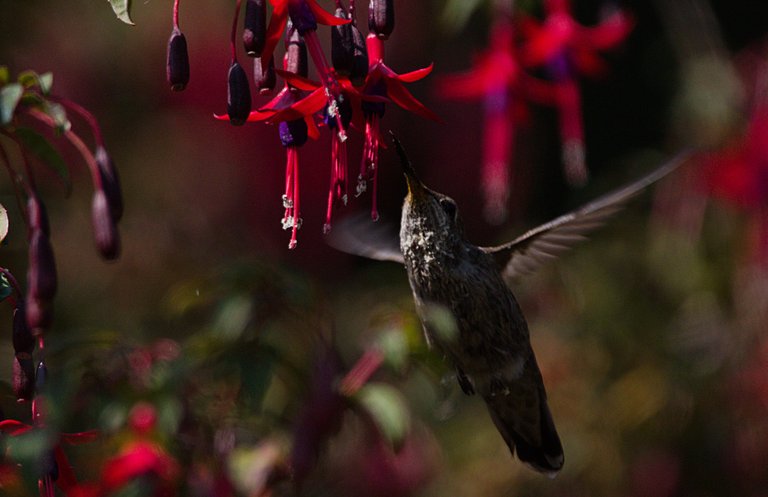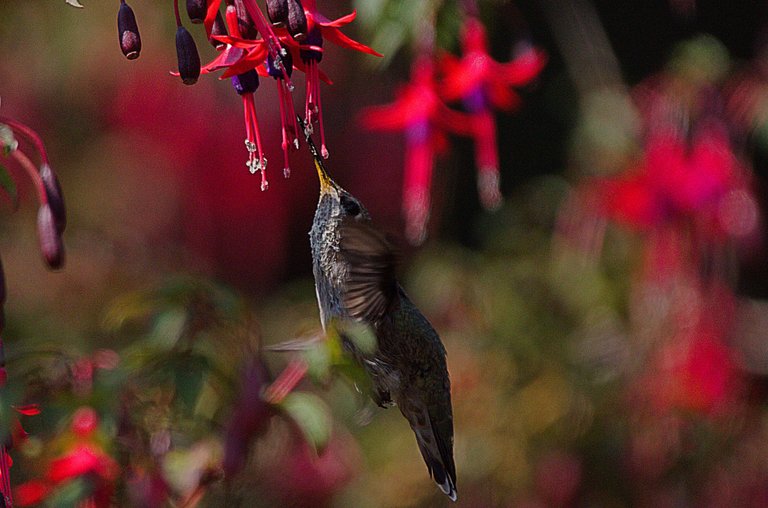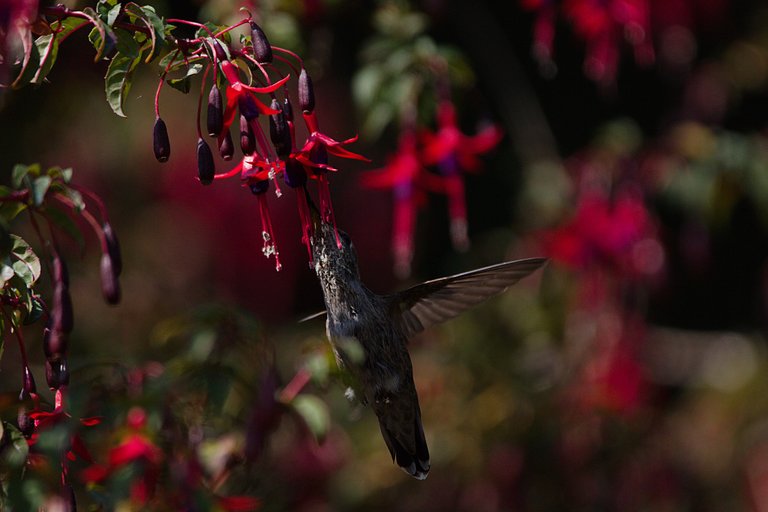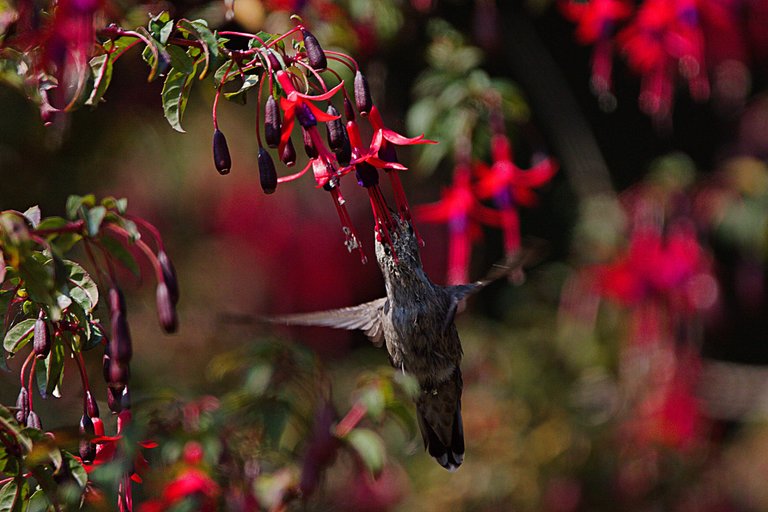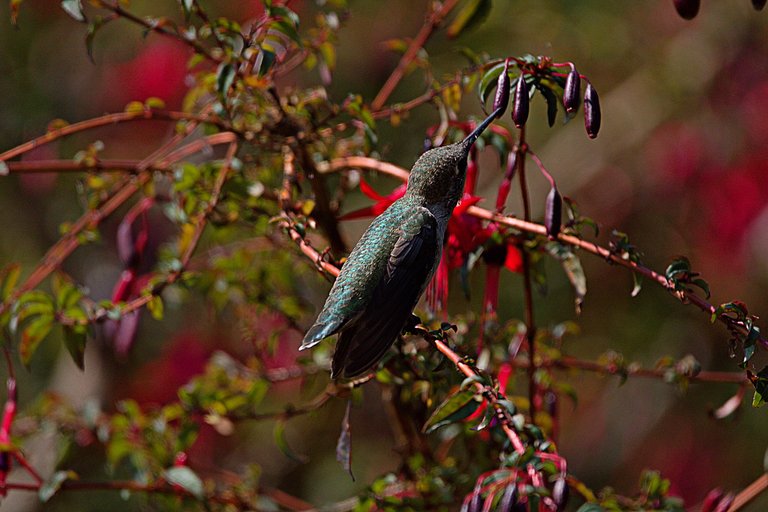 After working the blooms a bit it goes right back to the same branch.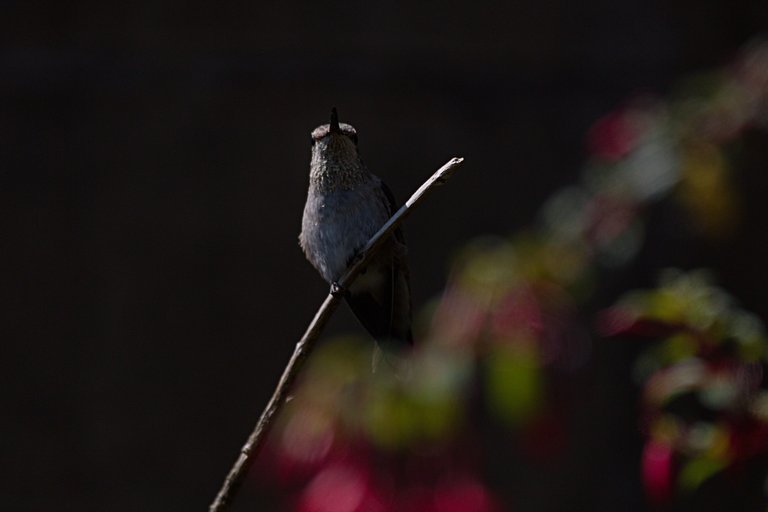 This one landed on a dead branch right in front of me, just beyond minimum focuc distance.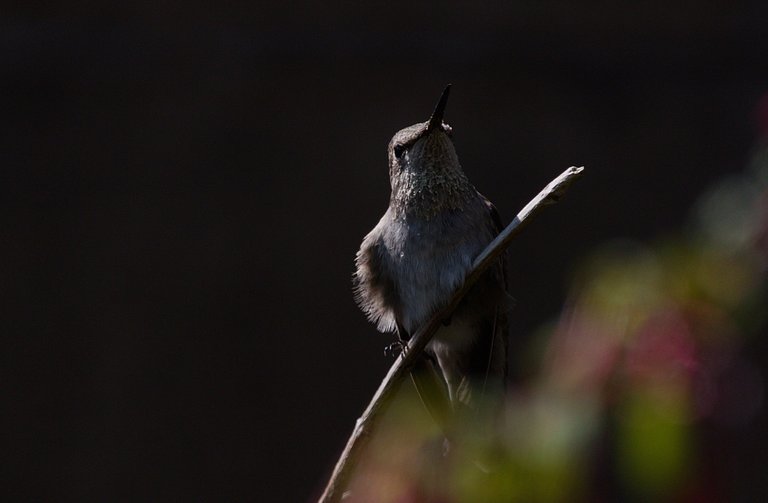 I was able to zoom in very tight and get some good close ups of this one.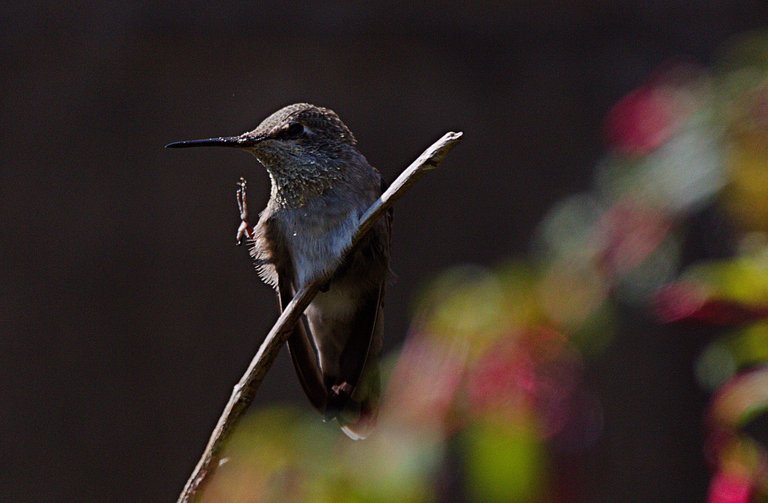 ...... "How" .....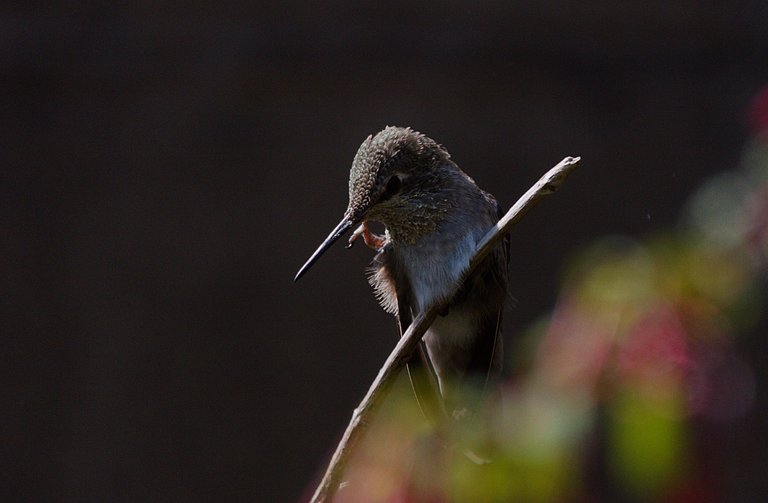 I'd hoped to get a strech out from it but no joy, only a scratch.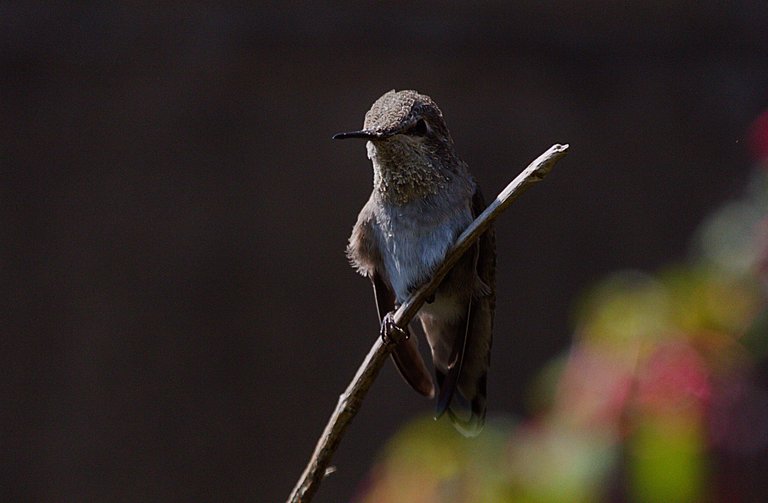 I managed to pair it down to 25 images lol
This one brings us to the end of my post. I hope everyone had a great weekend.
See you all next time here on Feathered Friends.
In the meantime....
Buzz on over to the Feathered Friends community and join
@melinda010100
@nelinoeva
@barbara-orenya
and the rest of the gang at Feathered Friends for all your feathered odds and ends.

10% of this Post proceeds go to @hive-106444 aka The Feathered Friends Community Account.
Every little bit helps.
The rest will end up going to the Birds.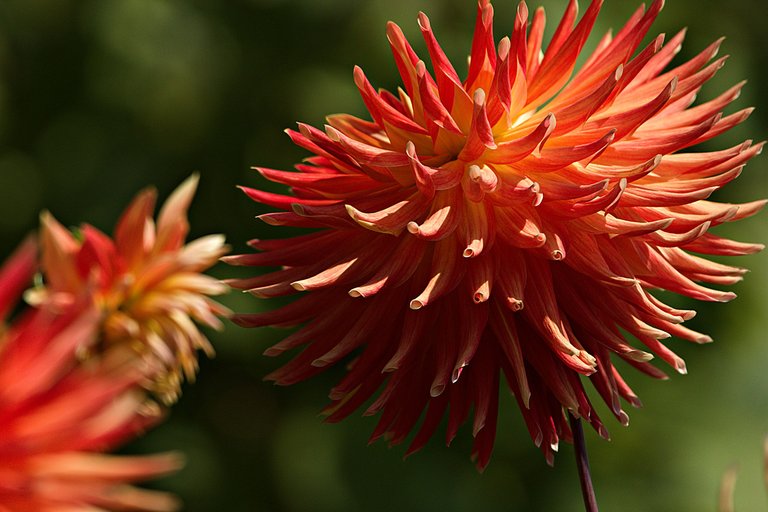 Couldn't resist taking a few more..ah dozen Dahlia shots =)+

Thanks for visiting my post. If you enjoyed it please consider upvoting and following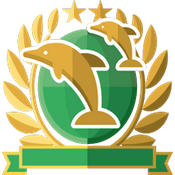 Unless otherwise noted:
All images original, by me.
All Rights Reserved.
Chromium AutographOnline Signature Maker
---
---