[ESP/ENG] Hive Music Festival semana n°1 - Primera Ronda| Tu Tanta Falta de Querer-Mon Laferte
---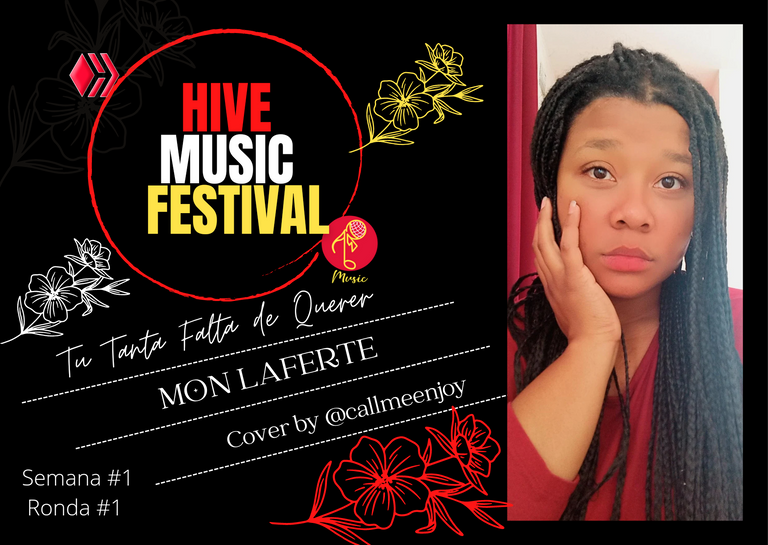 Hola a todos los Hivers que hacen vida en esta comunidad
El día de hoy estoy completamente feliz por estar participando en esta semana número 1 de El Hive Music Festival. Respeto mucho esta comunidad y por supuesto trato de dar lo mejor de mi, en esta ocasión elegí esta potente canción de Mon Laferte, confieso que descubrí a esta artista hace muy poco tiempo, viendo vídeos de concursos de canto, llegué a un programa de imitadores de Perú, entre ellos estaba una Venezolana que imitaba a esta artista.
Me impresionó muchísimo su parecido tanto físico como vocal y quedé fascinada, tanto era su similitud que está chica ocupó el primer lugar de la competencia, siendo la ganadora por excelencia, desde ahí mi encanto.
Aquí les presento mi participación, con amor, Joy.
Hello to all the Hivers that make life in this community.
Today I am completely happy to be participating in this week number 1 of El hype music festival. I respect this community a lot and of course I try to give the best of me, this time I chose this powerful song by Mon Laferte, I confess that I discovered this artist very recently, watching videos of singing competitions, I came to a program of imitators from Perú among them was a Venezuelan who imitated this artist.
I was very impressed by her physical and vocal resemblance and I was fascinated, so much was her similarity that this girl took first place in the competition, being the winner par excellence, from there my charm.
Here is my participation, with love, Joy.
LETRA/LYRICS
MON LAFERTE
"Tu Tanta Falta de Querer"
🎶
Hoy volví a dormir en nuestra cama
Y todo sigue igual
El aire y nuestros gatos, nada cambiará
Difícil olvidarte estando aquí, oh, oh, oh
… Te quiero ver
Aún te amo y, creo, que hasta más que ayer
La hiedra venenosa no te deja ver
Me siento mutilada y tan pequeña, ah, ah, ah
… Ven y cuéntame la verdad
Ten piedad
Y dime por qué, no, no no, oh
¿Cómo fue que me dejaste de amar?
Yo aún podía soportar
Tu tanta falta de querer
… Hace un mes solía escucharte
Y ser tu cómplice
Pensé que ya no había nadie más que tú
Yo fui tu amiga y fui tu compañera, ah, ah, ah
… Ahora dormiré
Muy profundamente para olvidar
Quisiera hasta la muerte, para no pensar
Me forro pa' quitarme esta amargura, ah, ah, ah
… Ven y cuéntame la verdad
Ten piedad
Y dime por qué, no, no no, oh
¿Cómo fue que me dejaste de amar?
Yo aún podía soportar
Tu tanta falta de querer
… Ven y cuéntame la verdad
Ten piedad
Y dime por qué, no, no no, oh
¿Cómo fue que me dejaste de amar?
Yo aún podía soportar
Tu tanta falta de querer
... I slept in our bed again today
And everything remains the same
The air and our cats, nothing will change
It's hard to forget you being here, oh, oh, oh, oh
... I want to see you
I still love you and, I think, even more than yesterday
The poison ivy won't let you see
I feel mutilated and so small, ah, ah, ah, ah
... Come and tell me the truth
Have mercy
And tell me why, no, no, no no, oh
How did you stop loving me?
I could still bear
Your lack of love so much
... A month ago I used to listen to you
And be your accomplice
I thought there was no one else but you
I was your friend and I was your companion, ah, ah, ah, ah
... Now I'll sleep
Too deep to forget
I'd like to die, not to think
I'm lining myself to get rid of this bitterness, ah, ah, ah, ah
... Come and tell me the truth
Have mercy
And tell me why, no, no, no no, oh
How did you stop loving me?
I could still bear
Your lack of love
... Come and tell me the truth
Have mercy
And tell me why, no, no, no, no, oh
How did you stop loving me?
I could still bear
Your lack of love
---

---

Translated with DeepL.com

Cover Banner edited in canva.com

---
---
▶️ 3Speak
---
---