Ein Meme in Gimp erstellen / create a meme using gimp [GER/EN]

Seit ich mich auf Hive angemeldet habe, nutzte ich wieder öfters Grafikprogramme. Manches habe ich vergessen, anderes lerne ich neu dazu.
Beim lesen der anderen Posts ist mir aufgefallen, dass sich auch andere in Grafikprogramme einarbeiten wollen.
Daher ist mir die Idee gekommen, ein kleines Tutorial zu erstellen.
translated with www.deepl.com:
Since I signed up for Hive, I've been using graphics programs more often again. Some I've forgotten, others I'm learning.
Reading the other posts, I noticed that others want to get into graphics programs as well.
Therefore I had the idea to create a small tutorial.
Ich verwende www.gimp.org
Es hat den Vorteil, dass es Freeware ist und dass es Versionen für Windows, macOS und GNU/Linux gibt.
Dadurch kann man es auf allen verwendeten Rechnern installieren und auch angefangene Projekte auf einem anderen Betriebssystem weiter bearbeiten.
I use www.gimp.org
It has the advantage that it is freeware and that there are versions for Windows, macOS and GNU/Linux.
This makes it possible to install it on all computers used and also to continue working on projects started on another operating system.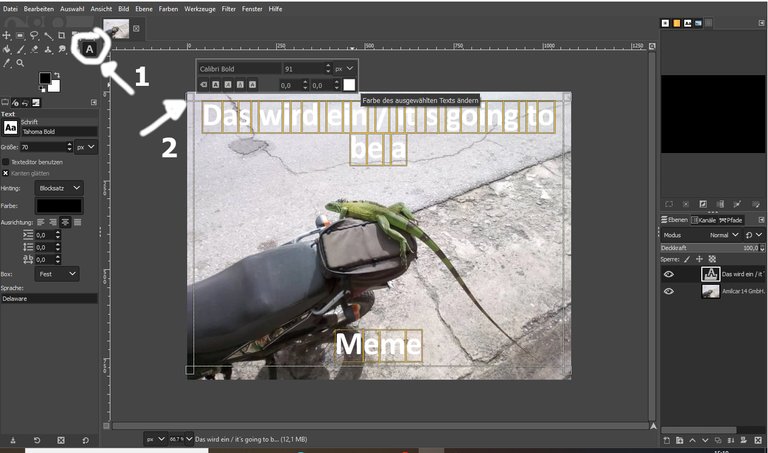 Ich nehme beispielhaft das Bild von @amilcar14 aus der LIL Gallerie, welches @siphon im GmbH-Meme-Contest Numero V verwendet hat.
Links oben (im Werkzeugkasten) wähle ich den Text (Shortcut: T) und ziehe mit der Maus einen Bereich auf, in dem der Text erscheinen soll.
Nach dem Eintippen des gewünschten Textes wähle ich ihn mit einem Doppelklick aus und wähle anschließend Schriftart, Größe und Farbe.
I take as an example the picture of @amilcar14 from LILGallery, which @siphon used in the GmbH-Meme-Contest Numero V.
On the top left (in the toolbox), I select the text (shortcut: T) and use the mouse to drag an area where I want the text to appear.
After typing the desired text, I select it with a double click and then choose the font, size and color.
beneficiaries: 2% @amilcar14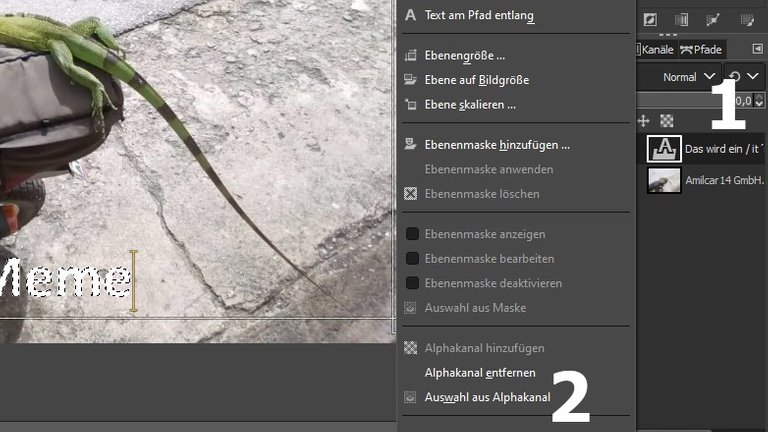 Auf der rechten Seite (im Ebenen Dock) klicke ich die Textebene an und wähle: Auswahl aus Alphakanal.
Dadurch wird der komplette Text markiert.
On the right side (in the layers dock) I click on the text layer and choose: Selection from Alpha Channel.
This selects the entire text.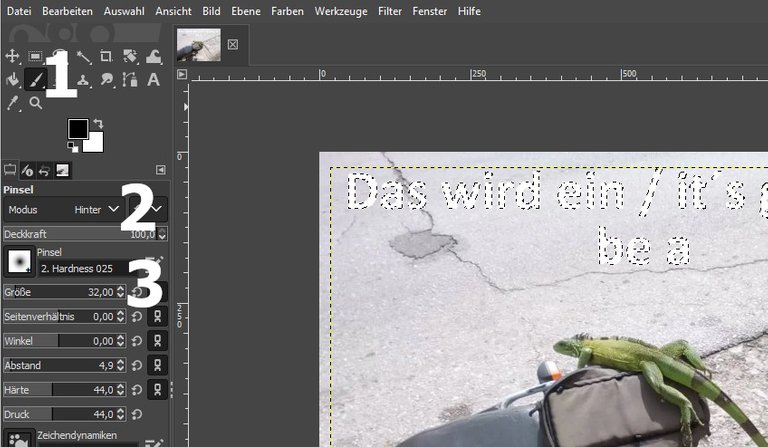 Den Text will ich mit einer anderen Farbe umranden, damit er auf unterschiedlichen Hintergründen gut sichtbar ist.
Dafür wähle ich den Pinsel (Shortcut: P) und ändere den Modus auf Hinter.
Anschließend wähle ich die Farbe und die Größe aus.
I want to outline the text with a different color so that it is clearly visible on different backgrounds.
For this I choose the brush (shortcut: P) and change the mode to Behind.
Then I choose the color and the size.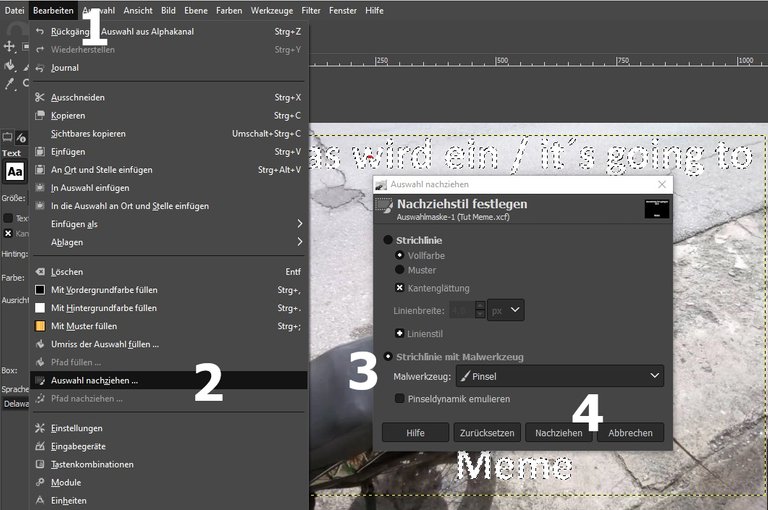 Nun wähle ich oben im Menü Bearbeiten: Auswahl nachziehen -> Strichliste mit Malwerkzeug Pinsel -> nachziehen
Now I choose at the top of the menu Edit: Trace Selection -> Stroke List with Paint Tool Brush -> Trace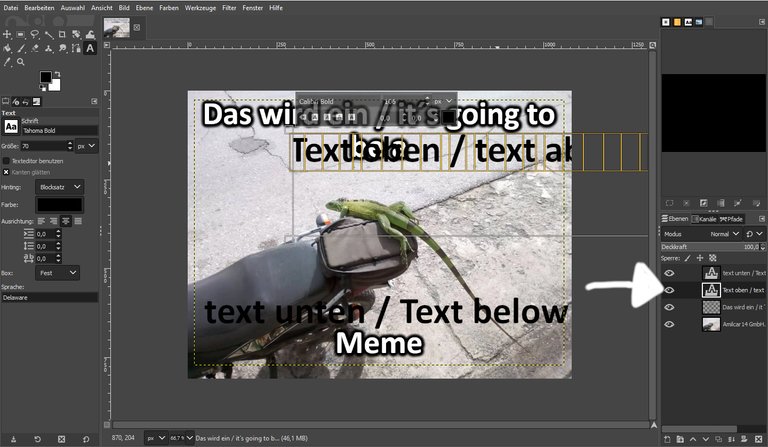 Ich möchte noch kurz den Vorteil von Ebenen zeigen.
Dazu erstelle ich zwei neue Textfelder (welche beliebig verschiebbar sind über das Shortcut: M).
I would like to show the advantage of layers.
For this I create two new text fields (which can be moved arbitrarily via the shortcut: M).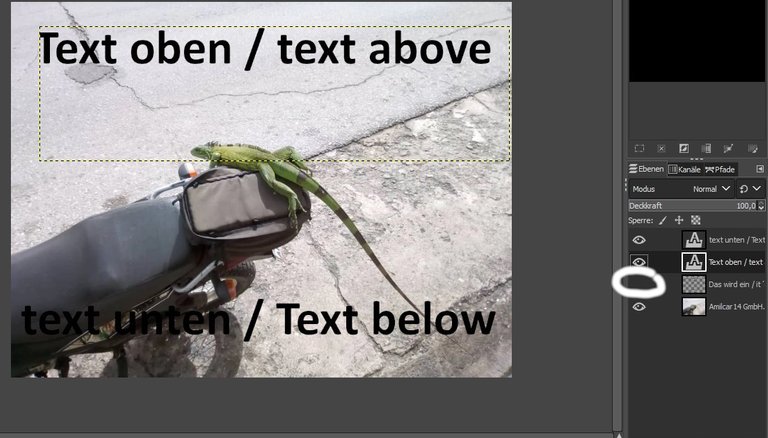 Wenn ich jetzt rechts auf das Auge neben der Ebene klicke verschwindet diese.
Ich kann damit in einer Datei mehrere Memes mit dem selben Bild erstellen.
Now when I right click on the eye next to the layer it disappears.
I can create several memes with the same image in one file.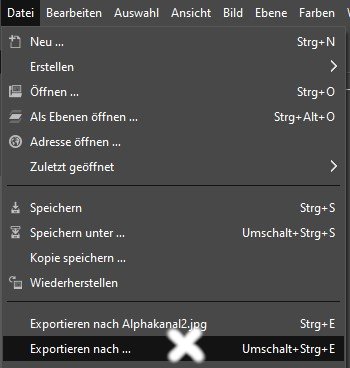 Beim Speichern gibt es verschiedene Möglichkeiten.
Wenn man speichern wählt (Shortcut: Strg + S) wird eine XCF Datei erstellt.
Diese kann wieder mit Gimp bearbeitet werden.
When saving, there are several options.
If you choose save (shortcut: Ctrl + S) an XCF file will be created.
This can be edited again with Gimp.
Wenn man exportieren wählt, kann man das Bild als JPG speichern. Das gängigste Dateiformat, welches auch wesentlich kleiner als die XCF Datei ist.
(oder alternativ als PNG, wenn das Bild z.B. keinen Hintergrund hätte).
If you choose export, you can save the image as JPG. The most common file format, which is also much smaller than the XCF file.
(or alternatively as PNG, if the image would have no background, for example).
---
---