NoiseCash - Panteranera - Litfiba... WTF!? (ENG/ITA)

---
---
👉ENG VERSION👈

---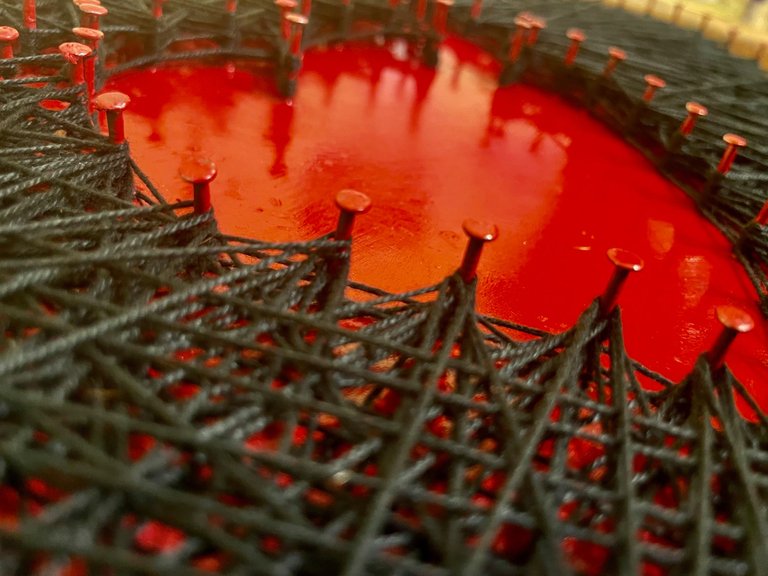 Hi guys, today we talk about Noise and Black Panthers, :-) no, I'm not crazy, today I show you my painting made to be given to Black Panther a boy I met on Noise but let's start from Noise what is it?


Noise is a microblogging platform if I had to compare it to something I would say Twitter, where the appreciation in HIVE in this case the hearts are rewarded randomly with Bitcoin Cash satoshi that can be withdrawn at any time and in any amount.
In Noise as in Hive, there are various channels or rooms of all kinds I am currently enrolled in the ITALIA channel, Black and White, Splinterlands and Blockchain gaming but there are various channels of many types from photography to cooking and whatever you can think of.
Yes, you can create your own personal channels and manage them alone or by choosing trusted people to help you as an administrator.
Let's talk about earnings, as far as I'm concerned about posting 3 posts a day so by wasting ten minutes I can accumulate almost 20 dollars of Bitcoin Cash a week but with a little more effort and time (time that I don't have) I think you can earn a lot Moreover.
The rules vary a little from month to month they are not yet very clear but in addition to requesting your own material and not copied there are six fixed rules that cannot be violated, risk ban, and they are:
No tipping or subscription required
"Suggest me!", "Sign me up to subscribe" (ask for subscriptions), "Suggestions to suggest", "I haven't received FreeTips in 2 days, check my account"

No erotic or pornographic content
Nude or very suggestive. Don't even ask for nudity/eroticism.

No obviously illegal content
Hack, crack, obvious scams

Be polite!
No insults, insults, etc ...

No content intended to disgust users

No extremism, no calls for violence or glorification of violence

If you are interested in subscribing you can use my link if you like:
You can also subscribe without an affiliate link if you want:
If you subscribe or are already on the platform this is my blog:

This is what concerns the part, let's say technical, where and how it works but Black Panther "who is it?" you are wondering...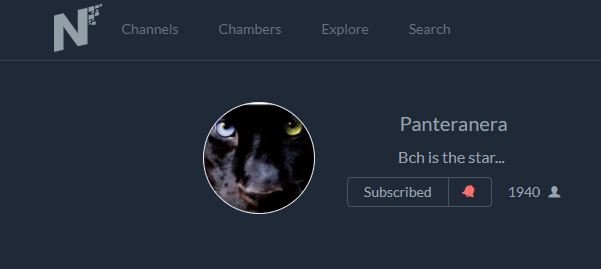 Black Panther is a boy I met at the beginning of my journey, about five months ago, on this platform, Chaos still reigned and nothing was clear but there was immediately complicity and friendship between us so much that one day seeing one of mine work asked me for a picture as a joke and told me to insert the Litfiba logo inside it, that is a heart with horns.
He then wrote to me that it was his first tattoo of this logo and he is very fond of it for the history he has.
He threw it away for fun but I really made it and I sent him the painting that I think he will receive in days.
It made me great pleasure to create this painting for him, always so kind and helpful to everyone that making it for me was a pleasure, I hope he likes it :-).

The technique is the one with nails and twine but without Decoupage with an image created by the nails and the web of twine that is intertwined between nail and nail and here is the "job".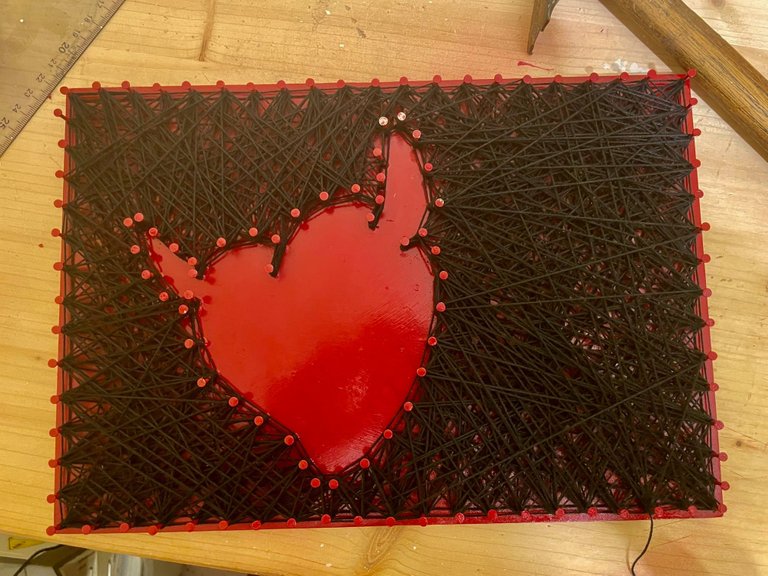 The full video lasts about three hours and has been brought to just over 8 minutes by speeding up some parts to x2 up to a maximum of x20.
Recorded and edited by blumela with iPhone 12, applications used: Perfect Video - Photoleap - Clip2Comics - Tinipiny Camera.
The first eight seconds are part of a Litfiba song taken in a goliardic way.
USED MATERIAL:
Wooden board 29 cm x 21 cm
Nails
Black twine
Red paint
Glossy protective paint

Small parenthesis:
The LITFIBA are a historical Italian rock group formed in 1980 in Tuscany by Federico Renzulli (Ghigo) guitarist but in a short time Piero Pelù, a charismatic singer, takes the reins bringing this band to success on the national territory.
He has thirteen studio albums and several live albums to his credit as well as collections and more.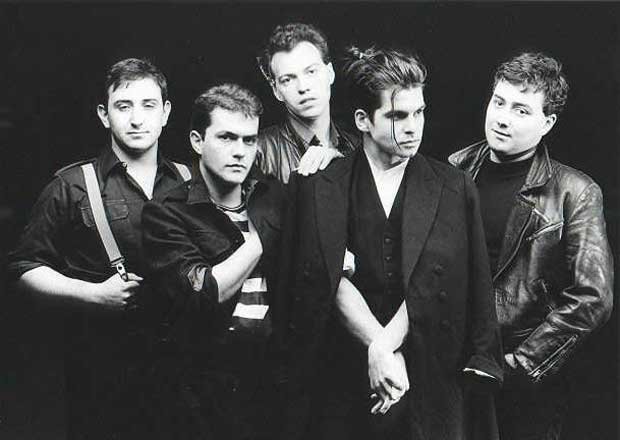 Fonte

In the video, the entire process of creating the materials used to carry out the entire painting from start to finish.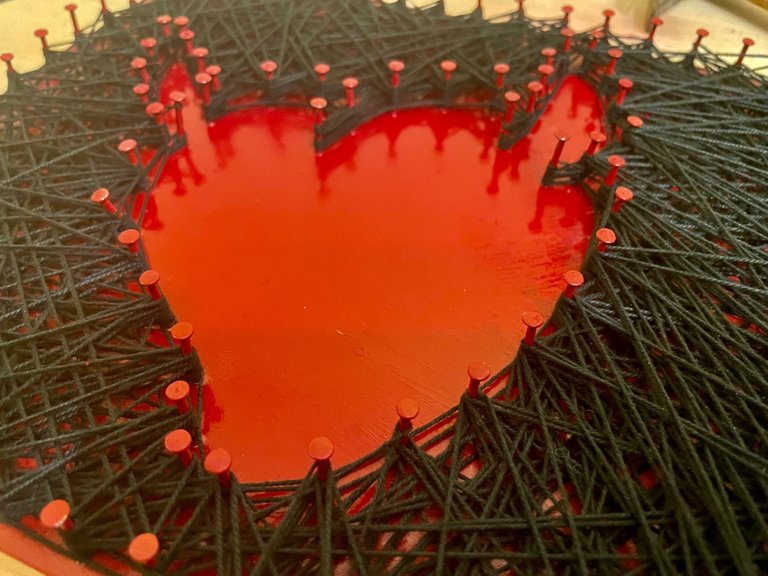 The photos are screenshots in my possession unless otherwise indicated.

---
---
👉ITA VERSION👈

---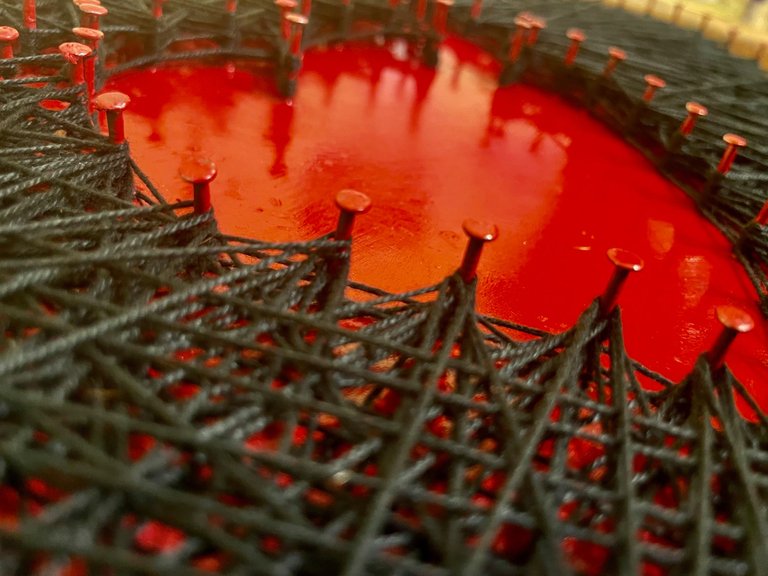 Ciao ragazzi, oggi parliamo di Rumore e Pantere Nere, :-) no non sono impazzito, oggi vi mostro un mio quadro fatto per essere regalato a Pantera Nera un ragazzo conosciuto su Noise ma partiamo proprio da Noise che cos'è?

Noise è una piattaforma di micro blogging, se dovessi paragonarla a qualcosa direi Twitter, dove cone in HIVE gli apprezzamenti in questo caso i cuori vengono ricompensati in maniera casuale con satoshi di Bitcoin Cash prelevabili in qualsiasi momento e in qualsiasi cifra.
In Noise come in Hive ci sono vari canali o stanze di ogni genere io attualmente sono inscritto al canale ITALIA, Black and White, Splinterlands e Blockchain gaming ma esistono vari canali di tantissimi tipi dalla fotografia alla cucina e qualsiasi cosa vi menga in mente.
Si posso creare propri canali personali e gestirli solo o scegliendo persone fidate ad aiutarvi come amministratore.
Parliamo di guadagni, per quanto mi riguarda postando 3 post al giorno quindi perdendoci dieci minuti riesco ad accumulare quasi 20 dollari di Bitcoin Cash a settimana ma con un pò di impegno e tempo (tempo che non ho) in più credo che si possa guadagnare molto di più.
Le regole variano un pò da mese a mese non sono ancora chiarissime ma oltre a richiedere materiale proprio e non copiato esistono sei regole fisse che non possono essere violate, rischio ban, e sono:
Nessuna richiesta di mance o abbonamenti
"Suggerimi!", "Iscrivimi per iscriverti" (chiedere abbonamenti), "Suggerimenti per suggerire", "Non ho ricevuto FreeTips in 2 giorni, controlla il mio account"

Nessun contenuto erotico o pornografico
Nudi o molto suggestivi. Non chiedere nemmeno nudi/erotici.

Nessun contenuto ovviamente illegale
Hack, crack, truffe evidenti

Sii educato!
Niente insulti, insulti, ecc...

Nessun contenuto destinato a disgustare gli utenti

Niente estremismo, appelli alla violenza o glorificazione della violenza


Se sei interessato a inscriverti puoi utilizzare il mio linki se ti fa piacere:
Puoi inscriverti anche senza link di affiliazione se vuoi:
Se vi inscrivete o siete già dentro alla piattaforma questo è il mio blog:

Questo è quello che riguarda la parte, diciamo tecnica, il dove e il come funziona ma Pantera Nera "chi è?" vi starete chiedendo..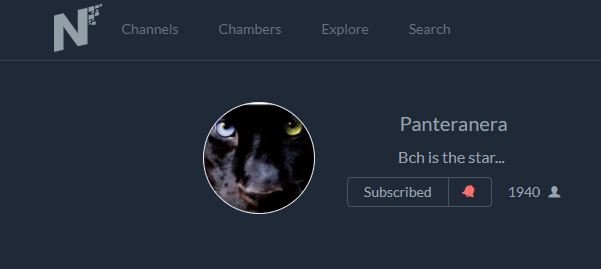 Pantera Nera è un ragazzo conosciuto all'inizio del mio percorso, circa cinque mesi fà, su questa piattaforma, ancora regnava il Chaos e nulla era chiaro ma c'è stata subito complicità e amicizia fra di noi tanto che un giorno vedendo uno dei miei lavori mi chiese per gioco un quadro e mi disse di inserire all'interno il logo dei Litfiba ovvero un cuore con le corna.
Mi ha poi scritto che è stato il suo primo tatuaggio questo logo e ne è molto affezionato per la storia che ha.
Lui la buttò per gioco ma io l' ho realizzato veramente e gli ho spedito il quadro che credo riceverà a giorni.
Mi ha fatto un enorme piacere creare questo quadro per lui sempre cosi gentile e disponibile con tutti che realizzarlo per me è stato un piacere, spero gli piaccia :-).

La tecnica è quella con chiodi e spago ma senza Decoupage con immagine creata dai chiodi e dalla ragnatela di spago che si intreccia tra chiodo a chiodo ed ecco qui il "lavoro".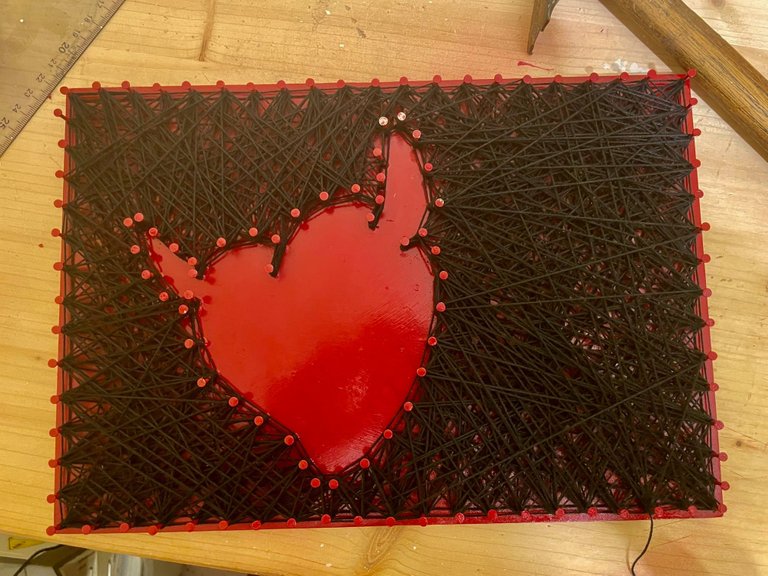 Il video integrale dura tre ore circa è stato portato a poco più di 8 minuti velocizzando alcune parti a x2 fino ad un massimo di x20.
Registrato e montato da blumela con Iphone 12, applicazioni utilizzate: Perfect Video - Photoleap - Clip2Comics - Tinipiny Camera.
I primi otto secondi fanno parte di una canzone dei Litfiba ripresi in modo gogliardico.
MATERIALE UTILIZZATO:
Tavola di legno 29 cm x 21 cm
Chiodi
Spago nero
Vernice rossa
Vernice protettiva lucida

Piccola parentesi:
I LITFIBA sono un gruppo Rock storico Italiano formato nel 1980 in Toscana da Federico Renzulli (Ghigo) chitarrista ma in breve tempo Piero Pelù, carismatico cantante, ne prende le redini portando questa band al successo sul territorio Nazionale.
Ha all'attivo tredici album registrati in studio e svariati live oltre che raccolte e altro ancora.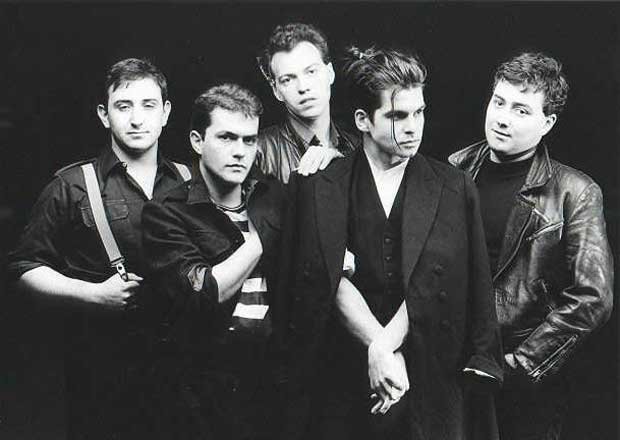 Fonte

Nel video l'intero processo di creazione dai materiali utilizzati allo svolgimento dell'intero quadro dall'inizio alla fine.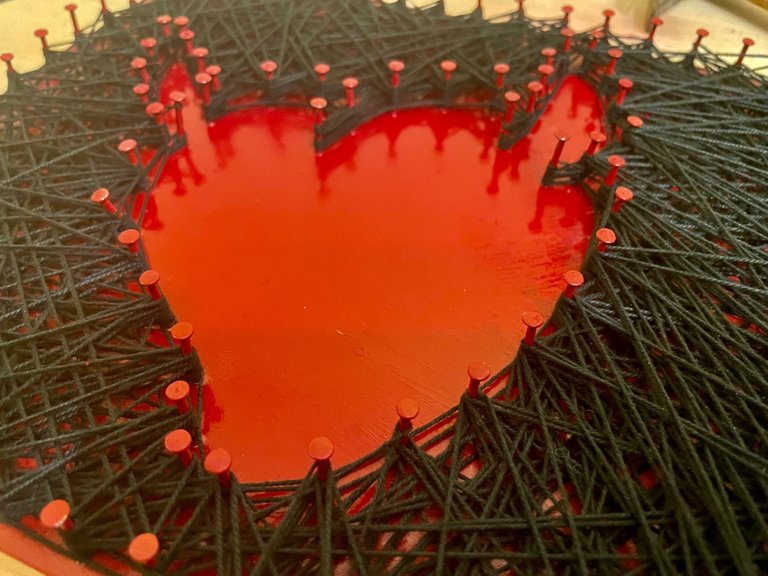 Le foto sono screenshot in mio possesso salvo dove indicato diversamente.

---
▶️ 3Speak
---
---