Rising Star -Halloween Mission

I have been playing the Rising Star Game for a few months now, and I have discovered several pearls of information along the way.
I have decided to start writing about my experience at RSG.


There is a new seasonal mission set up on Rising Star Game for Halloween.
I am not a fan of Halloween but I am a fan of unique cards.
This new mission opens up a total of six new cards.
The first card is S44 Old Blud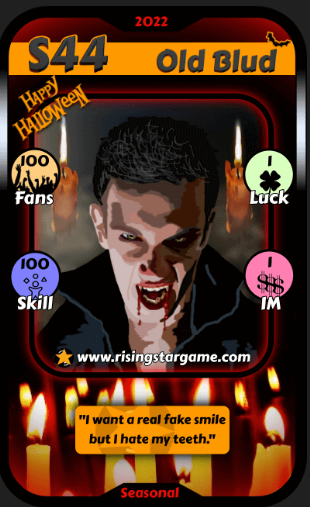 This card is available in packs or on the market.
You need this card in order to complete the mission
When the mission was announced, I purchased three 12 pack cards and I found the S44 Old Blud in each of the 12 pack sets for a total of three cards.
Another option is to buy it directly off the market.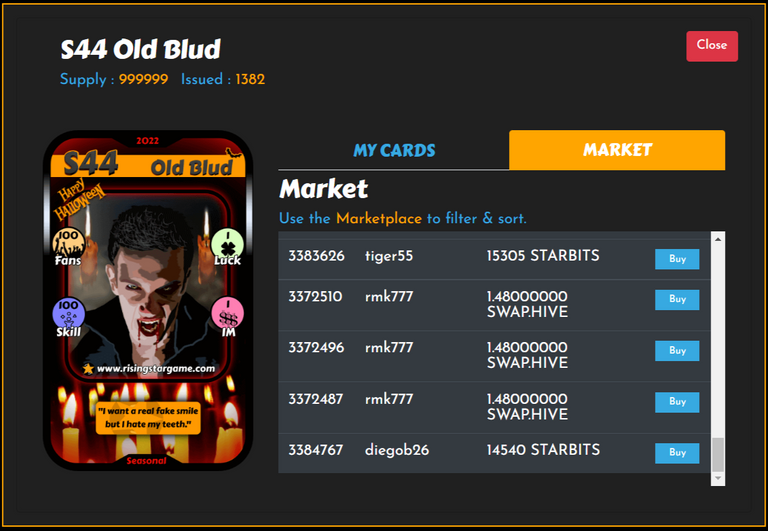 This is what it was selling for at the time of creating this post.

The other two cards are a bit elusive.
I have run 21 Halloween missions and have yet to find one of them.
They are S46 Drum Stakes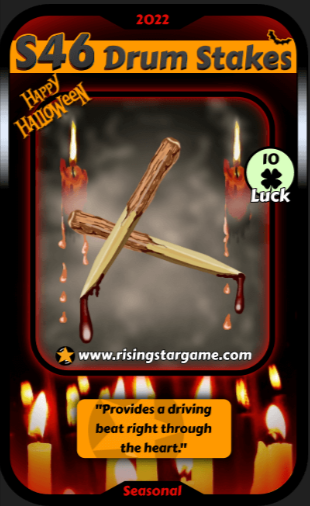 And S45 Crucifix Guitar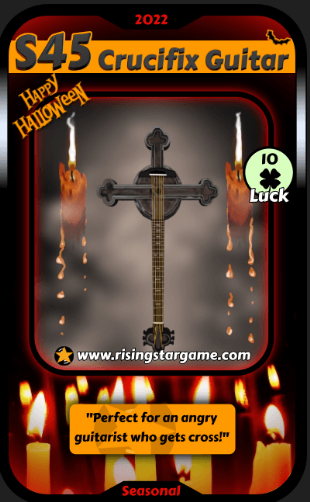 Now, I know I mentioned that there are six cards related to the mission. All three cards can be collected and blended into an animated version of the card.
For more information about the mission please refer to this post

If I have confused you or failed to explain something, please make a note in the comments.

Please remember that when making purchases with Starbits, the Starbits need to be in your Hive Engine and not in the game.
Moving your Starbits from the game to your Hive Engine wallet is simple. You just move your cursor over your Starbits total on the right upper side, and you will get a dropdown list that starts with "Withdraw/Deposit."
Click the Withdraw/deposit tab, and you will see your choices for moving Starbits to your Hive Engine wallet.

If you are NOT yet playing Rising Star Game, You can click on the link to start playing now!
Rising Star game.
The information in this post is my opinion and is correct to the best of my knowledge. There are always other options to consider. Be sure to D.Y.O.R
Until next time,
John Novak

All game images used in this post have come from the Rising Star Game and Discord.
Divider by @doze

Here are other posts that I have done about Rising Star Game
https://peakd.com/hive-195370/@beststart/rising-star-find-your-stats
https://peakd.com/hive-195370/@beststart/rising-star-another-new-feature
https://peakd.com/hive-195370/@beststart/rising-star-new-card-day
https://peakd.com/hive-195370/@beststart/rising-star-they-really-do-exist
https://peakd.com/hive-195370/@beststart/rising-star-apples-to-apples
https://peakd.com/hive-195370/@beststart/rising-star-buying-cards-or-packs
https://peakd.com/hive-195370/@beststart/rising-star-new-feature
https://peakd.com/hive-195370/@beststart/rising-star-accumulating-cards
https://peakd.com/hive-195370/@beststart/rising-star-unique-cards
https://peakd.com/hive-195370/@beststart/rising-star-boosters
https://peakd.com/hive-195370/@beststart/rising-star-boosters-part-2
https://peakd.com/hive-195370/@beststart/who-wants-to-be-a-millionaire
Programs I Endorse
Click Track Profit
ListNerds
Rising Star Game

---
---