[ENG/ITA] @ben.art GIVEAWAY #2 - Win a 10 Hive NFT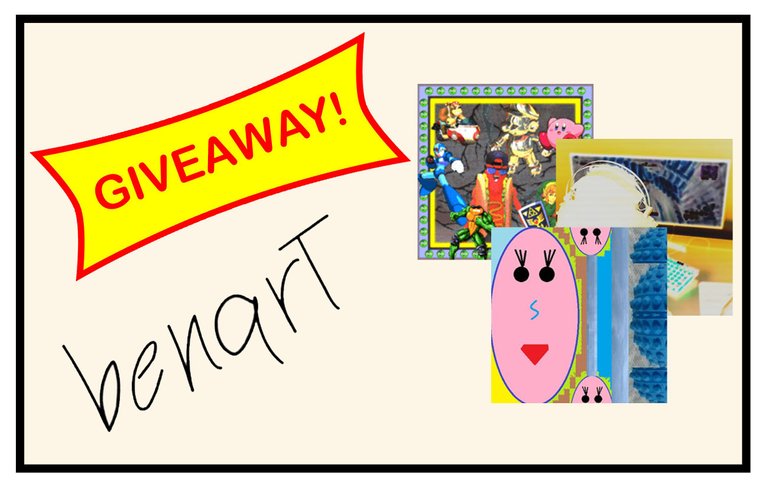 Good evening Hivers,
as promised exactly one week ago, I'm here today to announce the winner of the first project giveaway @ben.art
First of all, I have just proceeded to transfer the 10 Hives to the @ben.art pool, which currently correspond to 5,882 HBD and I will shortly be about to transfer the NFT to the winner.
But let's see the result of the extraction.
As you can see, both @olowalium and @pvmihalache who participated on both Twitter and Hive, had a double chance of winning, having entered their name twice.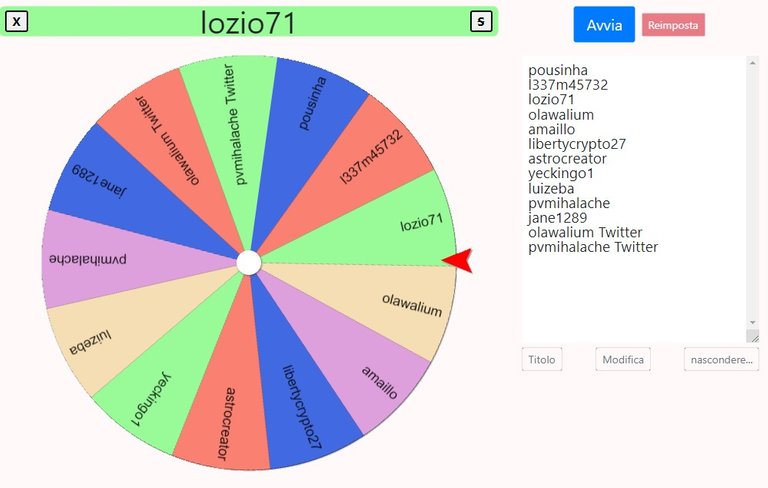 But the winner of this first giveaway is: @lozio71
After having paved the competitors in the all-Italian engagement ranking curated by the good @mad-runner, he also won here.
Dear @lozio71 if you play the Superenalotto and win, you have to reinvest all the prize money in Hive and vote for everyone 100%! :lol:
Seriously, I must say that the first giveaway went very well, beyond my wildest expectations, so I decided to give away another NFT, but this time of the collaboration with PGM.
I will be giving away the NFT RURAL and the winner will then be entitled to receive a weekly interest.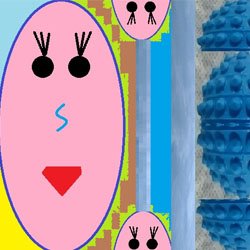 The giveaway will be posted on both my Twitter profile (https://twitter.com/benartnft) and here on Hive and the rules will be different for the two giveaways.
However, you will have the opportunity to participate in both versions, in this way you will have a double chance of winning.
But let's go see the rules.
GIVEAWAY HIVE:
leave a comment
tag a friend who might be interested
GIVEAWAY TWITTER:
like and retweet
write your Hive user
follow my profile
follow @AdsUrNFT
tag 3 friends
Once this article has reached the payout, I will draw the lucky winner.

THE PROJECT
But let's move on to review how this project works.
Periodically I will choose a theme and of this theme I will create 3 different NFTs.
Each NFT will have its own price based on its rarity.
There will be 3 different levels of rarity that we can divide into: COMMON, UNCOMMON, RARE.
A score will be assigned to each level of rarity.
NUMBER OF NFTs
| NFT | QUANTITY |
| --- | --- |
| Common NFT | 100 pieces |
| Uncommon NFT | 50 pieces |
| Rare NFT | 25 pieces |
PRICE
| NFT | PRICE |
| --- | --- |
| Common NFT | 10 SWAP.HIVE |
| Uncommon NFT | 25 SWAP.HIVE |
| Rare NFT | 50 SWAP.HIVE |
SCORE
| NFT | POINTS |
| --- | --- |
| Common NFT | 1 |
| Uncommon NFT | 3 |
| Rare NFT | 8 |
50% of the proceeds from the sale of the NFTs will go to form a pool in HBD that will allow you to earn a weekly interest, just by keeping my NFTs in your NFTShowroom wallet.
---
WHY HBD?
The answer to this question is simple. Because being a more stable currency than HIVE it is easier to manage. And then also because in this way I am able to give greater stability and security to the project, precisely because it is a stablecoin.
---
HOW MUCH DO I EARN?
It is difficult to define a fixed percentage of return of the project, because the weekly interest is paid in HBD, while the NFTs are bought in SWAP.HIVE.
So the interest mainly depends on the HBD-HIVE exchange.
But not only that, because the distribution within the pool also depends on how many and by which NFTs are sold and become part of the pool.
Let's say for example I buy a 10 Hive NFT today.
At this time 1 HIVE equals 0.468 HBD, so the pool will be formed with 50% of 4.68 HBD
If tomorrow I buy a second NFT always from 10 Hive and at that moment 1 HIVE is worth 2 HBD, 50% of 20 HBD will be added to the pool.
Let's also say that User A today buys a 50 SWAP.HIVE NFT and has 8 points. He alone will receive for example 1% monthly of the pool made up of 50% of the 50 SWAP.HIVE.
And let's say that user B the following week buys a 10 SWAP.HIVE NFT and another 25 SWAP.HIVE NFT, thus gaining 4 points.
The pool thus becomes 42.5 SWAP.HIVE, but user A will receive twice as much interest as user B.
It remains very difficult for me to give you a precise return percentage then.
But I try to give you a more precise percentage of return: if 1 HIVE is worth 1 HBD and if all 175 NFTs in the collection are sold, then we can consider an APR according to the following table based on the rarity of the NFTs:
| NFT | APR |
| --- | --- |
| Common NFT | 7.77% |
| Uncommon NFT | 9.32% |
| Rare NFT | 12.40% |
In more precise formulas we can summarize this:
(HBD received weekly) = (HBD in total pools) / (NFT points sold) * (NFT points held)


If you are not yet registered on NFTShowroom you can do it through this link
https://nftshowroom.com/?r=bencwarmer
If you want to use my reflink

Call for users: @blumela @libertycrypto27 @zottone444 @mrhuman88 @green77 @art2class @tosolini @kork75 @ifiwasfrank @statico @ciuoto @serialfiller @regytravel86 @noemilunastorta @riccc96 @aston.villa @claudio83 @mad-runner @robibasa @makeitreal95 @c3r34lk1ll3r @davidesimoncini @rizzellofabio @cryptoitalover @leandro85 @ricky85va @giulius @coccodema @motivationsimo @los2franes @kingkenny44 @astrocreator @chapelle @emeka4 @rickmc10 @sportsbuddy @adedayoolumide @dunksocial @yablonsky @manuvert @oxidil @amaillo @mario02 @an-man @rob23 @uggya @barnabo73 @stewie.wieno @stefano.massari @ross92 @lacandela @marcinxyz @elliptique @xykorlz @ravenmus1c @whickey @yeckingo1 @tokutaro22 @jersteemit @desro @diavolo55 @master.splinter @titus-vivant @steemmillionaire @servelle @hotspotitaly @blitzzzz @falcout @myeong @phaeton @dyson-the-booper @xheadhunterz @elikast @lozio71 @l337m45732 @luizeba @pvmihalache @jane1289 @olawalium
This list includes all users with whom I have had an interaction or who have participated in my other contests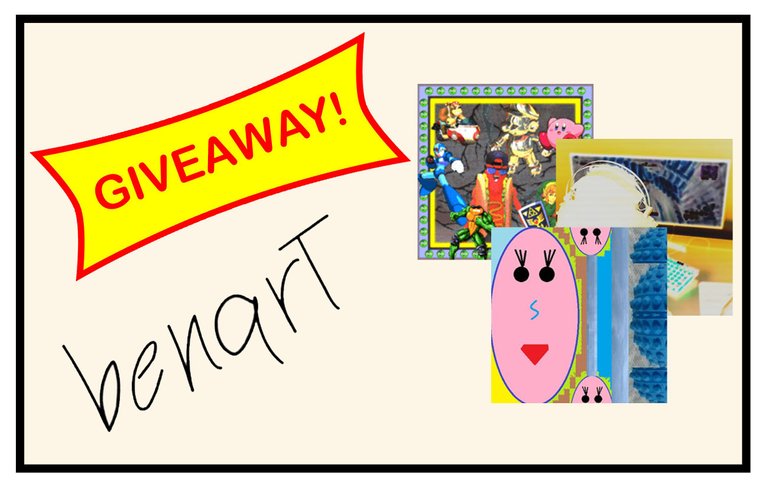 Buona sera Hivers,
come promesso esattamente una settimana fa, sono qui oggi per annunciare il vincitore del primo giveaway del progetto @ben.art
Innanzitutto ho appena provveduto a trasferire i 10 Hive nella pool di @ben.art, che ad ora corrispondono a 5,882 HBD e a breve mi accingerò a trasferire l'NFT al vincitore.
Ma andiamo a vedere il risultato dell'estrazione.
Come potete vedere sia @olowalium che @pvmihalache hanno partecipato sia su Twitter che su Hive, hanno avuto una doppia possibilità di vincita, avendo inserito il loro nome per ben 2 volte.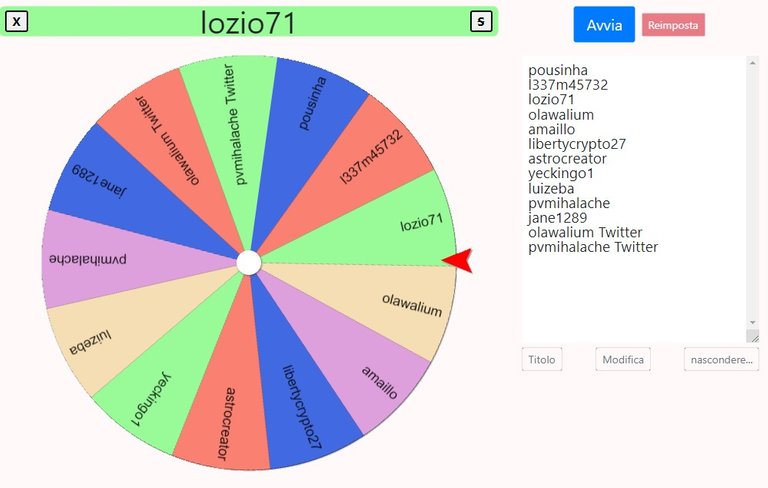 Ma il vincitore di questo primo giveaway è: @lozio71
Dopo aver asfaltato i concorrenti nella classifica dell'engagement tutta italiana curata dal buon @mad-runner, ha sbancato anche qui.
Caro @lozio71 se giochi il Superenalotto e vinci, devi reinvestire tutto il montepremi in Hive e votarci a tutti al 100%! :lol:
A parte gli scherzi, devo dire che il primo giveaway è andato molto bene, oltre le mie più rosee aspettative, quindi ho deciso di mettere in palio un altro NFT, questa volta però della collaborazione con PGM.
Metterò in palio l'NFT RURAL e il vincitore avrà poi diritto a ricevere un interesse settimanale.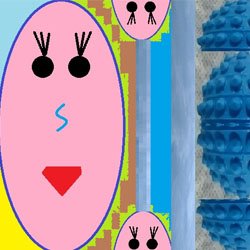 Il giveaway sarà pubblicato sia sul mio profilo Twitter (https://twitter.com/benartnft) che qui su Hive e le regole saranno diverse per i due giveaway.
Avrete però la possibilità di partecipare ad entrambe le versioni, in questo modo avrete una doppia possibilità di vincita.
Ma andiamo a vedere le regole.
GIVEAWAY HIVE:
lascia un commento
tagga un amico che potrebbe essere interessato
GIVEAWAY TWITTER:
like e retweet
scrivi il tuo utente Hive
segui il mio profilo
segui @AdsUrNFT
tagga 3 amici
Una volta che questo articolo avrà raggiunto il payout, sorteggerò il fortunato vincitore.

IL PROGETTO
Ma passiamo a rivedere come funziona questo progetto.
Periodicamente sceglierò un tema e di questo tema creerò 3 diversi NFT.
Ogni NFT avrà un suo prezzo in base alla sua rarità.
Ci saranno 3 diversi livelli di rarità che possiamo dividere in: COMUNE, NON COMUNE, RARO.
Ad ogni livello di rarità verrà attribuito un punteggio.
NUMERO ESEMPLARI
| NFT | QUANTITA' |
| --- | --- |
| NFT Comune | 100 esemplari |
| NFT Non Comune | 50 esemplari |
| NFT Raro | 25 esemplari |
PREZZO
| NFT | PREZZO |
| --- | --- |
| NFT Comune | 10 SWAP.HIVE |
| NFT Non Comune | 25 SWAP.HIVE |
| NFT Raro | 50 SWAP.HIVE |
PUNTEGGIO
| NFT | PUNTI |
| --- | --- |
| NFT Comune | 1 |
| NFT Non Comune | 3 |
| NFT Raro | 8 |
Il 50% del ricavato dalla vendita degli NFT, andrà a formare una pool in HBD che vi permetterà di guadagnare un interesse settimanale, soltanto tenendo i miei NFT nel vostro wallet di NFTShowroom.
---
PERCHE' HBD?
La risposta a questa domanda è semplice. Perchè essendo una moneta più stabile di HIVE è più semplice da gestire. E poi anche perchè in questo modo riesco a dare maggiore stabilità e sicurezza al progetto, proprio perchè si tratta di una stablecoin.
---
QUANTO GUADAGNO?
E' complicato definire una percentuale fissa di ritorno del progetto, perchè l'interesse settimanale viene pagato in HBD, mentre gli NFT vengono acquistati in SWAP.HIVE.
Quindi l'interesse dipende soprattutto dal cambio HBD-HIVE.
Ma non solo, perchè la distribuzione dentro la pool dipende anche da quanti e da quali NFT vengono venduti ed entrano a far parte della pool.
Mettiamo per esempio che io acquisto oggi un NFT da 10 Hive.
In questo momento 1 HIVE equivale a 0,468 HBD, quindi la pool verrà formata con il 50% di 4,68 HBD
Se domani acquisto un secondo NFT sempre da 10 Hive e in quel momento 1 HIVE vale 2 HBD, alla pool verrà aggiunto il 50% di 20 HBD.
Mettiamo inoltre che l'utente A oggi acquista un NFT da 50 SWAP.HIVE e ha 8 punti. Lui da solo riceverà per esempio 1% mensile della pool composta dal 50% dei 50 SWAP.HIVE.
E mettiamo ora che l'utente B la settimana successiva acquista un NFT da 10 SWAP.HIVE e un altro da 25 SWAP.HIVE entrando in possesso così di 4 punti.
La pool diviene così di 42,5 SWAP.HIVE, ma l'utente A riceverà un interesse doppio rispetto all'utente B.
Mi rimane molto difficile darvi una percentuale di ritorno precisa quindi.
Ma provo a darvi una percentuale più precisa di ritorno: se 1 HIVE vale 1 HBD e se vengono venduti tutti i 175 NFT della collezione, allora possiamo considerare un APR secondo la tabella che segue in base alla rarità degli NFT:
| NFT | APR |
| --- | --- |
| NFT Comune | 7,77% |
| NFT Non Comune | 9,35% |
| NFT Raro | 12,40% |
In formule più precise possiamo riassumere questo:
(HBD ricevuti settimanalmente) = (HBD in pool totali) / (Punti NFT venduti) * (Punti NFT posseduti)


Se non sei ancora iscritto a NFTShowroom puoi farlo attraverso questo link
https://nftshowroom.com/?r=bencwarmer
Sempre che tu voglia utilizzare il mio reflink


Chiamata per gli utenti: @blumela @libertycrypto27 @zottone444 @mrhuman88 @green77 @art2class @tosolini @kork75 @ifiwasfrank @statico @ciuoto @serialfiller @regytravel86 @noemilunastorta @riccc96 @aston.villa @claudio83 @mad-runner @robibasa @makeitreal95 @c3r34lk1ll3r @davidesimoncini @rizzellofabio @cryptoitalover @leandro85 @ricky85va @giulius @coccodema @motivationsimo @los2franes @kingkenny44 @astrocreator @chapelle @emeka4 @rickmc10 @sportsbuddy @adedayoolumide @dunksocial @yablonsky @manuvert @oxidil @amaillo @mario02 @an-man @rob23 @uggya @barnabo73 @stewie.wieno @stefano.massari @ross92 @lacandela @marcinxyz @elliptique @xykorlz @ravenmus1c @whickey @yeckingo1 @tokutaro22 @jersteemit @desro @diavolo55 @master.splinter @titus-vivant @steemmillionaire @servelle @hotspotitaly @blitzzzz @falcout @myeong @phaeton @dyson-the-booper @xheadhunterz @elikast @lozio71 @l337m45732 @luizeba @pvmihalache @jane1289 @olawalium

---
---