Police harassment, crypto misunderstanding and I absolutely hate it here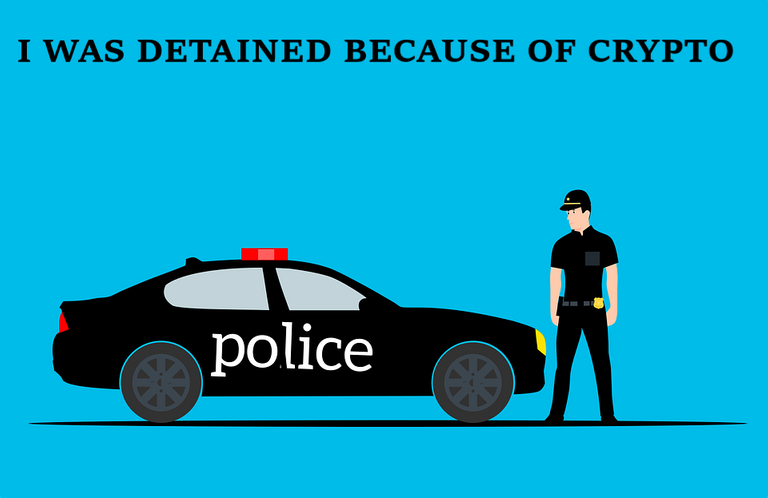 Yesterday is going down as one of the worst days of my life. The only time I actually ever felt this level of fear was when I thought I was going to get shot back at the University of Benin.
So yesterday on my drive back home, I got stopped by the police. I didn't want to go out but I had to sort out some stuff with my school and so I had to hit the town.
On my way back, I saw a police checkpoint and I'm guessing it's due to the "security" issues in the state. The police officers picked an isolated place and we're randomly harassing people on the street, and I was, unfortunately, one of them.
Now you might be wondering how this is crypto-related right? Well, here's the thing, the idiots claimed crypto is illegal and then took me to their station.
I'm not going to lie, it was a very scary experience, especially for someone like me that's never had any dealings with the police.
The officers, armed with AK47s tool my phone and then started going through my personal shit. The next thing I know, they started talking some random shit about crypto, and by the end of the day, I was being threatened with being locked up in jail until someone comes for "questioning" or some crap.
It's bullshit
I've said it on numerous occasions and I'll say it again, this country is fucked up and there's no hope for it.
I hate to sound like this but it's not easy not to. I absolutely hate it here.
I was taken to a shitty corner in the police station and threatened like I'm a criminal. I showed the police officer my hive profile and everything else but they ignored it and just kept on going about how "crypto is banned".
I explained the initiative and further clarified that crypto isn't banned and stressed that dealing with crypto is not a criminal offense and they replied with threats of tampering with my statement and shit like that.
The police constantly tried to isolate me from everyone else but my wife was always around.
The moral of the story
First of all, I'm going to get a lawyer on retainer as soon as possible. I'm not going to be anybody's bitch in this country.
Secondly and most importantly, we have to get the entire fuck out of here. Even if I have a lawyer, I could still be targeted and I know they'll absolutely love to continue harassing me.
At the end of the day, I had to pay money to get out of there. I spent like $200 range to regain my freedom from my captors.
I wasn't arrested or committed any crime but was harassed and detained simply because of a bunch of crypto WhatsApp groups. For most part, I thought I was kidnapped and just wanted to be far away from them.
Stay safe and frosty out there my friends.
PS: The internet is still messed up and it's still a struggle to access hive and all my blockchain stuff.
Contact & Support
Discord: belemo#9593
Twitter: https://twitter.com/belemo__
Telegram: uncleskipper
Email: [email protected]
ETH and BSC wallet: 0xC75E34E3ee9a343041B3322E1bD97b4940Ed721d
Bitcoin Address: bc1q635vre2jj9zhde9cyvflyz4h9c0p57gg3s3yre

Posted Using LeoFinance Beta
---
---