Hive blockchain - Top 100 Communities and runner-ups
The Hive blockchain is a huge web3 platform where content is pouring from everywhere and covering a great diversity of subjects and interests. One that joins this platform is easily overwhelmed by the immensity of it all and might find it hard to find a place of its own within this ecosystem. But there is a solution to it and that is given by communities that play a vital role in Hive's ecosystem by enabling users to connect with like-minded individuals and create and discover content that aligns with their interests. Usering joining communities we'll ensure targeted channels for them to publish their content, engage with others, and receive support and feedback. Without them, we are simply lost and hard to be spotted through hundreds of thousands or even millions of other users and their specific content.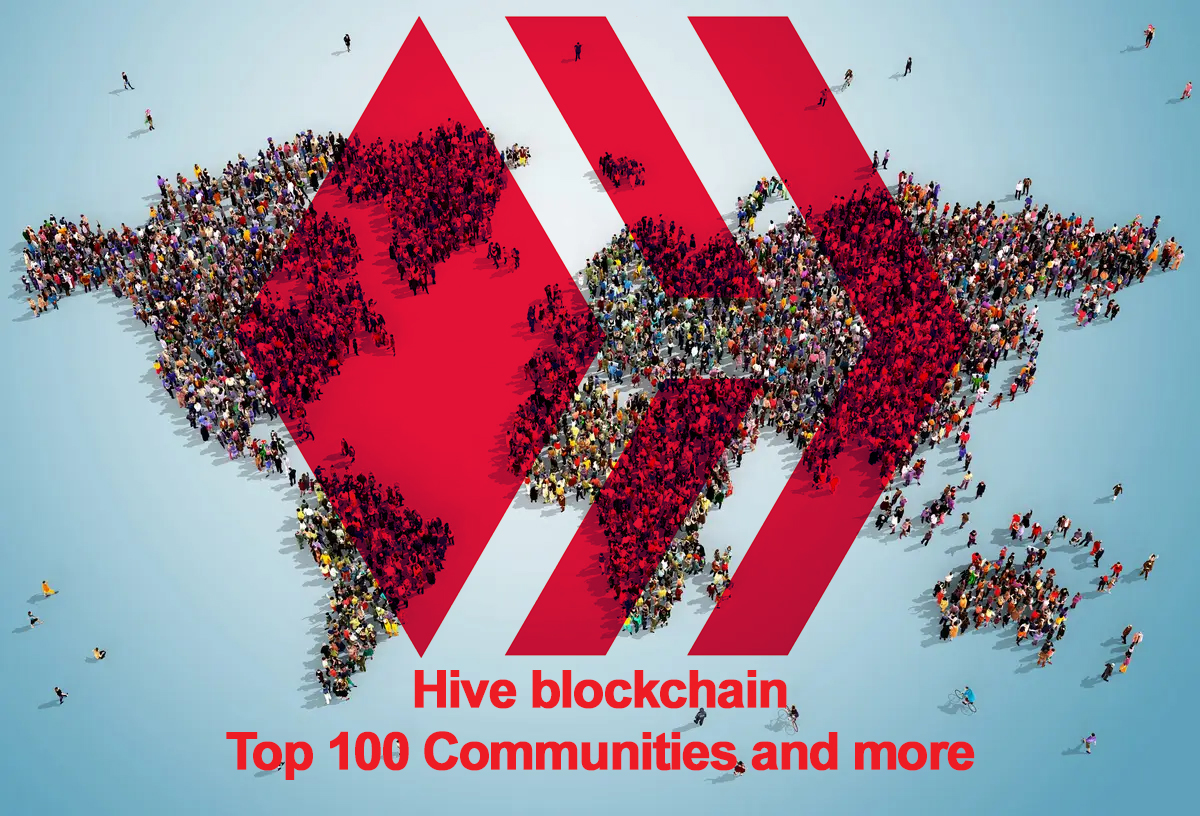 The role of communities on Hive goes beyond content curation and rewards distribution through upvoting, which surely is still a strong motivating factor. They also provide a space for users to build relationships and develop a sense of belonging. As users interact with one another in a community, they establish a shared identity and a sense of common purpose. This fosters a sense of community ownership and responsibility that encourages users to contribute to the growth and development of the community. And as the community grows, also its members will grow and receive more rewards and perks.
Top 100 Communities on the Hive blockchain
Whether community members work together to develop new projects, create informative resources, organize events and meetups, or simply contribute content to a domain they are passionate about, it is clear that without them Hive would fall into chaos and anyone would be hard to be spotted. In order to alleviate the search of communities on the Hive blockchain, I've built up a Top 100 Communities list based on the number of members. While this doesn't distinguish if the members are active or not, I think it is a good starting point for anyone to see the main communities.
Top 20 Runner-up Communities on the Hive blockchain
While they didn't make it to the Top 100 Communities yet, there are runner-up communities that find themselves right under the thresholds. These have the most chances based on their numbers that they could enter the Top 100 and flip others. So it is good to keep an eye on them and even join emerging communities that might have better momentum. I've extracted the Top 20 Runner-up Communities in order to keep it close to the Top 100 as this might have the biggest chances to move up.
Finding your place on the Hive blockchain is not easy, but using communities surely helps. And picking the communities with more members and activity is one aspect that will keep anyone engaged and contribute to the growth of this ecosystem in general and himself/herself in particular. This is the way!
Posted Using LeoFinance Beta
---
---