Coffee is a Part Of the Family
Ever since I was a child, there is a certain line from my mother that never changes until now. She will be always saying, "The coffee is ready!", and we would all race to the kitchen to have our cup of coffee to warm up our every cold mornings in the countryside. Maybe, it is from the influence of our parents and grandparents that have urged us to try coffee and learn to love it overtime as we have known its importance in our daily lives.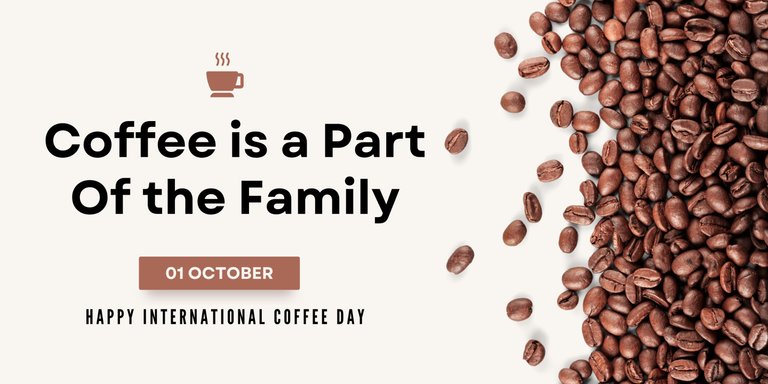 Image created and edited in Canva.
At first, we were encouraged to drink milk during our childhood but it wouldn't be that convincing for us to follow if you can see your elders drink a different substance regularly. The one on your hand is milk or chocolate and it surely tastes better but seeing that black drink on their hands wherein they happily drinks, your curiosity as a child is triggered and you were slowly enticed with its aroma which is incomparable to what you have. I still remember how I begged my mother to let me have a sip of it and how she was persistently telling me that it's not good for me because I can't sleep with the effects of caffeine. yet, as the aroma tries to lure me in its wonders every day, I secretly tried when no one was looking.
It wasn't that bitter since my parents put sugar in their coffee but yes, I got hyped as it was the side effects for me and I have to sweat it out because I feel like my body would uncontrollably shake if I wouldn't move vigorously. It was the time where I finally understand why adults in our place drink coffee first thing in the morning and before going to work. It is to keep them active like an energy drink does that could keep them going even though they are already tired from work.
As a child who wanted to play all day, I started drinking it so I could have the enough energy I wanted. It was also where I started to love coffee and before I knew it, I couldn't take it away from my life. It is like my day wouldn't be complete if I can't have a taste of an ounce or just a drop of coffee. Initially, it was only my story within the family but my siblings also followed me, now we have the same favorite drink in the house -only coffee. However, I'm still wondering. Am I a good influence to them or not? Whatever, at least it's not drugs or any alcoholic drinks that we are addicted to.
For the love of coffee, my mother planted seedlings of coffee in our backyard which we already reap its fruits for a few times now. The variety is the most common one here in the Philippines, which is the Liberica beans. May it sounds very common and you can buy it anywhere for an affordable price, but I can assure you it would totally be worthy. The liberica beans were the ones used to blend and make the local coffee here named Barako. This type of coffee is currently the strongest long black coffee which is a common blend and literally, you can just find it in local coffee shop and every houses here.
Image by Milo Miloezger from Unsplash.
The beans kinda looked like that, and their sizes are also like that. I can't share some pictures that came from our backyard because I'm currently still in the city for my college. I just hope that you can picture out what does Liberica Beans looks like or you can just do your research about it. If ever I can go home in my hometown, I'll surely take pictures of them and make a blog about it to share them here.
Right now, my mother has 10 or so coffee trees at home. She wasn't planting new seeds to grow new trees but some fallen seeds on every harvest grow on their own when rainy season comes. So, either she plants it or not, there will be new trees sprouting every season which she is thankful for since it could lessen her efforts. When I'm at home, my only contribution is to grind those roasted coffee beans by her. Then, I'm gonna make a cup from it in almost every 2 hours, that's how addicted I am with coffee. It just feels like drinking water, it has no effect with me now unless you put milk with it. In that way, I'll be a sleepyhead in an instant.
Coffee has been a part of our family. Everybody needs it before going on with our daily tasks. It's not a good thing for us if we ran out of it, it's a bad news for sure. Sometimes we are having a fight because of it (you know, running out of stocks and no one roast or grind, or no one buys from the store if the harvested ones run out, or someone steals others' cup of coffee which they make for themselves), but we also reconcile because of it. Every arguments are settled in every coffee time within the day.
For us, no need to wait for the International Coffee Day to show our appreciation and love for coffee. We do it every day as it is a part of our family and considered as a task in our to-do list which we can never crossed out. Thanks for reading!
---
HAPPY INTERNATIONAL COFFEE DAY!!!
---
---