All three I Went Full Ape NFT first editions are sold to...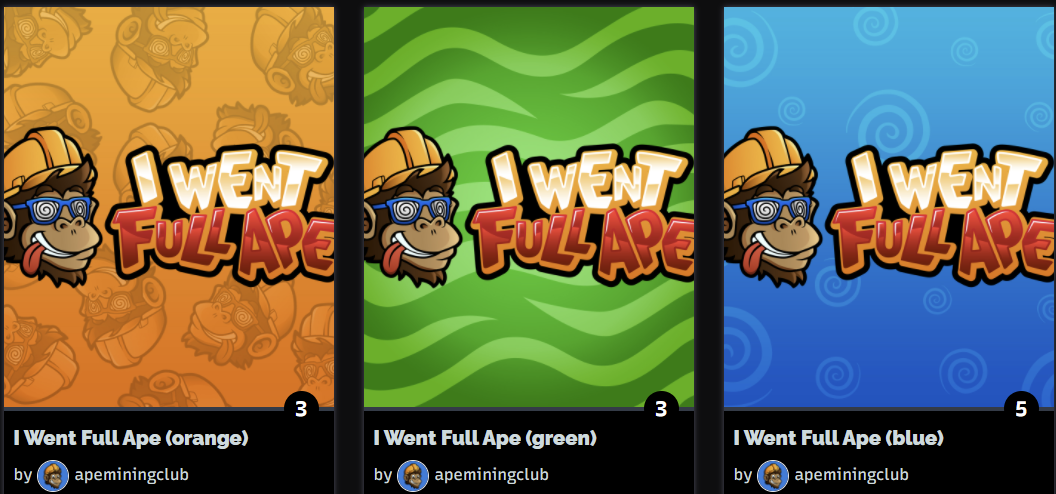 All three Ape Mining Club first editions NFTs on NFTShowroom are sold to @chronocrypto. I am honestly not surprised he managed to snag all three first editions. If I was to guess before hand, he would have been my #1 guess.
All three first editions were setup as an auction on NFTShowroom with a minimum of 5 Hive bid.
There are five editions of the blue, and three editions of the green and orange NFTs.
There are two remaining editions for each of the three NFTs.
While I am happy with how this went, I don't believe we will create any more NFTs. There was some requests for Ape themed NFTs and I figured we would give it a go. If you managed to get one, congratulions, there are very few in print, so hopefully they actually go up in value for you. I have no idea how this will play out long term and is just an experiment.
Using NFT Showroom was quick and easy and allowed us to make this happen.
You can still check out the remaining NFTs by going to our gallery on NFT Showroom.
There is a massive amount of art on NFT Showroom, if you haven't checked it out yet, head over to https://nftshowroom.com.
Posted Using LeoFinance Beta
---
---