Update Kitchen Utensils With Natural Materials
Desiring to bring rustic vibes to food photography, I started adding more kitchen utensils with natural materials. From bamboo, wood, and natural stone.
---
I have purchased products that are made from environmentally friendly materials, which also carry a rustic vibe.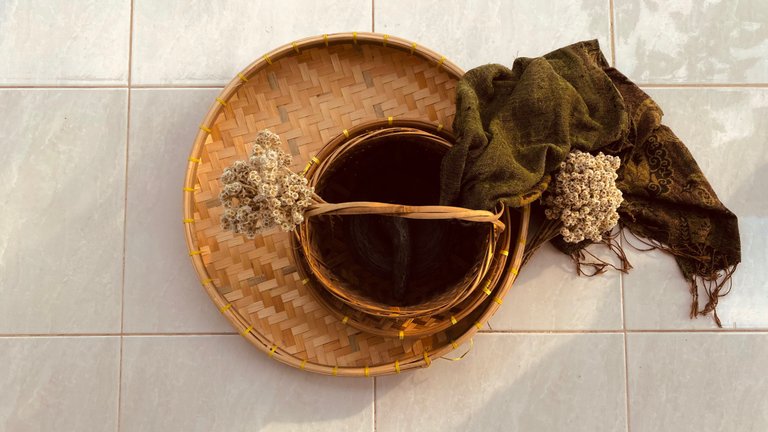 ---
---
---
Life is about upgrading, processing, adding things that make life better meaning, and reducing or even throwing away things that only bring a negative side to our lives.
I always want to serve the best, as a woman who is responsible for my family, cooking the daily menu as well as a content creator who shares my cooking. I don't want to be complacent.
Lots of inspiration for food photos, especially from the Pinterest application that keeps me motivated to produce better food and content. For that reason, I often upgrade Kitchen Utensils as I have shared in my previous blogs.
---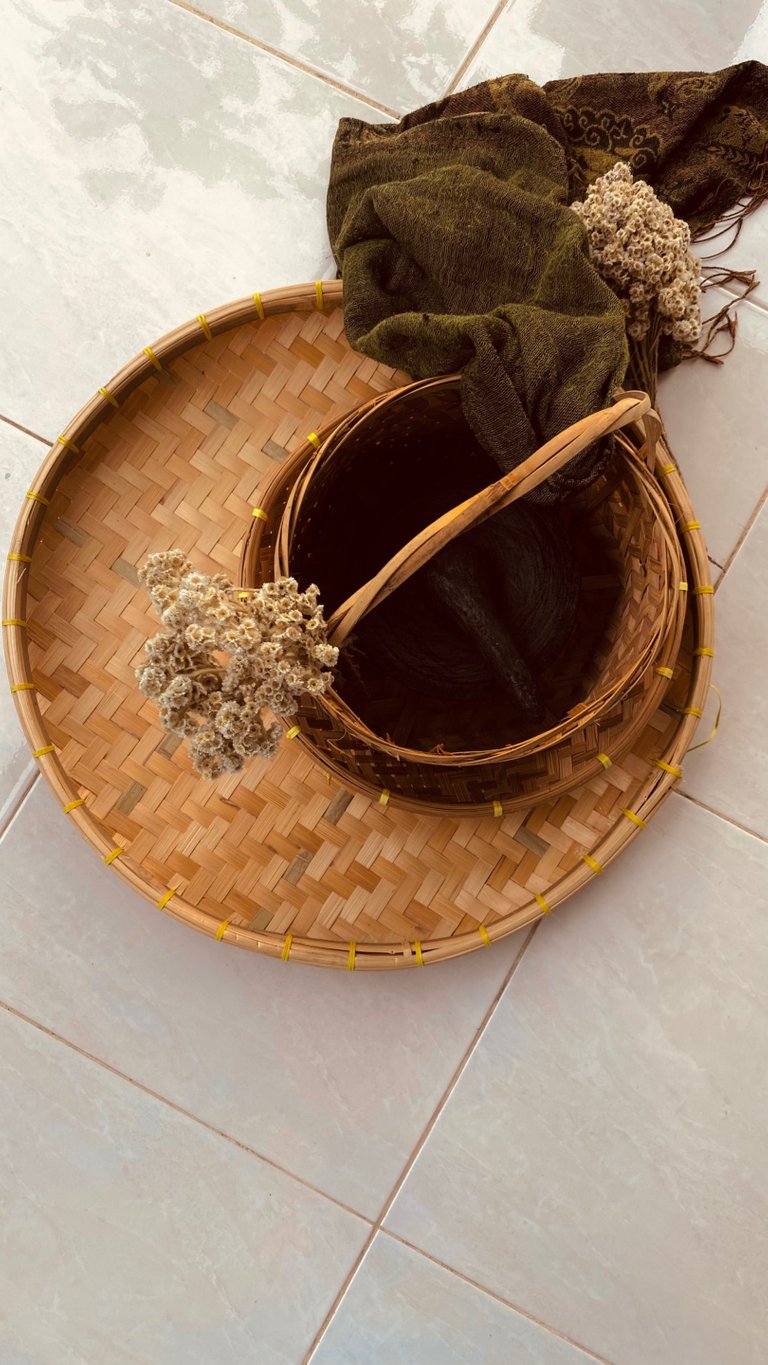 So, this time I share some of the products that I managed to buy. With the theme, "natural materials". Starting from wooden materials, bamboo, and natural stone.
---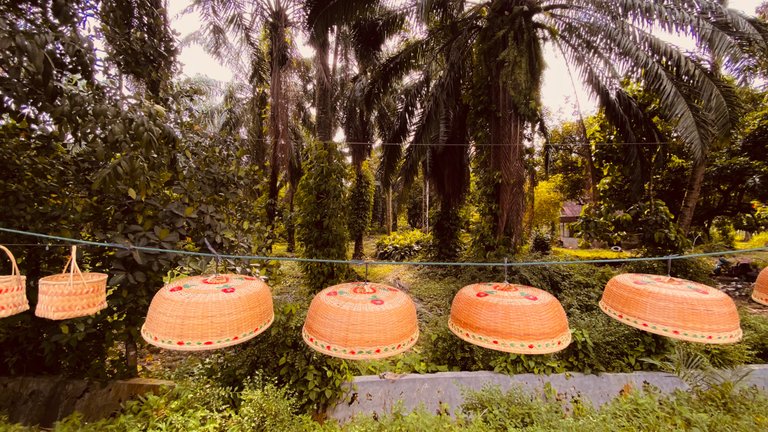 ---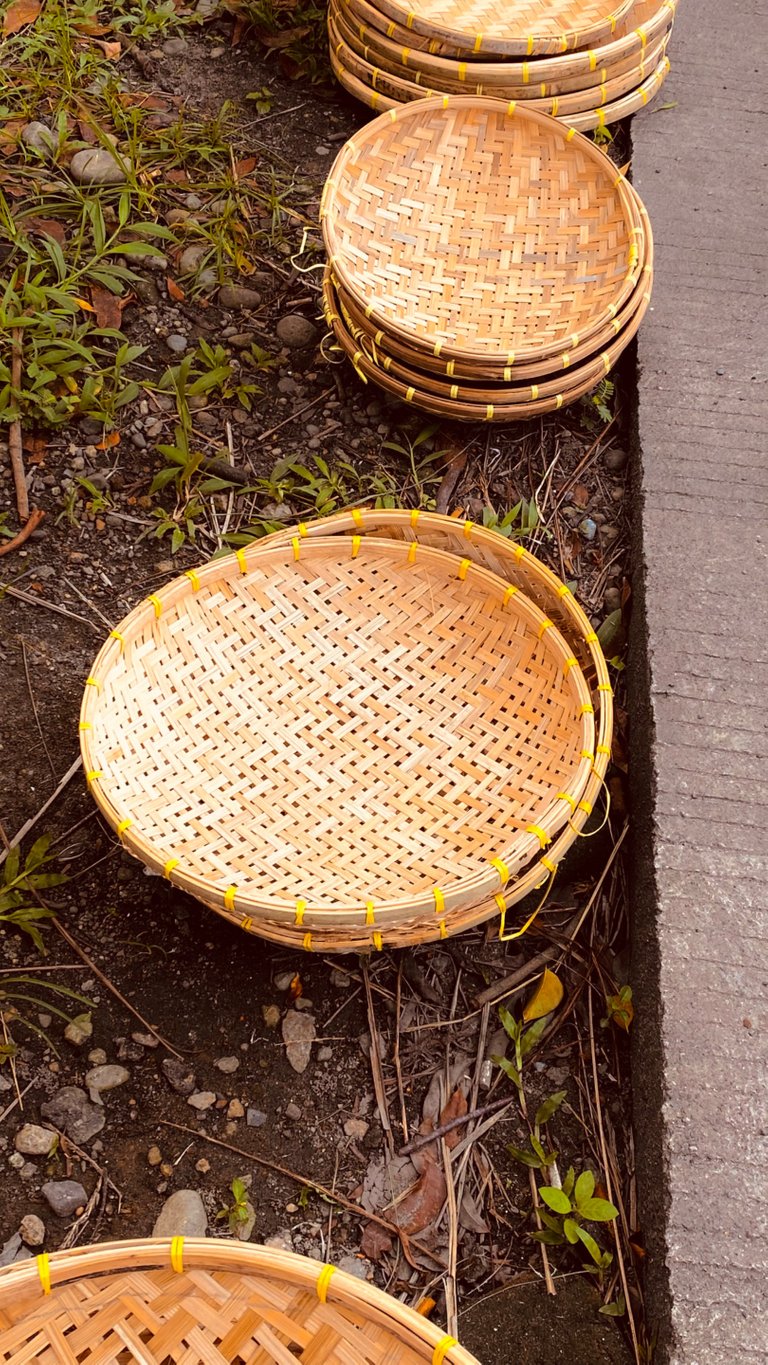 ---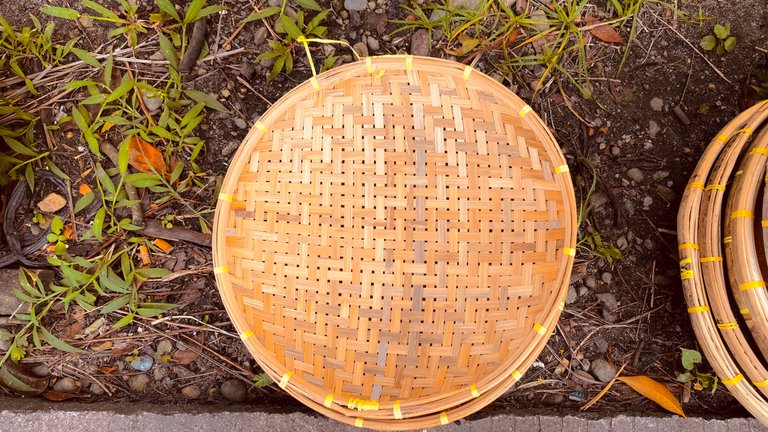 Purchases of these environmentally friendly products are from direct purchases at a street vendor in my living city. I hope you enjoy some of the products that I will discuss, and maybe you are interested in buying almost similar products to fill your kitchen. Stay tuned!
---
---
---
Weekend walks are not my favorite as I often avoid crowds in public places in my city. Or, the streets become congested because working people who only have weekends off decide to go outside to places in the city center.
But exceptions always apply to anything, including me. So last week I took a walk around the shaded area. It's still an area with a causeway, so it's still crowded with vehicles, and I have to be careful.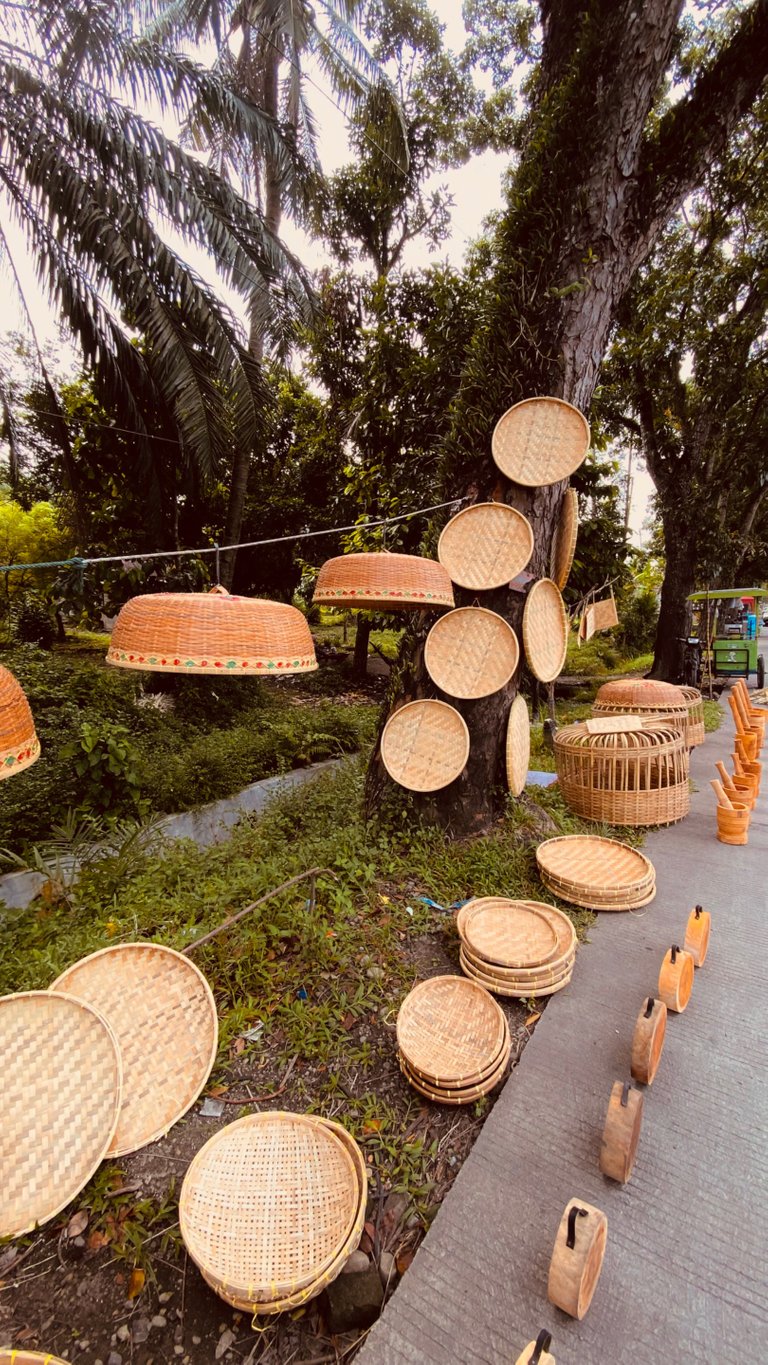 I see there is an interesting space. There hung a lot of kitchen utensils made of bamboo. Very eye-catching.
---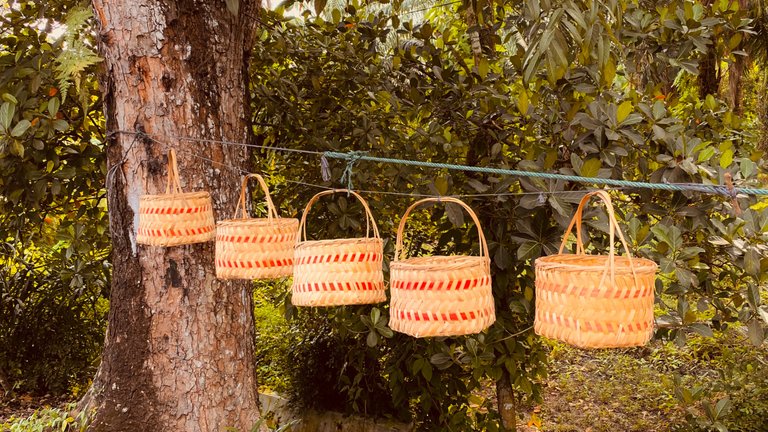 We can see there are bamboo baskets hung on ropes connected by two large shaded trees. Also, a traditional tray made of bamboo is hung on a large tree. There are various sizes of bamboo trays on sale.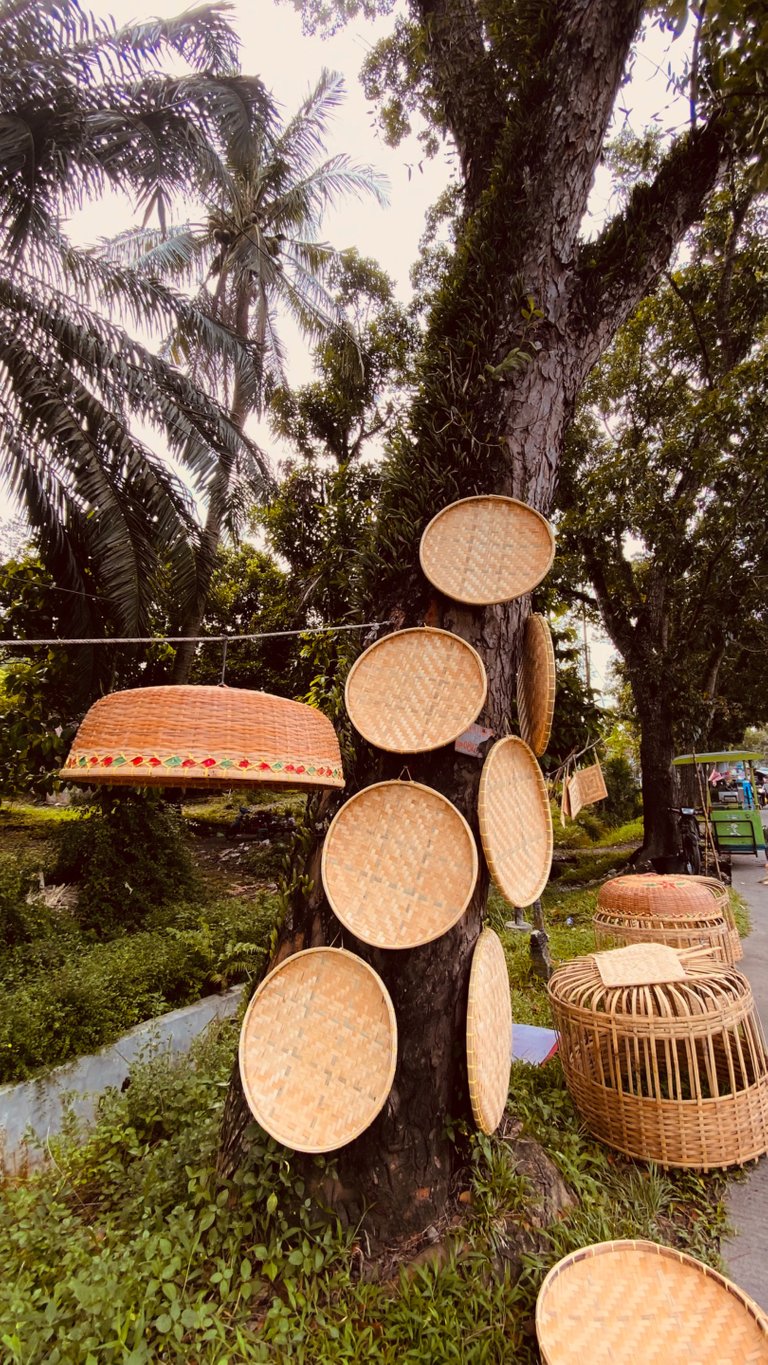 ---
In the lower area, mortar and pestle made of wood and also made of natural stone are displayed. I was interested in buying a mortar and pestle right away because my previous one at home was old and cracked.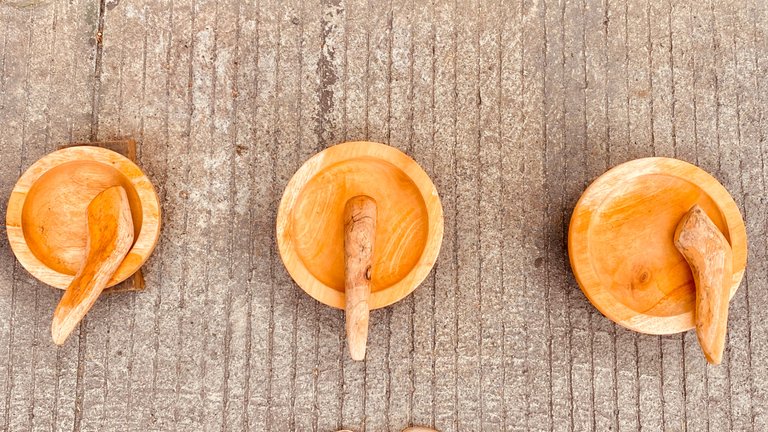 ---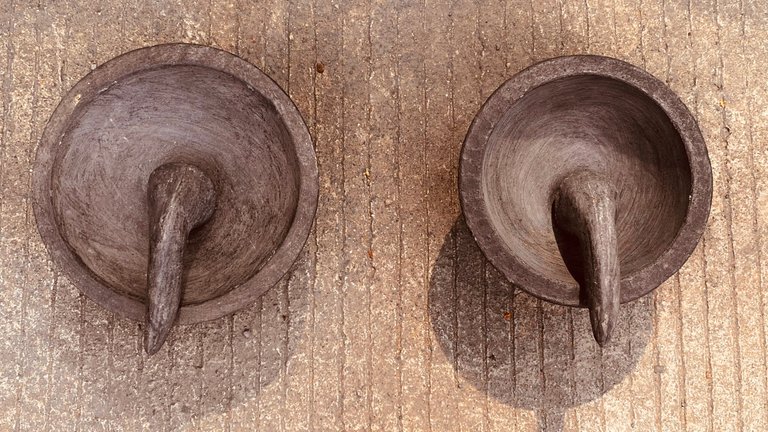 ---
---
---
After buying a mortar and pestle, I was also interested in buying a basket and a tray. It fits the things I need right now in the kitchen. I haven't had equipment like that before. So I am very happy and feel grateful to be able to find these natural products on the side of the road. A nice coincidence of the week.
So, let's see what I managed to get from a street vendor. And, how much money I spend on them who are really beautiful to me.
---
---
---
A Bamboo Tray
A Bamboo Tray that I chose is not completely rimmed like a flat round plate. The edges are slightly curved inward like a bowl. So it can be multifunctional to carry more things.
A Bamboo Tray can also be used to carry produce from the garden to the kitchen. Also of course can be used to place vegetables and fruit. For me, it will come in handy when I am chopping vegetables.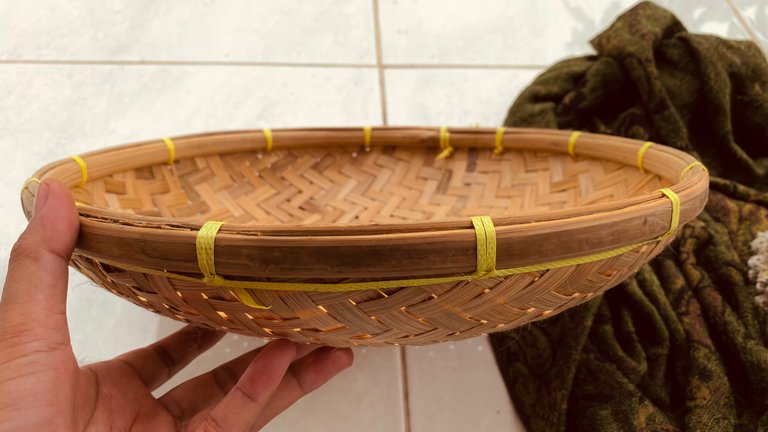 To catch fresh fish in the pond, I can also use this bamboo tray because there are many holes to drain water. But the weakness, this bamboo tray will be damaged more quickly if exposed to water.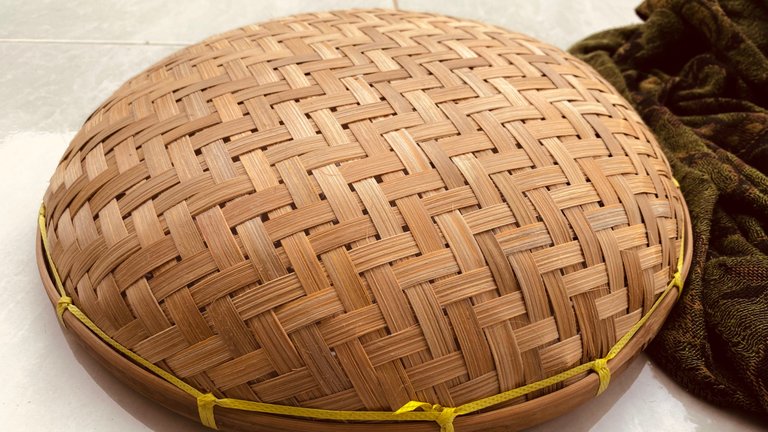 A Bamboo Tray that I bought is the smallest size among the others sold here.
I paid $1 for this bamboo tray with edges that curve inward like a bowl.
---
---
---
A Big Bamboo Tray
In addition to a tray that is slightly curved, I am also interested in buying the largest tray sold here. The largest size can be used for containers of many foods, and most importantly can be used to dry processed foods for "dried sun food".
Since long ago, in our family, a bamboo tray is used to dry the food that we will preserve naturally. For example, drying coconut flakes, drying cassava, and also drying leftover rice to make crispy rice crackers.
I paid $1.5 for this big bamboo tray.
---
---
---
A Bamboo Basket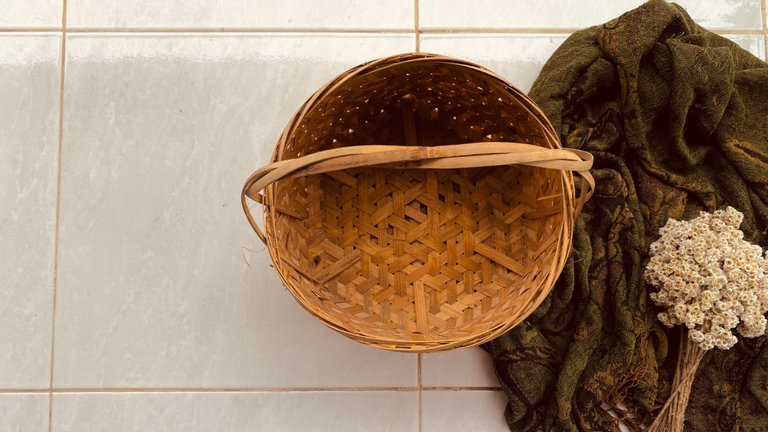 ---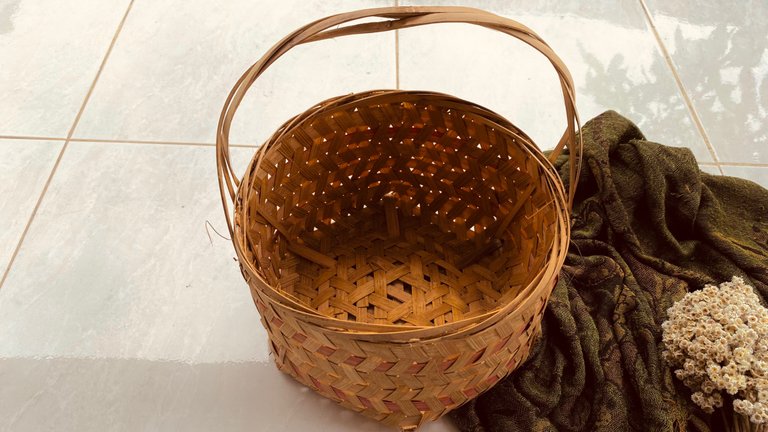 Speaking of useful containers in the kitchen, a basket is also very useful for cooking store ingredients that have lightweight that are usually hung.
Ingredients that have lightweight are generally the spices I use for cooking, which won't rot even when stored for a long time. Among them are bay leaves, and cinnamon sticks.
I do not recommend using this bamboo basket for carrying heavy materials because the bottom of the basket will be damaged. But to bring in lightly harvested ingredients like peas, beans, chili, or green leaves, it will do just fine.
I paid $1 for this bamboo basket.
---
---
---
A Mortar and Pestle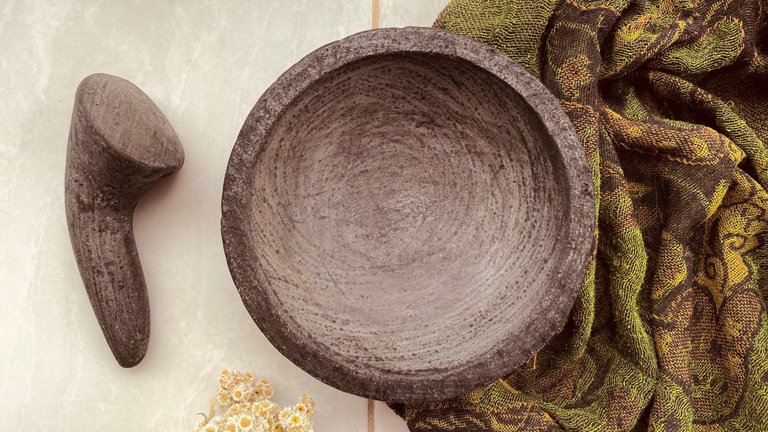 ---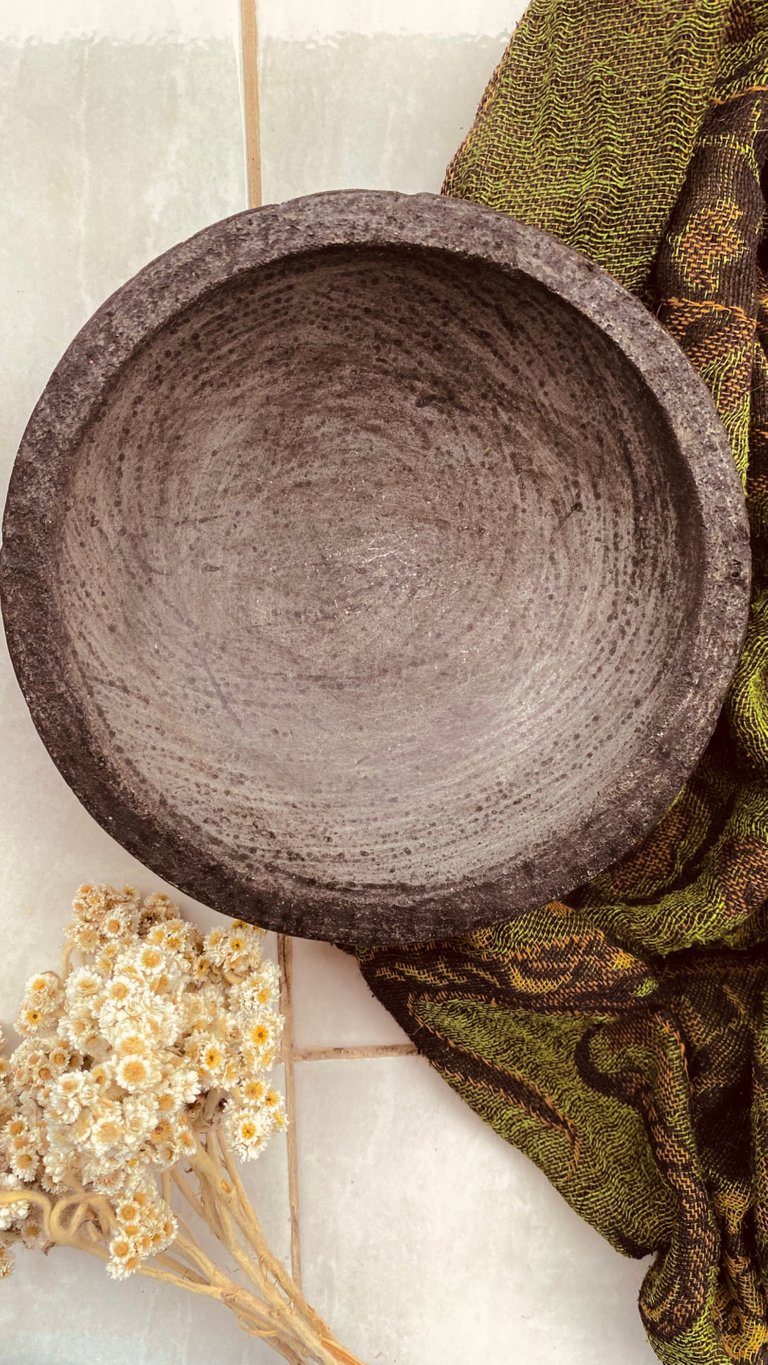 The last product I bought from this seller was a mortar and pestle made from natural stone. The texture looks beautiful. It is very useful for crushing and mashing spices to make traditional chili sauce, or for making peanut sauce.
When not washed, the color of the mortar will look gray, but if it has been washed it will look black like natural stone. On the front of the mortar, the pores are not visible, as if they have been smoothed using a certain tool. Meanwhile, the back of the mortar looks naturally porous.
---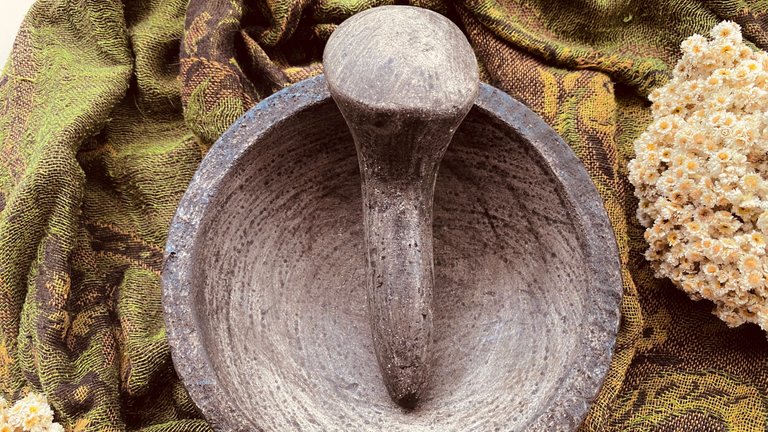 I love the shape and size of this mortar. It's not too big, but it will really help the process of making small amounts of traditional sauce for daily meals. If the size of the mortar is too large, then the ingredients will fall apart on all sides of the mortar which will slow down the crushing/mashing/flattened ingredients process.
---
---
---
---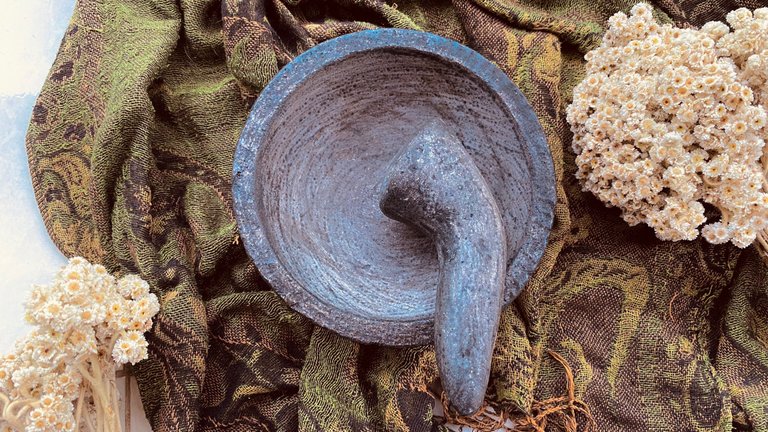 A Mortar is equipped with a pestle that has the same material as the mortar. The shape of this pestle is adjusted to the movement when the hand grips, making it comfortable to use.
---
The price of this mortar n pestle is the most expensive among other products that I bought. I paid $8.5 for this mortar n pestle.
---
---
---
That was about some Kitchen Utensils With Natural Materials that I bought through a street vendor. Really feel blessed with these products.
---
---
---
Thank you for reading my blog and reblog if you want my blog this time worthy of reading by others.
All pictures were taken using iPhone 11.
---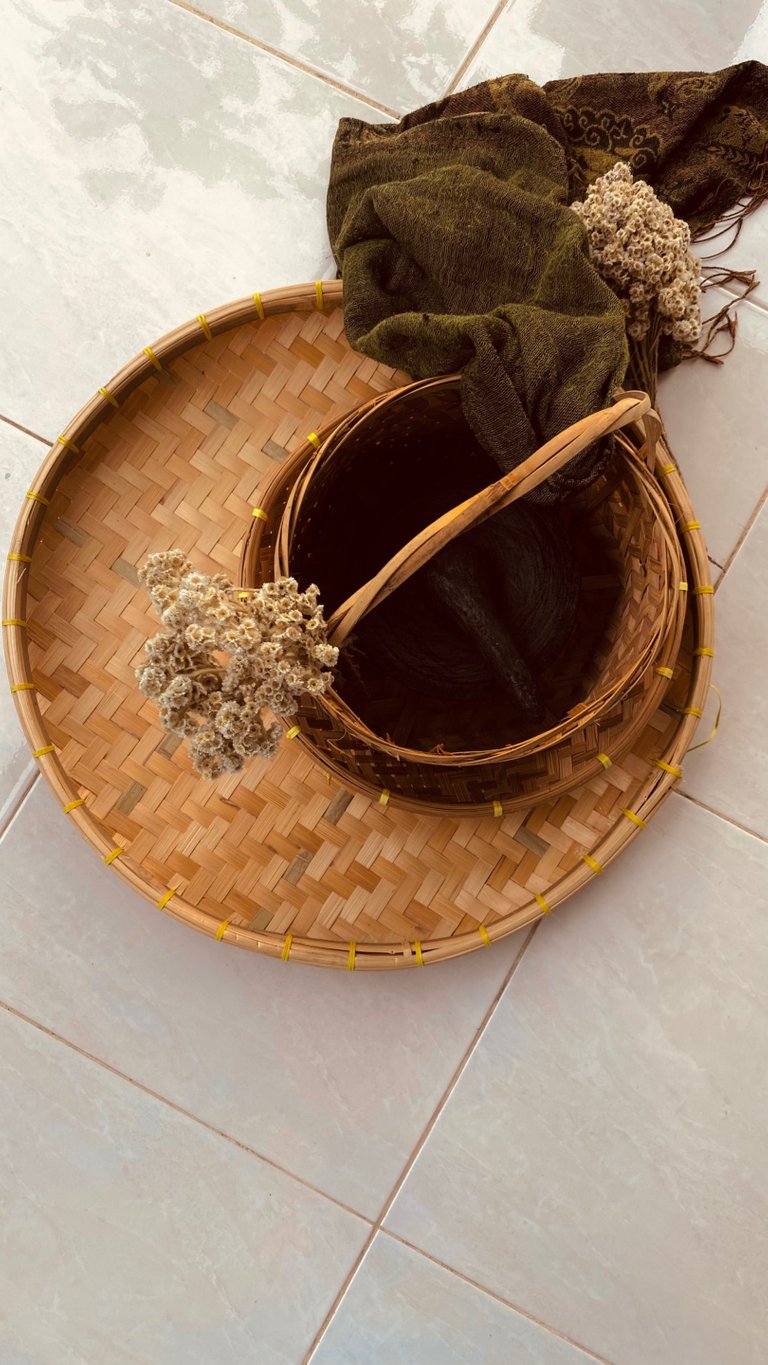 ---
---
---
---
Best Regards,
Anggrek Lestari
---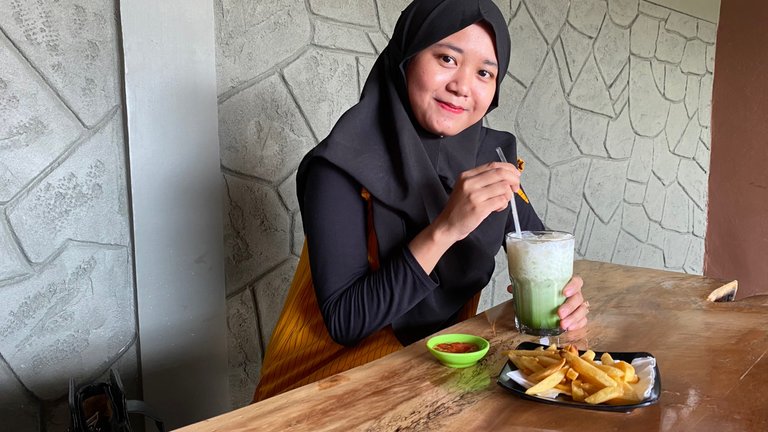 Who is Anggrek Lestari?
Anggrek Lestari is an Indonesian fiction writer who has published two major books. Now She is a full-time content creator. She has a goal to share life, poem, and food content that makes others happy and can get inspiration.
---
Contact Person: [email protected]
Discord: anggreklestari#3009
---
---
---