Restaurant-Style Pumpkin Dessert Starts Here

---
Food in restaurants is often more expensive than expected. But, your eyes will also be spoiled by how they serve food that you can actually make yourself at home. Believe it?
---
Discovered how to serve pumpkin as a beautiful and delicious dessert.
---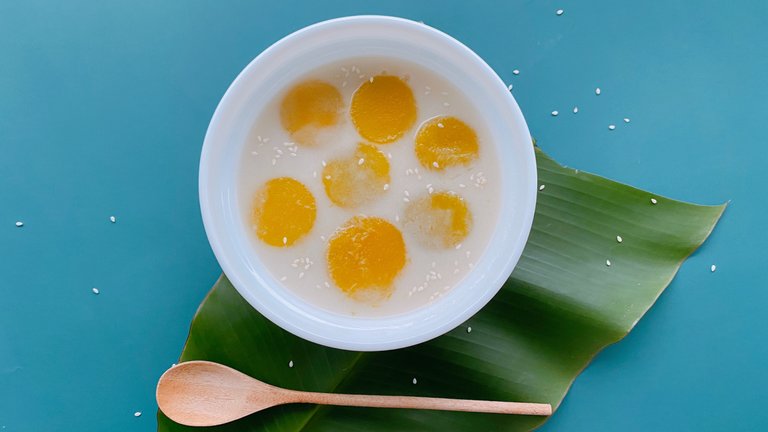 Starting in the afternoon, and... I think we need more mood boosters. Sometimes the work is still not ready, even though our energy has run out. Or, there is a problem that suddenly strikes when we have just rested. Hm,, that's the surprise of life. But for that, we always deserve a sweet surprise.
---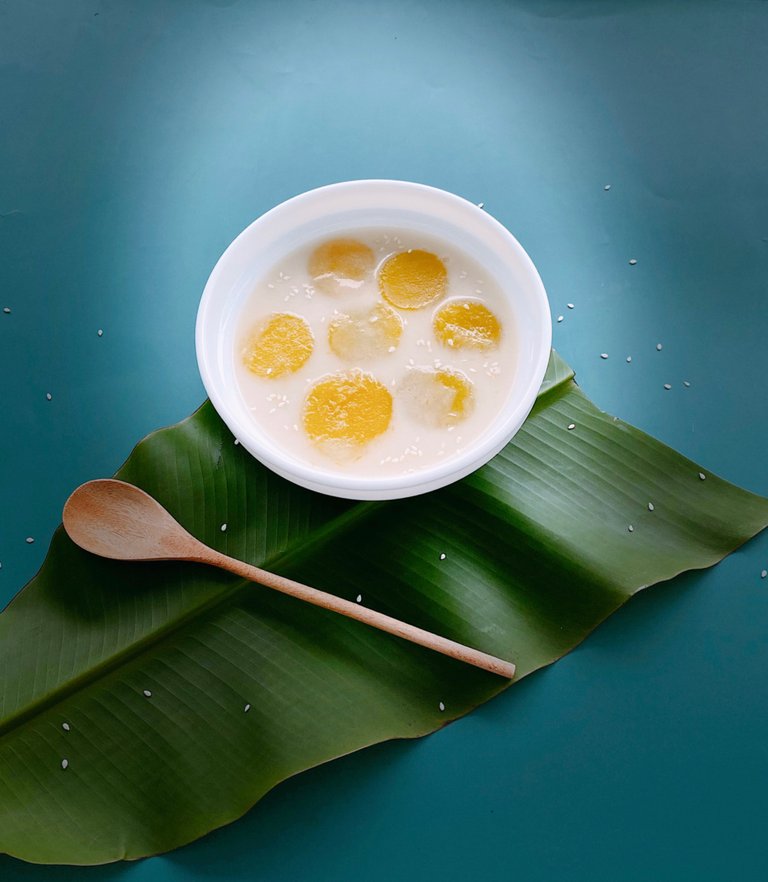 So, this time I will serve pumpkin desserts. Of course, the recipe is already familiar. But I thought about how I served the end result of this sweet food.
I always want my food to remind me of a restaurant dish. Why? At least people who can't go to restaurants can be entertained just by eating or seeing what I serve here.
So, let's see how I turn a pumpkin into something you might like.
P.S. Maybe you won't like this if you're not a pumpkin lover. But I hope you guys like the pictures that I present here. Stay tuned.
---
DIFFERENT SHAPES
Instead of the usual dice, I used a circle shape.
---
---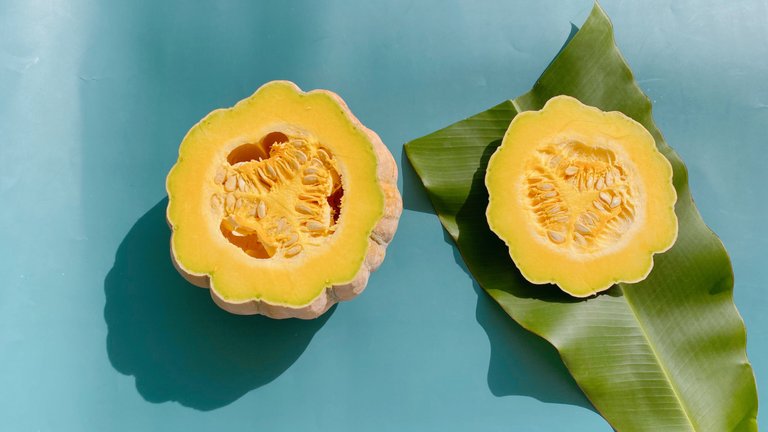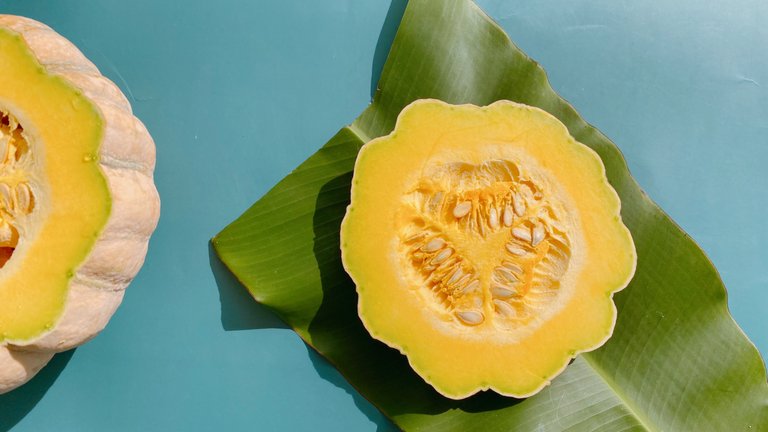 ---
Granted, it takes more time to prepare the pumpkin into a circular shape before cooking. But at the same time, this is fun and can be done while we watch tv, or play with children.
This activity can also be done as a food prep if we don't have time to shape the pumpkin into a circle just before cooking. For example, we can cut the pumpkin at leisure, then put it in the refrigerator, to be cooked the next day. That's okay because the pumpkin pieces won't rot.
---
THE INGREDIENTS
Pumpkin, coconut milk, white sugar.
---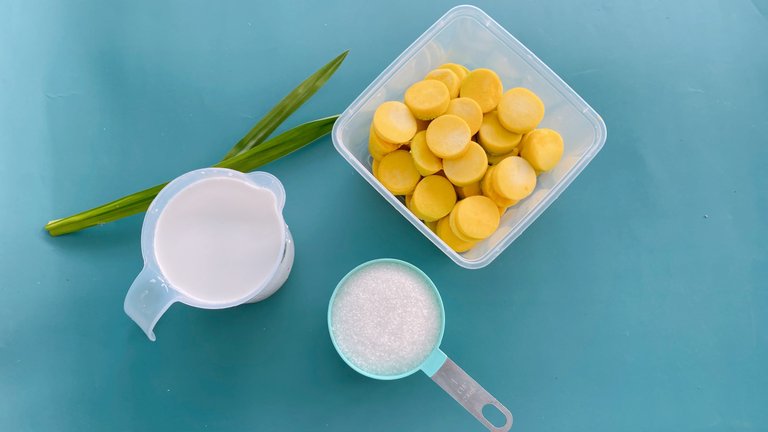 pumpkin. I use one pumpkin that I bought weighing 1.5 kg. I shaped them all into little circles and I don't know the exact weight of all the pumpkin pieces. I think about 500 grams. So, where's the rest? For leftover pumpkins that don't form into circles, I steam them to make other dishes like pancakes, pumpkin balls, or even pumpkin latte.
---
white sugar. I used 1 cup. Can be used according to taste, can be added when you are making a white sauce, and if it is not yet sweet.
---
Coconut Milk. In this recipe, I use 800 ml of coconut milk.
---
water. Use enough water to boil the pumpkin.
---
Additional ingredients: salt to taste, pandan leaves that can be replaced with vanilla, and a tablespoon of tapioca flour dissolved in enough water to add to the gravy to thicken.
---
water. Use enough water to boil the pumpkin.
---
COOKING INSTRUCTIONS
STEP 1
Prepare the pumpkin pieces in a circle.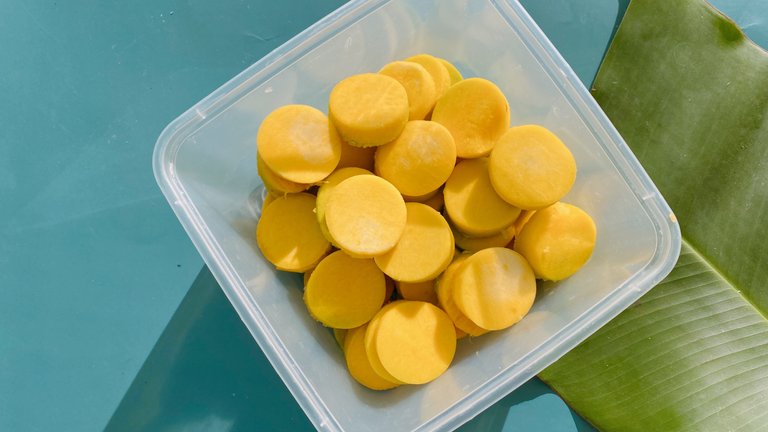 ---
---
---
STEP 2
Boil the pumpkin with water and a little salt, as well as pandan leaves. Cook for 8-10 minutes. Take care when cooking so that the pumpkin does not crumble as our work to print the pumpkin into circles will be in vain. So keep an eye on them.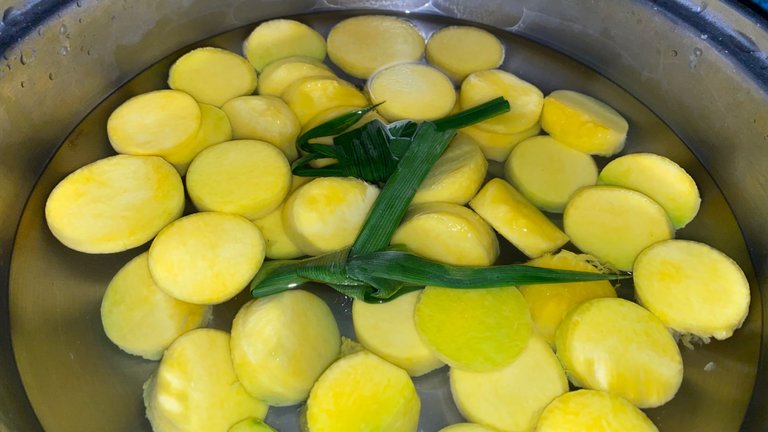 ---
---
---
STEP 3
When the pumpkin is cooked but not mushy, add the sugar and coconut milk.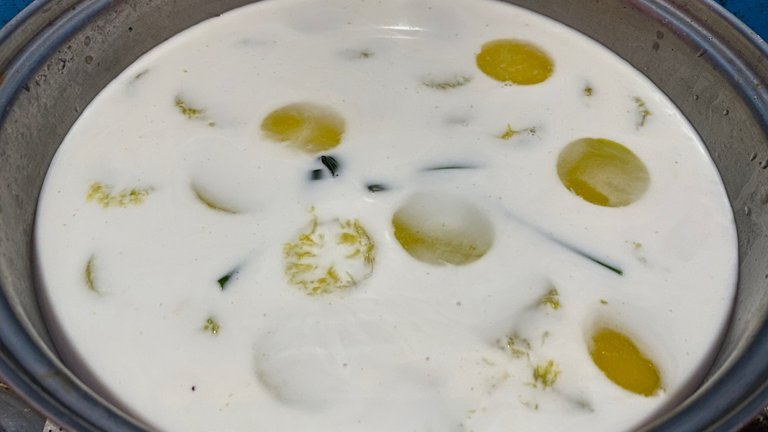 Then add a tablespoon of tapioca flour that is dissolved in enough water to add to the gravy to thicken lift. Stir well, then bring them to a simmer.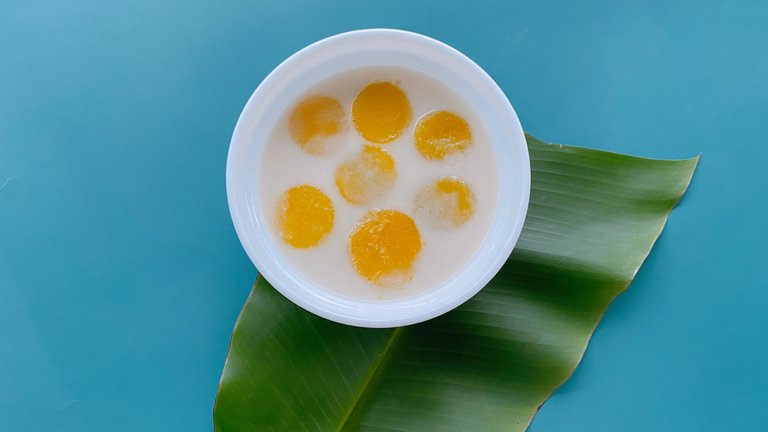 ---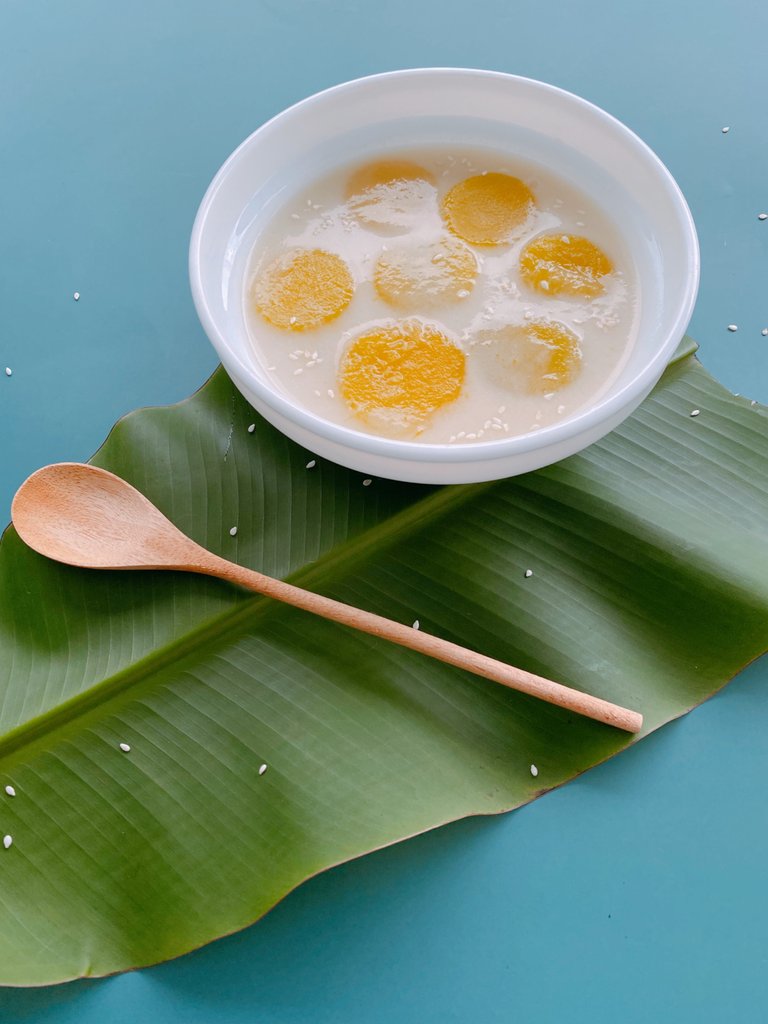 ---
---
---
Serve with your choice of toppings that don't change the gravy color.
Here I use sesame seeds. You can add jelly or young coconut flesh.

---
---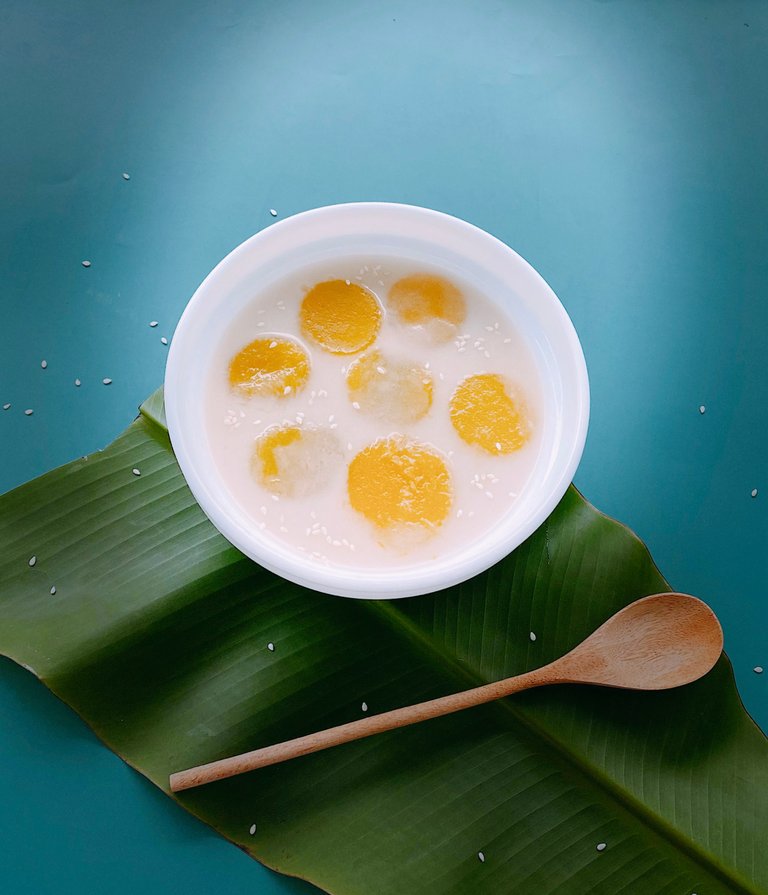 With pumpkins that look like beautiful egg yolks, who would have thought those were sweet pumpkins? Would you like to adapt this type of dessert to your kitchen? Tell me, please. :)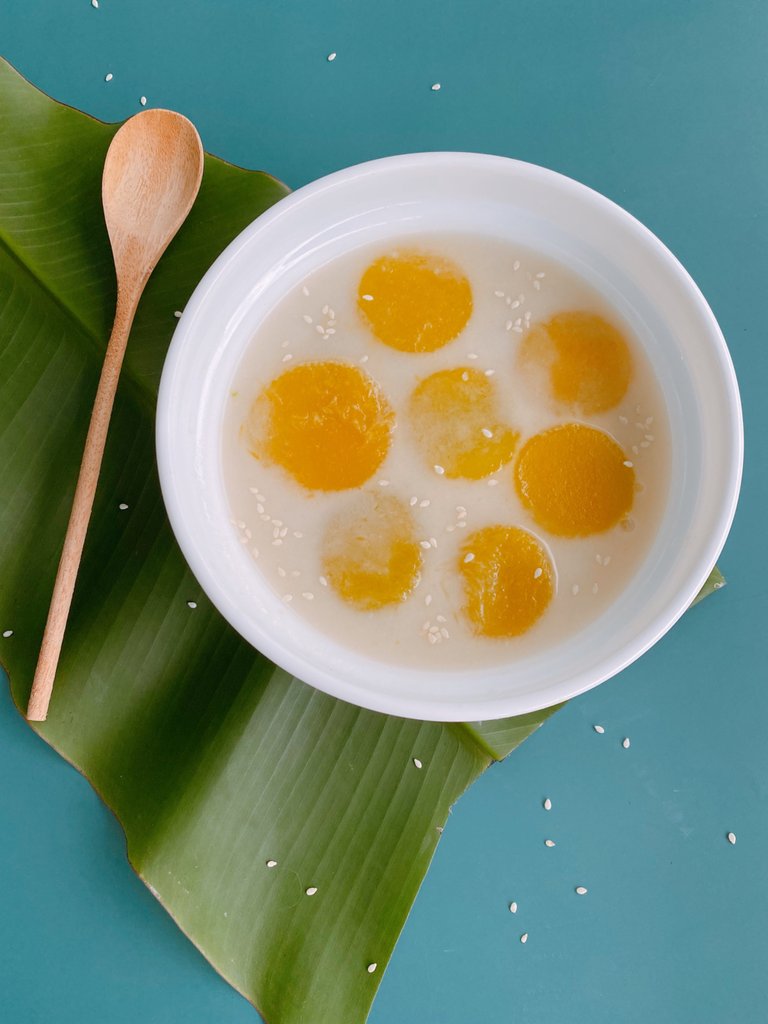 ---
---
---
---
Thank you for reading my blog and reblog if you want my blog this time worthy of reading by others.
All pictures were taken using iPhone 11.
---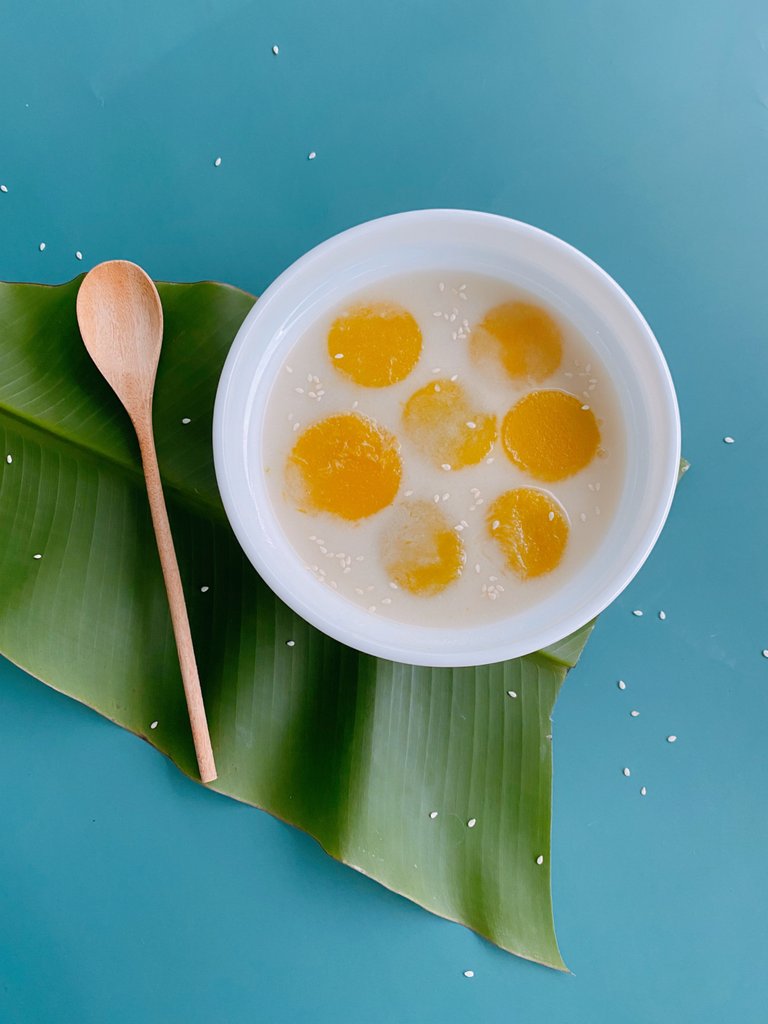 ---
---
---
---
Best Regards,
Anggrek Lestari
---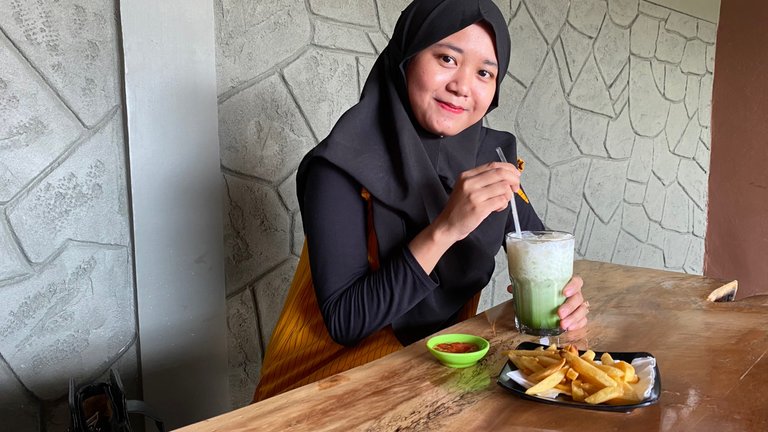 Who is Anggrek Lestari?
Anggrek Lestari is an Indonesian fiction writer who has published two major books. Now She is a full-time content creator. She has a goal to share life, poem, and food content that makes others happy and can get inspiration.
---
Contact Person: [email protected]
Discord: anggreklestari#3009
---
---
---