Grilled Banana With Peanut Butter
---
Pssst, maybe you will smell the sweet fragrance of romance here like you smell the delicious sweet smell of vanilla-flavored cakes. Dare to read this post?
Here we go. Roast bananas for breakfast with peanut butter flavor.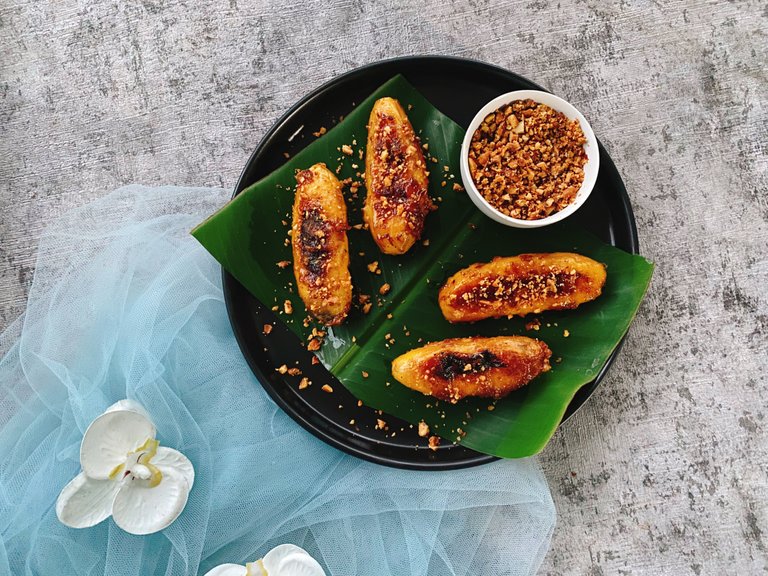 ---
For some reason, mornings always feel special to me. It feels like we are waiting for someone with new surprises every day. That's what life is about, we open our eyes in the morning, then prepare for new surprises throughout the day that we never knew before. We can only anticipate how our attitude of wisdom responds to it all.
Sunlight had entered the room through the gap in the curtains that had been opened by 'my partner in life'. Oh, Sunday morning, I can still be lazy by looking at the people I care about. He always captivated me with his smile, and with the sunlight that gently touched his cheek, ah, I always wanted to kiss his cheek.
---
It's good to be lazy all the time. But the ticking of the clock in the room did beep loudly enough to remind me that life goes on, and time never stops for a moment when we stop to enjoy our laziness. "Oh, come on," I whispered to myself. And I must hurry.
---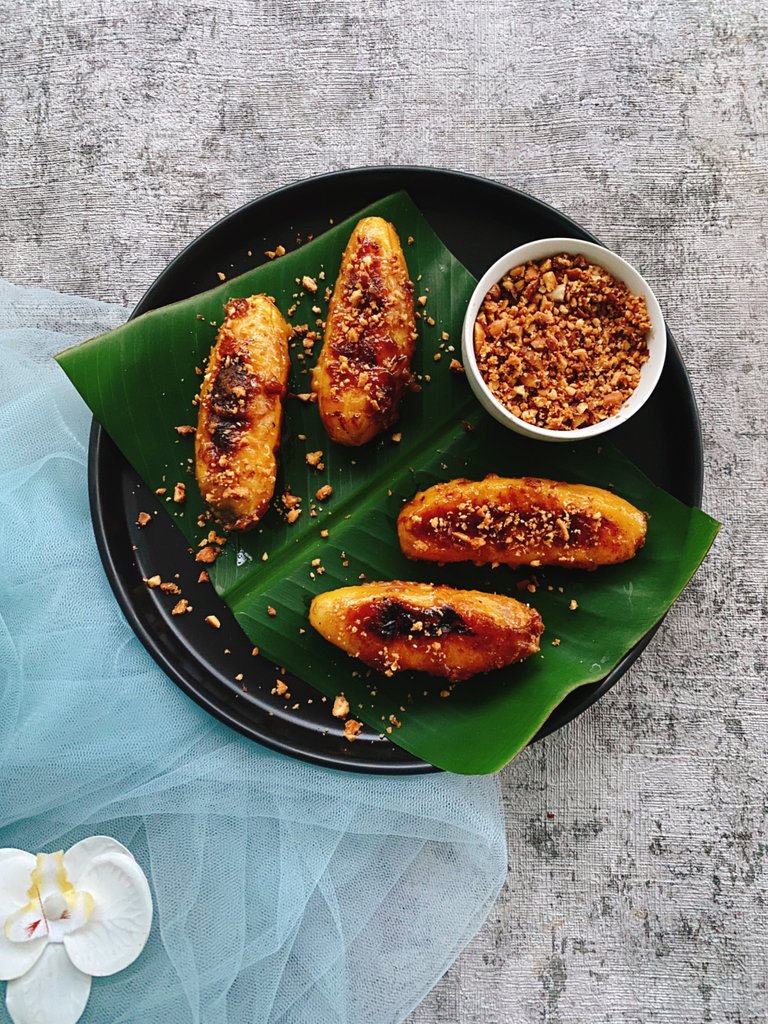 "Good morning, honey. I'll wake up making something sweet like you," I said, who always teased my man. :)
---
He still tucked my hair in his fingers for a few times while landing my hair on his sexy nose. Then with just a smile and without a word, he left.
And I also left, starting to clear my mind again, like restarting my mind that I had to temporarily empty from 'my partner in life'.
---
ABUNDANCE OF GOLDEN BANANAS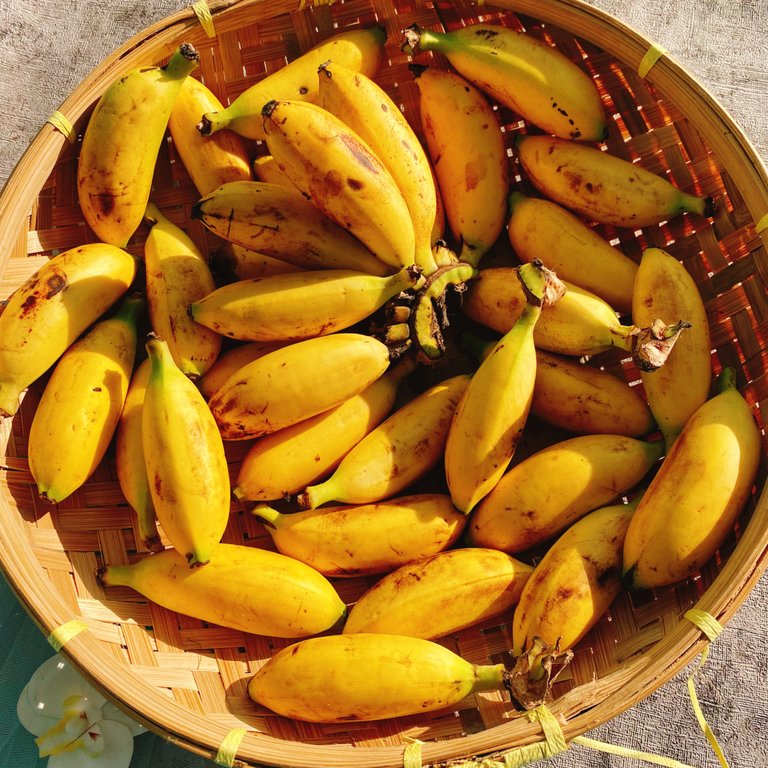 Golden bananas from the family garden look perfectly ripe. I think it would make a good breakfast. Just need a touch of creativity in the kitchen, and everything will be fine.
Maybe in other areas, the naming of this banana will be different. Some call it Banten Banana or Muli Banana. Actually, even without cooking, this banana is delicious to eat in raw condition.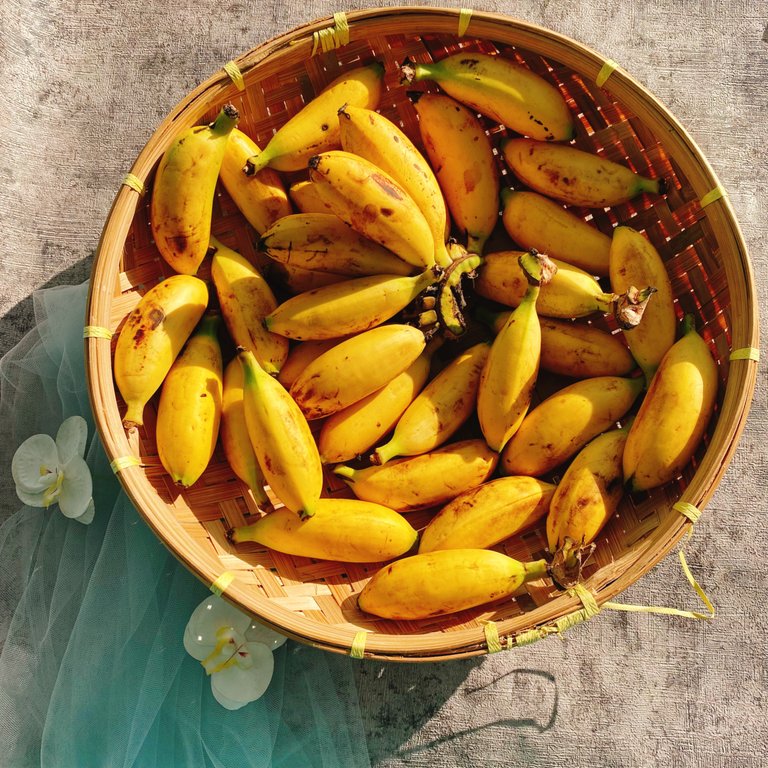 Golden Banana is usually eaten as a dessert, and served during large events such as weddings or gathering members.
---
SERVED WITH PEANUT BUTTER
Just a little different and you'll get something new that adds to your good experience.
---
Grilled bananas are often served in my area. Are you familiar with bananas served grilled?
---
This time I added a little difference that actually creates a new character on the banana. I'll be adding peanut butter for a richer effect when the bananas are grilled.
---
PREPARING THE INGREDIENTS
Get ready to make a sweet breakfast to start the day.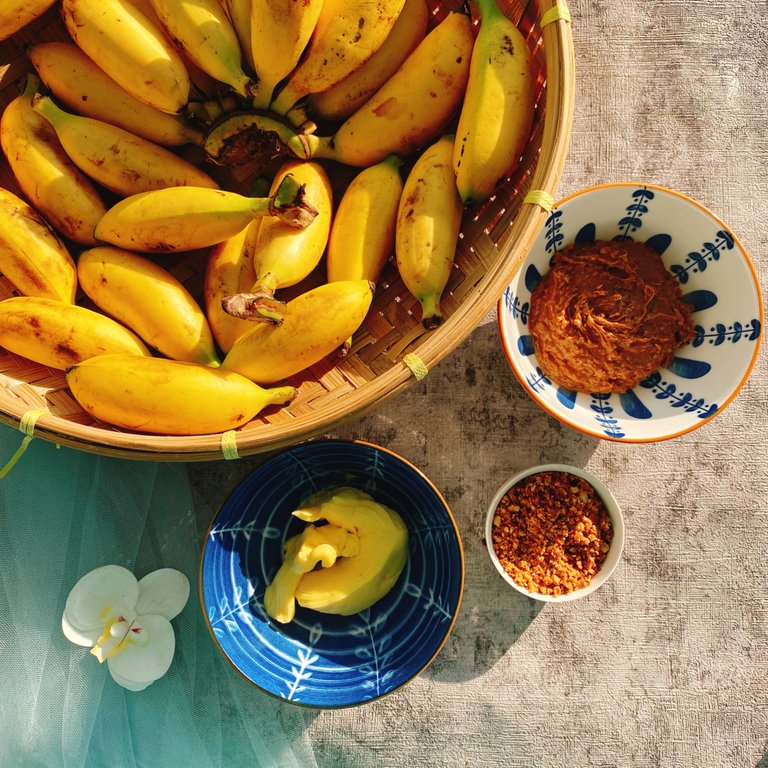 Prepare some bananas to be served. As a great flavor creator, I use plant-based butter, as well as peanut butter.
The last thing is that I prepare the roasted peanut for later sprinkled on the grilled banana. Well, you can also use roasted almonds, or sesame seeds, pumpkin seeds, and more to create a rich texture.
---
LET'S GET STARTED
The ingredients were ready, so I started peeling the bananas and arranging them on a plate. My hands work, and my mind too.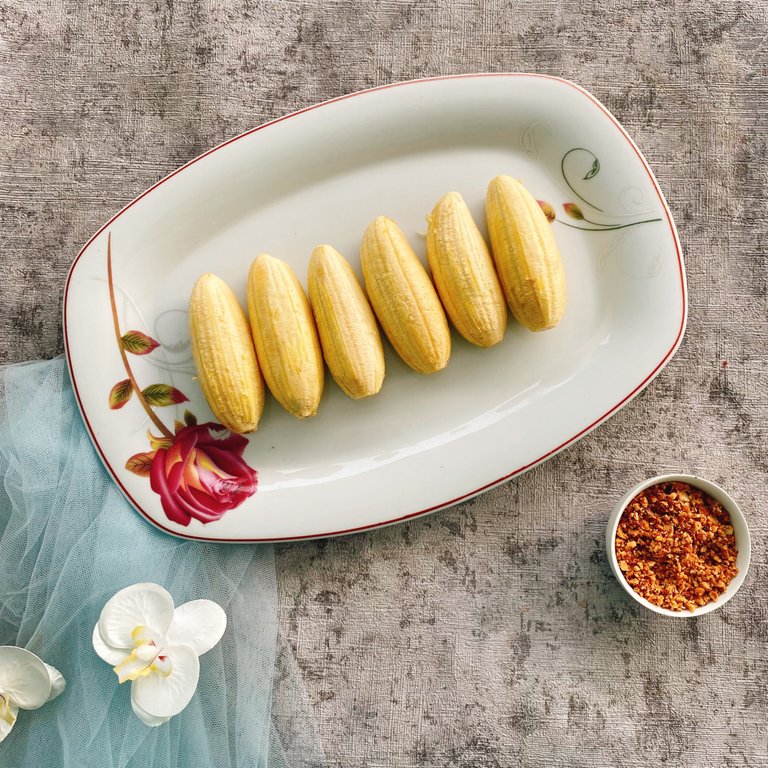 What do you usually think about when you cook? Me, usually, I will think about my next work schedule after breakfast. Also, I do affirmations to myself. I whisper to myself a few affirmative sentences that help me to stay who I am and stay on my way to achieving my goals.
---
After the bananas are finished peeling, then I coat the bananas with butter. Also, don't forget to heat up the grill pan.
Here I use a grill pan that has two separate frying pans. So, I'm going to cook another banana in those spaces.
For the grilled banana shapes I'm going to serve, they'll be whole bananas. As for the bananas that I sliced ​​into small pieces, it was just to use the empty space that was still available in the pan, and without the addition of peanut butter.
---
After coating with plant-based butter, it's time to grill the bananas. Do it with both of their sides. Here we have to keep an eye on them. Don't let the grill time pass for a while which makes the bananas mushy and will burn.
---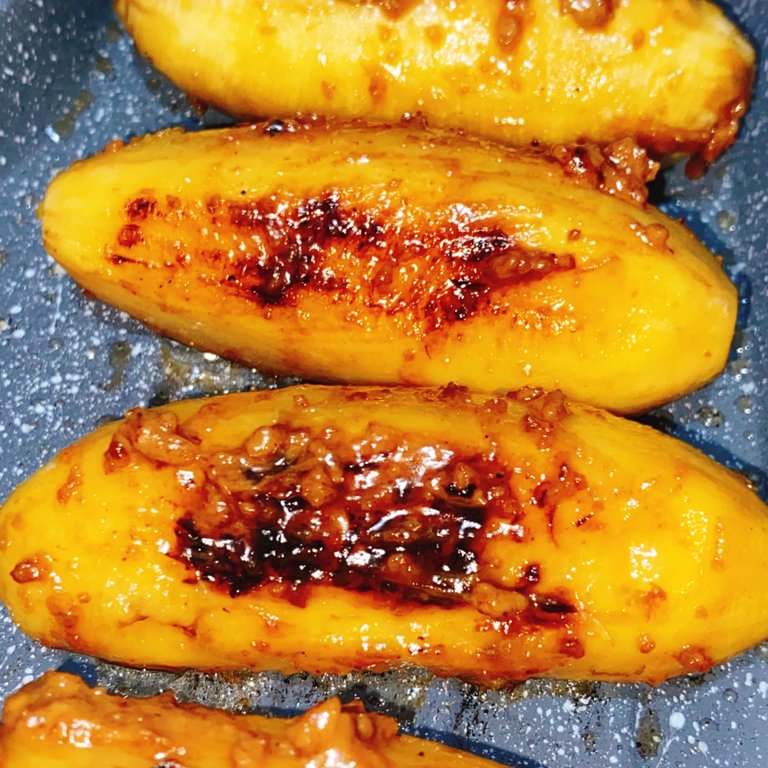 A one step closer to the final, brush with peanut butter before finishing the cooking step.
---
Turn off the heat, then serve grilled bananas sprinkled with peanuts. Or, adding ice cream as well for desserts is an appetizing option too.
---
SWEET HEART
Banana is sweet but sweeter someone who loves you sincerely, who is by your side even without you asking. Who will turn to you even in your worst condition. Who wants to hug you even though you.... hmm haven't showered yet. :P
---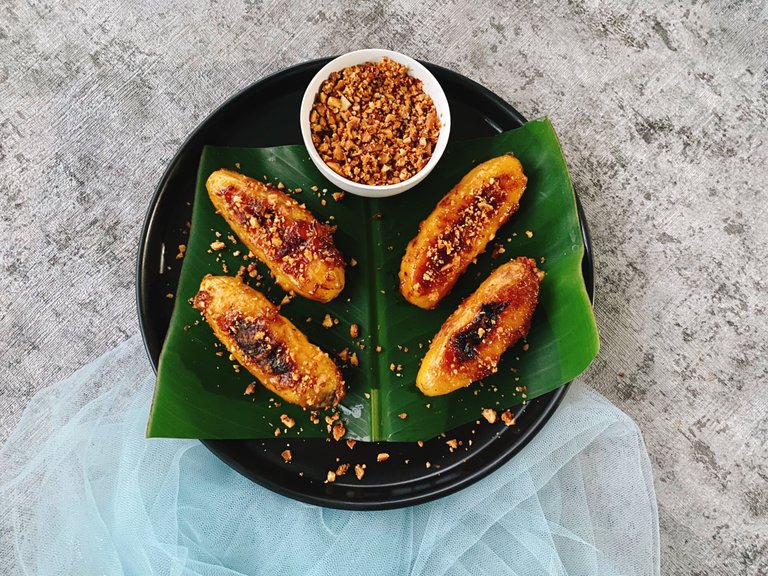 ---
Please enjoy this sweet breakfast. And maybe you will continue dreaming in your sleep, or dreaming while working to make your dreams come true. Until next time!
---
---
---
Thank you for reading my blog and reblog if you want my blog this time worthy of reading by others.
All pictures were taken using iPhone 11.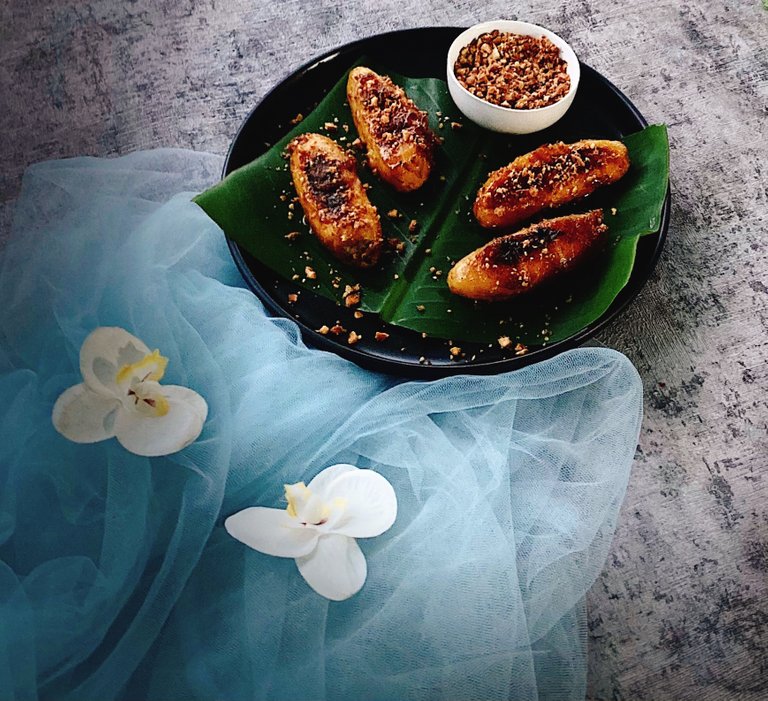 ---
---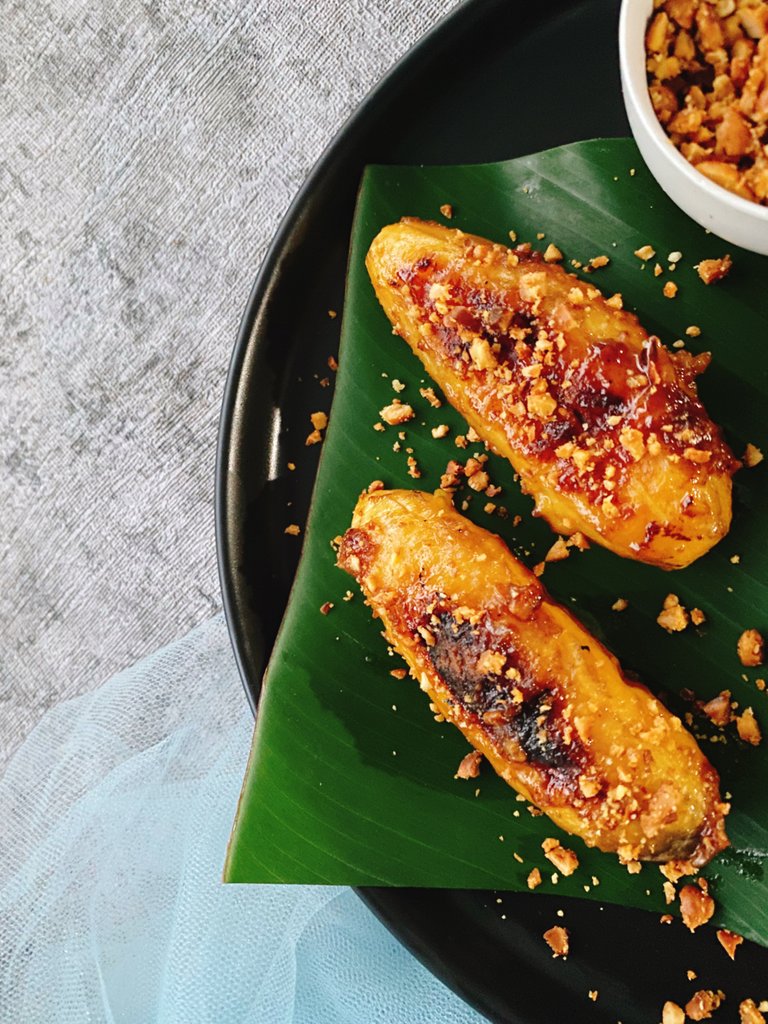 ---
---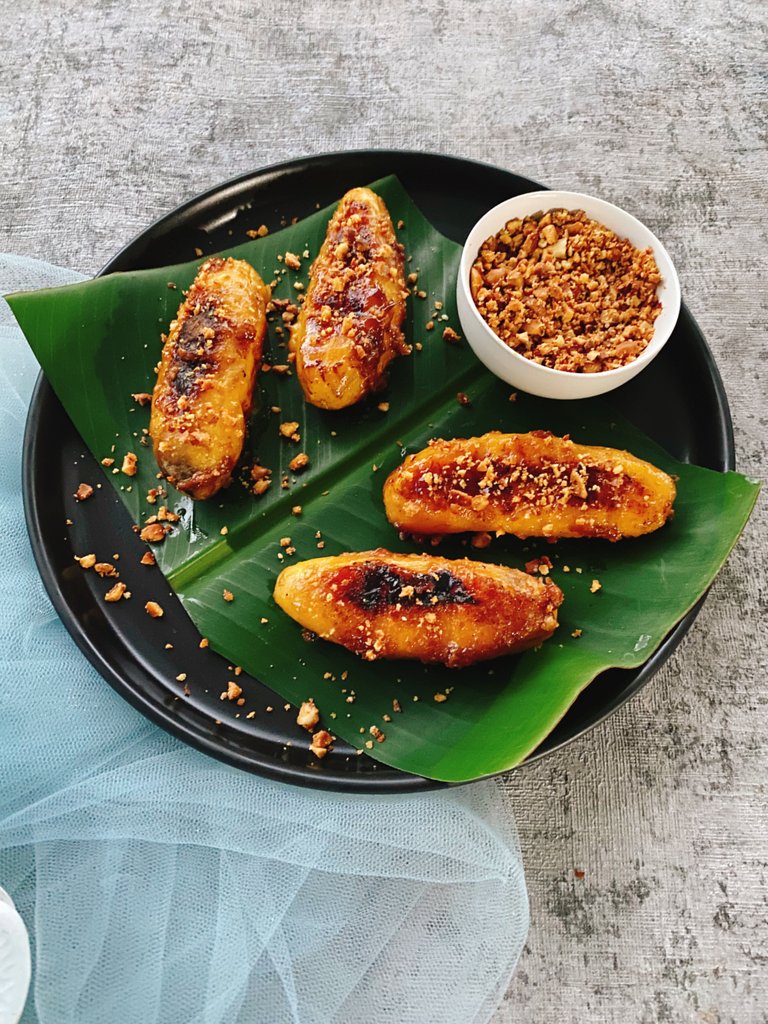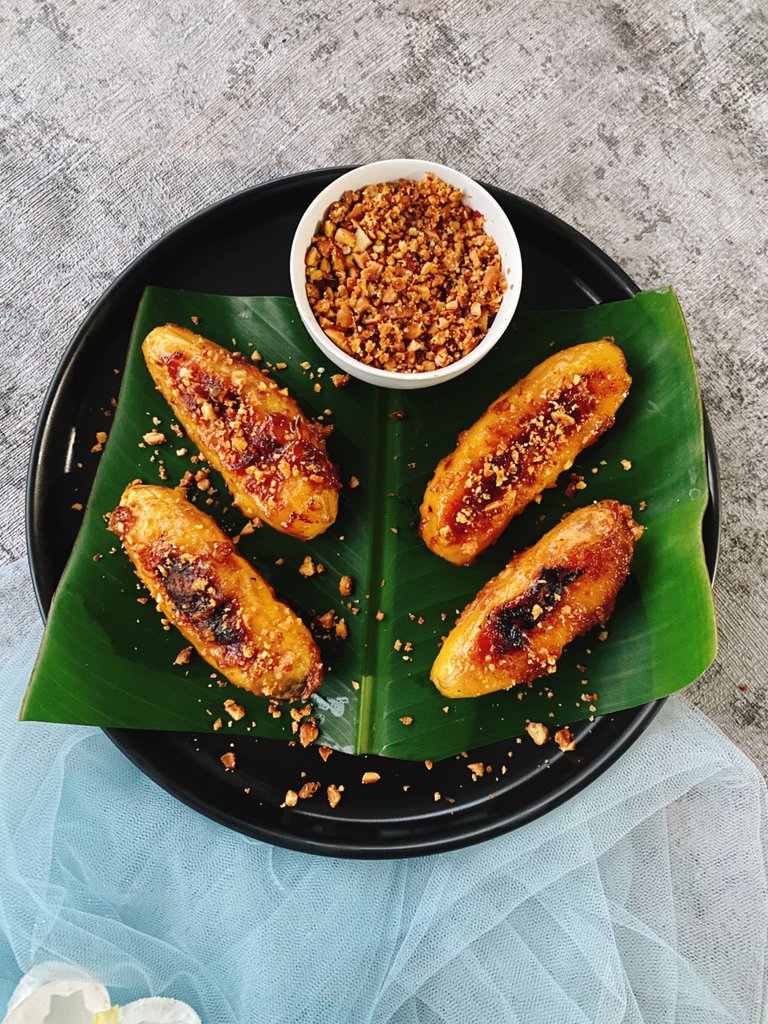 ---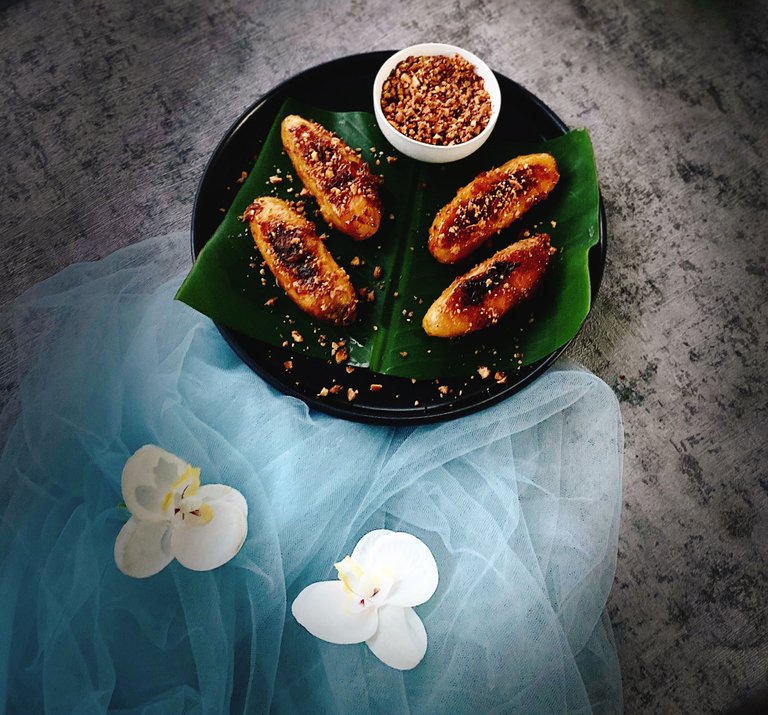 ---
---
---
---
Best Regards,
Anggrek Lestari
---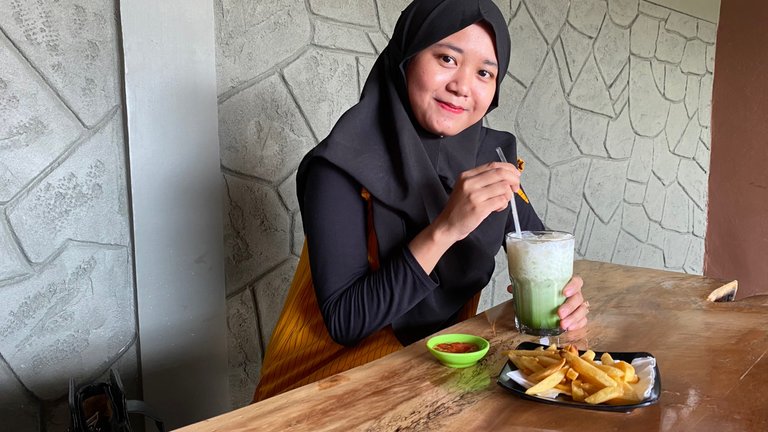 Who is Anggrek Lestari?
Anggrek Lestari is an Indonesian fiction writer who has published two major books. Now She is a full-time content creator. She has a goal to share life, poem, and food content that makes others happy and can get inspiration.
---
Contact Person: [email protected]
Discord: anggreklestari#3009
---
---
---