A Tale of Two Pizza's - Slipping into Oil town (week 5)
Hello Hive Pizza community.
This is my entry for the First every block chain novella facilitated by: @dibblers.dabs
Contest and story can be found here:
https://ecency.com/hivepizza/@dibblers.dabs/a-tale-of-two-pizzas-ongoing-contest-week-5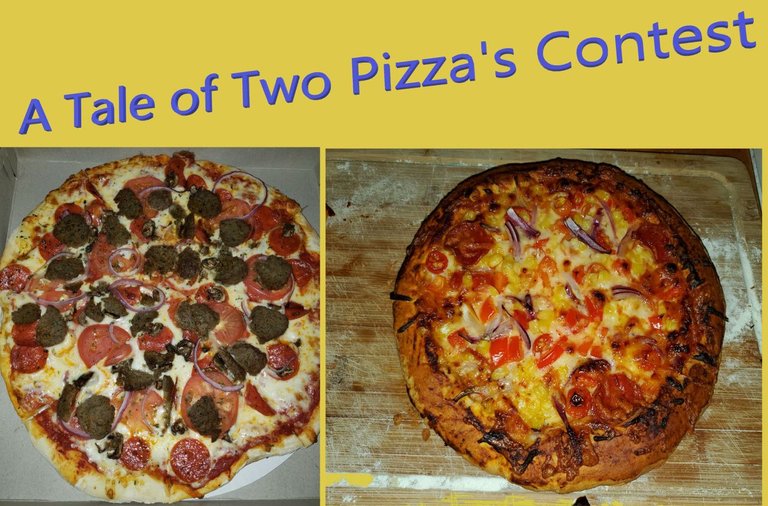 Images by: @dibblers.dabs
---
She could see the oil Baron Kingdome on the horizon. It glowed with the dim bright light of oil lamps that let off smoke creating a bright hazy orange glow on the road that could be seen for miles and miles away. The smell of sower heavy gas wisped the air at times making it hard to breathe but the wind would blow this stench away just as quickly as it came.
The outskirts of town were stained black from the oil as patches spread out for miles the flairs of the burn off stacks light up like fireflies far off in all directions. The burn off stacks faired along the road giving remembrance to the old day when the street light would line the way into town. As she cantered closer to town she saw many of the standing light pole were retrofitted to burn oil lamps that hung there outlining certain building that looked like refineries, upgraders, machine shops, and the like. The sounds of machines whirling chugging pounding and steaming was somethings she had not heard in many ages. It was a new sound that sounded old as quickly as the sound registered in her mind. Unsure what specifically each sound was she carried on towards her goal.
She slowed to a walking pace keeping her wits about her knowing that her keen ability to observe and take in many data points would be necessary. She did just that she watched observed and made a mental map of the landscape and buildings for angles of attack and escape. She would have to acclimatise herself very quickly to her surroundings somethings that she was very adept at doing. She stopped dismounted and put on clothes that had a more drabby look and feel to them. She would have to deal with her hourse...it would be a quite a give away if she rode into town with a horse considering the bits of stem-punk remnants and feel this area had and the lack of grass for pasture lands would blow her cover immediately. Luckily her and her horse were well acquainted over the years. She could send the black beauty away knowing that when she was called she would come back, it was likely this point in the road that this should happen. She sent Bucephalus with whispered words of gratitude and the last hand full of oats she had packed for her trusty steed. Bucephalus nudged her head in acceptance, in the manner she was accustom, turned heal and galloped away from the thick sower air that her riding companion would have to head towards.
Alone with her skill and the small bit of supplies she had stashed around her body she walked on towards the Oil Barons main area.
As she made her way closer there were groups and packs of people some coming some going some drifting and milling about. A few people looked at her but none seemed much to care to turn their heads as she passed slipping silently as she did towards the center.
A young man standing alone caught her eye as his unusual glance and mannerisms were different compared to the rest of the people machining about the area. He had that look as though he knew more then she did, that his angle was sharper then hers as his light eyes saw more then that which could be know from pure observation in the physical space. She held to her walking trajectory which was set to intercept his in 30 yards, any shift from that would be noticed, so she kept to her line as he held his place. Her eyes knowingly not looking at him except from the corner of her eyes saw the shine of something fall, or was dropped...purposefully as he locked eyes with her one last time before he turned and walked towards the nearest factory, almost as if her time slowed down and his sped up. He was far enough away that by the time she got a few paces to the spot where he was, he was much further away then the ground she had covered to get to him. Her eyes saw the bit of shine an twine dropped on the ground that she would have to making it look as though she was adjusting her shoes as a natural occurrence. She bent down right where the man had stood, lifting the dropped parcel into her secret pocket with calm and ease in these days when shoes were on their last string. As she adjusted her shoe she saw where she needed to go, the holding area building. Where she bent down gave her the perfect line of sight towards what she knew would be the place she needed to go. She arose and kept walking looking casually in the direction the man had headed, he was nowhere to be see. She needed to focus on her target which seemed to be pinpointed by the man.
It was as though man knew where she was heading as the line of sight to the main building was not seen from her upright stance. Her path was clear and her mind could not move to what was contained in the parcel. She moved swiftly now as the change of shift had started and this provided easy cover for her to scurry to her destination, she needed to contact Berry. As thought she was on autopilot she knew which corners to take, which walls to hop and which window she would have to whisper into as it was likely Berry was still being held in confinement. She then saw what she saw from the spot with the man so far away, she now stood in front of the holding cells to which she used her senses to see which window Berry would be on the other side of. She whispered towards the bared opening..."Berry...Berry" A vary familial voice cracked "Is that you...."
---
Thanks for clicking into my post, having a read and Go buy some PIZZA!
Make sure to check out the rest of the story posts in order:
https://ecency.com/hivepizza/@dibblers.dabs/a-tale-of-two-pizzas-ongoing-contest
/@wrestlingdesires/the-great-pizza-feast
/@dibblers.dabs/a-tale-of-two-pizzas-ongoing-contest-week-2
/@wrestlingdesires/the-rise-of-the-predas-a-tale-of-two-pizzas
/@onewolfe/a-tale-of-two-pizzas-contest-entry
/@dibblers.dabs/a-tale-of-two-pizzas-ongoing-contest-week-3
/@wrestlingdesires/a-tale-of-two-pizzas-every-man-has-his-price
/@dibblers.dabs/a-tale-of-two-pizzas-ongoing-contest-week-4
/@onewolfe/a-tale-of-two-pizzas-contest-entry-week-4
/@jesustiano/the-life-of-a-pizzaspy


---
---