Thanks to You
I have come across many couples who struggle to become parents. Even after passing through and applying various medical check-ups and treatments, they are not successful in conceiving a baby. Being a parent is of the most blissful status in this world; and being a parent without going through extra hassles is the blessing we often take for granted. I am thankful to God that He made me the mother of two boys without letting me pass through any wearisome or exasperating struggles except that of pregnancy related health issues, labor pain and some post-partum concerns. At a point I was likely to lose my first baby but God saved Him with His grace.
I am thankful to my children for enlightening my life with their presence. Here is a letter for them as a token of gratitude for choosing me their mother.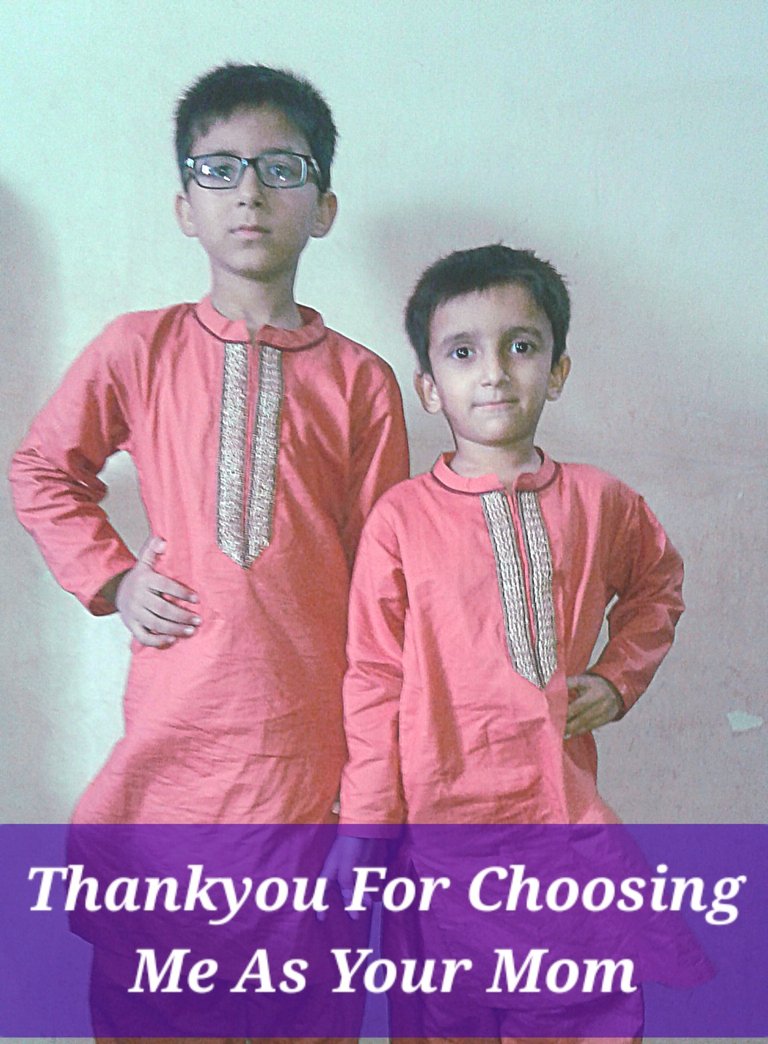 My dear children,
You are the best thing happened to me. Each of you has a unique impact on my life. Both of you have made me stronger and resilient. You have provided me the strength I lacked. Your presence in my life has given me the vigorous energies to combat with undesired. Had you not been in my life I might have surrendered long ago and wouldn't have found the light I had lost.
My dear Sain, you have no idea how you have saved my life. There came a time in my life when I was surrounded with the darkness of depression. Life felt like a burden where there were no feelings of happiness, no desire to live, no value to life. My only reason to live was your presence. Your cuddles and hugs gave me warmth. The chime of your laughter spread melody in my surroundings. The joy and smile that came to your face when you looked at me ensured me that I was important and valuable.
You know, how worried I was when I found out I was going to lose you in my womb. You were very small then but you were the most important for me. I prayed for your survival and then the miracle happened. Your didn't leave me but grew to came out of my uterus into my hands to make my life colourful. Thank you my son for choosing me as your mom.
My dear Nain, first of all I ask you for the pardon. Please forgive me. When I first knew about your arrival, I was not happy. I was not ready to have a new baby in my life but then I couldn't help but love you. Your existence in my life did wonders. There were aspects that I thought were beyond my control and would never change. Because of your presence, things changed dramatically. Had you not been with me I might not be able to see those rays of light. Thanks my son for choosing me as your mom.
Thanks to both of you. Thanks for making me courageous. Thanks for bringing happiness in my life. Thanks for giving me a reason to live. Thanks for making me appreciate life more. Thanks for making me valuable. Thanks for choosing me as your mother.
●●●■●●●
This is my entry for motherhood community weekly challenge. All the parents are invited to participate.

The image belongs to me; taken from my phone gallery.

---
---