My Visit to Pisa, Toscana - Discovering Italy with alequandro!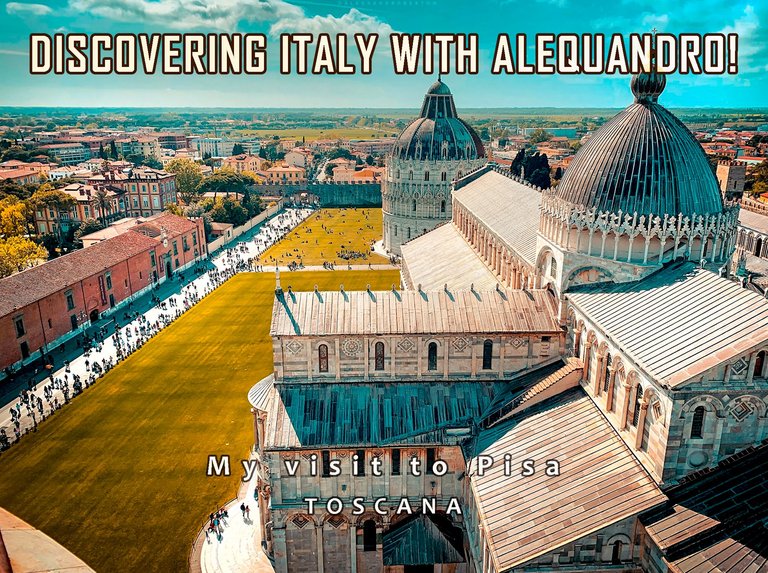 It was April when I decided to pay a visit to Pisa, a city I had always wanted to see.
ITA
Era aprile quando decisi di fare una visita a Pisa, una città che avevo sempre desiderato vedere.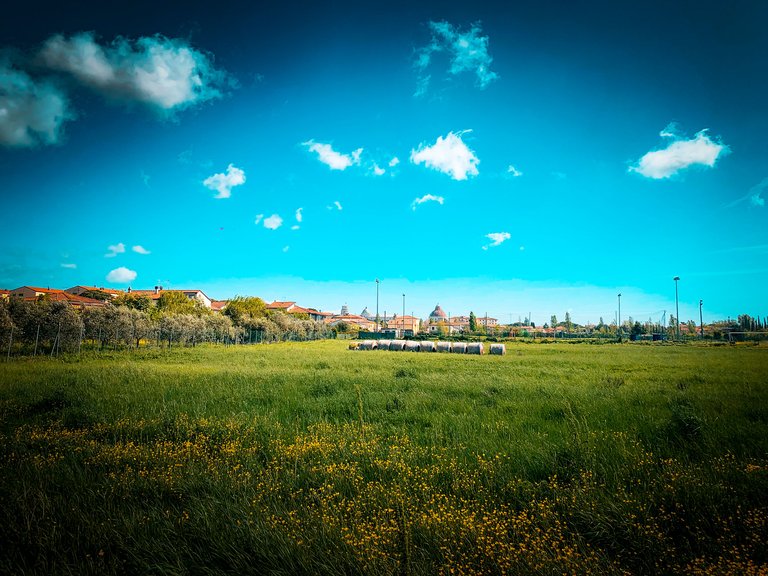 After settling in a comfortable b&b I walked towards the city center, I noticed a certain feeling of dirt and neglect that hovered outside the walls.
ITA
Dopo essermi sistemato in un comodo b&b mi incamminai verso in centro della città, notai una certa sensazione di sporcizia e trascuratezza che aleggiava fuori dalle mura.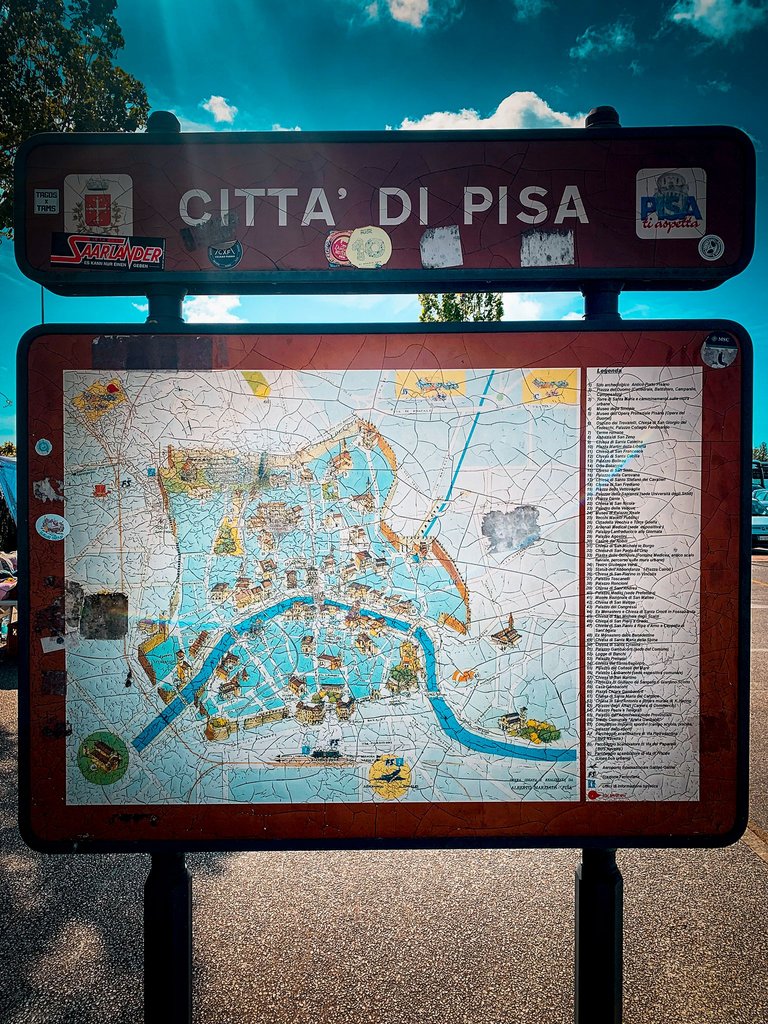 However, I knew that Pisa's main attraction lay at its heart: the famous Piazza dei Miracoli.
ITA
Tuttavia, sapevo che l'attrazione principale di Pisa si trovava nel suo cuore: la famosa Piazza dei Miracoli.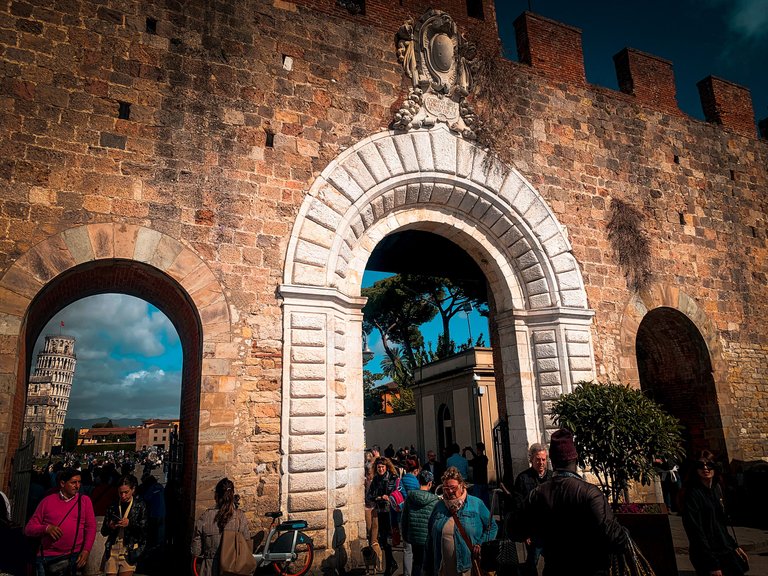 As I entered Pisa, I immediately noticed a change in the atmosphere. The streets got narrower, the houses got taller and the feeling of history was palpable. I walked along the winding streets, following the signs that led me towards the Piazza dei Miracoli. My excitement grew as I got closer.
ITA
Appena entrai a Pisa, notai subito un cambiamento nell'atmosfera. Le strade si facevano più strette, le case si facevano più alte e la sensazione di storia era palpabile. Camminai lungo le strade tortuose, seguendo le indicazioni che mi portavano verso la Piazza dei Miracoli. La mia emozione cresceva man mano che mi avvicinavo.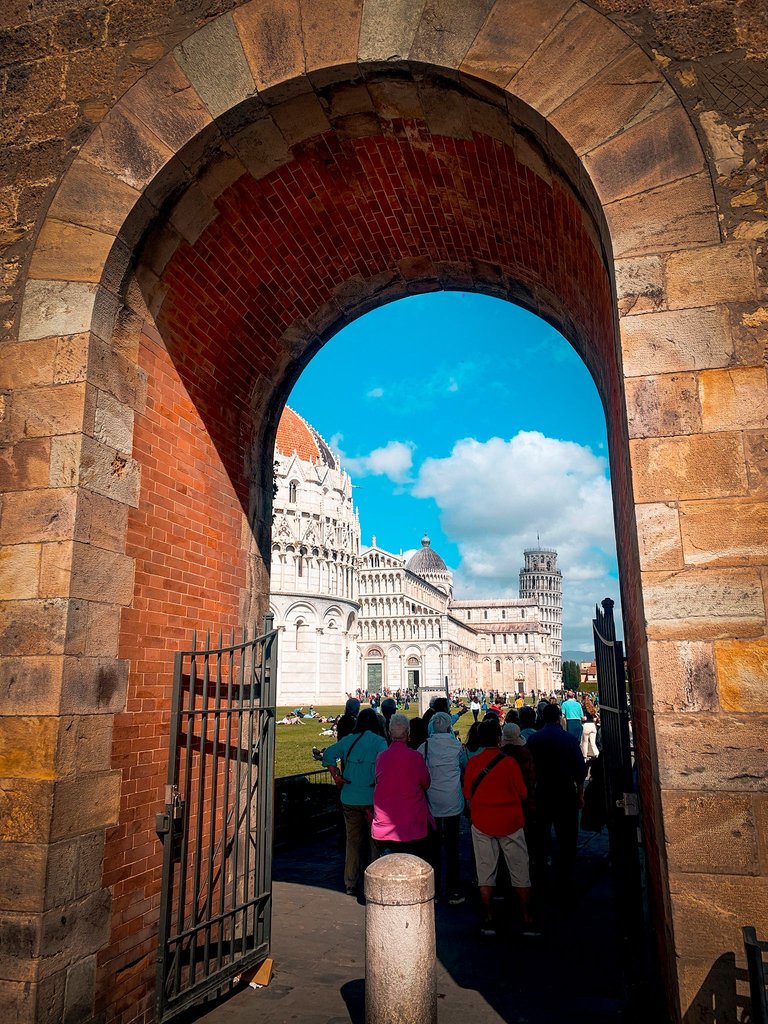 Finally, I arrived in front of the Piazza dei Miracoli and I was speechless. In front of me were the monuments I had seen many times in photos: the Leaning Tower, the Cathedral, the Baptistery and the Camposanto. It was as if I had entered a dream.
ITA
Finalmente, arrivai davanti alla Piazza dei Miracoli e rimasi senza parole. Di fronte a me c'erano i monumenti che avevo visto tante volte in foto: la Torre Pendente, il Duomo, il Battistero e il Camposanto. Era come se fossi entrato in un sogno.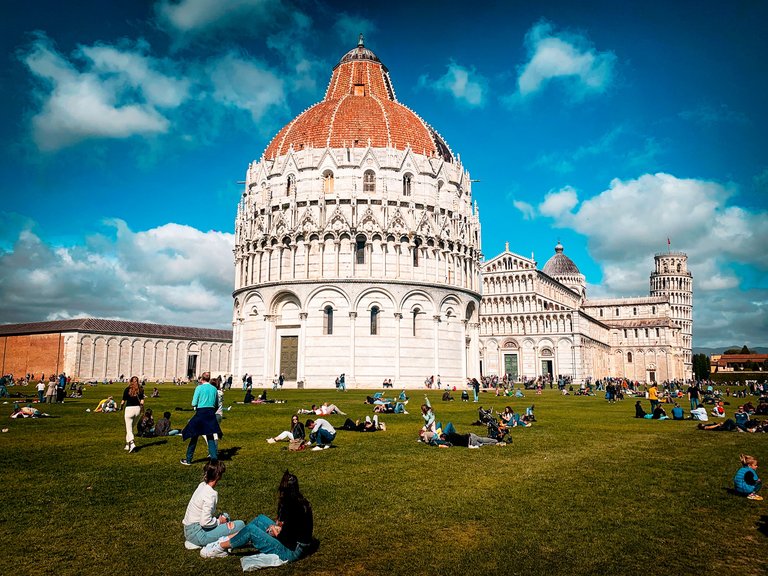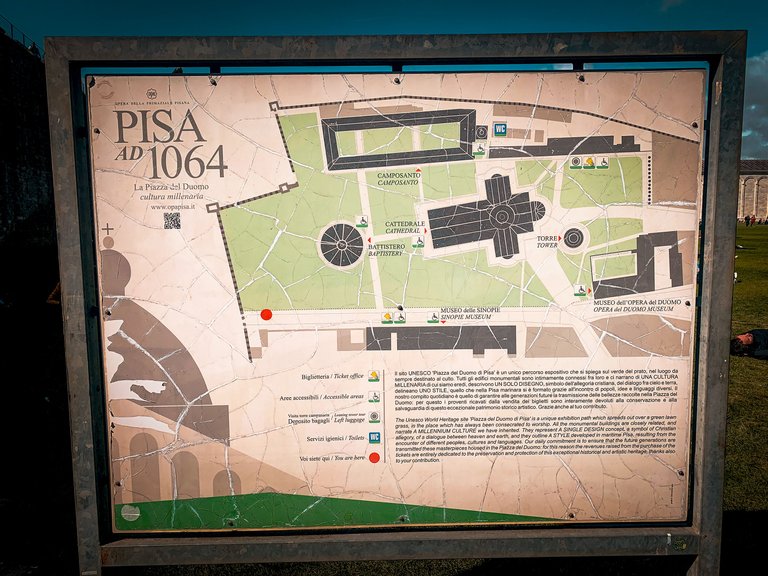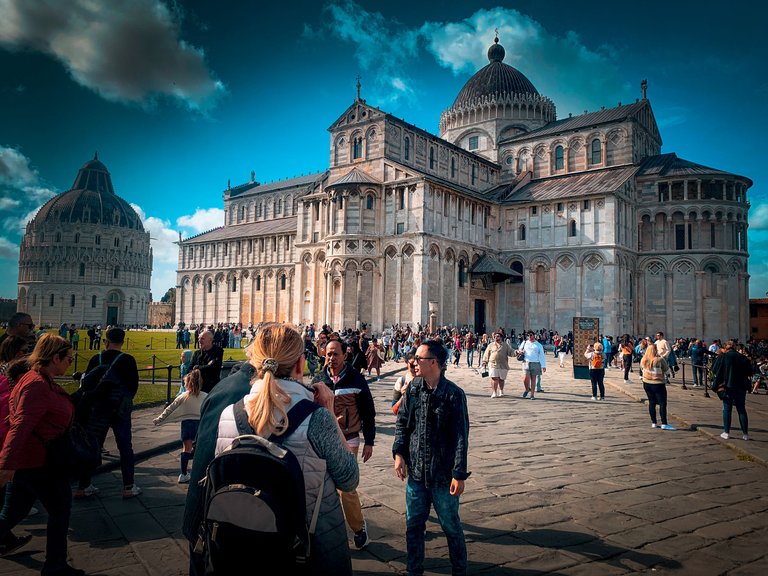 I approached the Leaning Tower and was fascinated by its inclination. It was far more impressive live than I ever imagined.
ITA
Mi avvicinai alla Torre Pendente e rimasi affascinato dalla sua inclinazione. Era molto più impressionante dal vivo di quanto avessi mai immaginato.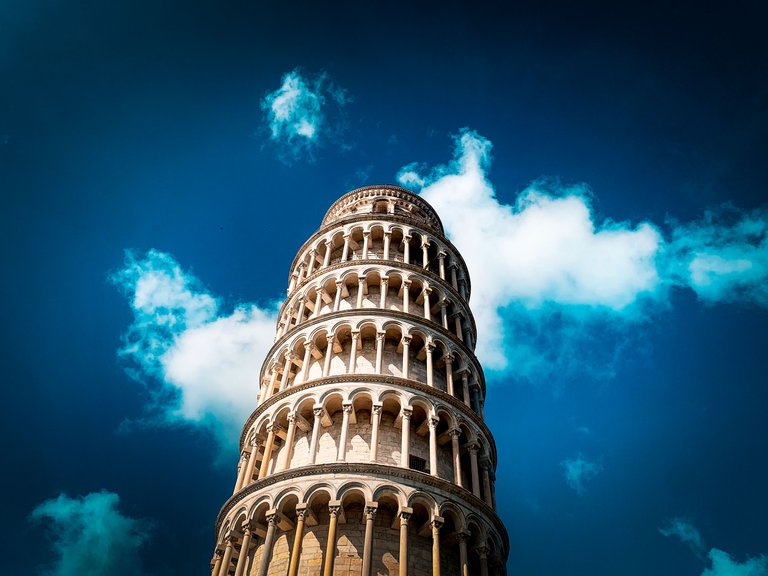 I walked around the square, taking in the Duomo with its intricate sculptures and decorations.
ITA
Camminai intorno alla piazza, osservando il Duomo con le sue intricate sculture e decorazioni.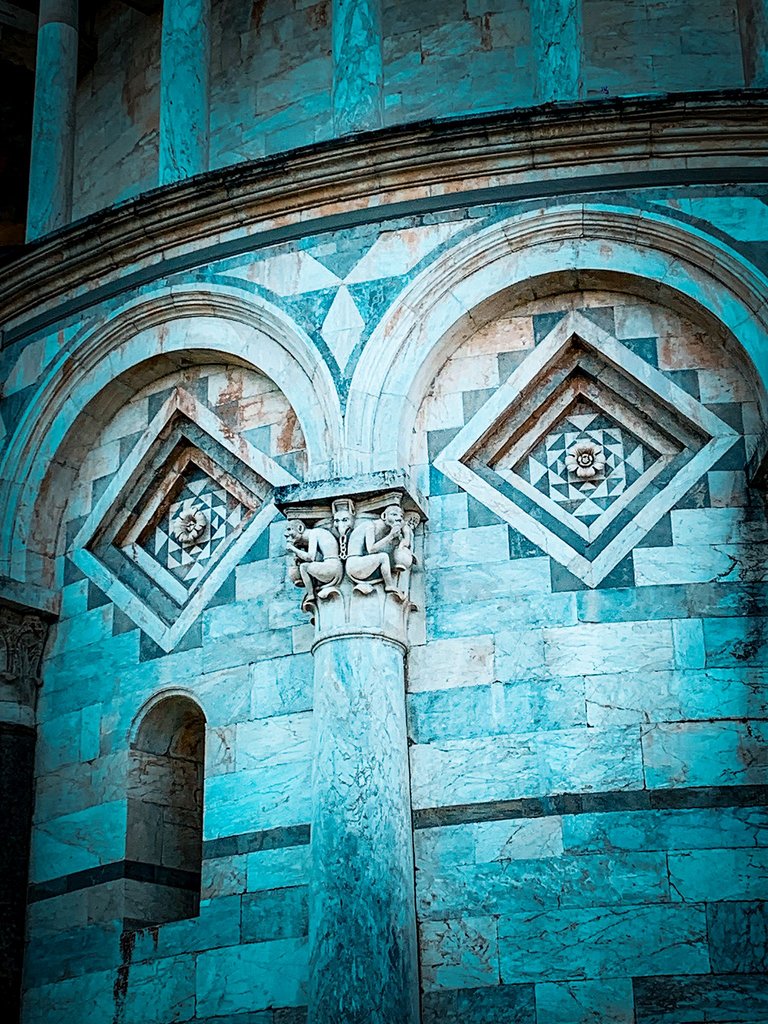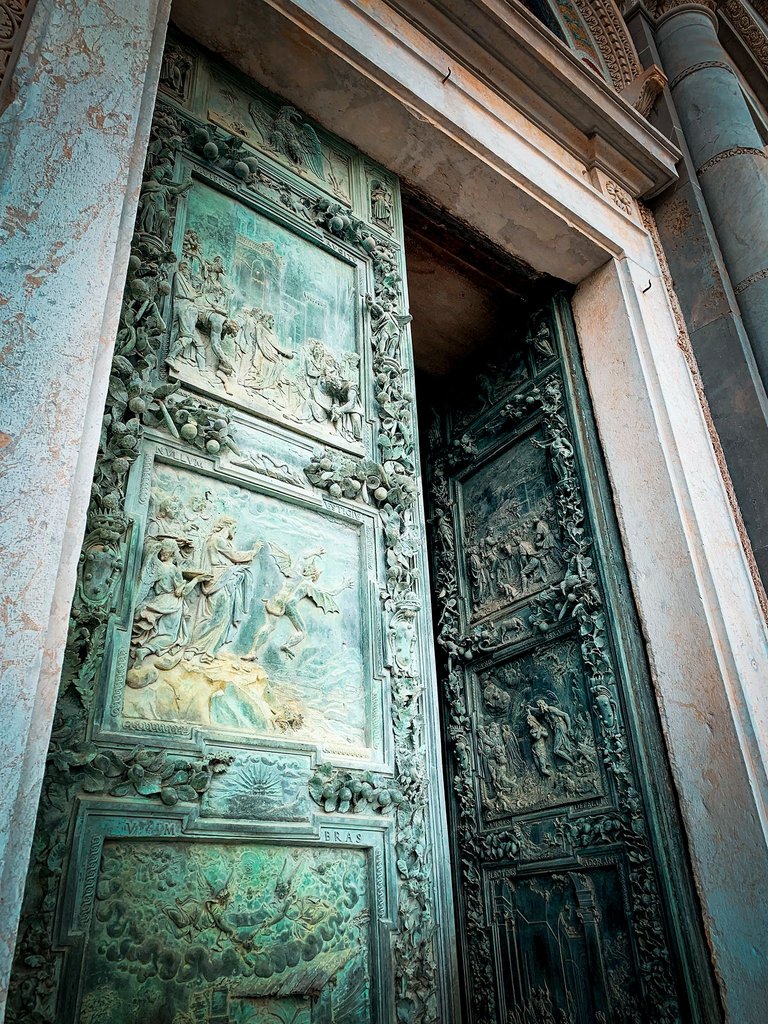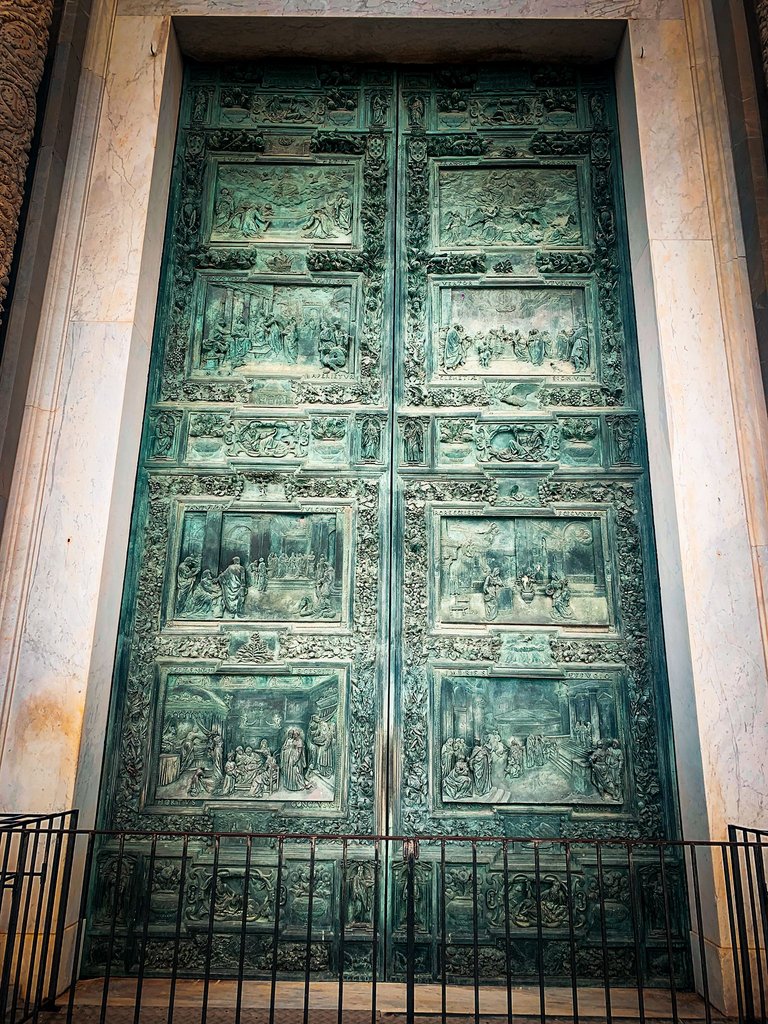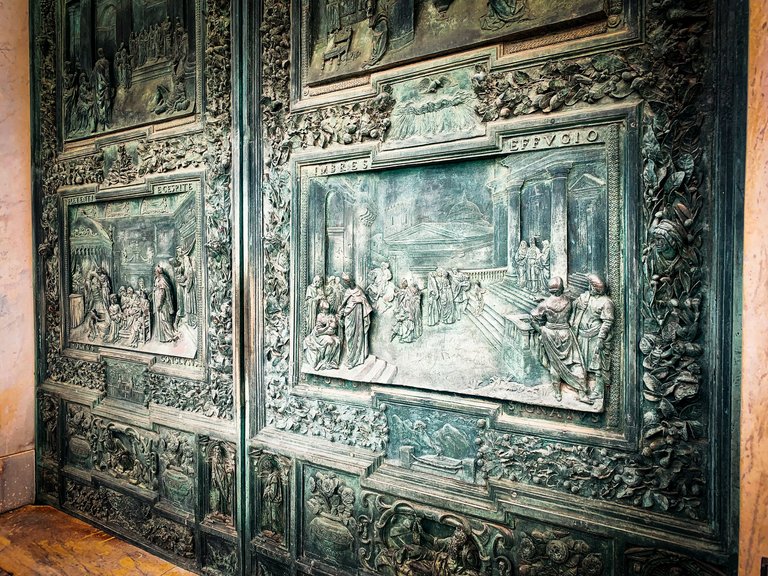 The interior was just as stunning, with its towering columns and frescoes that told ancient stories.
ITA
L'interno era altrettanto stupefacente, con le sue colonne imponenti e gli affreschi che raccontavano storie antiche.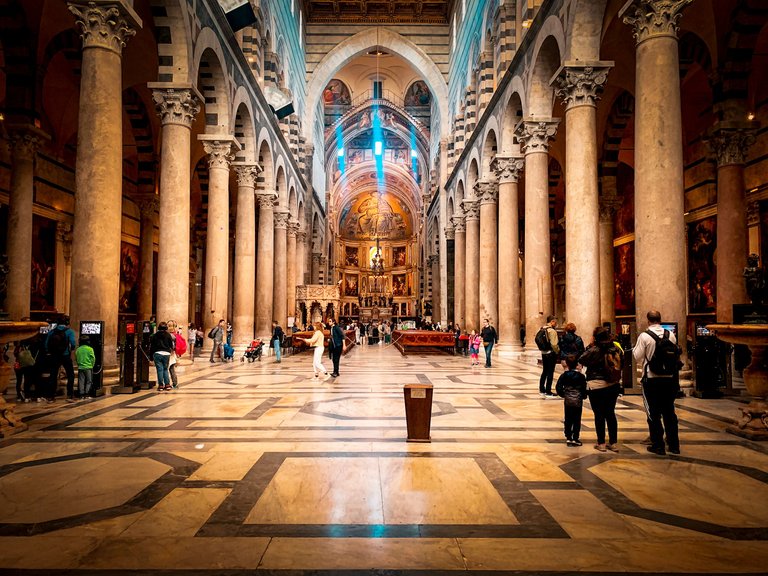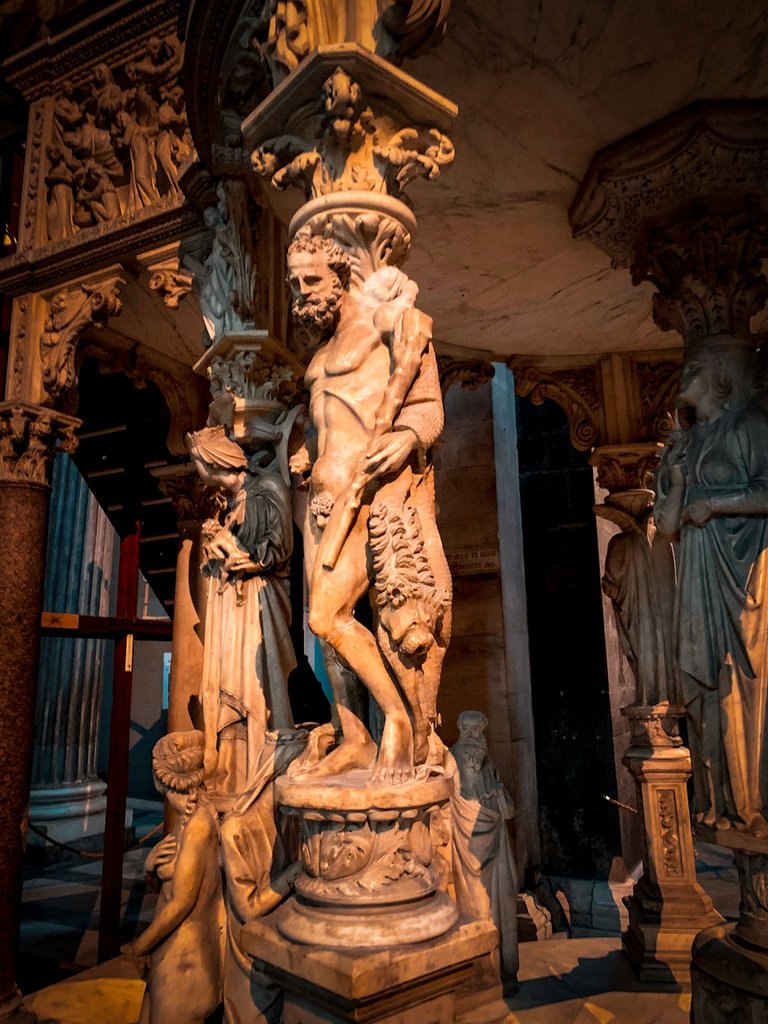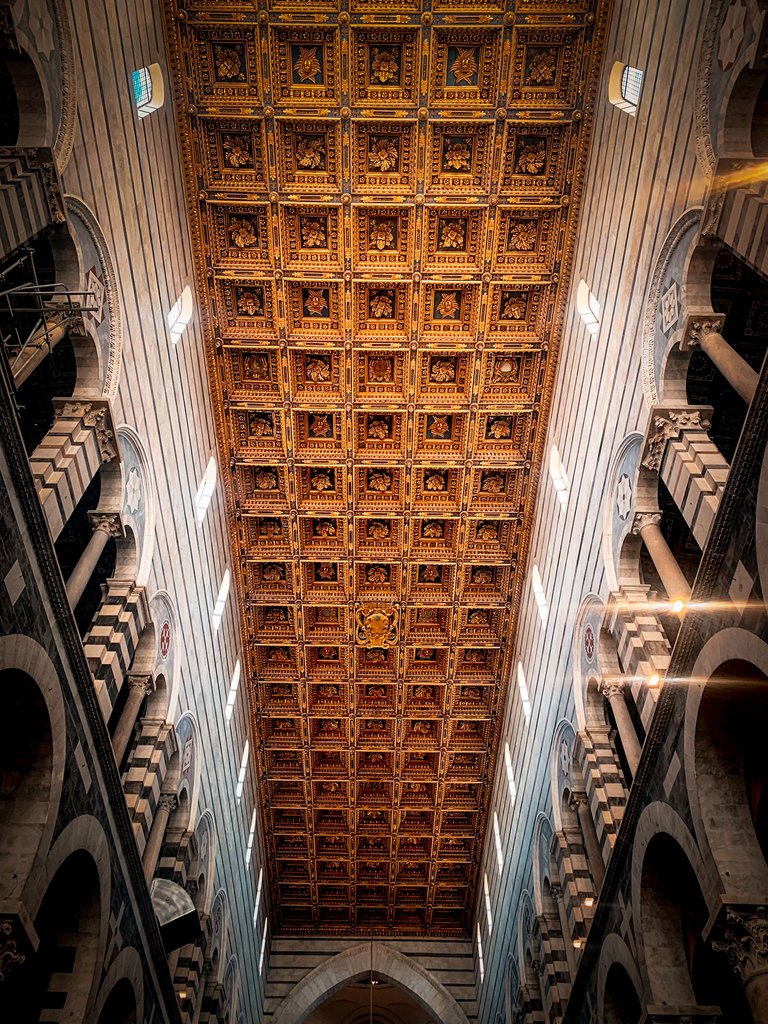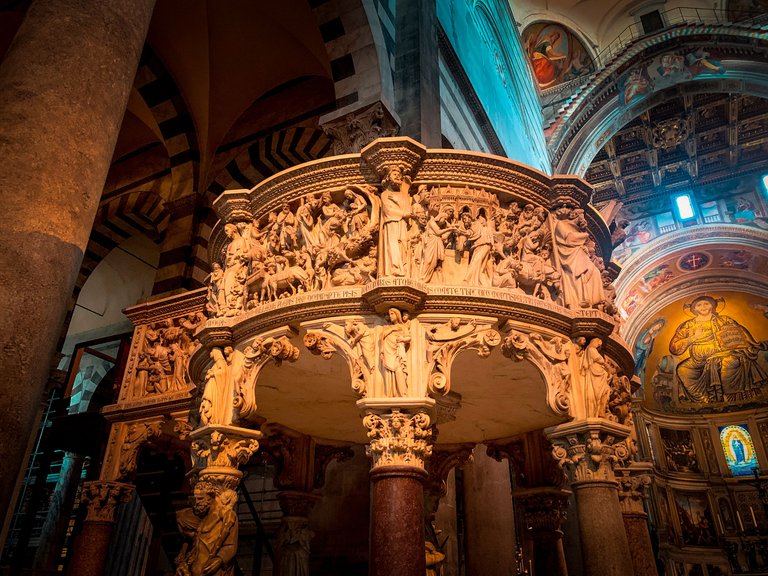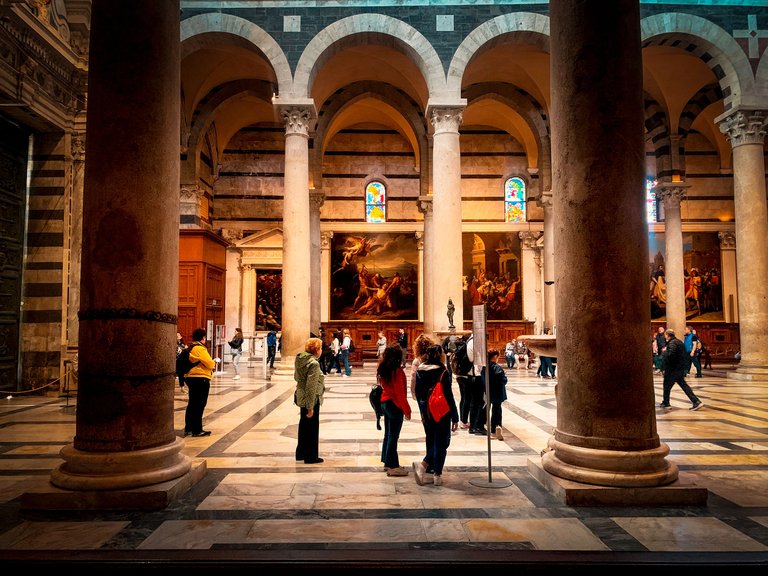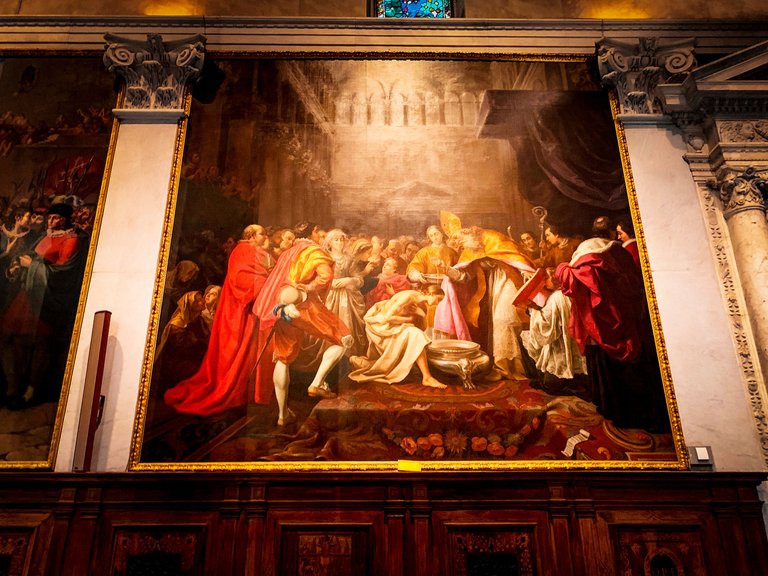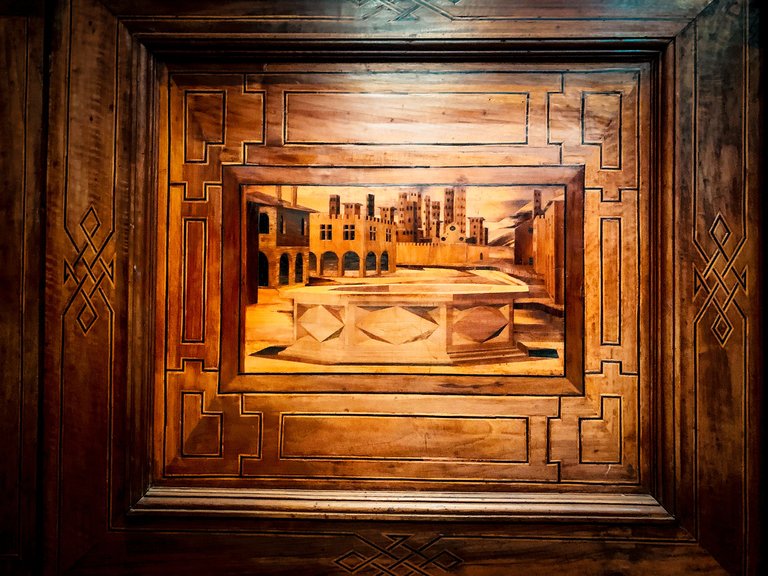 The Baptistery captured my attention with its elegance, and I couldn't help but admire its extraordinary acoustics.
ITA
Il Battistero catturò la mia attenzione con la sua eleganza, e non potei fare a meno di ammirare la sua acustica straordinaria.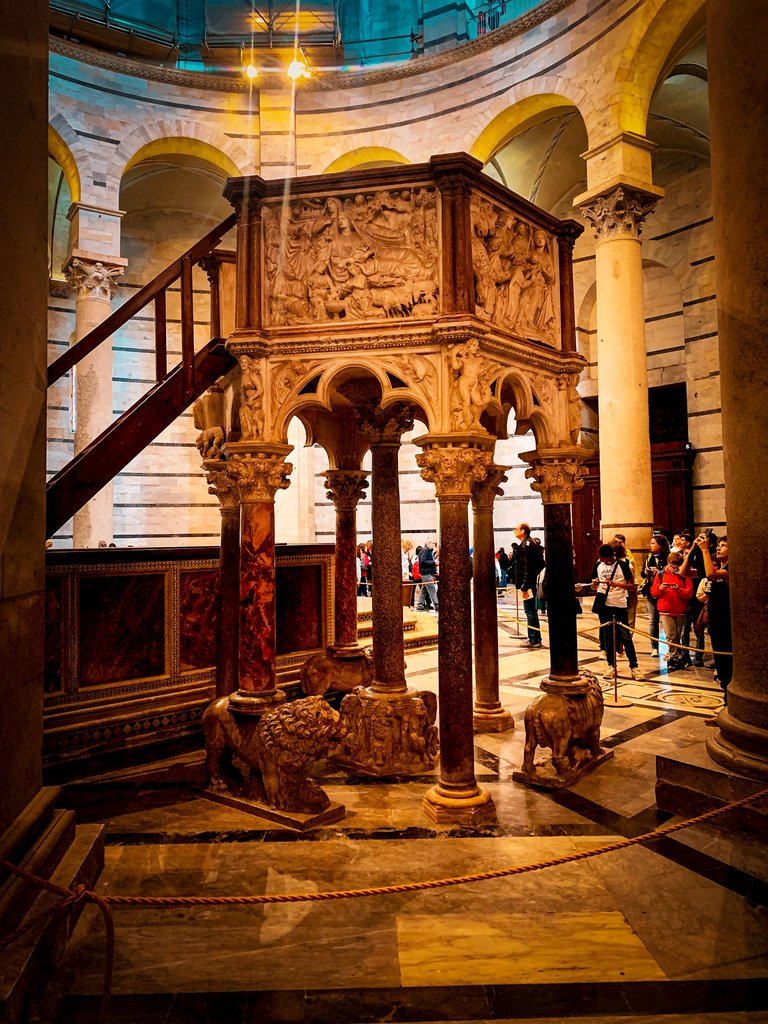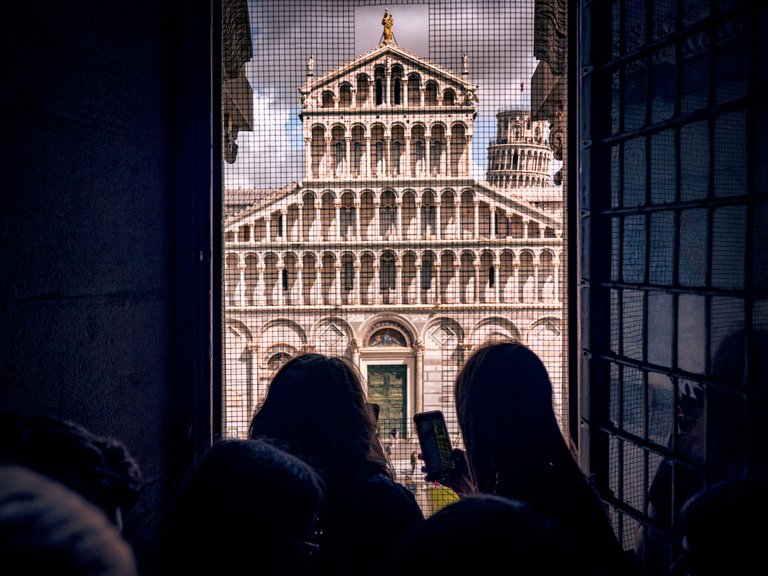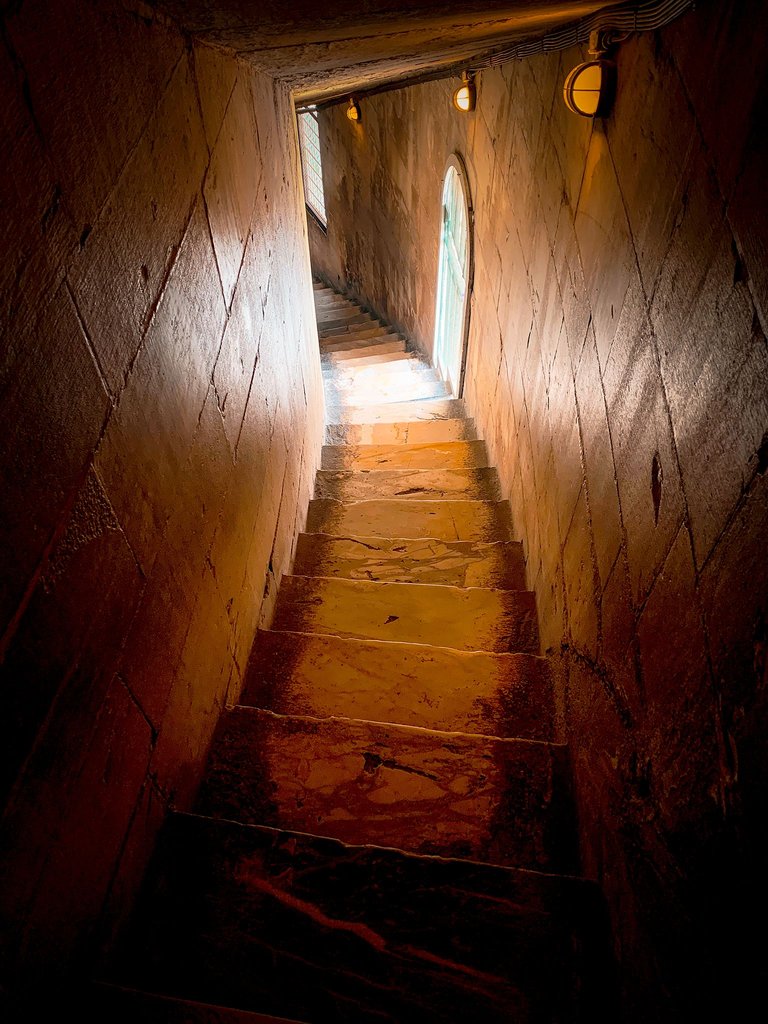 Walking among the tombs of the Camposanto, I felt a profound reverence for the sacred place.
ITA
Passeggiando tra le tombe del Camposanto, sentii una profonda reverenza per il luogo sacro.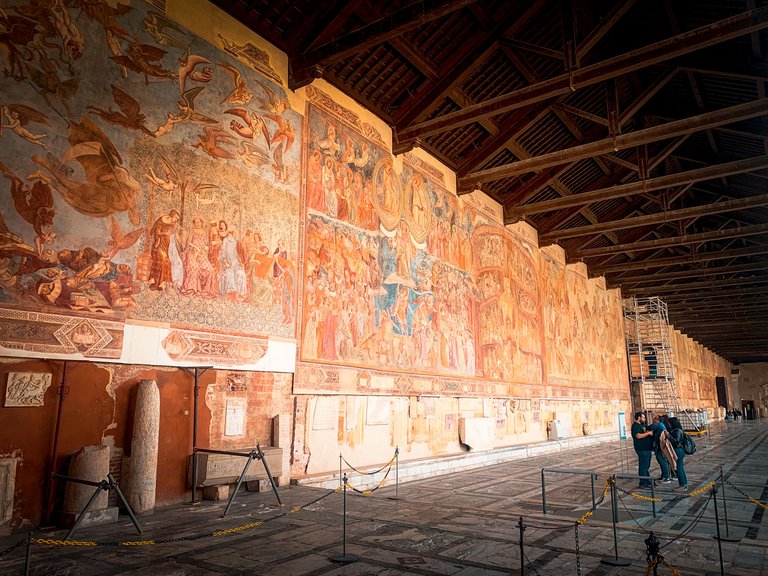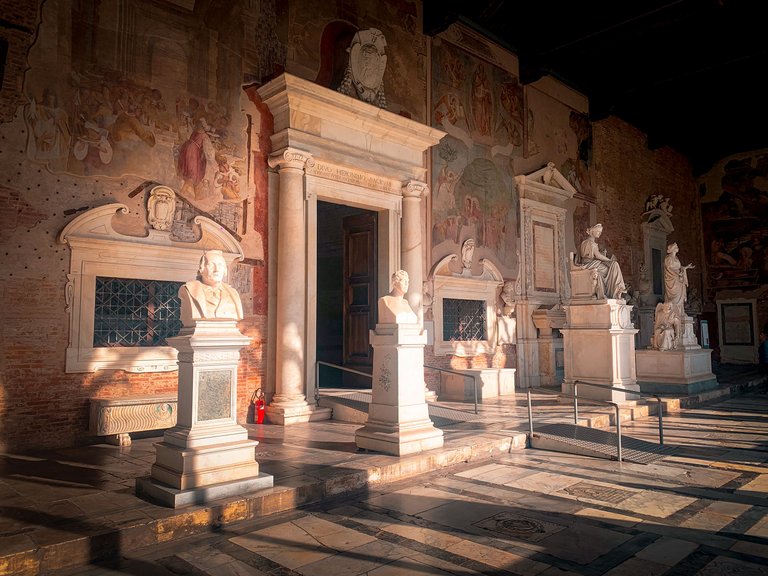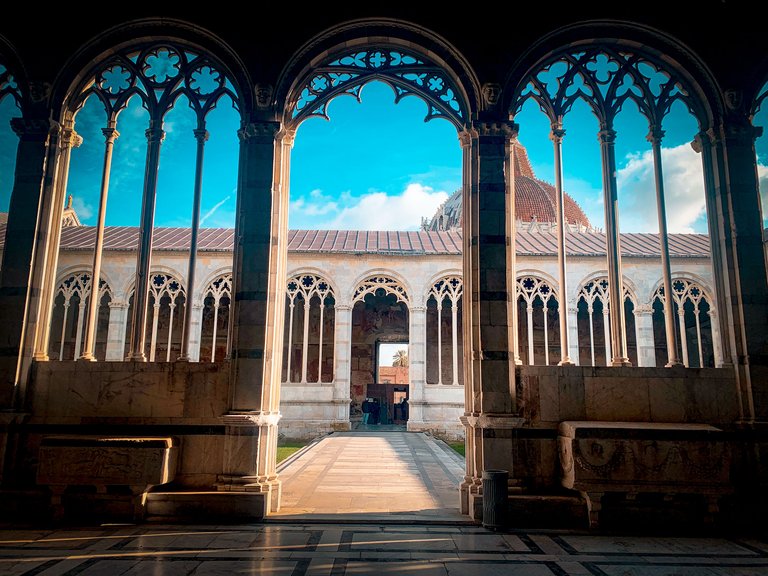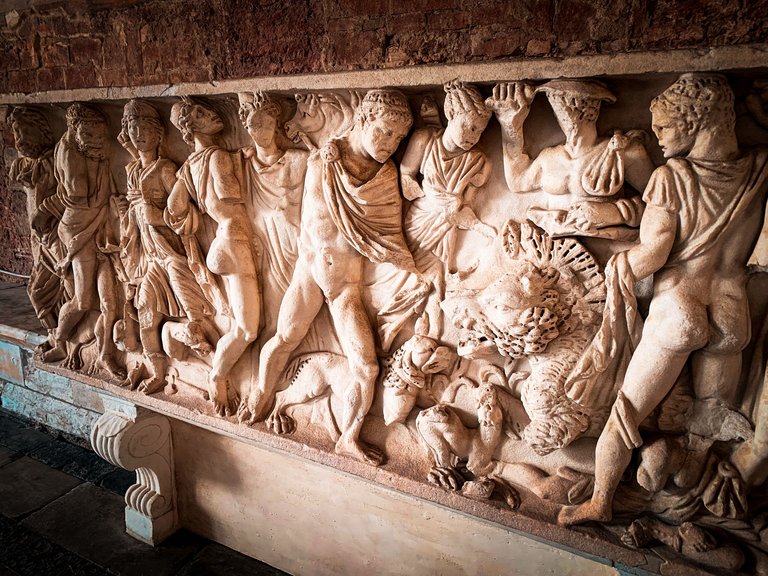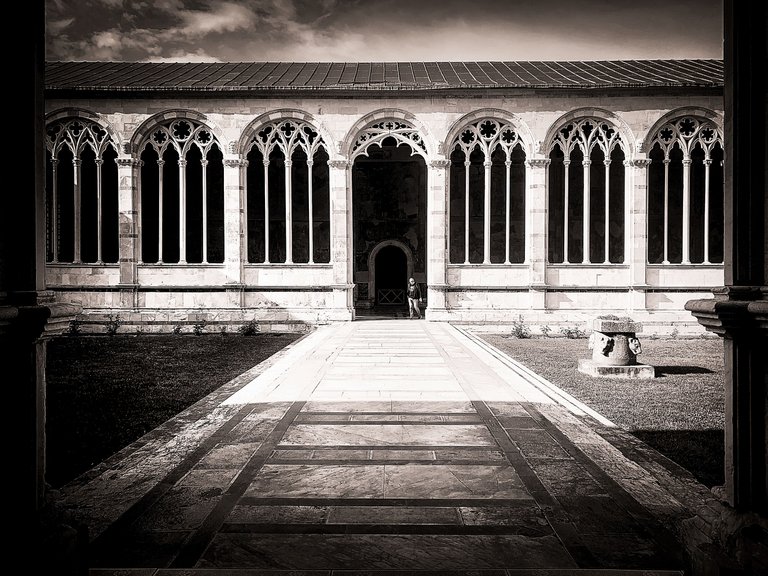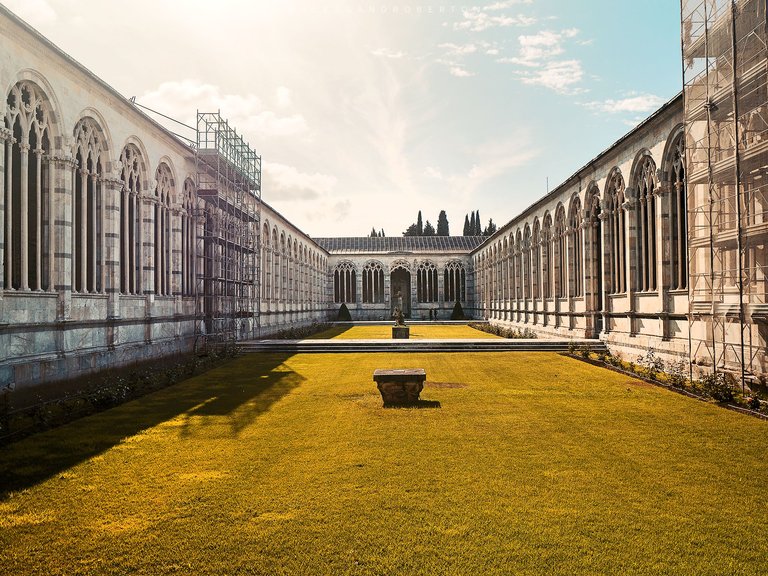 I walked along the Lungarno, admiring the beauty of the Arno river that flowed peacefully beside me. The colorful houses and historic buildings were mirrored in the river waters, creating a picturesque sight. The trees along the road provided some shade, and the sea breeze brought with it the scent of the sea.
ITA
Mi incamminai lungo il Lungarno, ammirando la bellezza del fiume Arno che scorreva tranquillamente al mio fianco. Le case colorate e gli edifici storici si specchiavano nelle acque del fiume, creando uno spettacolo pittoresco. Gli alberi lungo la strada offrivano un po' di ombra, e la brezza marina portava con sé il profumo del mare.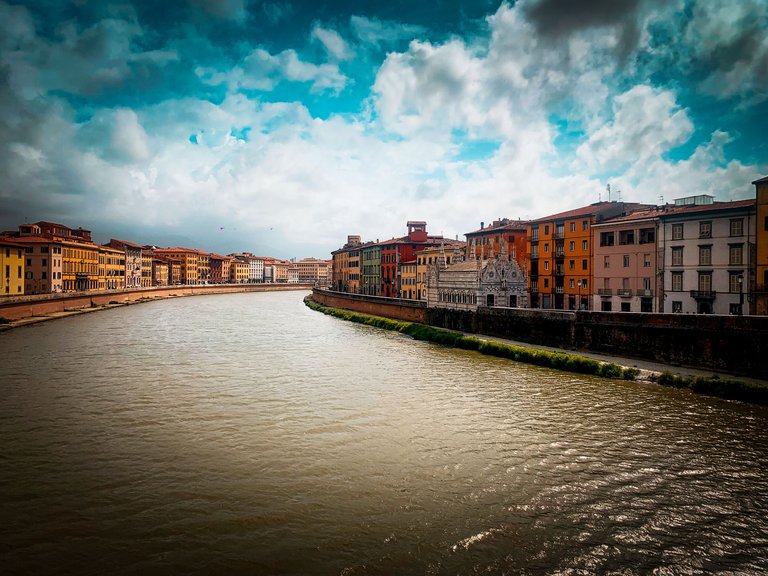 My first stop along the Lungarno was the Church of Santa Maria della Spina. Despite the small size of this Gothic church, its intricate architecture and sculpted spiers were remarkably detailed. It was like a jewel set on the riverfront, and I couldn't help but admire it for a long time from every possible angle.
ITA
La mia prima tappa lungo il Lungarno fu la Chiesa di Santa Maria della Spina. Nonostante le dimensioni ridotte di questa chiesa gotica, la sua architettura intricata e le guglie scolpite erano straordinariamente dettagliate. Era come un gioiello incastonato sul lungofiume, e non potevo fare a meno di ammirarla a lungo da ogni angolazione possibile.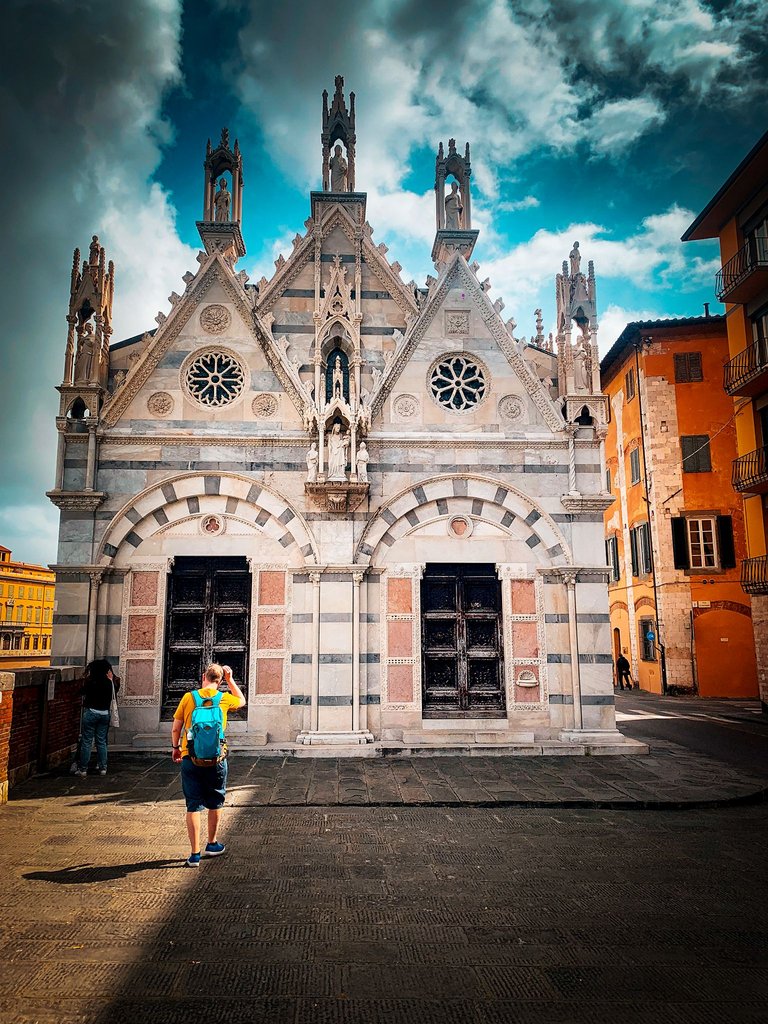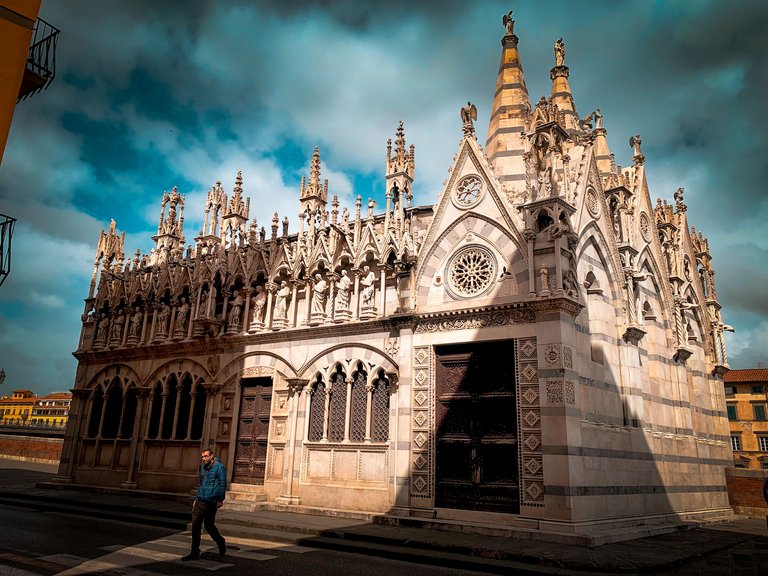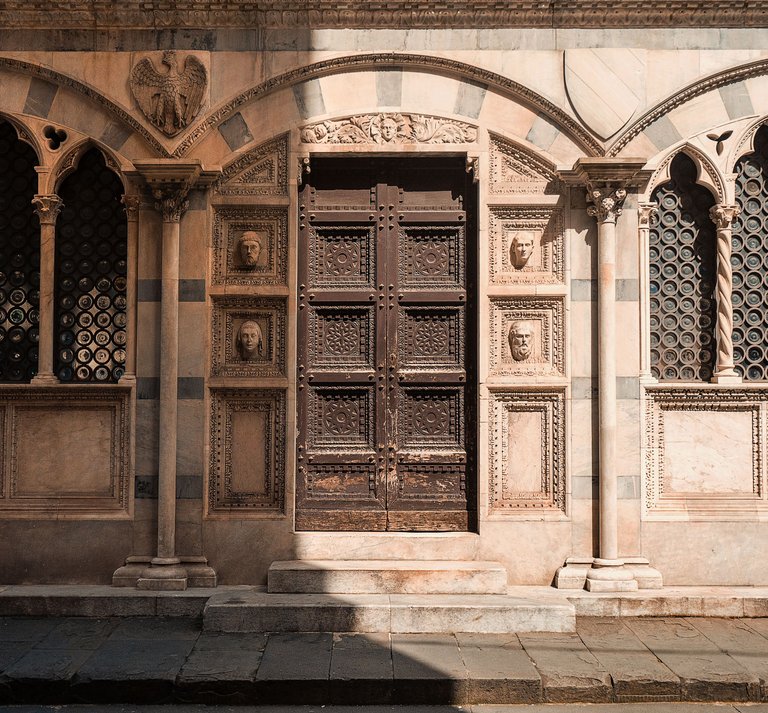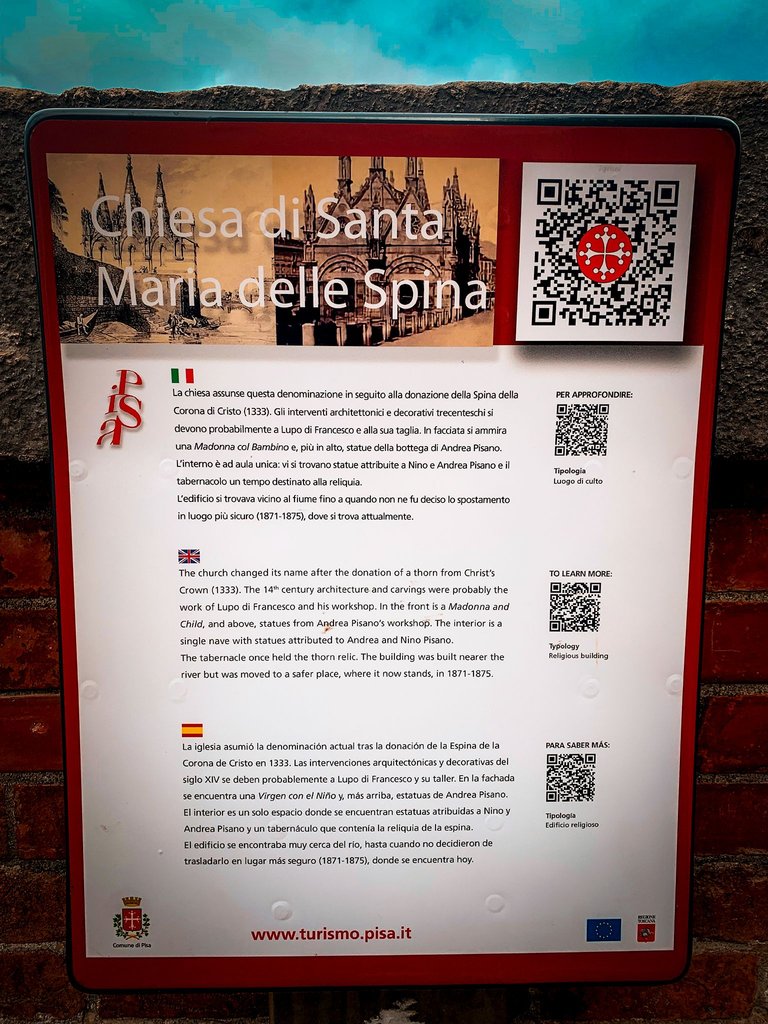 I continued my walk until I reached Piazza dei Cavalieri, a historic square that was once the center of political power in Pisa. The buildings around the square had an elegance and grandeur that reflected the city's rich history. In particular, the Palazzo della Carovana, with its frescoed facade and statues, was a marvel to behold.
ITA
Continuai la mia passeggiata fino a raggiungere Piazza dei Cavalieri, una piazza storica che un tempo fu il centro del potere politico di Pisa. Gli edifici intorno alla piazza avevano un'eleganza e una grandiosità che riflettevano la ricca storia della città. In particolare, il Palazzo della Carovana, con la sua facciata affrescata e le statue, era una meraviglia da contemplare.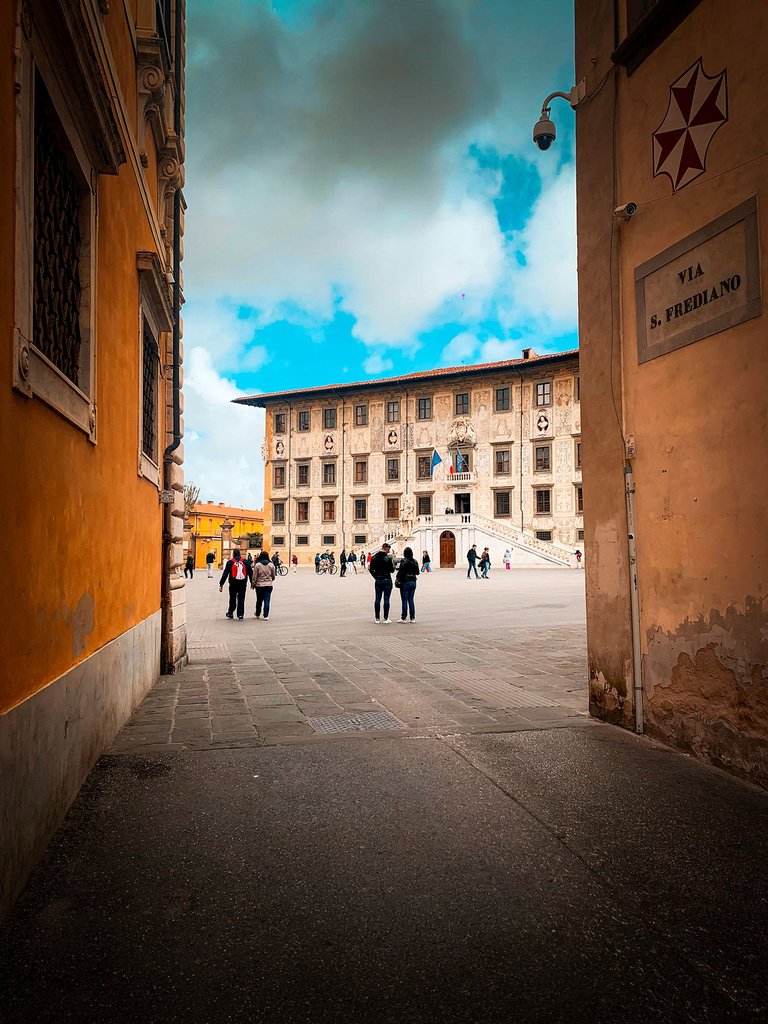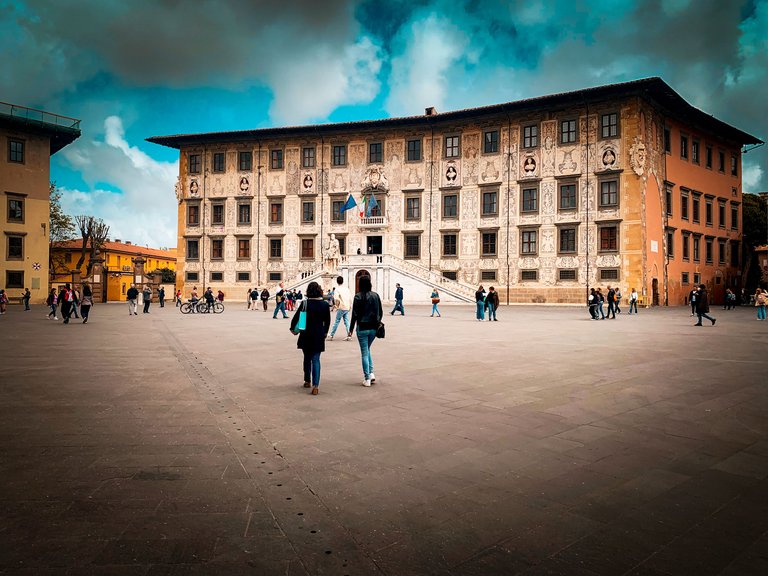 After spending time in the Piazza dei Cavalieri, I made my way to the Leaning Tower of Pisa. It was a short walk from the square, and I couldn't wait to climb the famous tower. When I got to the base, I was impressed by its obvious lean. It was more angled than I had imagined from the photos.
ITA
Dopo aver trascorso del tempo a Piazza dei Cavalieri, mi diressi verso la Torre Pendente di Pisa. Era una breve passeggiata dalla piazza, e non potevo aspettare di salire sulla famosa torre. Quando arrivai alla base, rimasi impressionato dalla sua inclinazione evidente. Era più inclinata di quanto avessi immaginato dalle foto.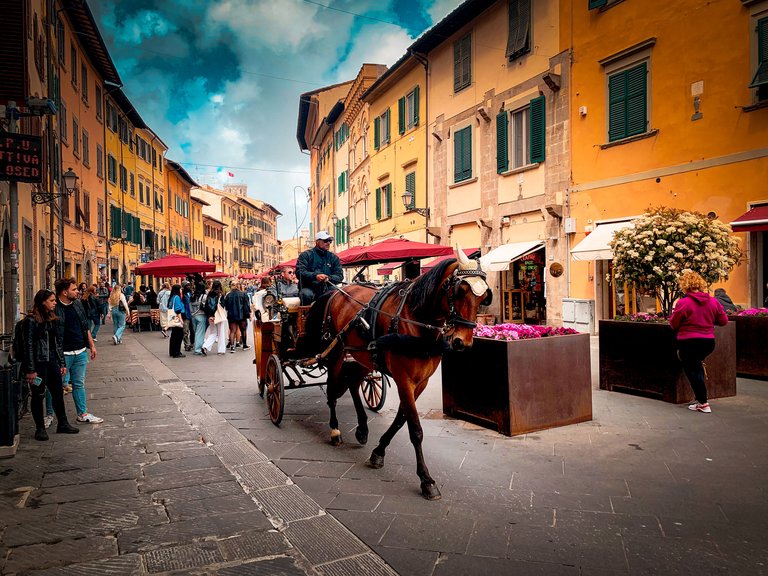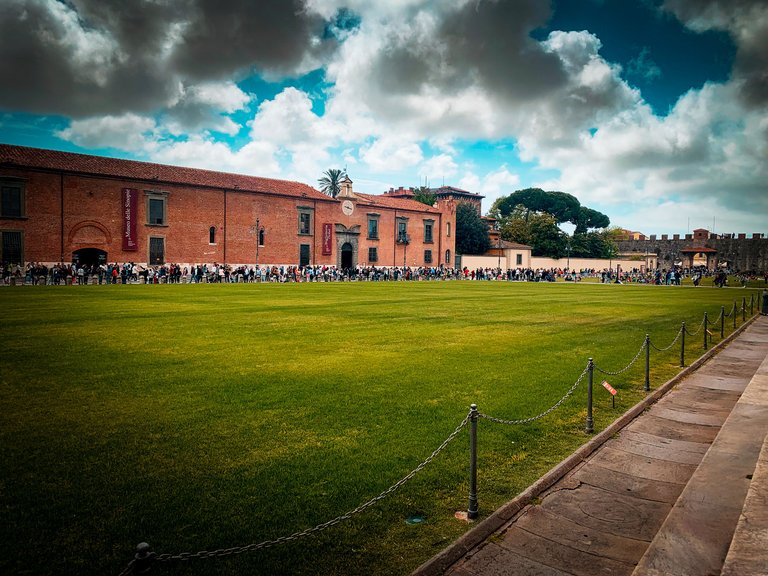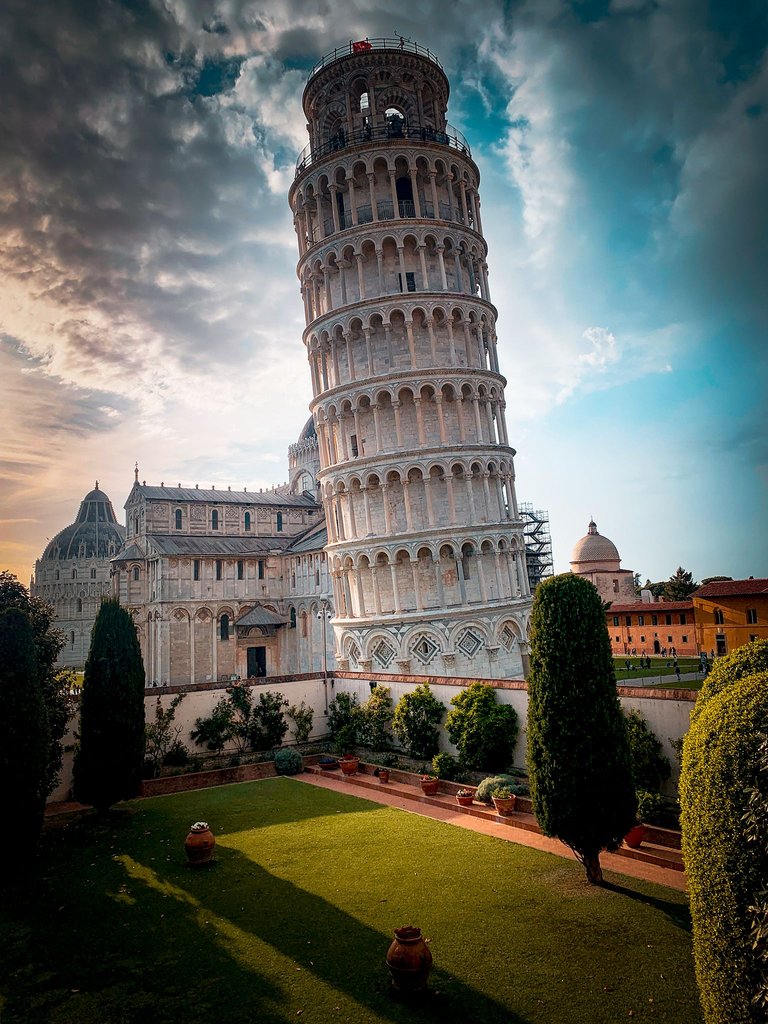 Con un biglietto in mano, iniziai la salita dei ripidi gradini all'interno della torre. Mentre ascendeva, potevo sentire il mio cuore battere più forte per l'emozione. Finalmente, raggiunsi la cima, e la vista panoramica di Pisa fu semplicemente mozzafiato. Il paesaggio urbano si stendeva sotto di me, e il fiume Arno si curvava elegantemente attraverso la città.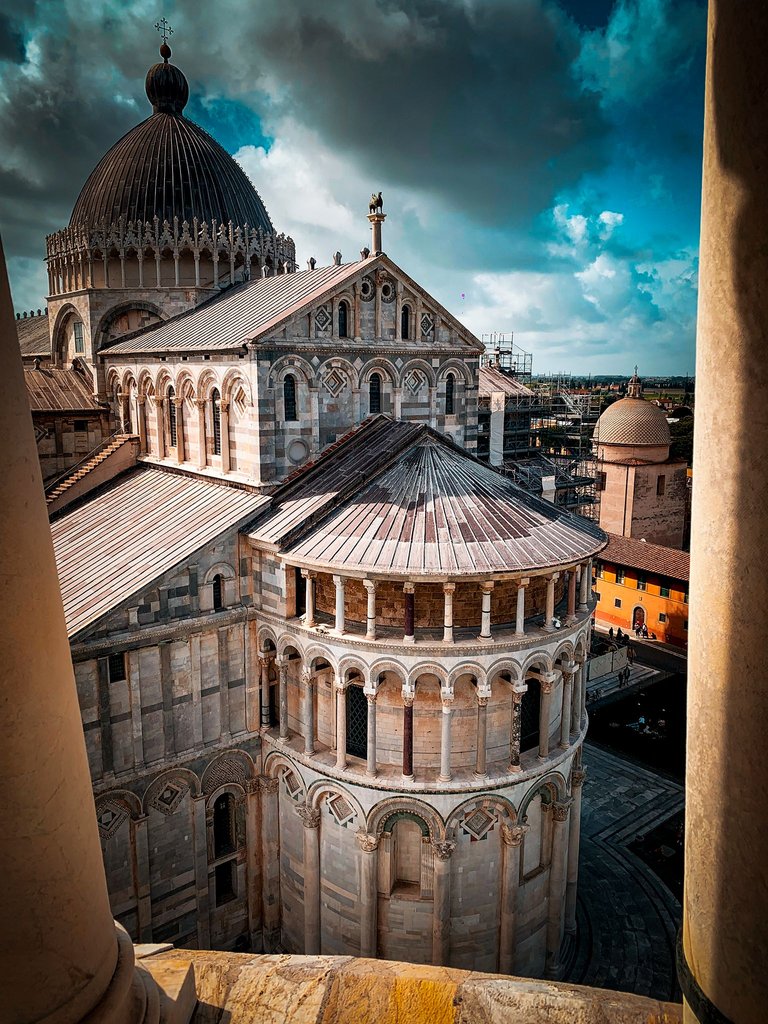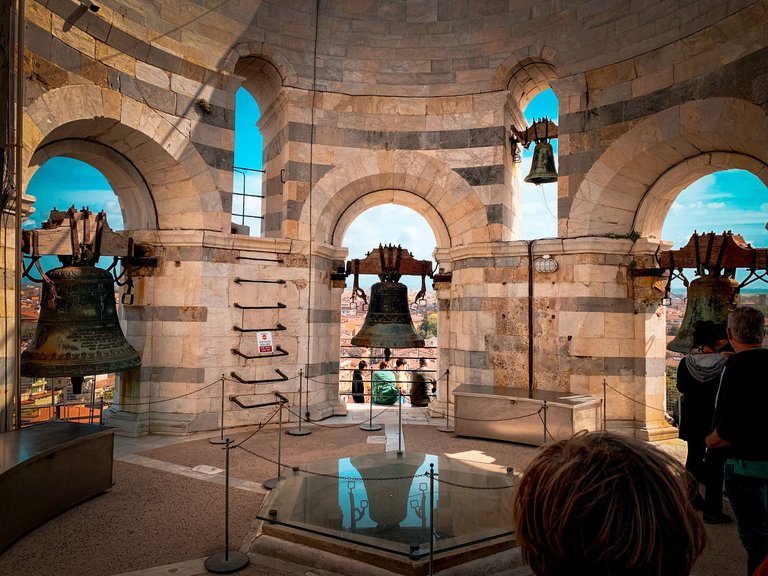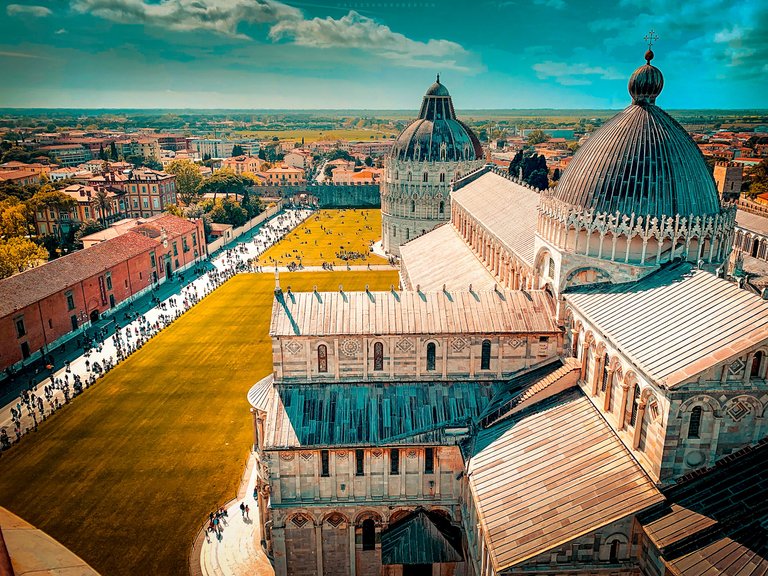 My day in Pisa, between the Church of Santa Maria della Spina, Piazza dei Cavalieri and the Leaning Tower, was a mix of beauty, history and adventure. It was as if I had stepped into a living history book, and would cherish those memories in my heart forever.
ITA
La mia giornata a Pisa, tra la Chiesa di Santa Maria della Spina, Piazza dei Cavalieri e la Torre Pendente, fu un mix di bellezza, storia e avventura. Era come se fossi entrato in un libro di storia vivente, e avrei custodito quei ricordi nel mio cuore per sempre.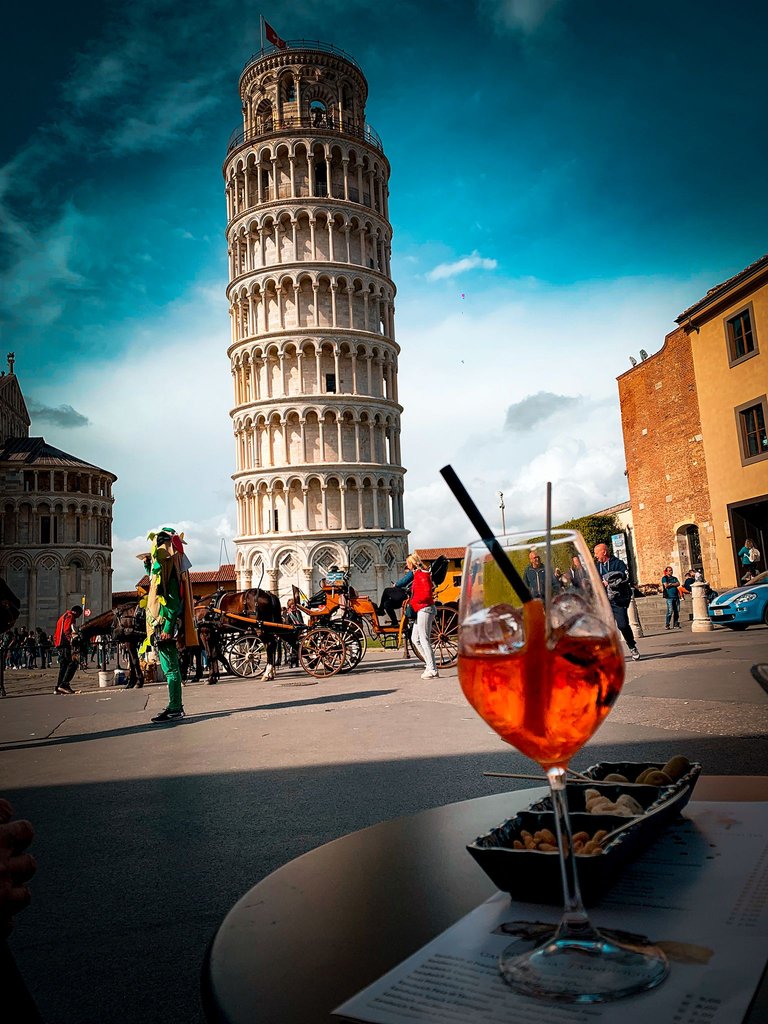 As the sun sank on the horizon, the square became silent, mild, creating a magical atmosphere. My visit to Pisa had been truly emotional, and I felt fortunate to have had the opportunity to see these marvels in person. It didn't matter how dirty the city might seem outside the main thoroughfares; the Piazza dei Miracoli was a real treasure, and that day I would carry those exciting moments with me forever.
ITA
Mentre il sole calava all'orizzonte, la piazza diventò silenziosa, mite, creando un'atmosfera magica. La mia visita a Pisa era stata davvero emozionante, e mi sentivo fortunato di aver avuto l'opportunità di vedere queste meraviglie in persona. Non importava quanto sporca potesse sembrare la città al di fuori delle vie principali; la Piazza dei Miracoli era un vero tesoro, e quel giorno avrei portato con me quei momenti emozionanti per sempre.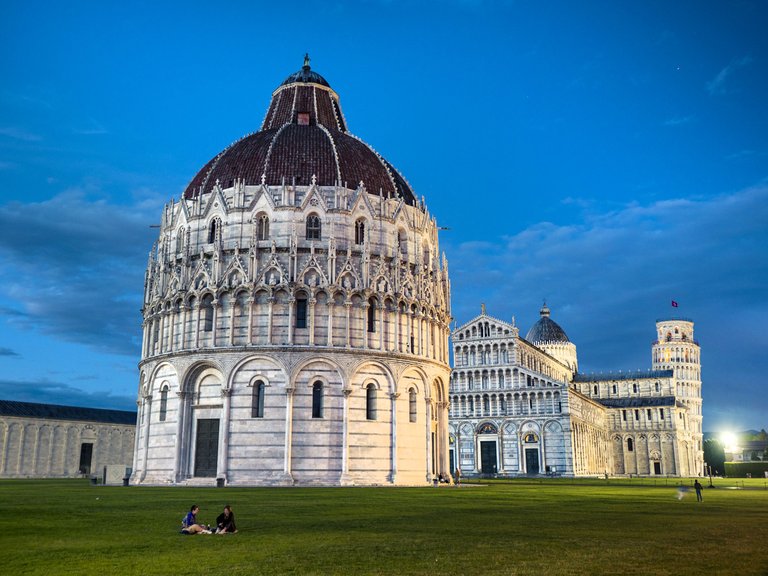 ---
---