Ipoh, finally...

Read this post on TravelFeed.io for the best experience
---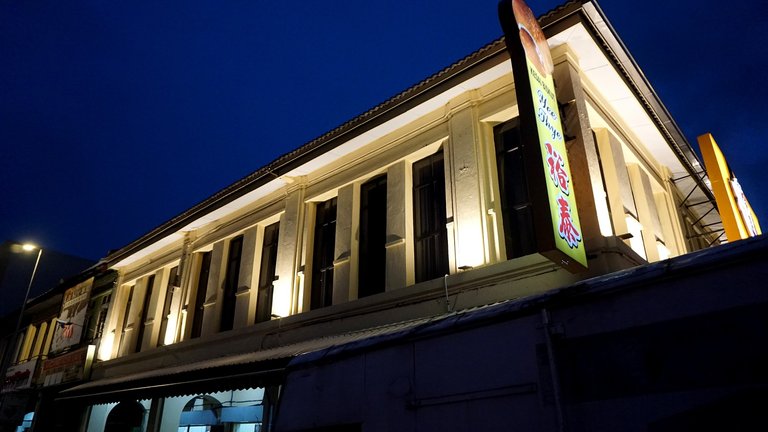 ---
And so we were in Ipoh! Minimal planning (those work the best!), shift dates around a lil (to suit everyone), accommodation booked (
eenie meenie minie moe...
), travel plans checked... off we went!
First stop, Kellie's Castle, - done! 
Arrived, hungry, eat/ate! ....Ipoh food - yummm! But that's another post, or two.... (yeah yeah, part two is.... coming.... soon....) 
So, what's Ipoh all about....?
Ipoh is the capital of the state of Perak - literal translation: Silver! However, it wasn't silver that was found there but tin! Tin was a big deal there over a century ago, and was what made Perak, and Ipoh! Huge and deep tin mining pools remain til today (one might get a kick flying over them as the varying shades of the pools make for interesting shots) but you don't get to see the monstrous tin dredges from days gone by any more. And then the tin deposits depleted, and the glory days were over. People from Kuala Lumpur (KL) just bypass the town on their way to the more popular Penang up north. Lately though, Ipoh has become trendy for locals to visit... Street art, restored and revived old colonial buildings, some converted to hipster cafes, etc, and all sorts of "Instagrammable" locations has made it a trendy place to visit! More on Ipoh
Me? I had never ever visited, or rather, toured, Ipoh 'properly'... Or visited the cave temples there either. Or enjoyed their much-publicised food.... So it was time to go visit, since we are now allowed to travel domestically, why not?
Let's start from the ground up (literally) - look what I found!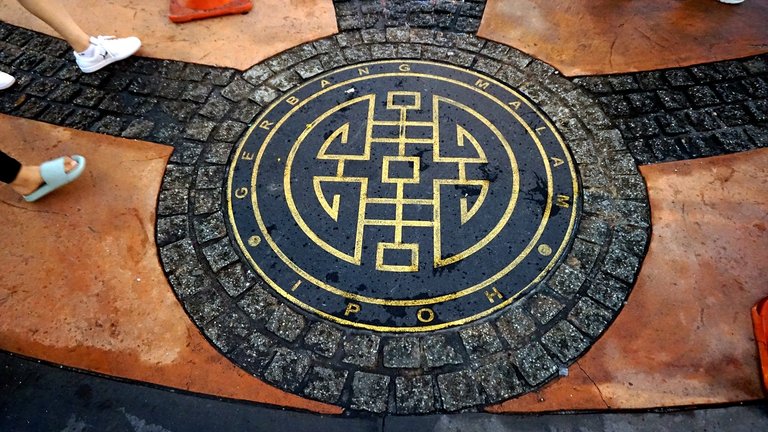 One of the manhole covers found in the 'Gerbang Malam' area
Upon arrival and right after dinner, we walk out of the shop and took a walk around the busy 'Gerbang Malam' or 'Night Gate(way)' area - a kind of night street market - one of the popular areas for visitors to Ipoh.  A light drizzle brought up a pretty double rainbow complementing the twilight sky.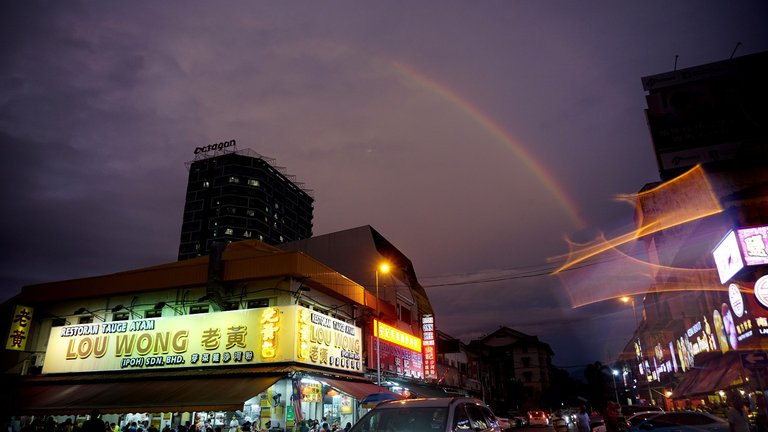 There was a double rainbow, but only one very clear and the second was kinda faded by the time I got my camera out! You can barely see it here, slightly above the clear one. A raindrop on my lens makes this unique shot! :D
We weren't really interested in the goods being sold as they were the normal 'pasar malam' (night market) stuff we could find back in KL; I was more interested in the manhole covers... I discovered they were all different and decorated four corners of the inter-section.  See...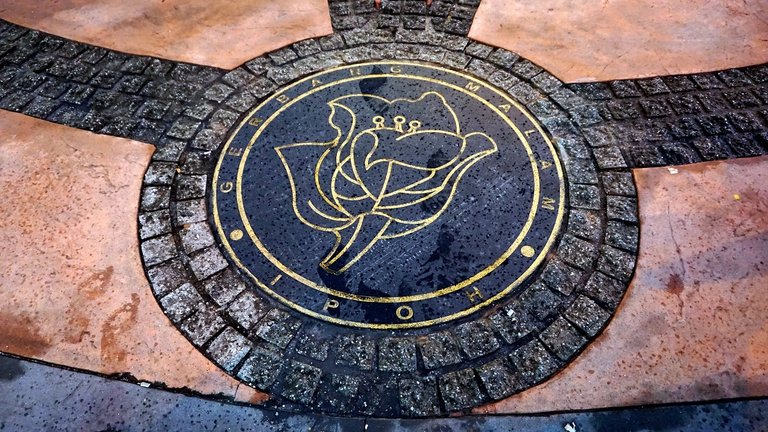 Hmmm, not very sure if the centre decorations had any significance... Interesting, all the same....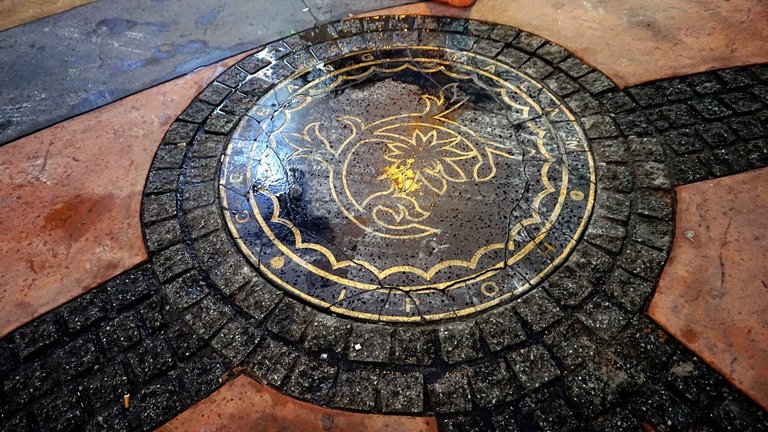 Another flower centrepiece!
I managed to get these three before the raindrops got bigger and threatened to drown us all! Off to the car, we went. On leaving the place, I saw there was another inter-section with another set of covers.... Shucks! Missed those!! More excuse to go back again....
Next day...
A walkabout in the town centre, and a blur of places, and food... and more places (and food!) Let's just have shots of some of what I feel were interesting captures. Picture story, if you will, so as not to bore you... ;)
First, to start off the day... We started from ground up, right, so now, we look skyward...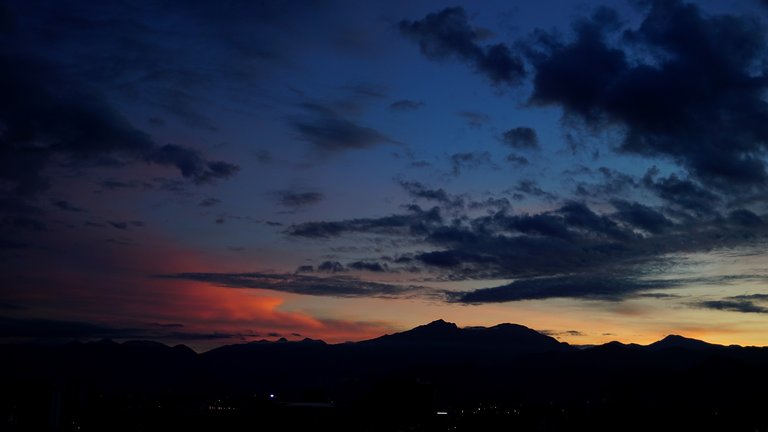 Break of dawn... 
Ipoh is surrounded by beautiful limestone hills of the main range of Peninsular Malaysia; so goes without saying, we could see hills, hills and more hills all around.... And surprise, surprise - we woke up and found ourselves looking at the dawn of day! A beautiful sunrise in the making.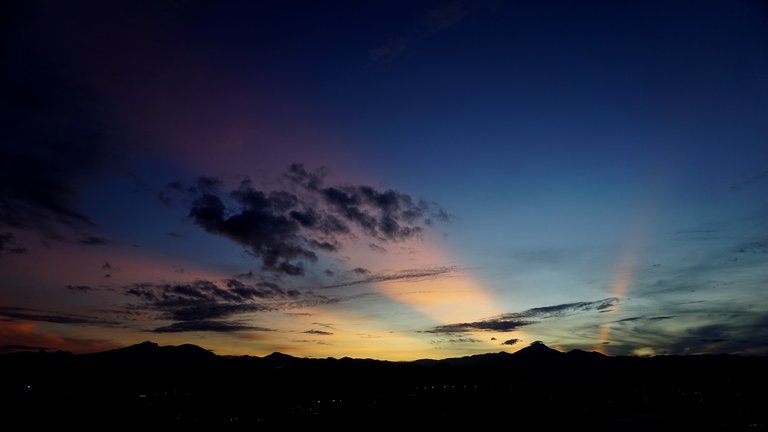 Lucky to face sunsets at home... and sunrise in Ipoh!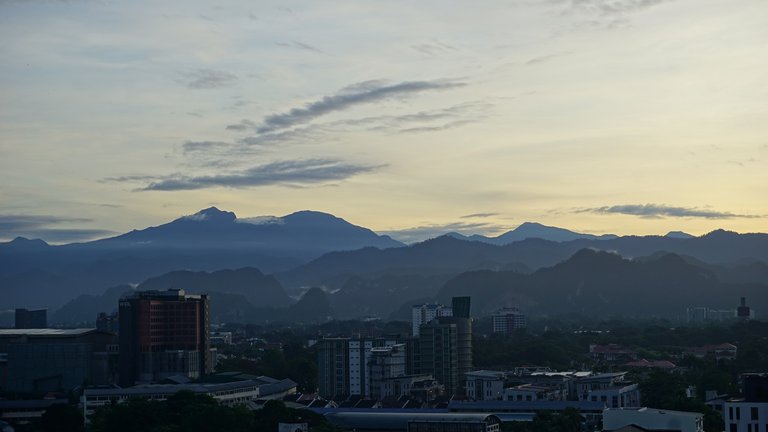 Layers upon layers of hills...
Somewhere in town later...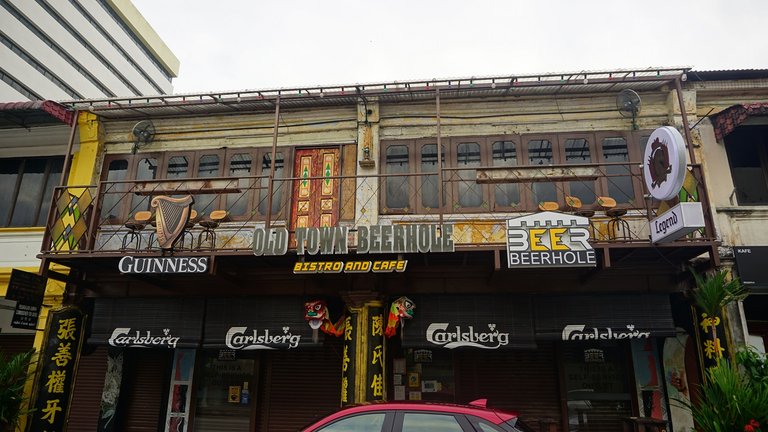 An interesting shopfront I found, closed at that hour of day, of course
...and we found ourselves down a lane, with some interesting features...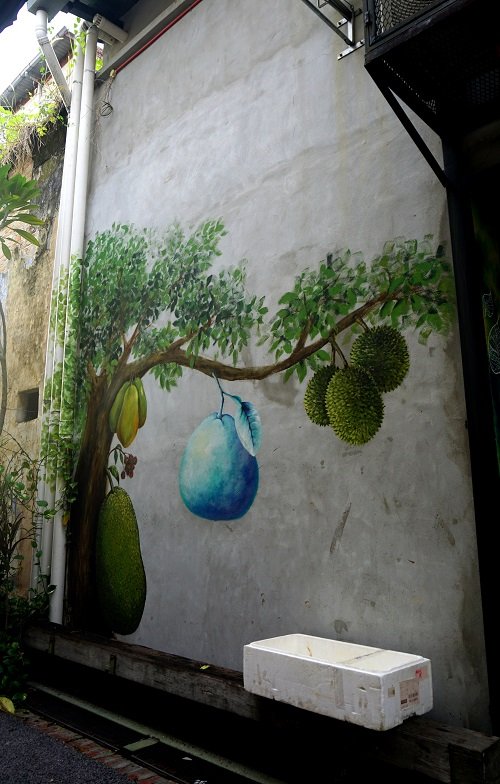 Hmmm, street art - a durian tree with some magical blue fruit? Looks like a pomelo to me. Ipoh is well-known for their pomelos... why blue, I wonder... Edit: Silly me - didn't notice, it has different Malaysian fruits on the one tree! Huge jackfruit on the trunk (that's how jackfruits grow...), a bunch of much smaller reddish rambutans above (rambutans = the very sweet hairy fruit), papayas above that, in a cluster of three, durians to the right, with thorns, also a bunch of three!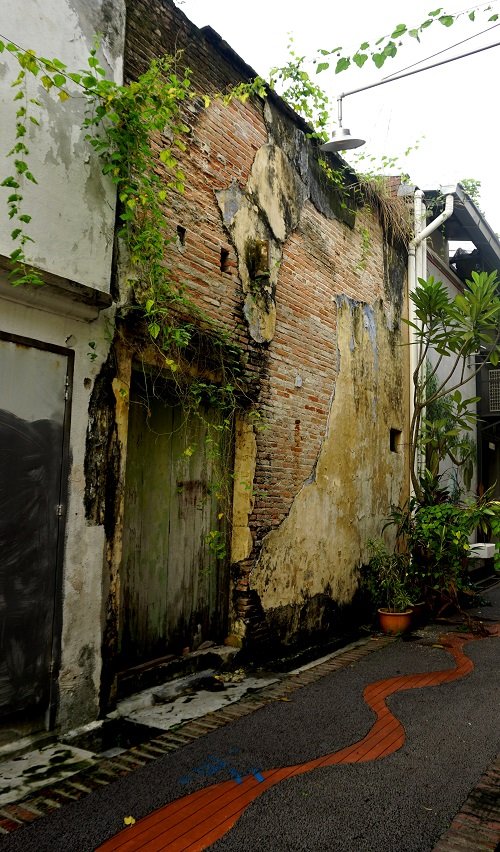 Ohhhh, great character! Isn't this what attracts photographers and creative minds... cracked plaster and aged walls, raw brick, wild vines, a mysterious door thrown in for good measure too! Notice the wavy strip on the ground...?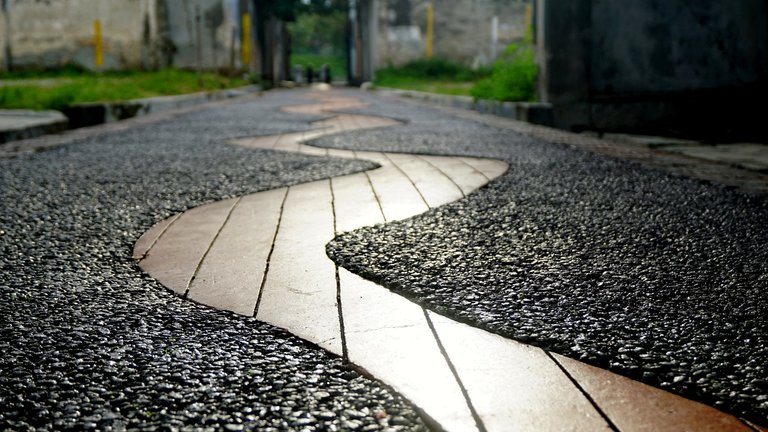 A closer inspection of said wavy strip... and where does it lead you....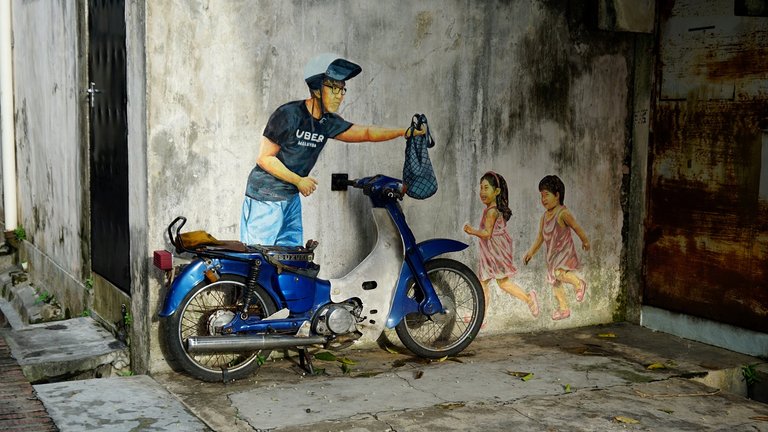 More street art... - 3D meets 2D; a popular mix... Zacharevic comes to mind. But its not his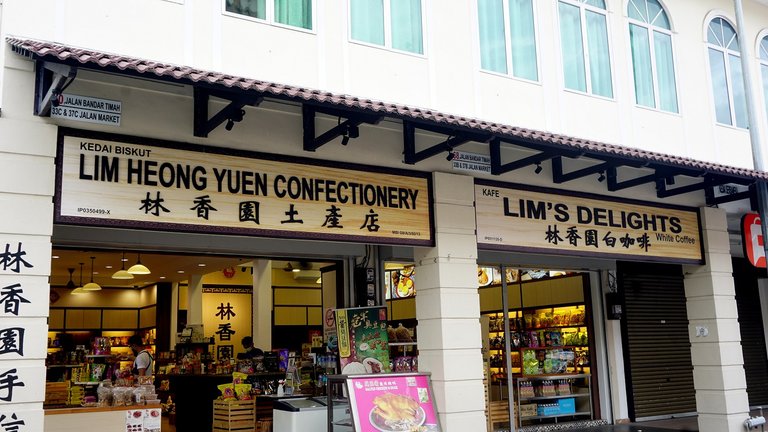 Traditional Chinese biscuits are synonymous with Ipoh... Why this shop front, you say? I just liked the signboards! :)  I later found that the famous Concubine Lane of Ipoh starts/ends right next door to this shop!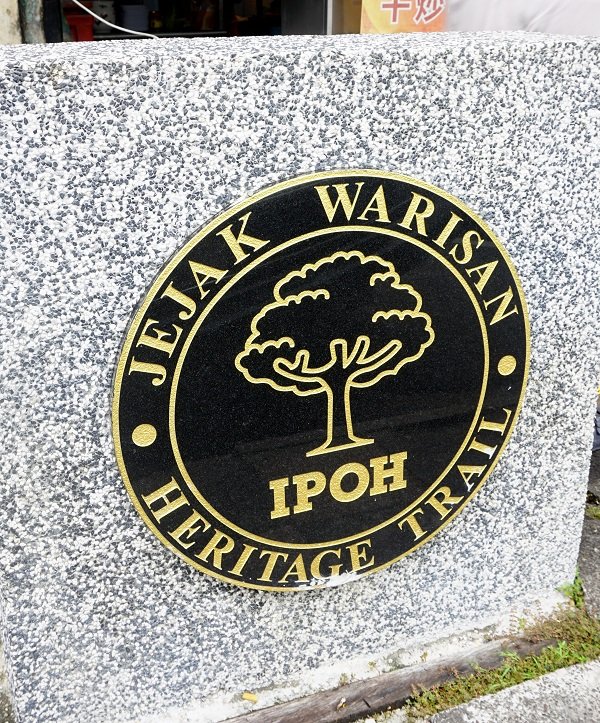 Another to-do on my next trip here... Actually walk the Heritage Trail in its entirety!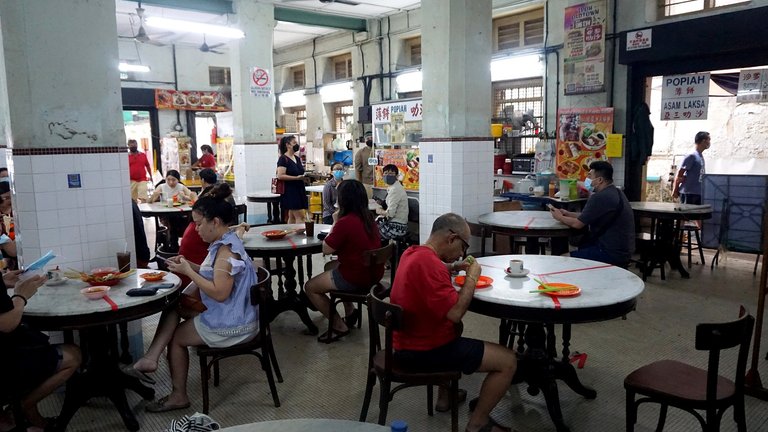 The insides of an old fashioned Chinese coffeeshop or 'kopitiam' (literal translation: 'kopi' = coffee, 'tiam' = shop) as they're endearingly called by Malaysians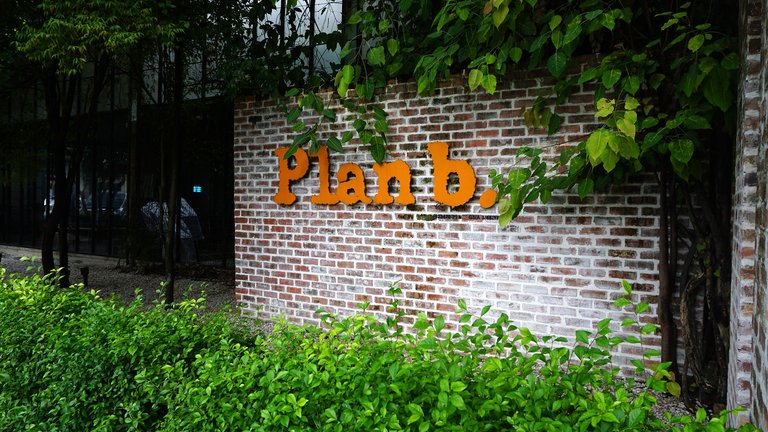 Ahaaaa... a trendy restaurant chain from KL comes to Ipoh!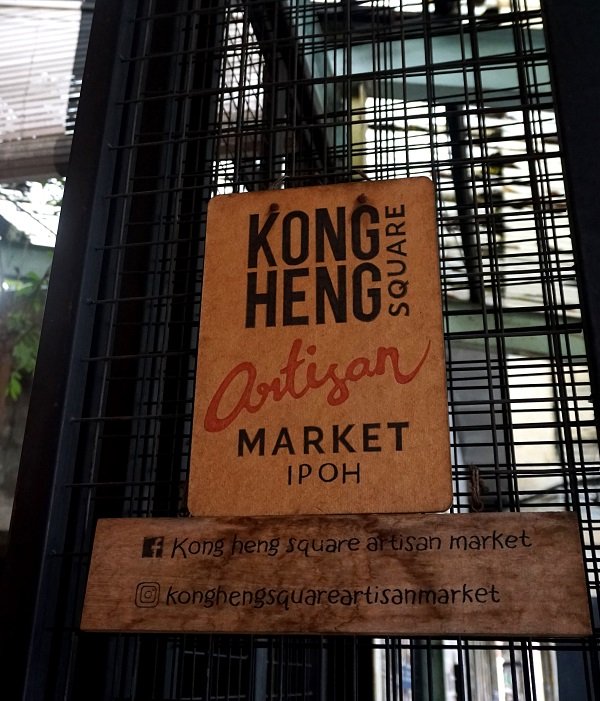 And Plan b. sits within Kong Heng Square, which is a collection of little shops and cafes housed within a collection of old buildings, featuring open air courtyard-like spaces, lots of greenery and old ficus trees with air roots creatively creeping on walls, draped along pipes, etc etc. Wonderful light, wonderful atmosphere!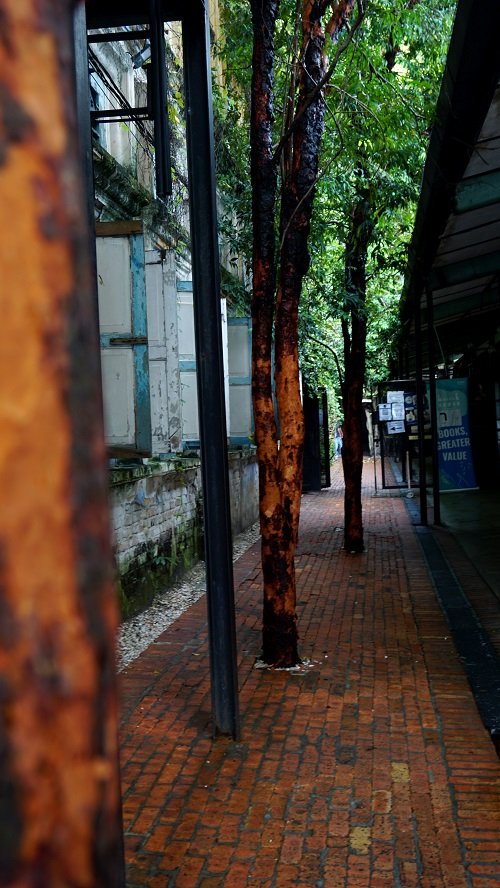 Trees, and more trees... we want more trees... Scene just outside Kong Heng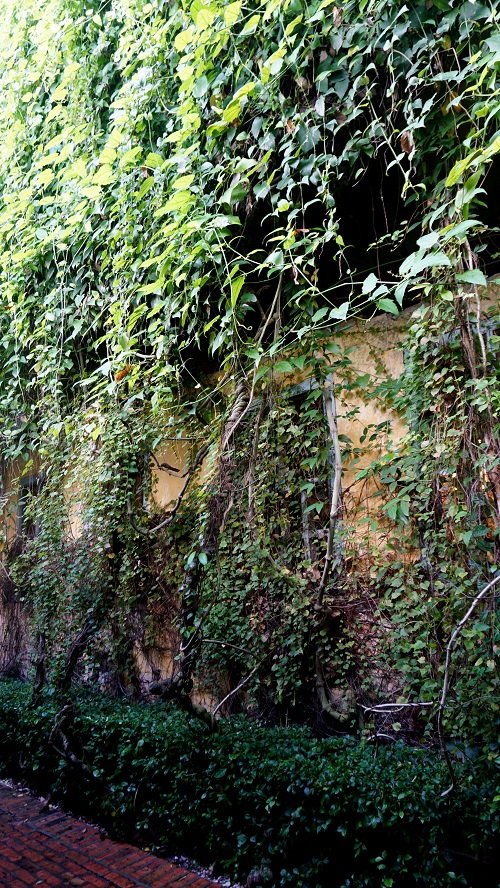 The greenery inside... It's a jungle in here!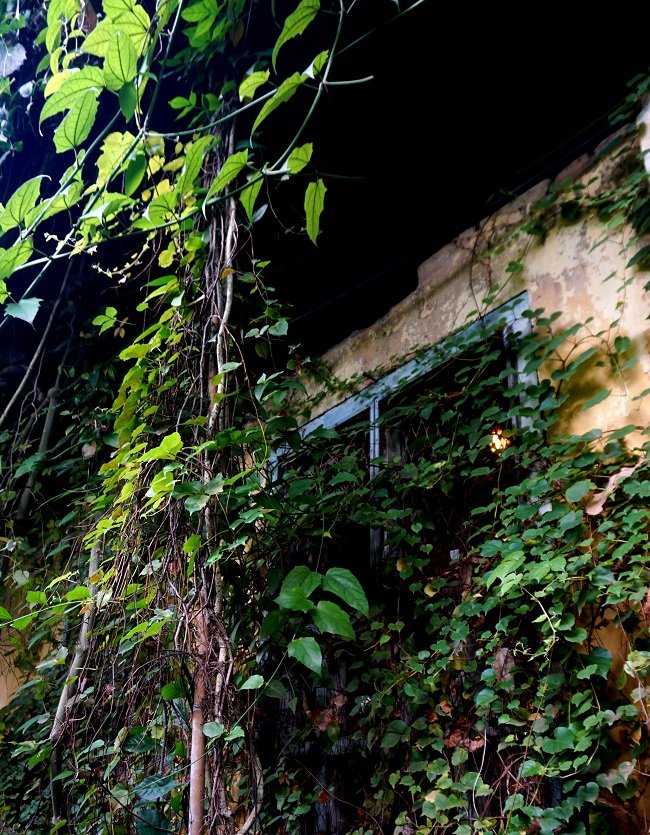 Keeping it natural...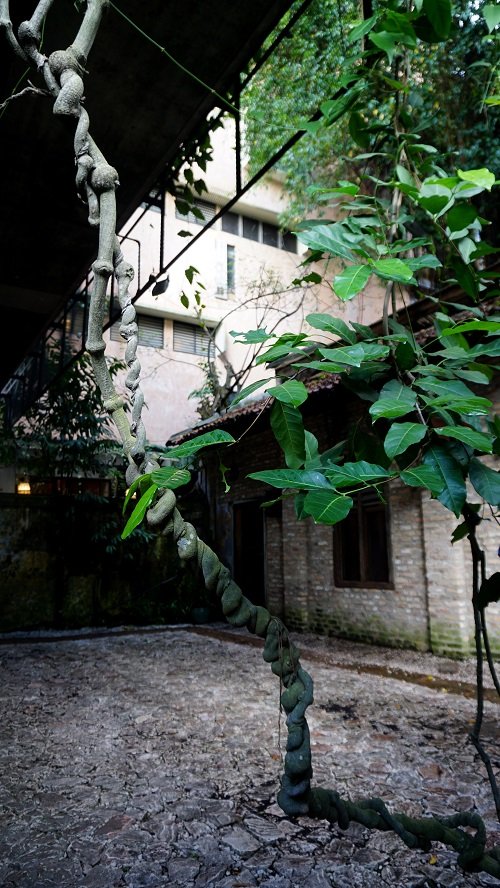 'All by myself...' - one awfully knotted tree; I somehow managed to get a shot with NO body in it! Quite a challenge, with the number of ladies and girls (odd, no guy wanted to pose there...) posing for selfies, wefies!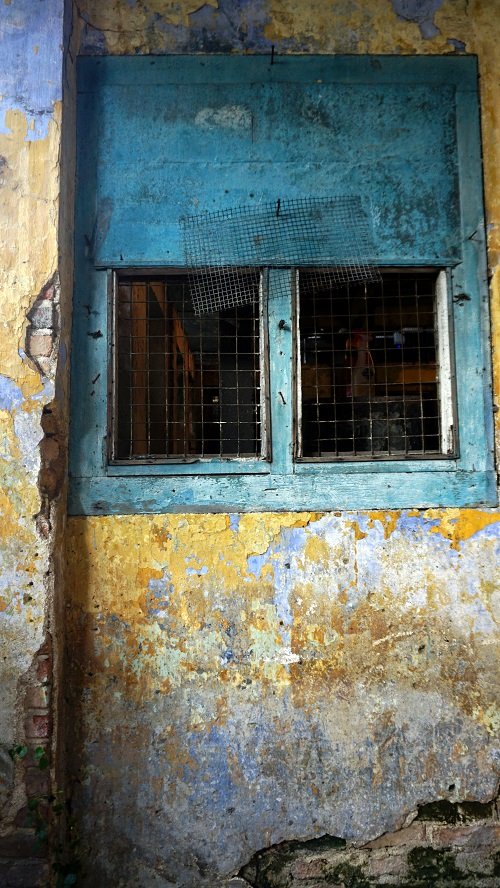 One of my favourite corners... somehow the yellow and blue caught my eye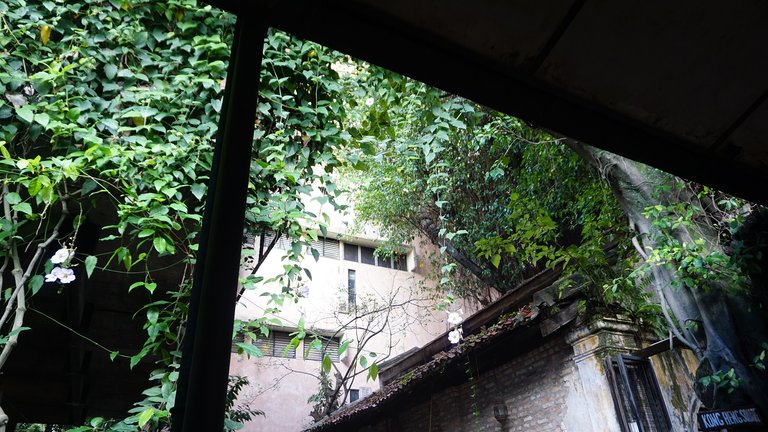 Letting some daylight and outside, in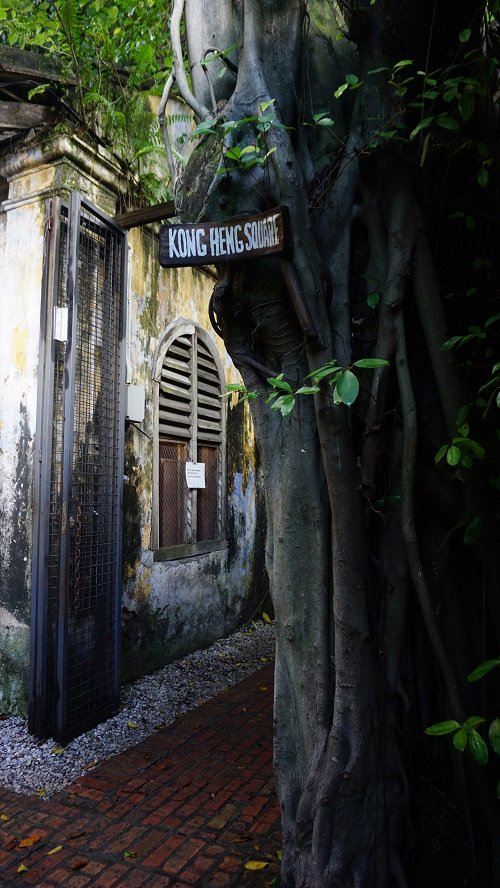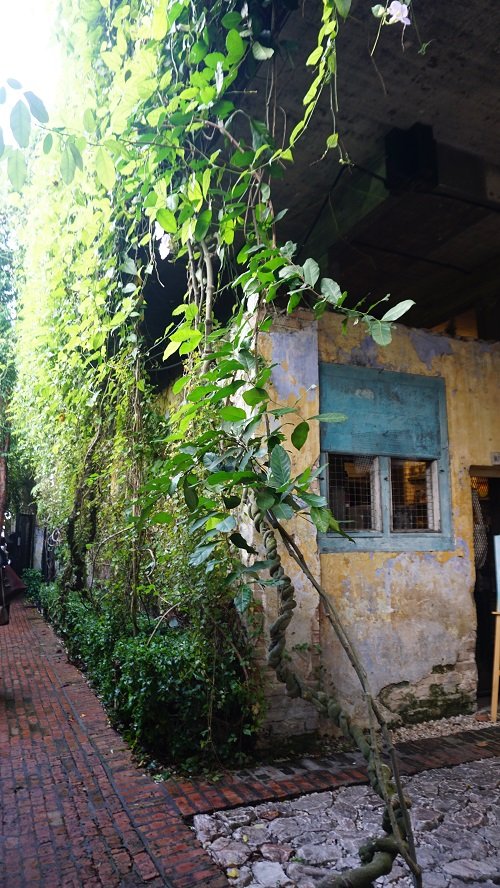 And in front of this jungle.... is the trendy cafe! How cool is that?!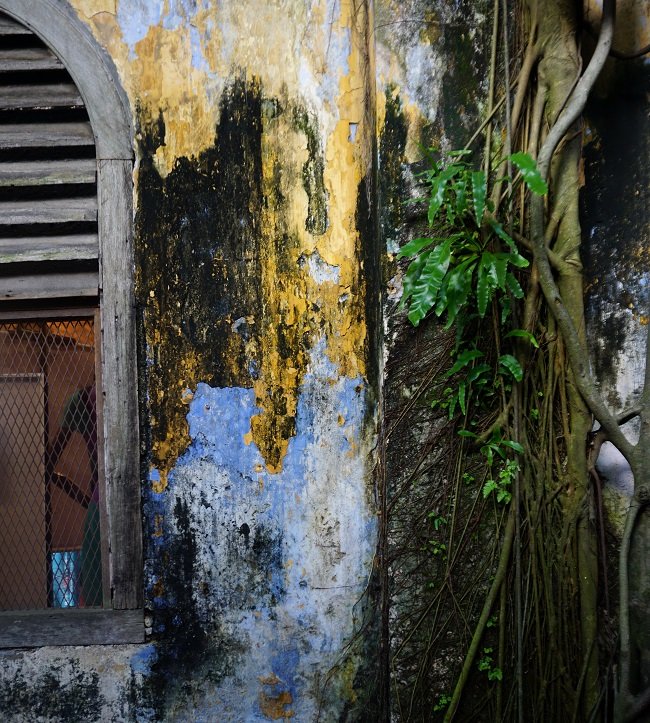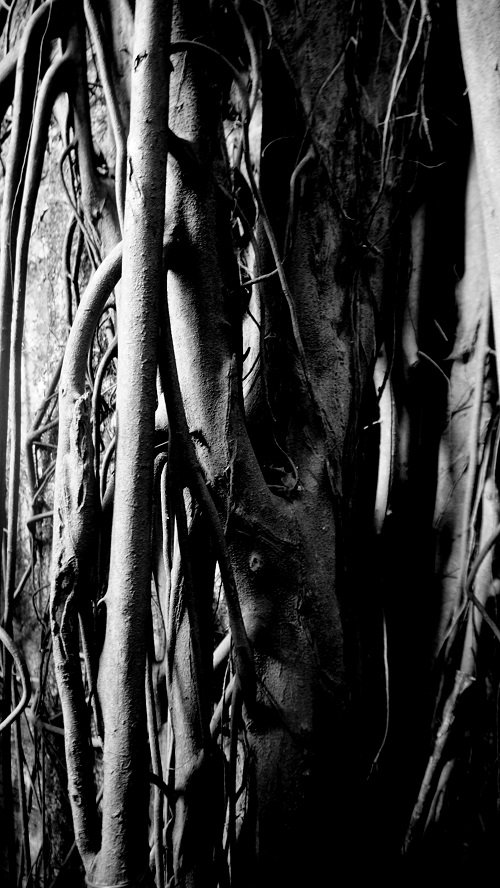 What a tangled web we weave....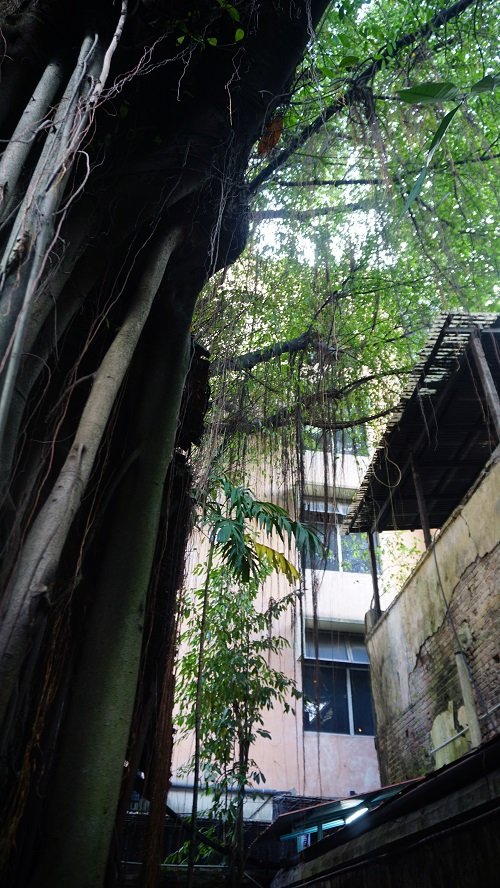 Wonder how old this tree is... So glad they saved it!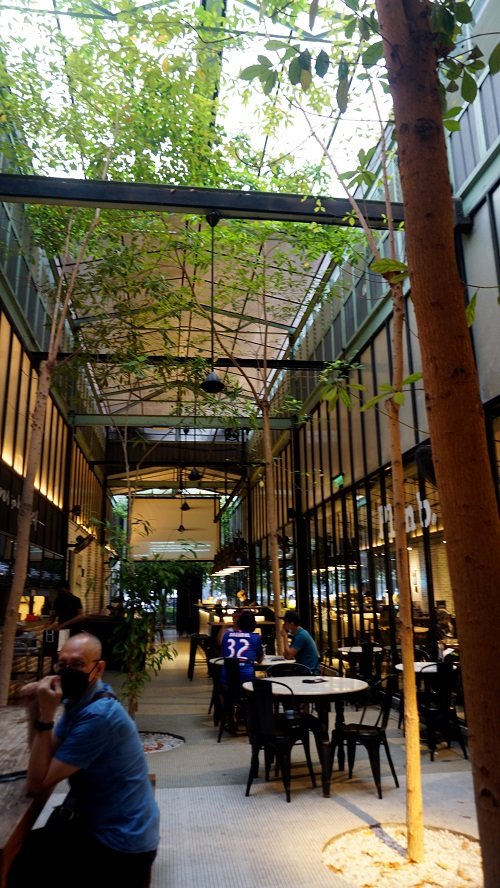 A peek shot inside Plan b. in case you were wondering how the inside looked like...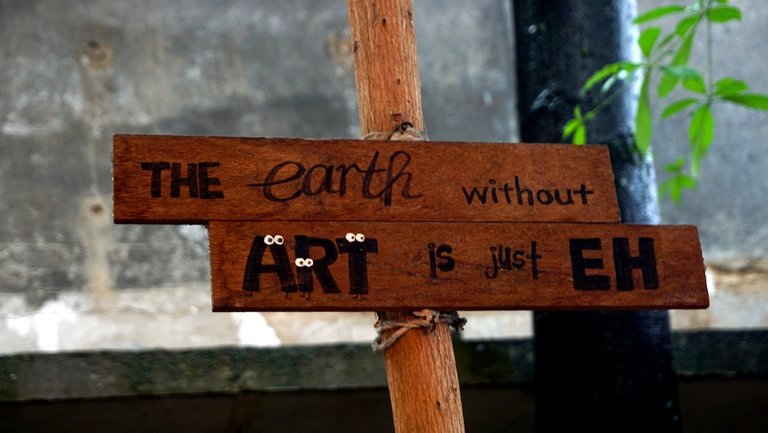 Them googly eyes get to go everywhere... 👀
I had covered about half of the place when the rains came crashing down in buckets! Being part open air in the tropics, that's the risk you got to take. We managed to find a shop to sit at, and ate shaved ice balls! 😊 (ahaaa... pics in next Ipoh food post! cominggg...)
This post got longer than expected... more to come, later...
Merry Christmas, everyone! 🎅🎄
---
View this post on TravelFeed for the best experience.
---
---