Bitcoin Has Gotten So Tasty, Even The Devil Wants a Piece of It
President Bukele of El Salvador just tweeted recently that "El Salvadorans are now buying more Bitcoin than they are withdrawing" and that's no thing to wonder, considering what a price performance BTC has had lately and what's to come.
Without a doubt, Bitcoin is the only currency that not only held its purchasing power over the past decade, but it has insanely added to it as well. Going from a few bucks, back in 2010, to over $50,000 nowadays, BTC is a currency that has proved to be a long term store of value and a hedge against inflation.
Inflation is a certainty for almost every damn country in the world and the purchasing power of most of these currencies has fallen drastically, especially during these times when gas and oil prices have gone through the roof and many others will follow as the economies of the world are somehow tied to gas and oil.
Although the idea of Bitcoin not being suitable of working as "a currency" has been taunted for quite some years, recently El Salvador has proven the opposite by making it(BTC) legal tender and putting it to work. Twitter has also integrated the lightning network in testing it for BTC tipping.
Bitcoin Has Gotten So Tasty, Even The Devil Wants a Piece of It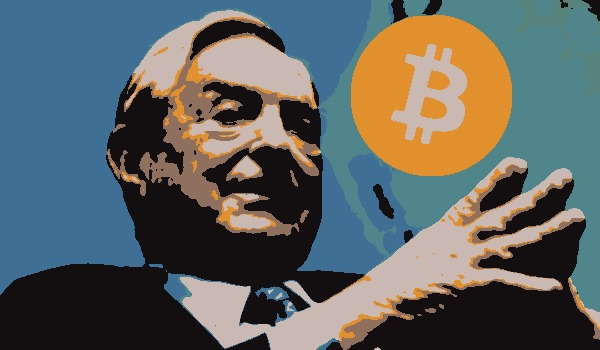 image source
Recently, the news regarding George Soros's Family Office Confirming To Be Trading Bitcoin came out and there are outlets already attributing the $50,000 to $50,000 spike to that news. I doubt this is the case, but I have no doubts many other oligarchs of the world are into Bitcoin right now, they just haven't announced that yet.
George Soros, well known for destroying economies such as the Thai and Malaysian ones, through his aggressive currency trading, is a character I wished would not join this crypto tribe, but hey... we wanted decentralization and open chances for everyone and here we have them. I guess it'd been better if this man wouldn't have survived the holocaust.
Anyway...
Dawn Fitzpatrick, the CEO and the Chief Investment Officer of Soros Fund Management stated during a Bloomberg summit on Tuesday, October 5 that "from our perspective again, we own some coins, not a lot, and the coins themselves are less interesting than the use cases of DeFi and things like that."
Fitzpatrick's remarks confirm past reports that Soros Fund has begun trading Bitcoin-based on anonymous sources earlier this year. Soros Fund is also an investor in cryptocurrency companies such as Lukka and NYDIG, but the announcement is the company's first public confirmation of having investments in crypto assets directly.
source
According to Dawn Fitzpatrick, the CEO and the Chief Investment Officer of Soros Fund Management their eyes are on DeFi too and not only Bitcoin's tasty ass. The empires that are being built around "the Bitcoin concept" is what I think will truly change the world. Bitcoin can't do that by itself, it's limited(21 mil) and its use cases are limited too, while DeFi, WEB 3.0 and the blockchain gaming industry are pushing the world to a world of abundance through crypto.
"Bitcoin is the most important innovation to money in 1000 years and I'm so glad that you are part of the revolution" was tweeted by Vijay Boyapati recently, author of the book "The Bullish Case for Bitcoin". I can not agree more on this one, as Bitcoin, with its cohort of alternative blockchains is probably the best thing humanity has, since the internet.
Aside from the money making aspect of such currencies we have to take into account the "money printing" process that will somehow be absorbed by this damn inflation. Hive is a pure example of "money printer", Axie Infinity as well, as plenty of DeFi projects are also in the same category. We once had only the governments printing money out of thin air and now we can do that too. Isn't that a one in a thousand years opportunity?
I was thinking the other day, what should come out and impact the price of Bitcoin so it can send it to a quarter of a million or more, but it's actually the price of Bitcoin inevitably going up that attracts such events. The ETF that will be approved in the US sooner than many are expecting is due to Bitcoin's price appreciation over the last decade and not vice versa.
From what I read on twitter it seems that there are individuals and investment funds that can only get exposure to Bitcoin through an ETF, and these have already made clear that they want their shares as soon as the ETF gets approved, that exact day... And there you have "the $50,000 daily green candle for Bitcoin".
Thanks for attention,
Adrian
Posted Using LeoFinance Beta
---
---