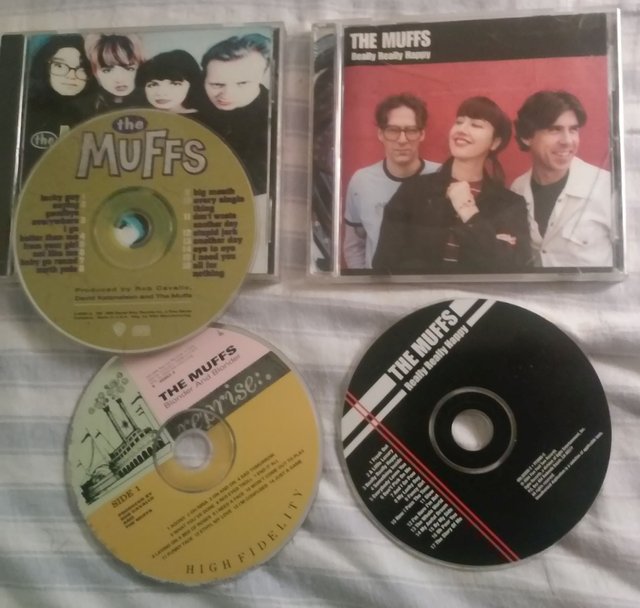 So last Wednesday on October 2, 2019 Kim Shattuck passed away after a 2 year battle with ALS, also commonly known as Lou Gehrig's Disease at age 56. She'd said in previous interviews that it ran in her family on her father's side. This really bummed me out as I was a big fan of hers. The first time I saw Kim Shattuck was on MTV. They used to have a show that came on late after Headbanger's Ball that was geared more towards alt rock. I can't remember if at the time it was called 120 minutes or Alternative Nation. This was back in 1995 and The Muffs had just released their first single for their album Blonder and Blonder called "Sad Tomorrow." I absolutely loved the song and ran right out to pick up the CD. After I got it I realized that wasn't even the best song on it. This girl was awesome! She played guitar, wrote all her own songs, and had this killer rock voice. It was like what the riot girls were trying to do with aggression but with actual melody added. After that I went out and picked up their self titled debut album which you can see in the top left corner of that photo I took at the top. I had to pick one song to play guitar along to for this post and I really had a hard time doing it because they have about 100 songs that are just as good or better than the one I picked. Below I have the video for Sad Tomorrow which was the first video I saw back in 1995
She just wrote these really cool short pop songs. I'd put her on par with someone like Rivers Cuomo from Weezer she was just simply that good. Billie Joe Armstrong at one point went on record stating the Green Day spent a lot of time listening to The Muffs self titled first album and listed them as an inspiration for their hugely popular Dookie album that had Longview, Basket Case, and When I Come Around, which all became classics. She also did other things like playing bass for The Pixies for a short time. If you really like 90's music or the pop punk type music and never listened to The Muffs you need to do yourself a favor and do it. You'll be really glad you did.
For my play along video I could've picked any song by The Muffs because all of them are great but I went with Every Single Thing because I just had to decide and pick one. It's off their debut release in 1993. With songs like this your best friend will be the drummer. The song has a lot of energy but it isn't quite as fast as it sounds. It just has a lot of energy. You will have to really listen to the drums to keep from playing the song too fast. You will have huge urges to play it fast. It sounds and looks simple but sometimes simple is pretty hard as far as focus and timing. Kim Shattuck was a hugely underrated songwriter and artist. They did ok in the 90's but with that punk rock energy and Beatle-esque melodies they should've been much bigger. I can think of plenty of bands back then that were bigger yet no where near as good. Check out this video below and go listen to some Muffs songs!
Note: For this song during the solo part I chose to play something that isn't actually on the track. Since I'm playing this stuff live I can't control the volume while I'm playing. On the actual song the rhythm guitar goes to the F chord on the 8th fret. I chose to go to the lower F on the first fret. The reason being that my guitar is pretty loud. On the actual track they are playing that higher F but make it lower in the mix so it doesn't clash with the higher notes in the solo. In playing this for the video I did not have that option so I went a lower octave as not to clash and enable you to hear the solo much better.
Thanks for stopping by and have a great day!