The day started off normal enough it was only going to be a 4 to 5 hour drive to Texarkana but stopping in Tunica this time I'd cut the normal 7 and a half hour drive virtually in half. I always found it trippy being in 4 states in 1 day and 3 within an hour but here I go. I didn't want to leave too early because I'd get to Texarkana way before check-in and having been there several times I know there's nothing to do in Texarkana. So I got a little work done in the room and made a few calls and booked my normal place in Texarkana, which is the Econo Lodge. The next few nights would be different. Tunica was for fun but the next few nights would be one nighters to work my way to New Mexico and cut down the long drive times.
Around 10 am I got all my crap together and double checked the room then headed downstairs. I got to the car and got
Google Maps set up and took off. I crossed back into Tennessee after about 22 miles and hit Memphis for a moment before crossing the Mississippi River. The Tennessee/Arkansas state line is actually in the middle of the bridge running right down the middle of the river. So in the span of 45 minutes or less I was in Mississippi, Tennessee, and Arkansas headed to Texas. Arkansas has some night looking parts but none of those parts are on this route. My air conditioner is out of Freon so I had to drive with the window down. I got to do what I got to do! I know there were storms in the area the night before but not today it was sunny. It's kind of a boring driving there just isn't a lot to see. I get spoiled driving in the west because the views are always amazing.
Everything was fine through Little Rock I was on the back end of a 5 hour trip then it happened. It always happens to me in Arkansas. I have no idea why but it does. There's always something stupid that happens to mess me up there. I could actually see signs for Texarkana and traffic juts stopped. It's like they suddenly thought they were Atlanta or something. GRIDLOCK FROM HELL! The thing is this wasn't even around a town it was a highway going through some damn woods. They easily could've worked on it at night and not disturb anything. But do they? HELL NO! I wasn't even a large area the were working on. Traffic was backed up to God only knows where.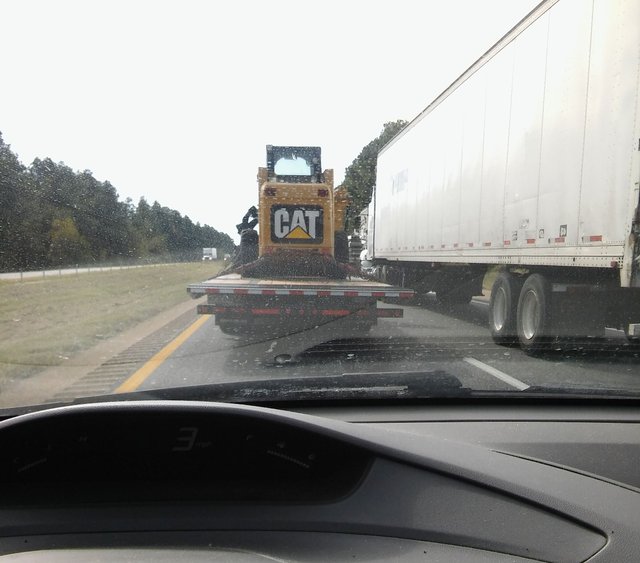 Notice in the photo above that I am driving a blistering 3 mph. I can walk faster than that. If I had it would not be blowing at this point. Plus it's starting to get hot in the car. Now I'm getting angry because I've been looking at this pictured below for almost 5 hours!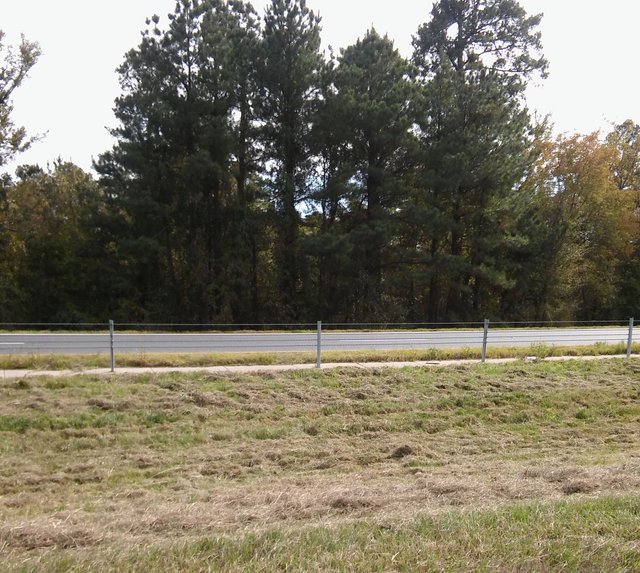 Does it look bad? No it's looks fine but 5 hours? I was angry but it wasn't anything choking someone to death couldn't fix. Then again I'm the only person in the car. I debated choking myself the fuck out so someone would wake me up when this damn traffic started moving but decided against it. Then pictured below I seen this mother fucker.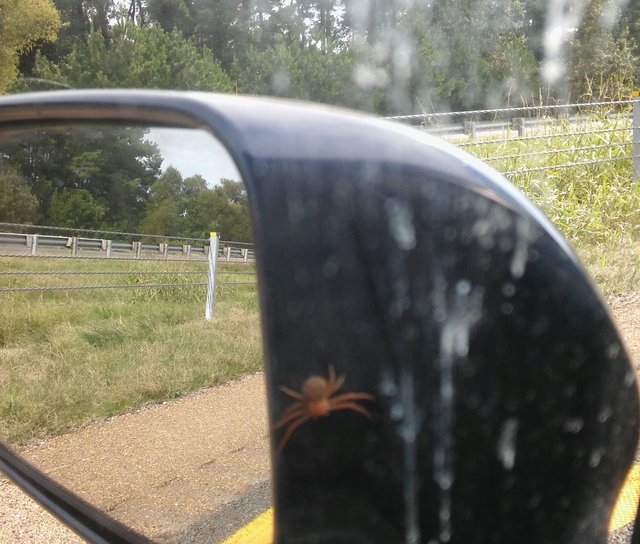 First all damn I really need to wash that window! Second of all what kind of pumpkin colored hell is that on my driver's side mirror? I don't think I've ever seen an orange spider like that. Thing isn't small either. I had to roll up the window I don't know if it's one of those that jumps. Now it's really getting hot in the car. Finally after what seemed like an hour the traffic worked it way past the really super small area they were working on and I made it to Texarkana. The check-in was fine I got to my room and I'd calmed down and all that. I was just glad to be there for the night. I decided to play some frogger with myself and work my way across the busiest highway in the city to grab some chicken fingers at the KFC there. I can't run well but I ran as best I could across and there was some guy on the other side. I tried to just say hello and get away quick because I knew what was coming but I didn't make it. The guy hit me up for money. I don't him I don't carry cash so he asked me to go to an ATM, which of course there's no way in hell I am going to do that. He said he hadn't had anything to eat. I told him if he wanted to come with me into the KFC I would buy him something. That wasn't good enough though he wanted cash. You see he was a crackhead. You could tell by looking around the mouth and eyes. He had all the physical signs of someone that had been using a long time. But I'd even buy a crackhead food if he really needed it. But when I offered to buy the food he refused and wanted cash. He didn't want food he wanted crack. He kept talking so I just said fuck it and walked off and left him standing there and went into the KFC. I saw him through the window while I was in line, instead of coming in to get food, which I offered to buy he just wandered off to find someone else. I got my food and did frogger round 2 and got to the room. I actually spent the rest of the night on here doing my daily post and looking at some other things.
I did go out a little bit later to pick up some sodas but that is about it. There isn't a lot to do in Texarkana and there are in fact some pretty dangerous places you could end up in if you aren't careful. I went to bed a little early the drive tomorrow is going to be longer. Check back tomorrow night for the next installment.
If you missed the earlier posts you can check them out here:
Day 1
https://www.neoxian.city/zzan/@psg3196/driving-cross-country-day-1-tunica-ms
Day 2
https://www.neoxian.city/zzan/@psg3196/driving-cross-country-day-2-tunica-ms-part-2
Thanks for stopping by and check back tomorrow for Sweetwater, TX