So the next morning I woke up still a little annoyed about those machines being removed. I got up around 8 am and got dressed and took the elevator down to the 3rd floor where the buffet was located. I'm kind of a breakfast person anyway. Maybe it's because it was during the week but the place seemed like it has gone down hill a little bit. I feel like there used to be more on the buffet but now it's more like a Shoney's or something. I had some chicken and eggs with a good bit of hash browns. The food was good but the hash browns were a little bit greasier that day than really needed but it was free so it was good. I went to the fitness room and worked out a little to get some work done.
I'm on a trip now to teach defensive tactics classes on law enforcement agencies in New Mexico and Utah. However, at the same time I'm trying to book classes for February in Texas and it's a pain in the ass when you are on the road trying to get it done and everyone drags ass and no one gets in a hurry for anything. It will seriously piss you off. Law Enforcement agencies need training more than anything else. But when budgets are tight it's the first thing they drop. It's like a lot of them have no concept of everything it affects. I'll give you an example. Most police academies teach officers how to deal with active resistance. Active resistance is you asking someone to put their hands behind their backs and they say no. So they teach how to grab the arm and that type thing. What if it escalates and ends up in a bare knuckle brawl? Well in my 11 years of traveling the country and teaching law enforcement agencies, and many of those classes have been at academies I can tell you for a fact that most academies don't teach officers anything as far as what to do when that situation escalates. The agencies have to come to people like me for that. When they don't come to people like me then when the situation really escalates and the officer is losing the fight badly he's probably more likely to pull that gun out and shoot. Did he really have to shoot? The answer in that case is yes because his agency never sent him anywhere to learn how to do anything any different. This is why training matters. Anyway I'll get off my soapbox.
So anyways I fought that battle for awhile and then decided to google a riverpark I heard about in the area. According to google it was really close by and we are on the banks of the Mississippi River after all. So I grabbed my tablet and headed back downstairs. I happen to ask the lady at the desk about the riverpark and if she knew how to get there. She said yes just walk out the back door. I was like,"the back door?" Damn I googled that place and everything. I stuffed all my crap in my pockets and turned around and went out the back door by the pool and walked for just a little bit and sure enough there it was....right out the back door. I saw this little outlook post that went out over the water and walked over and snapped some photos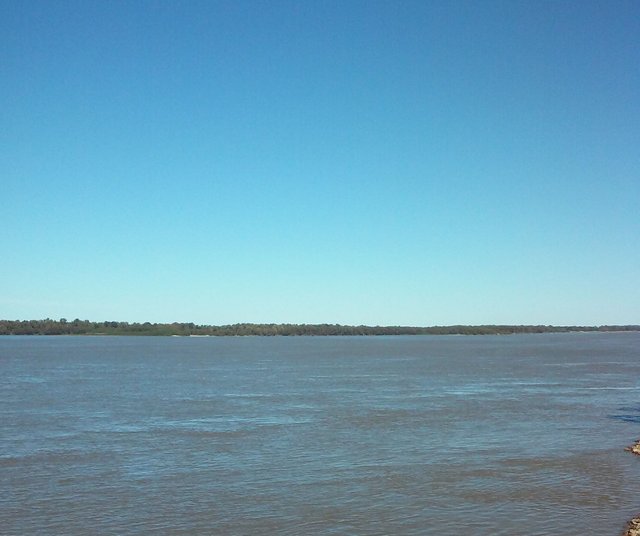 Turned around and I could see the top of the casino behind me....right out the back door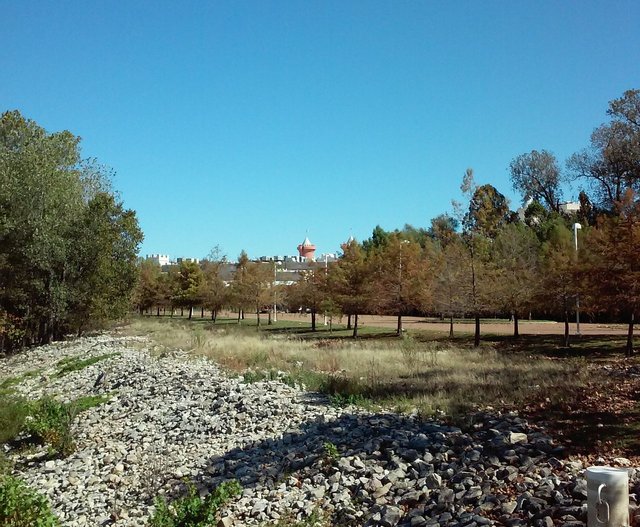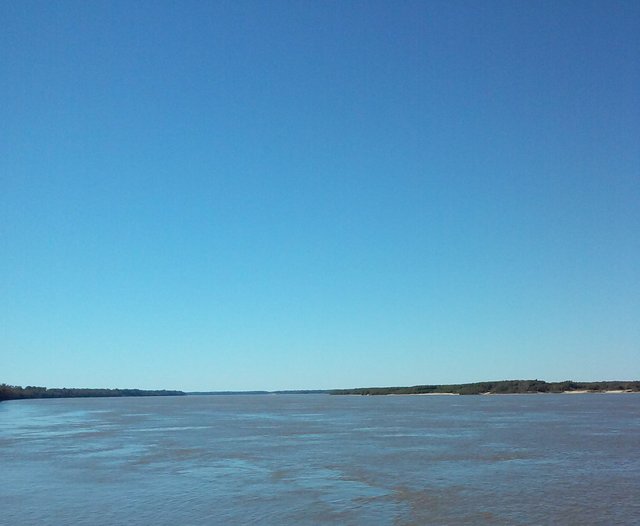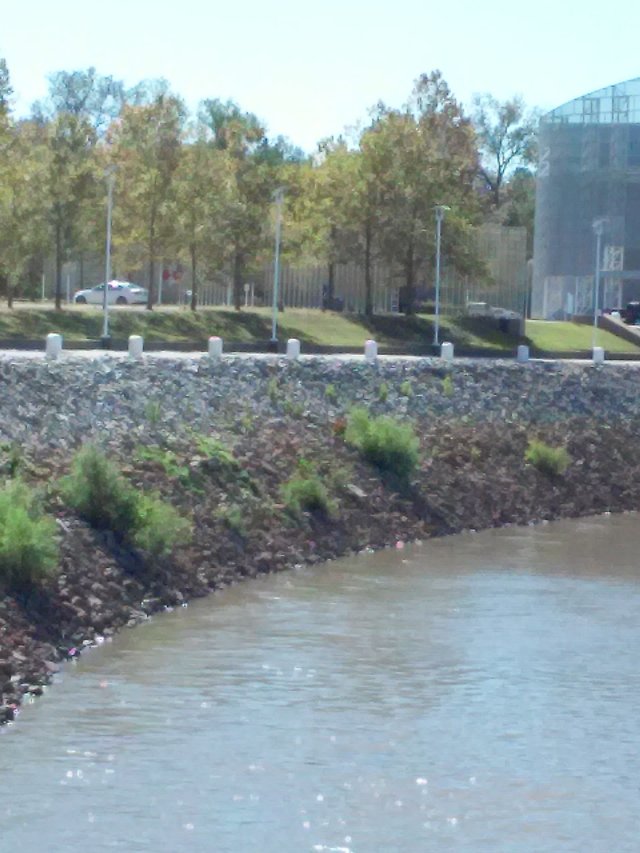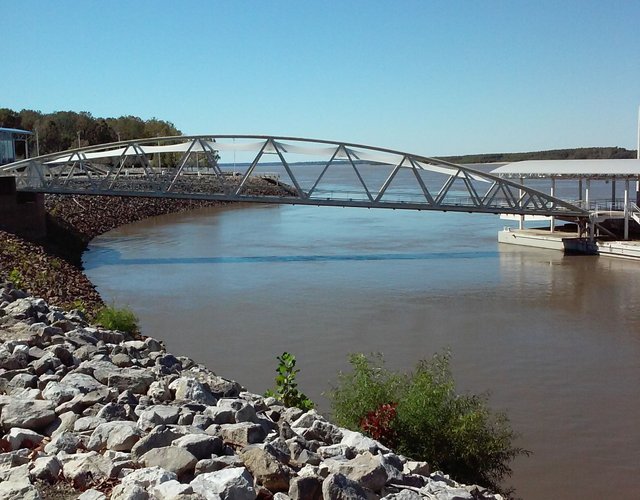 I thought I could use that bridge to get onto that barge that it was connected to but it was closed and locked tight so I couldn't get on it.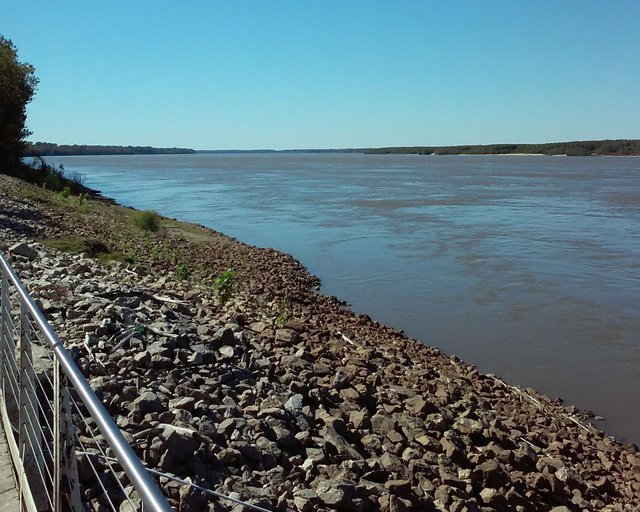 Pictured below is a placard or whatever you call it talking about the river and it had some interesting facts so I took a photo of that as well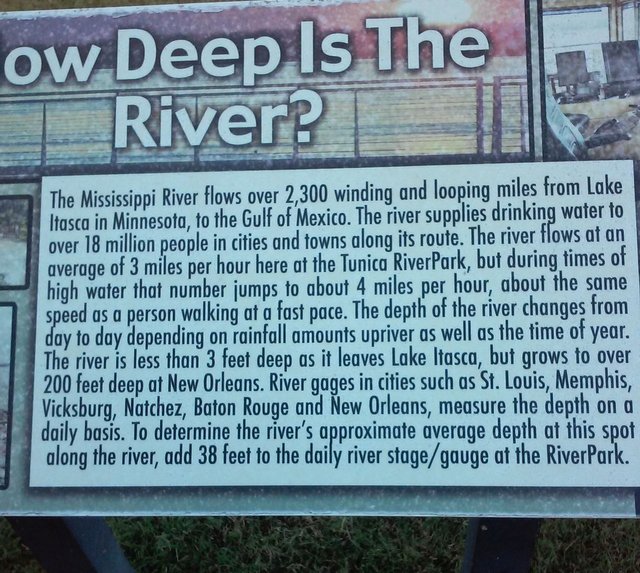 I stopped to talk to some nice ladies that worked at the park there and asked them about a nature trail because I thought it would be nice to hike that and takes some photos there as well. However I was informed that the river recently had flooded and the bridges on the trail were damaged so the trail was closed until they could be repaired. I would've been cool but I understand safety comes first so I headed back to my room at the hotel. I worked on a couple other things on my tablet then my laptop. I was still annoyed they took my machine out of the casino. I wondered if it was just that casino or was it all of them. There are 3 other casinos close by all right beside each other so I decided to go look at them and check the video poker machines there.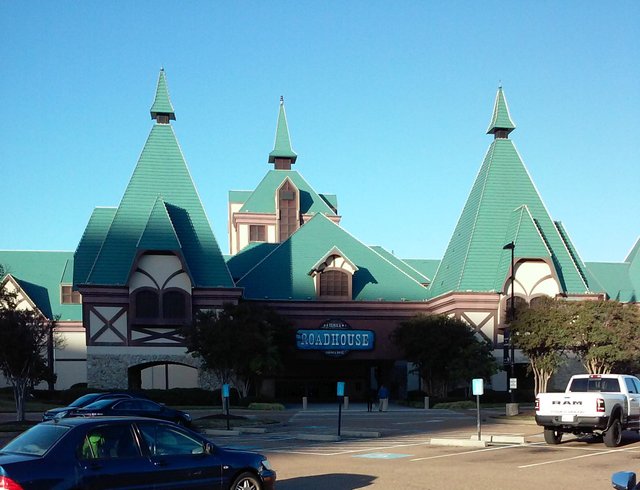 The casino pictured above was the first casino I tried to go to and that fucker was closed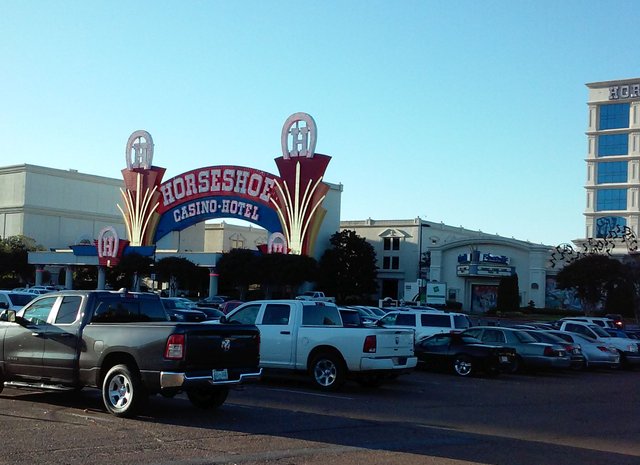 The casino beside it is called the Horseshoe yet ironically I had no luck there because they didn't have my machine either.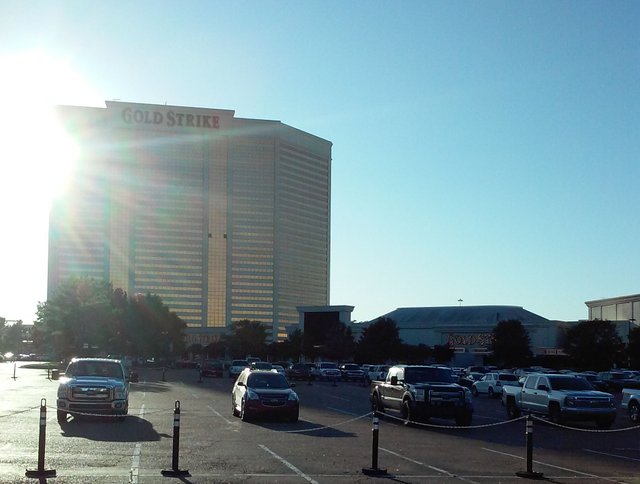 Beside of the Horseshoe I got a goose egg at Gold Strike because they didn't have it either.
I was shit out of luck they all got rid of the game I was using to beat the casinos. I said to hell with it as it was starting to get dark out I headed back to Fitzgerald's I wasn't going to play any of those games I felt like the fix was in now. They got greedy. Since I'm leaving tomorrow anyway I decided to run down to Buttfuckers……..I mean Fuddrucker's and grab and hamburger. After that I went back up to the room and finished off the 3 beers I had left from the night before and planned out the next day. I got to leave here and head to Texarkana for 1 night and the drive is going to suck. It isn't the longest but it's through a part of Arkansas where there's nothing to see. It's a really boring drive. Arkansas does have some nice scenery. It's just further north and not on the route I have to take to Texarkana. There won't be a lot of photos there. I left 2 days early to do this Tunica thing the other cities are just overnight stays as a work my way to New Mexico.
If you missed part one you can check it out here!
https://www.neoxian.city/zzan/@psg3196/driving-cross-country-day-1-tunica-ms
Thanks for stopping by!