Zero Waste is a big(ish) trend right now, but y'all, we need to have a Come To Danu talk about some of the things that are going along with that trend. The tl;dr of this post is: you can't shop your way out of environmental pollution.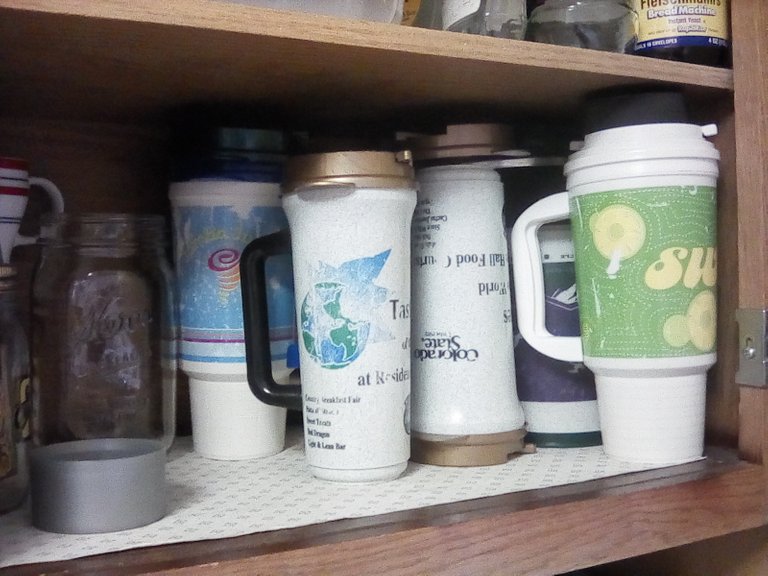 My oh-so-trendy reuseable mugs that I've had since college in the 90s or a smoothie-juice bar place I used to frequent in the early aughts
All over eco- and green- marketing/blogs/groups/sites online, I see adverts for the latest "green" product. Bamboo cutlery. Beeswax wraps. Stainless steel tiffins. Glass food storage containers. And that's all well and good, but people are emptying their cupboards of perfectly useable things, and either landfilling, recycling, or donating them in order to buy the new, "green" products. But y'all, you are DOING MORE ENVIRONMENTAL DAMAGE that way.
Everything you buy has pollution built into it. That trendy bamboo is almost certainly shipped from China. If you are not near China, that's a whole lot of fossil fuels to do that. There is pollution at the factory making the thing. Etc. I'm not saying that you shouldn't buy bamboo things, I'm just saying that it isn't without resource and pollution costs, because everything requires resources to make. Maybe it's less resources to make a bamboo bowl instead of a plastic bowl and the bamboo bowl won't pollute the Earth for centuries - great! But if the plastic bowl is already in your possession, the resource/pollution has already been made. Getting it out of your house doesn't erase its footprint, it just gets it out of your sight. The only way to mitigate the footprint of things is to use them up as much as possible so that you don't need another thing.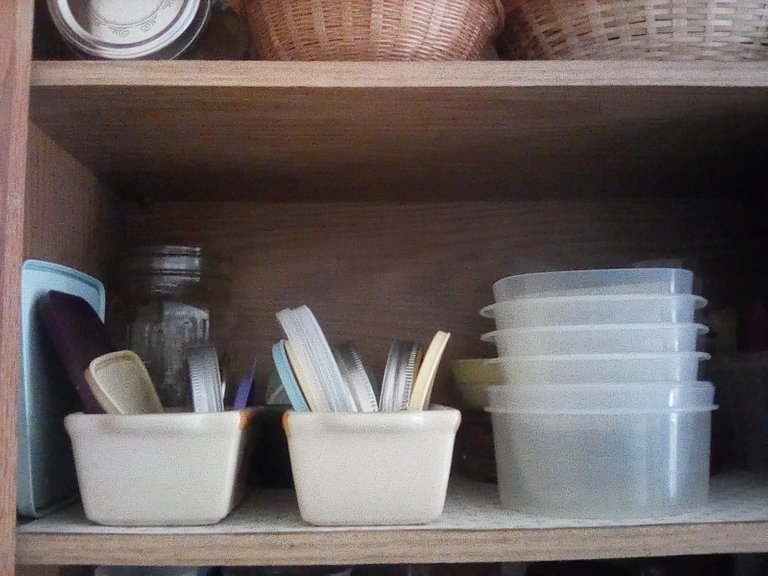 My definitely-not-minimalist-or-plastic-free food storage containers
Here's what I mean. Purveyors of plastic shopping bags LOVE to cite that there is less resource input for a plastic carry bag than a cloth bag. That's true. But that plastic bag will be used once - maybe twice? - and then thrown away. Using the cloth bag above a certain number of times makes it the greener choice (according to this article, that number is 171 times for a canvas bag. I've seen varying numbers though depending on the study and what factors they look at).
If you are buying a new cloth bag every time you forget your cloth bag at the store, you are probably doing more damage. But if you remember your bag and use it for years, you are way ahead (and if you drive and forget your bag in the car ...just take your stuff out of the grocery store in loose in the cart and pack it in the bag at the car).
This math is true for every product you consume. The amount of resources/pollution that goes into a paper coffee cup vs. a reuseable mug is going to be less, but if you use that mug x number of times, it beats out the paper one as far as inputs go.
So, if you think "zero waste" means "no plastic in my house," and you gather all of your Tupperware-type containers and cart them off to a bin somewhere and buy new things, you just did more harm than good. You should use that Tupperware stash until it's actually worn out and needs to be replaced, and THEN you can buy whatever the new, green option is. Every use of that Tupperware past its input costs makes it the greenest choice.
"But I donate them," I hear you say. A) not all donations in the donation bin actually get sold in the thrift store; they throw a lot of things away that won't sell. Just like "aspirational recycling," aspirational donating is a thing and people put things in a bin that no one needs or would pay for. B) even if it IS sold in the store - you've just foisted your "problem" off onto someone (who is probably poorer than you) else; those polyester clothes are still going to be shedding microfibers in THEIR wash, those leeching plastics are still going to be leeching into THEIR food.
"But I recycle them," I hear you say. Recycling - especially plastics - is largely a panacea. When it happens at all (which it more often than not doesn't), plastic can only be downcycled and eventually it can't be recycled any more. And of course, recycling products requires resources and creates pollution. Perhaps less pollution than making new plastic, but it's still not a freebie.
The greenest choice is to use what you already have. Once it's worn out, yes, please, go buy the eco chic cool thing that you covet. If you were buying/using disposables before, sure, go buy the reuseable version of something you didn't have before. But KonMari-ing your Tupperware cabinet just to give yourself an excuse to buy that cool thing you saw on a minimalist blog when you could really just use the containers you already have isn't "being green." It makes you happy maybe, or it's a status symbol even (some people do flaunt their eco/vegan/minimalist lifestyle the same way some religious folx flaunt how pious they are), but it isn't the environmentally-friendly choice.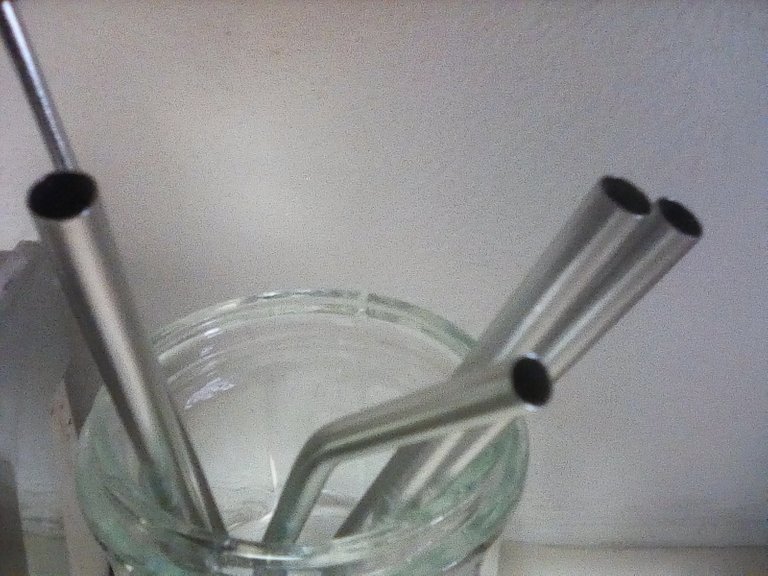 I did totally buy stainless steel straws, because I was buying disposables before and use them every day
Zero waste isn't generally glamorous or Instagrammable. It's more often a pile of mismatched containers in your cupboard, a compost collection on your kitchen counter that's maybe gotten a little stinky because you forgot to empty it outside, and clothes that you have patched up and cloth bags that are stained because you've had them since 1998 (true story, bike tires scuffing against your canvas bag because you rode home with your shopping on the handlebars does not come out in the wash). Throwing everything out and buying a new capsule wardrobe and green dishes and whatever else is a lifestyle choice - but it's not a green one. Nature is often slow. So should be how often you replace things you own (planned obsolescence notwithstanding).
Now I'm not saying you shouldn't downsize - I am too. But I'm not downsizing to replace, I'm downsizing to stay small. It would be different if I gave away my yarn stash as an excuse to have a spending spree at the yarn store. That's the kind of thing I'm talking about here. The new zero waste doohickeys can be great - but not if they leave a full waste bin in their wake.
If you want to be green - live by the old depression-era motto of "use it up, wear it out, make do, or do without." If you just want minimalist kitchen cupboards with really cool curated things you will use and get joy out of, that's fair - but say that you want that because it makes you happy, not because it's solving the pollution problem.