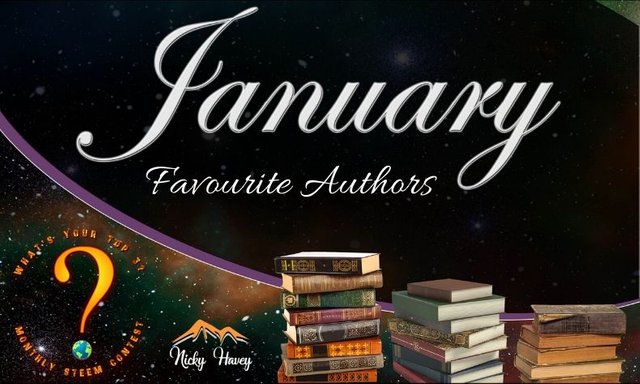 SRSLY?
Seriously, yeah! Since when have I, the legendary Nicky Havey, ever joked around in my blogs...? Hmm? All the time? Well, ok maybe but that's not the point!
The point is that the @yourtop3 contest that I co-run with other STEEMian beasts @plantstoplanks, @cheese4ead and @foxyspirit has been given a 2020 rocket fueled jet pack that will make it even more fun than it already is!
Nicky, WHAT ARE YOU TALKING ABOUT??
But the new Top 3 Leagues we've set up and the Splinterlands Prizes from @rentmoney of course!

New Top 3 Leagues
We have been designing these new leagues over the last 3 months with help from STEEM's resident Excel expert @paulag where we'll give you awesome entrants a chance to win even more STEEM. These leagues will run throughout the year, culminating in the ultimate Champions League at the end of the year. Here's the brief:

Quarterly Leagues
Effectively, these are going to be mini-leagues that run every quarter and it offers another chance for those who finished outside the Top 3 at the end of the regular monthly contest to win some STEEM.
If you finish 4th and below in the monthly contest, you'll get points that contribute to the quarter's points total and if you finish in the Top 3 of these Quarterly Leagues, guess what... YOU will get STEEM prizes too!
So don't despair if you didn't win the big monthly prizes, there's a chance to win with the quarterly leagues!

Champions League
Some would say that this is the ultimate Top 3 prize... and I'd agree with them!
At the end of the calendar year, the Champions League is where all the points accumulated from each month will be totted up and some colossal STEEM prizes will be given to those that finish in the Top 3 of this one. This will only take in to account the regular monthly contest, not the Quarterly League but you get points just for entering... #justsaying
But I'd say that the most important thing here is the ultimate bragging rights you'd get for being crowned "Your Top 3 Champion" - you can't put a price on that 😉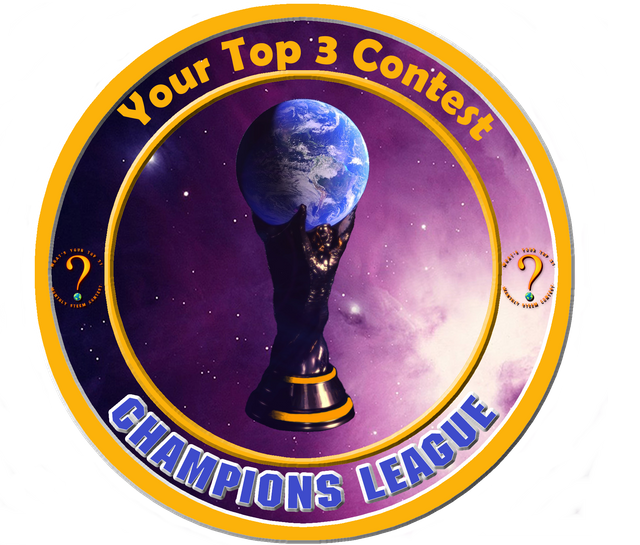 Changes To The Prize Pool Structure
Now with all these changes, it does mean that the prize pool structure is going to change ever so slightly but we feel this is fair - I mean let's face it, you win just by entering the contest anyway!
But as honesty is the best policy (something we live by in Your Top 3), we want to keep you informed of how the "money side" of the contest works. Up until the end of December 2019's contest, 75% of the entry fees we received were given out as prizes to the Top 3 finishers each month and 25% goes back to the Panel to power up the @yourtop3 account.
Now we have the leagues, the monthly entry fees will be divided up as follows:
65% to the monthly Top 3 Prize Pool
5% to the Quarterly League Prize Pool
5% to the Champions League Prize Pool
25% to the Panel to powerup @yourtop3's account

Splinterlands Prizes - Free Splinterlands Starter Set
Our unstoppable champion @rentmoney has been running away with it the last few months, picking up a winning streak of 4 months on the bounce and he has earned his bragging rights! To be honest, if I was allowed to enter and won this contest as many times as he did, I'd do EXACTLY the same 😜
So, taken from his latest blog, our champ has added an additional bounty/prize - the gauntlet has been laid down folks, you simply have to enter for a chance to knock the champ off his throne and get your hands on these Splinterland prizes:
I (@rentmoney) am the current active and defending TOP3 Champion and all you need to do to win a free Splinterlands starter set is dethrone me and rank first in this months TOP3 contest. Sure you might be thinking, no problem we can do that. No way @rentmoney can beat everyone in the TOP3 community.

Well, I @rentmoney laugh at such a thought. Currently I have won 5 TOP3 titles with four of them being consecutive wins and I plan on making January my 5th consecutive win.

But if by some small itsy bitsy minuscule chance one of you are able to dethrone me via winning this months contest, you will be the new proud owner of a Splinterlands Starter pack in which is valued at $10 USD.

This prize is on top of standard winnings offered by the Top3 organizers. If I don't get dethroned the Splinterlands Starter set will roll over into next months competition and so on and so forth until someone other than myself wins the TOP3 Contest thus dethroning me by fluke at which time they will be awarded the Starter Pack.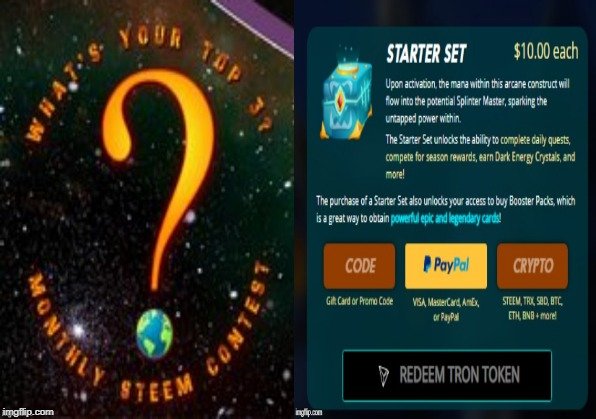 Image Source

What Is The Top 3 Contest?
It just occurred to me that I've been writing all this time and I haven't even told you what this contest is or how it works! Please, allow me to explain.
1 - Your Top 3 Favourite "Things"
This is a monthly contest where we at @yourtop3 ask YOU, the STEEM community, what your Top 3 Favourite Things Are about a specific topic that we choose. We make an announcement post on the 1st of each month with this topic and how to enter, then a reminder post on the 6th.
2 - Write Your Post
Once you have decided on your top 3 favourites from our topic, you then write your post! Make sure that:
The #yourtop3 tag is one of the first 5 tags used as we understand you may be in various communities/tribes.
You tell us WHY you chose those top 3 and what they mean - we have a minimum 250 word requirement - you'll thank us later when your reasoning and storytelling skills become exemplary 😉 👍
Set your post payout settings to 50/50 (this is to help with sending your entry fee over)
3 - See What Others Have Written About
Although this is not a requirement to be in the contest, we strongly encourage you to interact with the other entries as you may meet a new friend or find you have something in common with people you never thought you would or, better still, find something new to explore after reading someone else's post.
It's always good to engage with other people anyway as that will help your STEEM account grow.
4 - Send Your Entry Fee In
After your post has reached its 7 day post payout period, send over the liquid half of the post payout (which will either be STEEM or SBD from your steemitwallet) and you keep the Steem Power. See, told you you win just by entering 😃
5 - Dpoll Time
Once all entries are in and verified, we then put it to the steem community via a poll, courtesy of @dpoll.xyz and let the STEEM community decide their favourites. After the poll, we then tot up the scores based on the votes received.
6 - Prizes and Results Announcement
And finally, this is where it all comes together as the prizes and results are announced at the end of the month! We may also give an update on the league going forward so you can see how you are getting on with that as it could get very interesting (assuming @rentmoney doesn't continue his winning streak to 16 😂)

This Month's Topic
OK, so now you should have a pretty good understanding of how this all works, let's slide smoothly in to this month's topic, which is one we have chosen based around some of the conversations we've been having in our Discord server:
Favourite Authors
The full brief from our intro post is this:
Whether you started reading from an early age or only later found pieces that moved you, we know you can all pick works that inspired you in some way, thrilled you with vivid imagery, or enamored you with a cast of familiar characters. Instead of choosing a specific type of book, we're letting your imagination run wild to pick your Top 3 authors!
And so, finally, here are my favourite authors from books I've read over the years. This wasn't easy by any stretch and I have a feeling we'll be revisiting authors at a later date and niche down a little more!
I'm also trying out a new service on this post called "@likwid" which makes posts pay out 100% in liquid STEEM and setting @yourtop3 as 50% beneficiary (for a 1.5% fee) - all done via SteemPeak. We'll see how it works and if it will make things easier going forward!
Please note that none of the contest organisers are eligible to enter the contest, we make these posts to add some entertainment and of course, STEEM to the prize pool, which means more prizes to you - so why not enter?

Terry Deary
Probably not a name you'd recognise right off the bat, particularly if you haven't heard of his children's series called "Horrible Histories". These were a stable part of my childhood and this whole series was an illustrated collection of stories about events in history, ranging from the Aztecs to the 1,000 year monarchy since William the Conqueror took over in the UK in 1066 AD.
There were plenty of these educational books to help me get in to history and I'd say if it wasn't for these, I'd probably not have as much interest in our how our previous generations and ancestors lived. They have also played a part in developing my curiosity in to learning about all kinds of things but mainly focusing on science, engineering and cosmology which are regular features in the books I read from Mr. Deary!
Terry himself has been very critical of our schooling system in the UK and he raises some pretty good points. Safe to say that he was inspired by these issues he felt to write the educational series to inject some fun in to learning about history - something that he claims teachers have taken away from, especially when they present his books in their classes!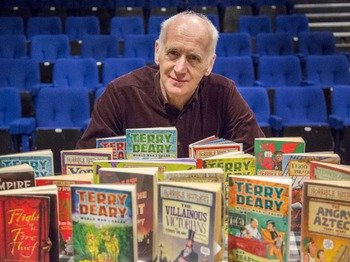 Image Source

Dr. Robert Cialdini
The bug I got from researching things took a turn during my own PhD when I was studying materials science. Funnily enough, it was all the politics and events that happened with PEOPLE that sparked my interest as to why some people are the way they are and how can I flip things around to get THEM to help ME for a change instead of being treated like crap during that 6 year tenure.
Enter Dr. Robert Cialdini and a series of books he wrote showcasing some of his findings on "social science" and psychology. Admittedly, they are kind of down the marketing route but I found them to be pretty helpful by taking little bits out of his findings and apply to my own behaviour, looking for patterns and then knowing how to respond. I have to say, it definitely gave me a lot more confidence to get through my PhD and to the present day, I can see these patterns appearing just from conversations I have, even with seeing some of the blogs here on STEEM.
All of the psychological traits he described from his extensive research are very interesting and as I was reading them, I was going "Hmm!" and I don't often do that! Kudos Dr Cialdini!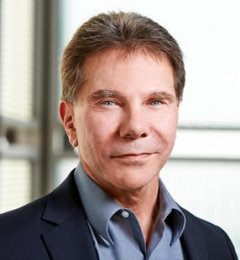 Image Source

Dan Pink
Having been in the commercial world for nearly 5 years now, my mindset is a lot different and you meet people from all walks of life with different motivations and agendas. When I joined a company a few years ago, one book was given to the 3 of us on the Graduate Scheme and I'm pretty sure I was the only one who read it - a book by entrepreneur Dan Pink who wrote a series about what motivates us in the work place both as employees and as employers.
His series really helped me understand the basic things that are needed to keep someone motivated and if you don't have those three things then you will likely end up moving companies or you'll end up losing an employee, which has it's own costs. They have really made me be more aware of working with others and listening out for clues behind what people are saying and what they actually mean and setting important boundaries to make your work enjoyable.
This psychology stuff is really interesting and I can't help but think if we all took the time to understand or just listen to what others are saying, we can help each other out a lot and advance ourselves - stay curious folks and keep learning 😉
Image Source

Now It's Your Turn
So, what are your top 3 favourite authors? Make a post about it and let us know!
Full instructions are on the contest intro post and you are very welcome to join our Discord and ask any questions (there's also more STEEM prizes available in there too 😃)
We look forward to reading all entries but you only have until the 9th January - get posting!
Nicky
Your Top 3 Panelist