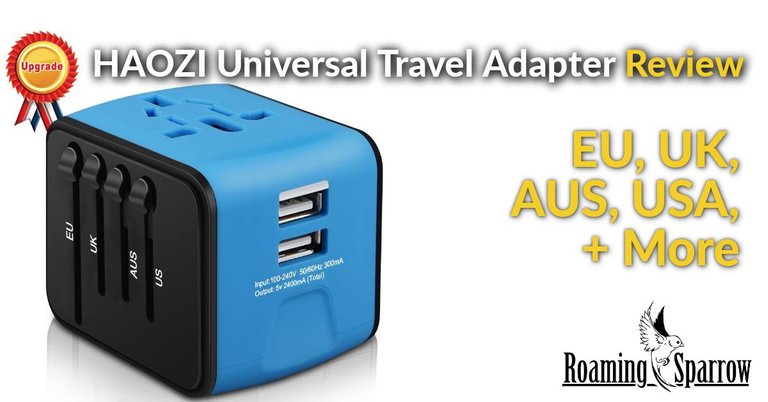 HAOZI Universal Travel Adapter Review
---
A person, who travels across the globe, experiences a very common problem and that is dealing with different kinds of power sockets. Different kinds of power sockets are used in different countries. Your mobile phone's charger would easily fit in any power socket in the US, but you will need a different adapter when you visit China or India. Read on for our HAOZI Universal Travel Adapter Review!
Businessmen, travel enthusiasts, professional photographers, global stars, and vacationers often deal with this issue. They cannot power their electronic gadgets and devices because of the lack of compatible travel adapter. The HAOZI Universal travel adapter is designed to resolve this problem. How effective and helpful it is? Let's find the answer in this review.
---
Check the Price on Amazon
---
HAOZI Universal Travel Adapter Review key features:
The following features make HAOZI Universal travel adapter a great choice for every traveler:
Compatible with all types of power sockets:
HAOZI has designed this adapter to work with power sockets used in more than 150 countries. Whether you are living in the USA, Europe, UK, or Australia, you can take this adapter out and plug it to get power and charge your devices. It offers a variety of ports to connect multiple devices at a time. This power adapter will also work easily with power sockets used in Mexico, Canada, Central American countries, Brazil, South America, Asia, and Europe. It does not matter where you are traveling, you can always trust this adapter to connect and power your devices.
Certified for its safety features:
It is an FCC, RoHS, and CE certified travel adapter. It is equipped with 6.3 Amp fuse which assures the total safety of the user and his devices in case of a power surge or other troubling situations. There are inbuilt safety shutters that protect you from touching open parts on the power outlet. The chances of an accident are almost zero when you are using this travel adapter.
Dual USB ports:
This smart travel adapter is not only compatible with different kinds of sockets, but also with all kinds of USB devices. Be it an Apple iPhone, Sony, Samsung, Nokia, LG, HTC, ZTE, a Digital Camera, or your Bluetooth speakers, you can easily connect and charge those devices. This capacity allows multiple users to use the same adapter at the same time to charge their devices.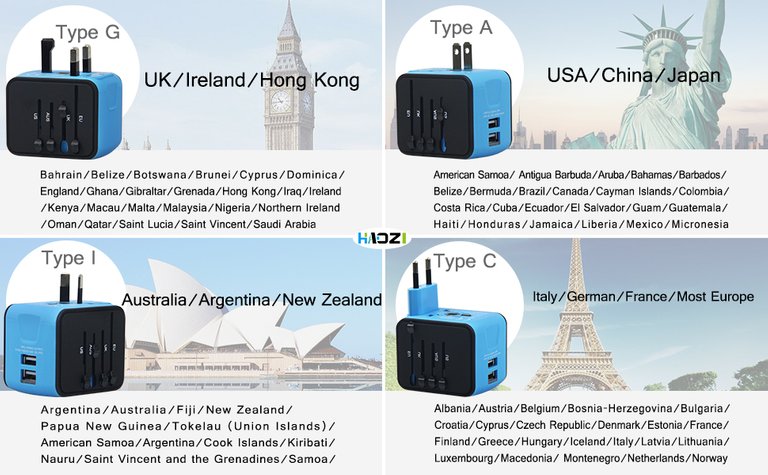 HAOZI Universal Travel Adapter Review – It can charge three devices at a time:
Ordinary adapters are designed to charge only one device at a time. The HAOZE Universal Travel Adapter is designed to charge three devices simultaneously. You won't need multiple chargers if you are traveling to a foreign location. You can charge your phone, tab, and digital camera at a time. It saves a lot of time and you can move out of your hotel room quickly.
Sparrow thoughts:
You can get many other options in universal travel adapters, but none of them would be as durable and reliable as the HAOZI Universal Travel Adapter. HAOZI offers lifetime support to all of its customers. The buyers seem happy with the way this adapter performs and helps them in keeping their devices alive. Therefore, you can bank on this travel adapter and buy it now.
---
Check the Price on Amazon
---
Full article posted on my blog at:
https://roamingsparrow.com/product/haozi-universal-travel-adapter-review/
---
Disclaimer:
As an Amazon Associate I earn from qualifying purchases. Certain other links on this post might earn me a commission if a product/service is purchased.
---

https://roamingsparrow.com/
---

---
If you enjoyed this post, please consider leaving an Upvote, or a crypto Tip in support:
Bitcoin: 18zopjg9Y2VA1ouCqCZapN3UzdpK3UnMdm
Ethereum: 0x849C33abCb753540fD0D6cDd25df05BC20a1254E
litecoin: LdWUz5haDfkn4D1fxmte8nJePEGjJv6Lqh
BItcoin Cash: 1DRRtY3j5xzx6Dn9ofQgoosXdqGVsYYNcU
Steem: @jacuzzi
---
---
Thanks for reading my post, you inspire me to keep posting!
Thank you for your support!