Gird your loins! Watch your backs it's....Nia Jax!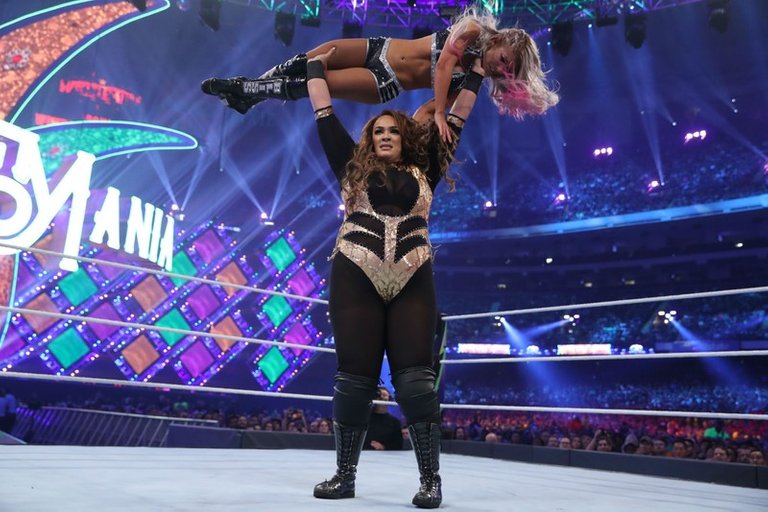 (Nia dominates the overly sassy Alexa Bliss easily! WWE Universe)
Nia could probably toss anyone reading this across the entire stadium. She could pick us up and snap us like twigs! Okay , so that's probably a bit far fetched but not by too much. Fun fact about Jax.... Did you know she is related to WWE Superstars Roman Reigns, The Usos and also THE ROCK? Nia trained at the WWE Performance Center where she not only broke weight lifting records but then went on to catapult to NXT and RAW. One of her signature moves is her much feared leg drop where she literally jumps her adversary and then just sits on them. There are some people into that sort of thing but if something goes wrong it could be deadly. She also is known for simply and effortlessly hoisting up smaller foes like Alexa Bliss and just holding them above her head. This is one woman you do not want to get into a bar fight with.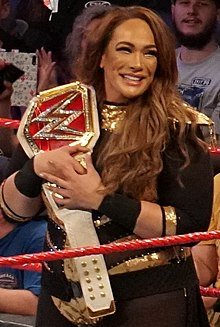 (A proud JAX/ WWE)
A very brief history... Nia was signed by WWE in 2014 and debuted on May 7, 2015 but under the name "Zada". Fans seem much happier that she is now Nia Jax and not Lina or Zada as it just has a better ring to it. In May of 2016, Nia won a triple threat over Alexa Bliss and Carmella and became the number one contender to challenge Asuka. Unfortunately a series of losses took her title and also proved that even though she is a titan at 350 lbs., the agility and speed of Asuka and Bayley won out over sheer size/power. It's like David vs. Goliath but ya' know sometimes the wiry little ones like me can take down a mountain! Inspirational right?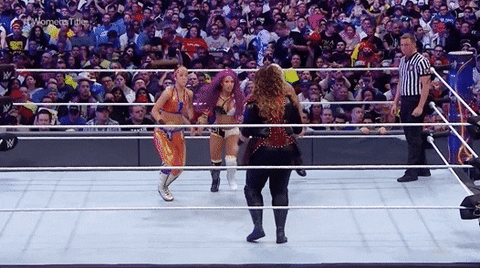 ( Here comes the BOOM! Giphy)
She was drafted from NXT to Raw in the 2016 WWE draft and went on to feud with the likes of Sasha Banks and Alicia Fox among others. There is sufficient shade being thrown around that her and Becky Lynch have some bad blood off camera as well. Jax punched Lynch last year and broke her nose and gave her a concussion. The jury is still out if that was a legit "oopsies" or not. I look forward to doing updates on all these superstars in the future. Until then, I will be catching matches when I can and drinking crappy beer and eating junkfood because I'm a red blooded American!
Your support is appreciated and creating Win/Win Scenarios is how I Roll...