My first post in the #World of Xpilar community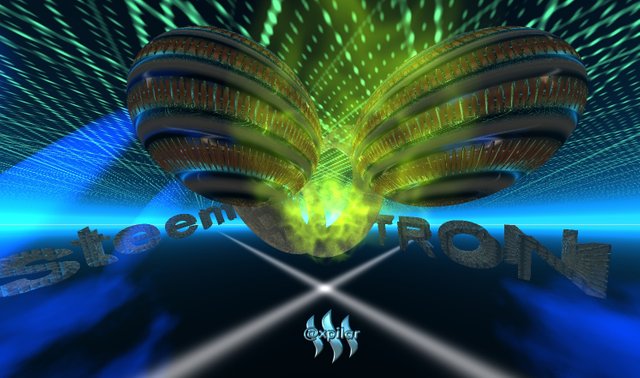 Parallel worlds are formed before the arrival of a powerful energy, experts have called it Steem-Tron, a kind of galaxy that transforms any celestial body in space allowing its growth.
The worlds are organized and constantly fed by Steem-Tron to maintain its growth, a connection between these worlds are being independent by its inhabitants, each one is normalizing its rules to coexist in them as communities.
So far, no one can determine the power of this new energy, however, it is already being used to its fullest extent to develop a new healthy ecosystem with more opportunities. One of the experts who is part of the "witness" said that Steem-Tron is a pure energy capable of multiplying the benefits at a considerable level, we just have to be aware of managing the new resources that we are obtaining and not fall into old mistakes.

Mundos paralelos se van formando ante la llegada de una energía poderosa, expertos la han denominado Steem-Tron, una especie de galaxia que va transformando cualquier cuerpo celeste en el espacio permitiendo su crecimiento.
Los mundos van organizándose alimentándose constantemente de Steem-Tron para mantener su crecimiento, una conexión entre estos mundos van siendo independizadas por sus habitantes, cada quien va normalizando sus reglas para coexistir en ellos como comunidades.
Hasta los momentos, nadie puede determinar el poder de esta nueva energía , sin embargo, desde ya se está aprovechando al máximo para desarrollar un nuevo ecosistema sano y con más oportunidades. Unos de los expertos que hace parte como "testigo" dijo que Steem-Tron es una energía pura capaz de multiplicar los beneficios a un nivel considerable, solo debemos tomar conciencia de manejar los nuevos recursos que vamos obteniendo y no caer en viejos errores.

Photographic references are a practical way to create stories. This time I leave a short fictional story based on an image of the author's friend @xpilar that caught my attention. I hope you liked it.
This is an Invitation to join #ccc for Guaranteed 👍 Daily Income 💵 and Payout 💸 for Newbies (2.0) 🐟 🐜 🐛 in #ccc 👣 and Follow 👣 the Honor Code 🏅 - the Creed (Conditions and Limits Inside)
AND
the latest update <<< please click to read.