[The man of the HF22] Thank You @ANYX
I would like to say thank you to @anyx who is for me the man of the HF22!
Thanks to him (and his STEEM full node anyx.io) many Steemians were able to use the STEEM blockchain when api.steemit.com did not allow it.
He reminds us that the STEEM blockchain is dependent on these full nodes which are the Achilles heel of the blockchain due to their small number (partly because of their high cost and need for technical knowledge).
Of course he's not the only one and teams like @steempeak have struggled to find temporary solutions to make the apps work as well as possible or inform us (via Discord) about the evolution of the resolution by @steemit, because we can't say that with 2 unfortunate tweets in 24H they have still made strong for this Hard Fork ! Again !
But let's keep focusing on the people who run the FULL NODES or WITNESS NODES
It's as easy to think of them when times are tough as it is to forget them when everything is going well
So I suggest an old idea, which unfortunately did not have the expected impact when I tested it.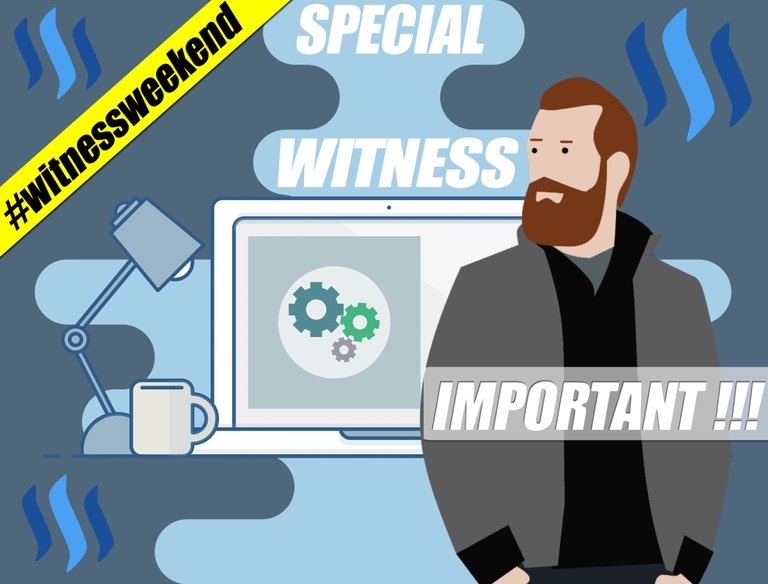 A lot of Steemian have never voted to choose their witnesses or to remove those who no longer have a server.
The goal is that by Sunday as many Steemians as possible have chosen as many witnesses as possible (each account can choose 30 witnesses max)
To do it the easiest way is to go here: https://steempeak.com/me/witnesses you can take the opportunity to vote @steempeak as a witness at the same time ;)
For each witness, you will see a link to their presentation post about their witness.
But there are others apps to do it that also exist and I'm sure there will be people to put them in comment of this post.
I would like to make this operation fun and highlight the witnesses, that everyone do a small post (or big) of support and/or promotion of their favorite witness(s) using the tag #witnessweekend
This is really important! Especially for small witnesses with little visibility who do a lot for us!
---
A few examples of small witnesses
Rank 75 : @quochuy The Little Worm Farmer (Australia)
he created the Team Vietnam and contributes to a lot of project, the list would be a bit long to put here so you can go take a look at the end of his post here.
---
Rank 36 : @stoodkev a witness in Taiwan
He's the developer of the excellent application steem-plus and worked on the Steem KeyChain
---
Rank 114: @helo a witness from Quebec :
He's the creator of The Magic Frog - The Magic Story Machine a Collaborative Storytelling application for Steem and ultra fun!
---
Rank 46: @holger80 a witness from Germany
Beem Developer, beempy.com, steemrewarding.com and if you know Steem-Engine then you know him ;)
---
As you can see, my little list is worldwide, as it should be, and I hope it will be the same soon for the full nodes of STEEM, worldwide and many!
Together, let's build a STEEM stronger than ever


Do not hesitate to Comment and Resteem
MERCI :)
@french-tech


---
---