This is my entry into the wewrite freewrite contest, by @zeldacroft and @freewritehouse, for week #15 which brings as a novelty that history will be made as a PartnerUp, between two writing partners who, in my case, is the great writer of Steemit @zeleiracordero In this opportunity, she began and I am ending it. This Week's Prompt: Art Class.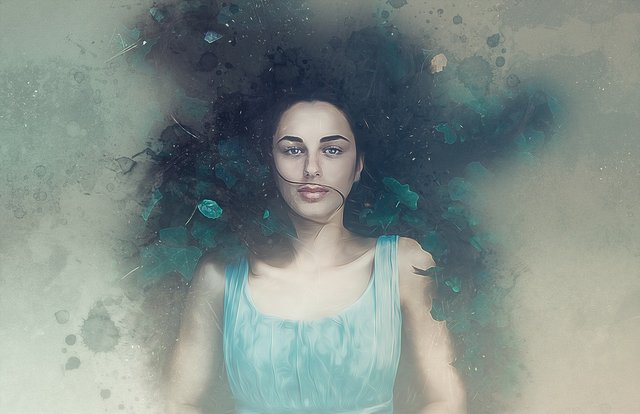 Art Class
Liam knew he couldn't use that color palette at the scene of a dream crime, but nothing worked for him that day, it was as if he was looking at life from inside a mirror, all inverted, even the murder he dreamed of.
There was no greater desire in the world than his desire to succeed as a painter. He spent whole days researching on nightmares, practicing the degradation of color for represent them, for that was what was disturbing him at this time. It seemed easy, but it was not, in art everything and nothing is easy.
"Nightmares look like dreams and seem reality, a mixture of images and sensations in a chaotic environment by the fear that reigns." He said to himself, concentrated on his task, absorbed in himself, oblivious to the explanations of the professor who, for a time, had been explaining.
"Liam, pay attention, listen and then apply."
"Excuse me, Master... Was he talking to me?"
"Didn't you hear anything I said?"
"No"....
"How will you learn painting techniques if you don't pay attention to me?"
"If I pay attention to him, it's just that I kept his last suggestion on how to yell at the canvas, when what we want is for them to hear us with every brushstroke."
"But how are you going to transfer emotions to the canvas, if you yourself don't get excited about what you're doing?"
Liam looked at his master with a lost look, that way of focusing the eyes without bringing any light of understanding to the other.
"I have recorded a look that is not of this world. A woman looks at me with serene look that cries out for help. That has motivated and frightened me... because, what emotion, apart from fear, will scream from the canvas"
"Did you catch a dark muse or did she hang you from her hook?"
"What are you talking about?"
"Did you dream the image you're trying to revive on the canvas or is it the fruit of your imagination?"
"I dreamt it, but more than a dream, it seems like a nightmare because I move in an atmosphere of fear. I see a beautiful woman who seems to have been murdered, looks alive and looks dead. She lies on a surface that I can't distinguish well. I feel that she is asking for help but I don't know what to do, I want to leave the dream but that doesn't let me out so I have to fight to get back, I feel that she came with me, but it doesn't have a definitive form, I only remember a fixed look and a lot of blood running like a dark vine."
"Do you feel afraid always or only in your own dream?"
"In the dream, but I'm obsessed with her. How do I paint something that I fear and that fear does not belong to this plane but to another reality. How do I begin the sketch of something that I have never really seen, but that comes out in a dark dream that scares because of the uncertainty that surrounds it, but that attracts because one feels part of the history that is woven in that underworld where only a beautifully twisted vision is shown by my mind"
"That's what they call since antiquity, a dark muse."

My Ending:
It was evening and Liam was afraid. He was also fascinated by the serene and deep beauty he had witnessed. He was also aggrieved and stressed by the violence depicted in the tiny rivers of blood. What had led to this? He wanted to know, desperately wanted it. His hands shook with the longing to take up the brush and recreate the scene onto the canvas but the fear gnawed at his mind. Warning him away.
As if the inner battle between dread and passion was not taxing enough, Liam could not "see" the colors he had witnessed in the nightmare. Not even the red of the blood; was it Dark or Carmine or Maroon? Or maybe turning from Burgundy to Oxblood as it dried to deep dark brown and rust. But none of them matched and none of them seemed pure enough to depict the loss of... ? He did not know it. Here he became lost in his nightmare again.
Exhausted and confused Liam lit the black candles- one on each side of his bed. The master had given them to him; a gift to soothe him. The incense in the candles and the pale flame would help Liam the master had said. Many of the great artists used them to bring emotions and sensations to canvas. Liam had made ready a blank canvas and his brushes and color were set out ready to use. He lay down and closed his eyes as the sweet scent of the candles reached him.
Liam lay there miserable, not being able to reign in his emotions and if the master was right, this would get more and more difficult as he connected with his muse; and worse if he did not. When he at last opened his eyes to give up on sleep, he froze in shock. Goosebumps covered his neck and hands as he held his breath. Her face was so near, it was as if she was lying beside him; in death. He could see the crinkles at the corner of her eye, the ragged wound just below her ear, the wisps of black hair forming a silken cushion now marred by blood. His heart screamed at him- She died fighting, she smirked at death
Liam woke up shivering and sweating at the same time. His eyes were filled with tears and his heart full of awe. A little understanding dawned on him. Those limpid eyes had crinkled in a hint of a smile. Her body was broken but the spirit was defiant- like a wounded panther. Liam started to laugh, madly, doubling over. A heat bloomed inside him filling him with a sensuous exuberance. He knew he was hooked but nothing mattered. No how or why could change it now. He was in love.
Three days later Liam stood with his painting, "Defiance" in front of the Panel of Masters. They had asked him about the idea and the colors. The composition was at once real and ephemeral and three of the four masters had acknowledged the extraordinary quality of the work was beyond them. He replied honestly to all but two questions. One was whether he had actually connected with a dark muse? The second was what powders, paints or oils he had used. Liam was not going to admit to spilling his own blood or being in love with a dead woman.
PICTURE CREDIT: PIXABAY.COM
THE CONTEST: https://steemit.com/wewrite/@freewritehouse/we-write-15-november-partner-week-last-week-s-winners-announced