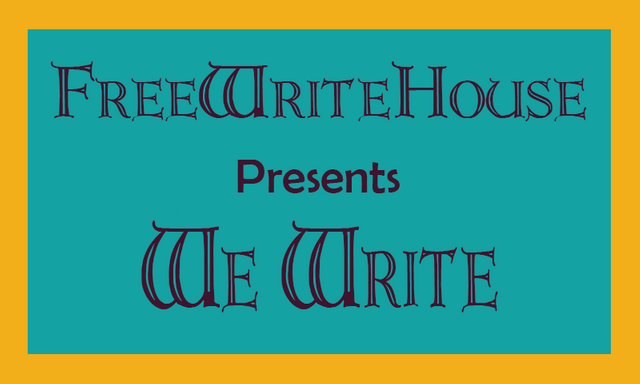 @Zeldacroft here!
Welcome to our second round of Partner We-Writes! Last week we had a record number of people enter the regular contest, so let's try to keep that momentum going.
Last Week's Winners
Many thanks to all of last week's writers, @deirdyweirdy, @myrockandocean, @mgaft1 @sarez, @zeleiracordero, @iamraincrystal @felixgarciap, @aduragbemi, @phil-glaz, @owasco, @vida-blanca, @carolkean, @free-reign, and @justclickindiva. Congrats on the four Curies last week! If I missed one let me know. You can find this week's prompt further down, but first let's spin the wheels!
Congratulations @deirdyweirdy and @vida-blanca!!! Your SBI will be sent shortly!
The Prize: 5 SBI per Winner, Sponsored by @ntowl and @owasco
100% Upvotes from the FreeWrite House for All Entries

What is a We-Write PartnerUp?
In this contest, you need to:
Find a partner
Write a story
Share it with us!
To find a partner, you can check out and post in the comments of this post. You can also join the @freewritehouse discord, or reach out to another writer on steemit.
There's a lot of flexibility on what your story can be. So long as you include the prompt word, you can write what you want! The easiest option is to mimic the normal we-write: one partner does the beginning, the other the ending. You could even write two stories, swapping who does what, although it wouldn't increase your chances of winning.
If you feel inspired to collaborate more on storyline and actual prose that's great as well.
Share a link to your post(s) in the comments below. You could do your separate parts in your own posts, or include the other's writing by quoting it. (This can be done by adding the symbol '>' before the first line of text in each paragraph.)
I'll do my best to keep a running list of partners/people who need partners in this post, but let me know if I've missed you!
To be eligible to win you must comment on this post with a link to your entry.
Please tag me, @zeldacroft, and @freewritehouse in the beginning of your posts, and add a link back to the contest.

How Do You Win?
The winning partner team will be chosen randomly from the entries. The deadline for entering is Sunday night at 9:00pm EDT, aka the same timezone as Boston, USA.
The announcement will be made the following day in the post for the next week's prompt! If you're the winning team, you'll each receive five SBI, courtesy of @ntowl and @owasco, who will send you your SBI then. 😊

This Week's Prompt
The prompt is: Art Class
---
As always, any resteems and upvotes will be eternally appreciated (but aren't necessary for the contest or anything). Let's spread the word and get writing!

Join the FreeWrite House Discord!
In case you haven't heard, we have a discord! You're more than welcome to click the link and join. If you want to share writing contests, talk about freewrites, or even just say 'hi', you should join. It's a nice place.😄
For daily freewrite inspiration, be sure to follow @mariannewest for prompts!