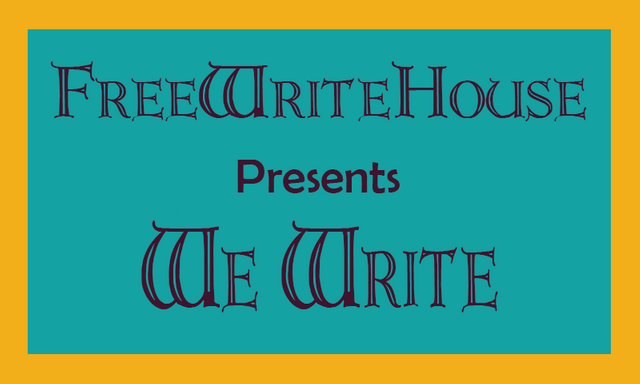 @Zeldacroft here!
We-Writes are easy, fun opportunities to write and win PRIZES. You can expect a WE-Write prompt every Monday, where we'll also announce last week's winners. Speaking of which...
Last Week's Winner
Many thanks to our writers from last week: @shadowmask, @iamraincrystal, @owasco, @sarez, @myrockandocean, @zeleiracordero, @mgaft1, @felixgarciap, @phil-glaz, @vida-blanca, @free-reign, and @justclickindiva! You can find this week's prompt further down, but first our random winners are...
Congratulations @zeleiracordero and @felixgarciap!!! Your SBI will be sent shortly!
The Prize: 5 SBI per Winner, Sponsored by @ntowl and @owasco
100% Upvotes from the FreeWrite House for All Entries

What is a We-Write?
If this is your first time coming across a WE-Write post, have no fear! It's all quite simple.
Every Monday we'll give you the beginning of a story. Use that beginning and keep writing. Most people do the 5-minute freewrite method, but a little longer is okay, too.
Then, publish it as a post with a link to this post AND drop a link to your post in the comments below this one. To be eligible to win you must comment on this post with a link to your entry.
Or, you may publish your story as a comment to this post.
Please tag me, @zeldacroft, and @freewritehouse in the beginning of your posts, and add a link back to the contest. Also, please make it clear which part is the prompt and what is your ending. Thank you!

How Do You Win?
Each week two winners will be chosen randomly from the entries. The deadline for entering is Monday night at 9:00pm EDT, aka the same timezone as Boston, USA.
The announcement will be made the following day in the post for the next week's prompt! If you're a winner, @ntowl or @owasco will send you your 5 SBI then. 😊

This Week's Prompt
At the Club
by @zeldacroft
The club lights flashed and waved to the beating music. They washed the dancefloor in neon colors, in time to the heavy vibrations of the giant speakers. Surprisingly, Toby admired the bright lights, how they illuminated the huge space and modern architecture. Though he found himself nursing a headache at the bar.
Jan from accounting had organized the "bonding time" for the office, saying how it'd bring everyone closer together. Toby had been devoid of any good excuse, so now he was stuck between a beer, clubbers, and Jan, with her volume louder than the pounding speakers.
"And so that's when I said, 'Kevin, that's the wrong variable!'" She snorted in laughter at her own joke. Toby managed a smile. "You see, he made a simple mistake!"
"No, I get it. I think Susan's around here somewhere, she'd appreciate hearing it too."
"That's a good idea, but I can tell her on Monday!"
Toby took another drink. He liked Jan well-enough at work, but tonight was proving a little more difficult.
"That does bring up a good point, though. I haven't seen many people from the office here." Scanning the room, she asked, "Do you think they're stuck in traffic?"
"Yeah, maybe," Toby answered, knowing full well it was more a case of empty promises. Still, there was something about the disappointment in her eyes that struck him. "But hey, you got some of us here."
She gave a small smile and looked around again, this time lingering towards the lights.
"Hey, let's go dance!"
Before Toby could gently protest, she'd swept him onto the floor, beer and all.
---
So what happens next is up to you! I'm really looking forward to reading your continuations. 😊
As always, any resteems and upvotes will be eternally appreciated (but aren't necessary for the contest or anything). Let's spread the word and get writing!

Extended Deadline!
I'm sorry this week's post is so late! To make up for it, the deadline for this one is next Monday at 9:00pm EST, same timezone as Boston, USA. Happy writing!
(On a personal note, sorry for being a bit absent the last couple weeks. The first semester at my new school started, and it's taken a little time to adjust. But I hope things will be easier moving forward. Have a good week!)
For daily freewrite inspiration, be sure to follow @mariannewest for prompts!