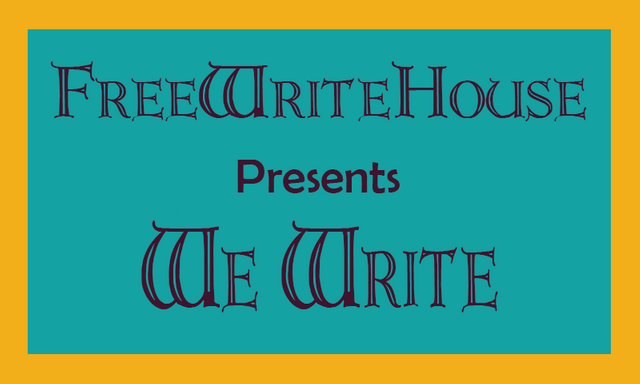 @Zeldacroft here! Thanks for being so patient with the break last week, and thanks for your support every week. It's always great to see how you each take on the stories.
This week our prompt was written by @ntowl, and I think it's one of the more open-ended ones we've had. Let the creativity flow!
The Prize: 5 SBI per Winner, Sponsored by @ntowl and @owasco
100% Upvotes from the FreeWrite House for All Entries

What is a We-Write?
If this is your first time coming across a WE-Write post, have no fear! It's all quite simple.
Every Monday we'll give you the beginning of a story. Use that beginning and keep writing the story from where it left off. Most people do the 5-minute freewrite method, but a little longer is okay, too.
Then, publish it as a post with a link to this post AND drop a link to your post in the comments below this one. To be eligible to win you must comment on this post with a link to your entry.
Or, you may publish your story as a comment to this post.
Please tag me, @zeldacroft, and @freewritehouse in the beginning of your posts, and add a link back to the contest. Also, please make it clear which part is the prompt and what is your ending. Thank you!

How Do You Win?
Each week two winners will be chosen randomly from the entries. The deadline for entering is Sunday night at 9:00pm EDT, aka the same timezone as Boston, USA.
The announcement will be made the following day in the post for the next week's prompt! If you're a winner, @ntowl or @owasco will send you your 5 SBI then. 😊

This Week's Prompt
The Host
by @ntowl
The silver orb gleamed in the light. Resting on a long metal tube extending from a circular base, nothing had ever terrified Jonathan more. He glanced at the clock. Three minutes left. He rolled his chair closer to the desk, grasped the tube in his right hand, and pulled the orb closer. A wave of heat flashed through him and he dabbed his forehead with a towel in his left hand. The roaring in his ears grew louder as he double checked the status on the monitors. A quick high-pitched but not unpleasant beep, beep, beep broke through the noise in his head.
"Two minutes to go Jonny. Ads are rolling now, I'll start your introduction when they end. You'll go live immediately after, just like we rehearsed yesterday," Steven's calm voice came through the headphones Jonathan wore.
He nodded, eyes wide.
"Jonny? You there bud?"
"Yes."
"We must have an audio issue. I can barely hear you. Damn! I knew we should have run a few more tests. Ok, give me a sec-"
"It's ok," Jonathan said louder, and swallowing hard. "I-I just lost my voice there a bit." He dabbed his face and released his death grip on the microphone. It's shiny surface reflected a distorted version of himself stretched around the sphere, broken in spots by the mesh that let his voice travel through.
"Yeah, that's better. Look, I know it's your first live show and your nerves are probably on edge."
You have no idea, Jonathan thought as his heartbeat began pounding in his ears.
"Everyone's nervous their first time. But you're here for a reason, remember that," Steven paused, "Time check, thirty seconds. Take a couple of deep breaths, shake out the nervousness and be ready to go at the end of your intro. We've already got ten calls on hold for you. They warned me you'd be popular! No catching up on my reading during your show. Time check, fifteen seconds. You got this bud, right?"
"Yes. Yes I do," he said sitting up taller in his chair, dabbing his forehead again. "No problem at all..."
"Awesome! Remember I'm here for you behind the scenes, keep an eye on the system chat in the bottom left corner of the screen. Time check, intro rolling..."
The bumper music played in his ear and a man with an unbelievably deep voice told the audience how lucky they were to be listening to the internet radio station KFLY and their newest host. The introduction ended and Jonathan miraculously became Jonny.
"Hey everyone. This is Jonny James on KFLY radio and I'm so glad you could join us for the premier of Everything and Anything. I'd like to jump right in and take some calls rather than bore you with the overly pedantic babbling I tend to do. Sooooo, Caller one. Tell us your name, where you're from, and whatever it is you want to share tonight."
---
So what happens next is up to you! I'm really looking forward to reading your continuations. 😊
As always, any resteems and upvotes will be eternally appreciated (but aren't necessary for the contest or anything). Let's spread the word and get writing!

Want to be a Beta Reader or get feedback on your writing?
The Beta group is an initiative by @freewritehouse to help writers prepare for publishing. Find out more here!


For daily freewrite inspiration, be sure to follow @mariannewest for prompts!