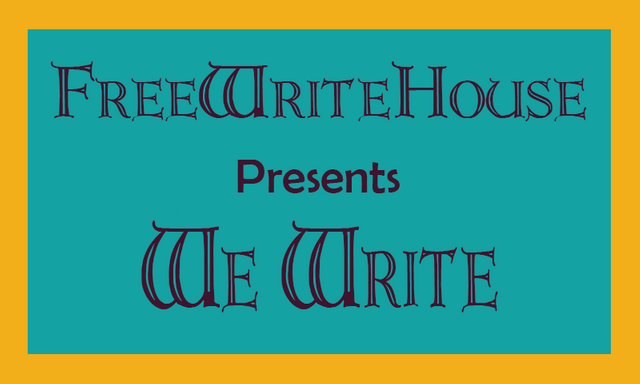 @Zeldacroft here! We're going spooky for October 😉
We-Writes are easy, fun opportunities to write and win PRIZES. You can expect a WE-Write prompt every Monday, where we'll also announce last week's winners. Speaking of which...
Last Week's Winner
Many thanks to our writers from last week: @iamraincrystal, @sarez, @owasco, @felixgarciap, @mgaft1, @darthgexe, @free-reign, and @vida-blanca! You can find this week's prompt further down, but first our random winners are...
Congratulations @felixgarciap and @vida-blanca!!! Your SBI will be sent shortly!
The Prize: 5 SBI per Winner, Sponsored by @ntowl and @owasco
100% Upvotes from the FreeWrite House for All Entries

What is a We-Write?
If this is your first time coming across a WE-Write post, have no fear! It's all quite simple.
Every Monday we'll give you the beginning of a story. Use that beginning and keep writing. Most people do the 5-minute freewrite method, but a little longer is okay, too.
Then, publish it as a post with a link to this post AND drop a link to your post in the comments below this one. To be eligible to win you must comment on this post with a link to your entry.
Or, you may publish your story as a comment to this post.
Please tag me, @zeldacroft, and @freewritehouse in the beginning of your posts, and add a link back to the contest. Also, please make it clear which part is the prompt and what is your ending. Thank you!

How Do You Win?
Each week two winners will be chosen randomly from the entries. The deadline for entering is Monday evening at 5:00pm EDT, aka the same timezone as Boston, USA.
The announcement will be made the following day in the post for the next week's prompt! If you're a winner, @ntowl or @owasco will send you your 5 SBI then. 😊

This Week's Prompt
Home Alone
by @zeldacroft
An inky air crept through the twilight hours, and now pressed against the windows of the house. Inside, Nathan aimlessly flipped through the TV channels, the living room calmly lit. He was getting impatient.
A thump, thump down the stairs made him jump, but he managed to keep his composure. His mom hurried into the room. Her oversized coat and mittens signaled she was ready for the autumn chill outside.
"Alright, I'm heading out," she said. "I'll probably be gone for a few hours, so call me if you need anything. Remember there's leftovers in the fridge, and try not to just watch TV. You know that book from—"
"Mom," he interrupted.
"Yes?"
"You're going to be late."
"I am, aren't I?" She agreed, but ran over to kiss his forehead anyway. "I'll lock up, be sure to stay safe."
"Yes, Mom." He rolled his eyes. Their corner of suburbia had always felt like the most boring. Nothing bad could happen here.
As soon as Nathan heard the front door close, he leapt up and looked out the window. The streetlights cast heavy shadows on his mom's car as she drove away. When she was out of sight, he whipped out his phone and texted his best friend, Mark. "It's time."
Mark had gotten his hands on some horror games, including the much coveted Bloodhunter 4, but his family wouldn't let him play.
Nathan wasn't allowed to either, so tonight was finally their chance. Impatience turned to excitement as he switched the TV to his Xbox. Mark lived on the same street, so it wouldn't take long for him to get there. After gathering soda and snacks from the kitchen, he heard a sharp knock on the door.
---
So what happens next is up to you! I'm really looking forward to reading your continuations. 😊
As always, any resteems and upvotes will be eternally appreciated (but aren't necessary for the contest or anything). Let's spread the word and get writing!

Extended Deadline!
I'm sorry this week's post is so late! To make up for it, the deadline for this one is next Monday at 5:00pm EDT, same timezone as Boston, USA.
We're doing another Partner WeWrite next week, so I'll have that post up Monday as well. Happy writing!
For daily freewrite inspiration, be sure to follow @mariannewest for prompts!