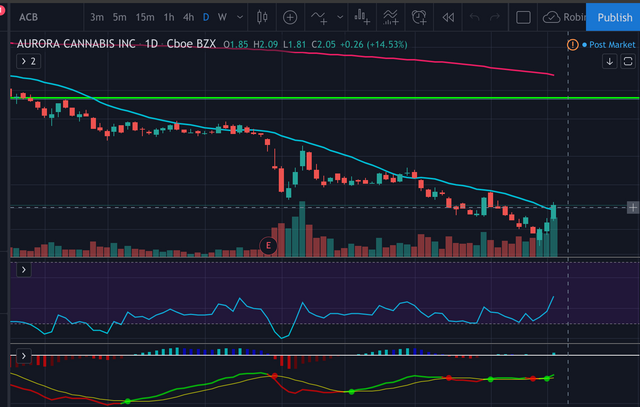 So I made a rash decision today. Aurora Cannabis looked like it is trying to take a bounce. I also was analyzing the MJ ETF and it took a bounce. The call option I took on Robinhood was way cheaper on ACB than MJ so I took that one. Looks like it has room to run, just hoping to runs, lol. I bought a put option when it started to go down which expired all in the money, so I figured I would try to catch it going back up! Buying cannabis stocks and trading options are how I participate in the cannabis industry. My second favorite thing to trade next to crypto is the cannabis stocks.
Got tired of looking for a place to jump in this crazy crypto fomo, lol. Figured I would go hit some cannabis stocks while crypto has gone nuts, gonna let all that cool off before I jump back into that.
If you want to trade both stocks with the ability for trading options as well and cryptocurrency all in the same account, you might want to check out Robinhood. I do my USD pair trading on Robinhood, because I can just use one app to trade both markets. You cannot withdraw your coins, so I just look at this as my USD trading account. I buy my crypto for holdings elsewhere.
If you check out Robinhood, you can use my link and get a free stock, and I will also get a free stock, so that would be cool, lol.
join.robinhood.com/adamv472
Hope everyone has a great day!
Be Cool, Be Real, and Abide