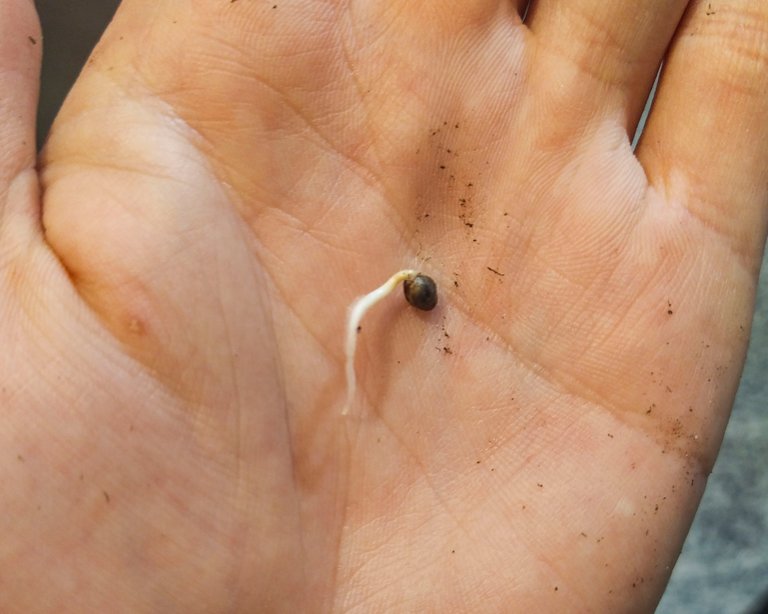 We decided to start our own cannabis self-cultivation!
We started it as an experiment, since we don't have availability for a greenhouse. The experiment basically is to evaluate if the plant can grow healthy, strong and also generate a "decent" harvest with only a couple of hours of direct sun a day.
We have read and been told that it is difficult but not impossible. Obviously the plant may not reach its maximum potential but we still want to see how it develops under these conditions.

¡Decidimos iniciar nuestro propio autocultivo de canabis!
Lo hicimos como experimento, ya que no tenemos disponibilidad para un invernadero. El experimento básicamente es evaluar si la planta puede crecer sana, fuerte y además generar una cosecha "decente" con solamente un par de horas de sol directo al día.
Hemos leido y nos han dicho que es dificil pero que no es imposible. Obviamente quizás la planta no alcance su máximo potencial pero aun así queremos ver como se desarrolla bajo estas condiciones.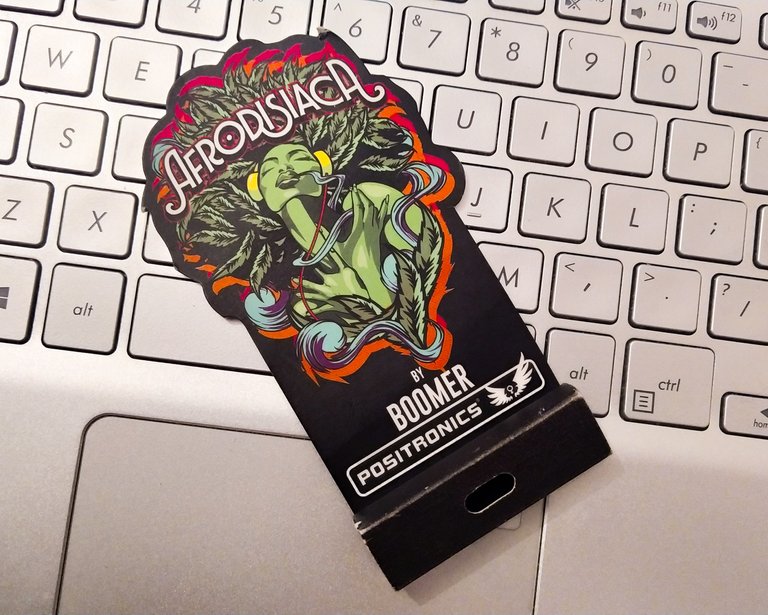 The seeds we used were a gift from a friend. It was the perfect moment to start. It was just during the winter so we started to study to be able to start the germination in spring.
Las semillas que utilizamos nos la regaló una amiga. Fue el momento perfecto para empezar. Fue justamente durante el invierno así que empezamos a estudiar para poder iniciar la germinación en primavera.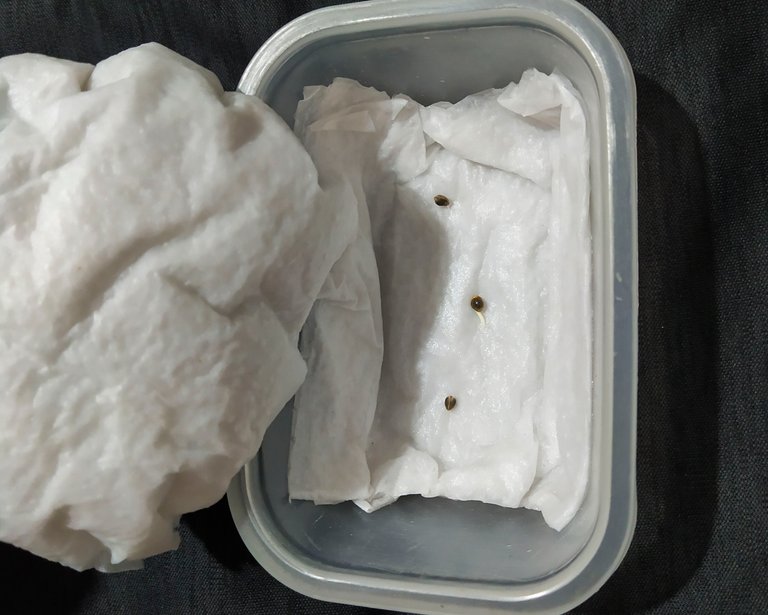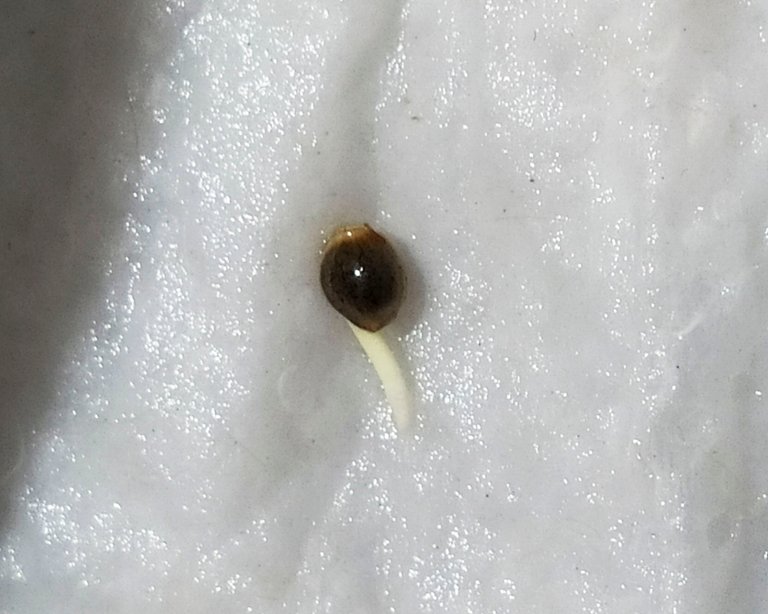 Of all the germination techniques, we used the wet napkin technique, it went very well, even one of the seeds sprouted its first two leaves inside the napkin.
De todas las técnicas de germinación, usamos la técnica de la servilleta humeda, les fue super bien, incluso a una de las semillas le salieron sus primeras dos hojas dentro de la servilleta.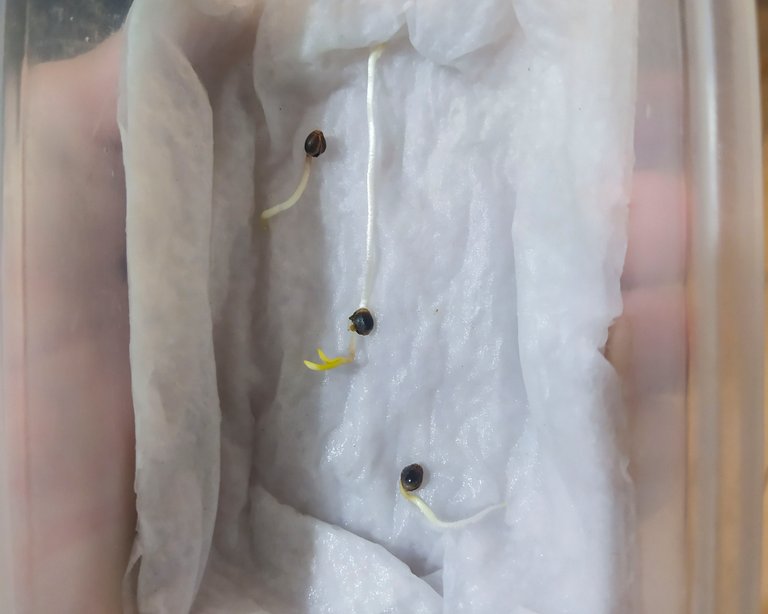 After about 10 days the 3 seeds were ready for their new home in substrate and 200 ml plastic cups. We used a pre-mixed, basic and light substrate.
Luego de unos 10 dias ya las 3 semillas estaban listas para su nuevo hogar en sustrato y vasos de 200 ml. Usamos un sustrato premezclado, básico y ligero.
Because the substrate is relatively neutral and this plant has specific growth phases, we also bought a "tri-pack" of nutrients in order to give it better nutrition than just water.
Debido a que el sustrato es relativamente neutro y esta planta tiene fases específicas de crecimiento, también compramos un "tri-pack" de nutrientes para poder darle una mejor alimentación que solamente agua.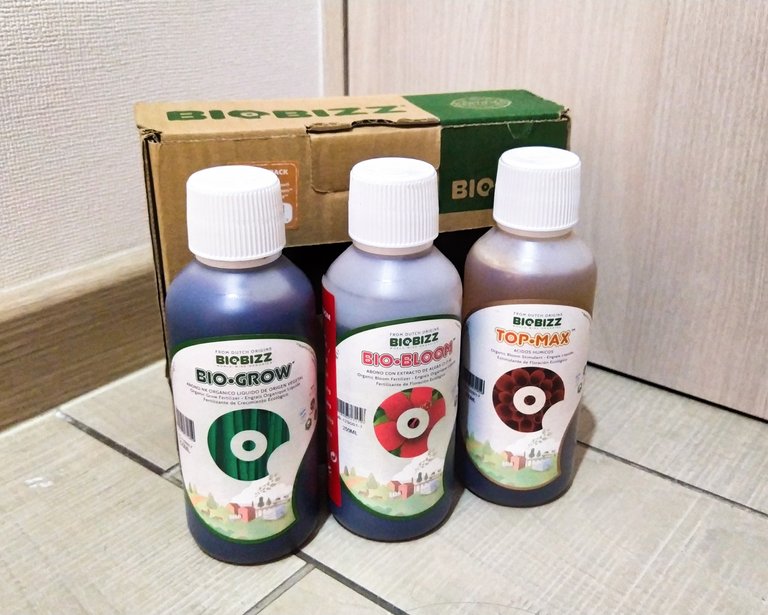 The nutrients are divided into 3 phases, "rooting" to develop the root growth of the plant, the "flowering" liquid that stimulates the budding of flowers, and finally a "fattening", which favors the optimization of the harvest in its last stages of development.
Los nutrientes se dividen en 3 fases, "enraizante" para desarrollar el crecimiento radicular de la planta, el liquido de "florecimiento" que estimula el brote de flores, y por último un "engordante", que favorece la optimización de la cosecha en sus ultimas etapas de desarrollo.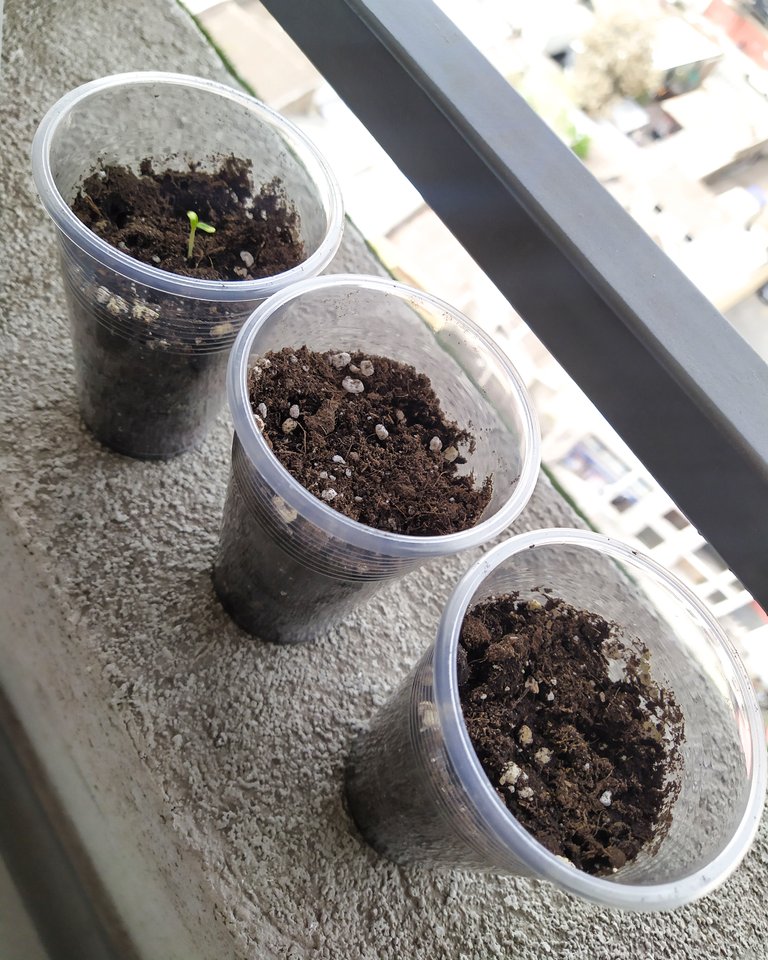 This is how they look after a couple of weeks in substrate, some drops of temperature and only one hour of sun so far. We wait for the spring to advance so that the sun can reach us a little more.
In the meantime, we will continue to give them affection and several hours of daily spa near the light bulb.
Así están luego de un par de semanas en sustrato, algunas bajas de temperatura y solo una hora de sol. Esperamos a que siga avanzando la primavera para que el sol pueda llegar un poco más.
Mientras tanto, seguiremos dandole cariño y varias horas diarias de spa cerca del bombillo.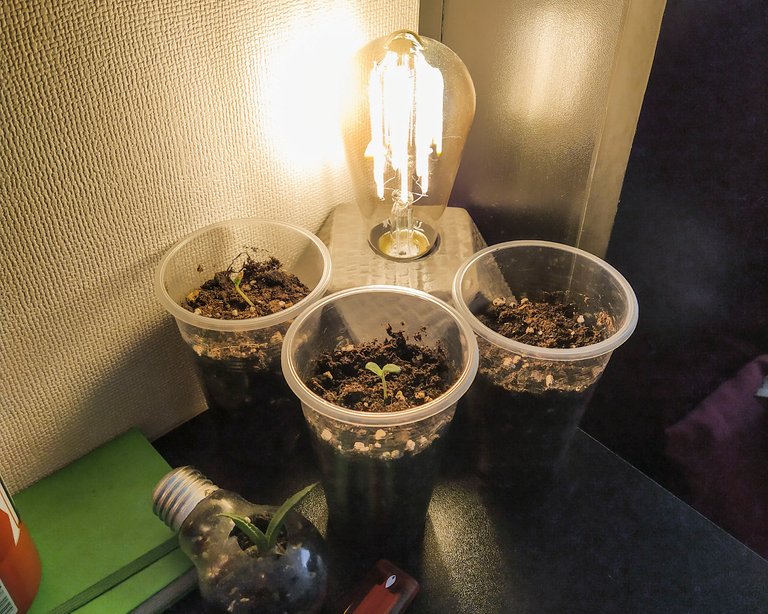 All this has been advised by @elbuencultivador (The Good Grower) who by the way has just started in Hive and will be sharing all his experience and experiments of cannabic self-cultivation and even some canna-bonsais. Read more about him and his project in his first post.
Todo esto ha sido asesorado por @elbuencultivador que por cierto recién inició en Hive y estará compartiendo toda su experiencia y experimentos de autocultivo canábico e incluso algunos bonsais de canabis. Lee un poco más sobre el y su proyecto en su primer post.
We're reading a lot of Cannabis posts here in Hive and can't wait to update the beatuty's status in the following weeks.
Estamos leyendo muchos posts de Cannabis aquí en Hive y no podemos esperar a actualizar el estado de estas bellezas en las próximas semanas.
---
-V&W
---
If you want to develop a design project with us just contact us through Discord @themonkeyzuelans#9087 where we are always online and ready to work.
Check out our Creative Agency Instagram feed and Portfolio
Si deseas desarrollar algun proyecto de diseño con nosotros sólo contactanos a través de Discord @themonkeyzuelans#9087 donde siempre estamos en línea y listos para trabajar.
Ve el feed de Instagram y Portafolio de nuestra Agencia Creativa.
---
---
---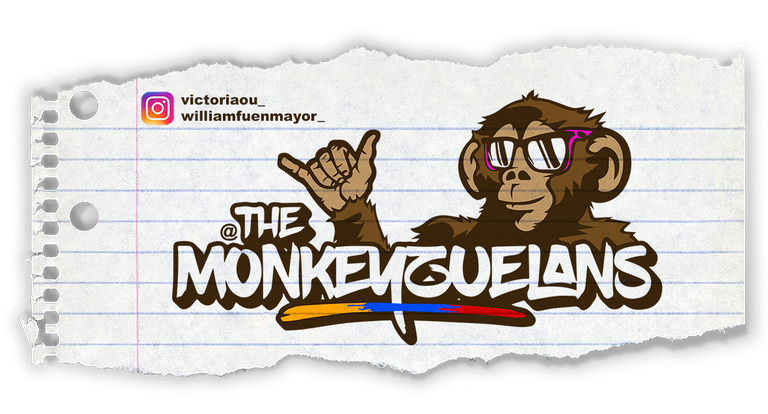 All information, texts, stories, images and photos, where not otherwise specified, are our authorship and property. Redmi Note 7, LG Stylo 4, Nikon Coolpix P520, GoPro Hero 3+, Sony Alpha300. Logo and Banner design by @themonkeyzuelans as Multitakers
Toda la información, los textos, el relato, las imagenes y fotos, donde no se especifique lo contrario, son de nuestra autoría y propiedad. Redmi Note 7, LG Stylo 4, Nikon Coolpix P520, GoPro Hero 3+, Sony Alpha300. Diseño de Logo y Firma por @themonkeyzuelans como Multitakers