This is my entry for #wednesdaywalk hosted by @tattoodjay. Although we are in the middle of rainy season, we could have several hours of bright sunshine so that I could go for walking exercise. This past week, life has been very busy and filled with some intense moments. Meeting up with old friends for lunch led to unexpected serious discussion of changes in their lives and mine. We have been friends over ten years though we hardly met as often as we should because they were very occupied with their companies. It so happened that we ought to have lunch so that I could share with them my thought about cryptocurrency and changes in our country in the near future. We were to meet up at an old Chinese restaurant in Bangrak area which is near my favorite Robinson mall.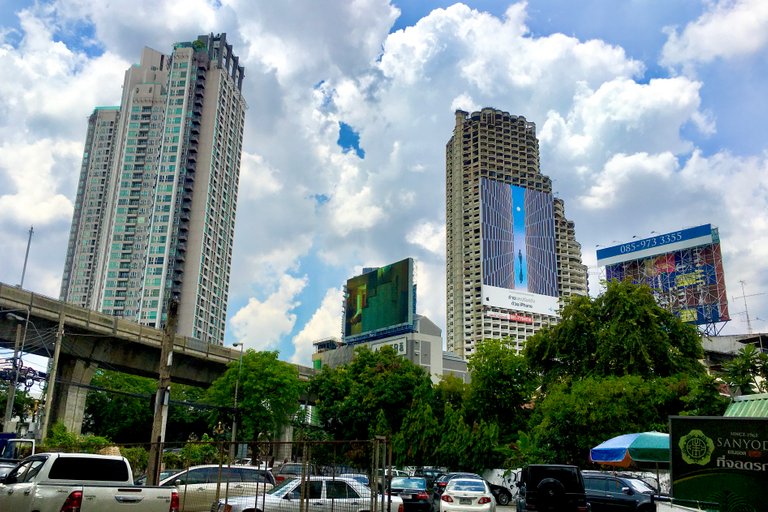 I was quite surprised that my friends did not know about the Chinese restaurant called Sanyod which used to be very famous and popular in the past. This restaurant has been operating almost a hundred years since the grandfather generation. It became more established over sixty years ago when the second generation of this Chinese family opened a small Cantonese style restaurant. Nowadays the third and fourth generations have been busy opening small branches of Sanyod in several big shopping malls. From my encounter with a branch of Sanyod in a mall, I went searching for the original restaurant and found it among the old Chinese community in Bangrak area. So, I suggested our lunch meeting at the old Sanyod restaurant. This gave me an opportunity to have a walk around the old shop-houses in the area.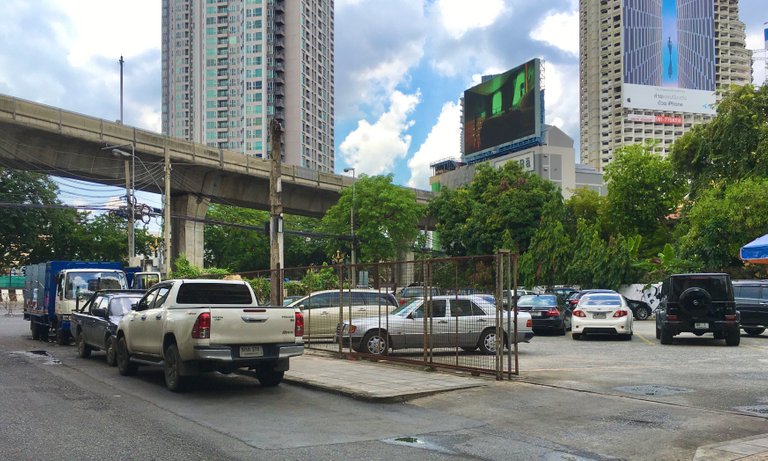 Luckily I could find parking space in front of the restaurant though I found a large car park around the corner of the restaurant. I had plenty of time for a short walk around the area. The rows of old shop-houses made me very nostalgic for my grandmother's house and our first family house close to Chinatown.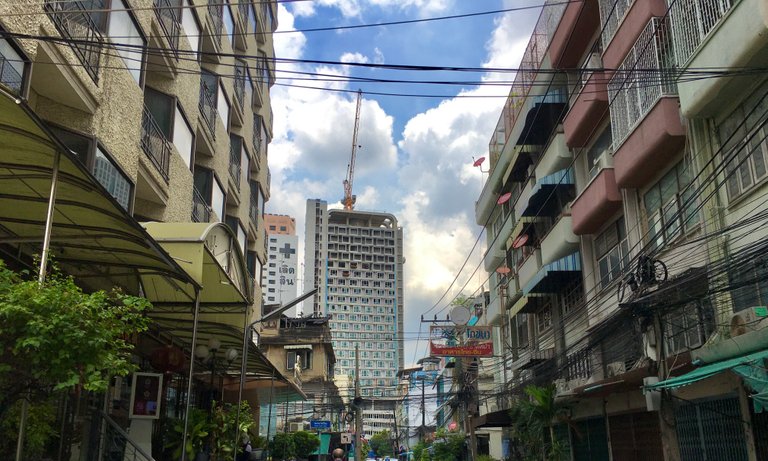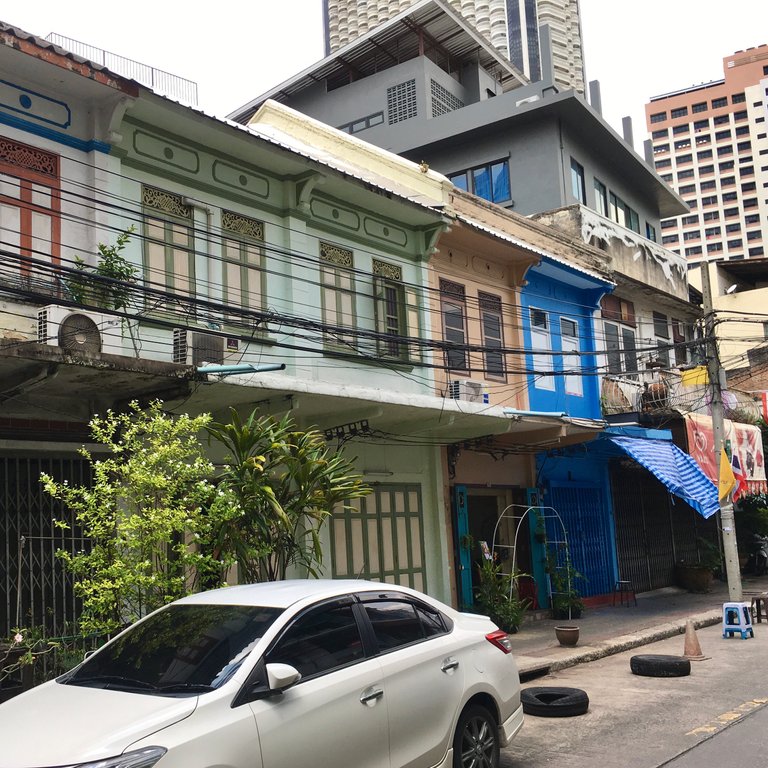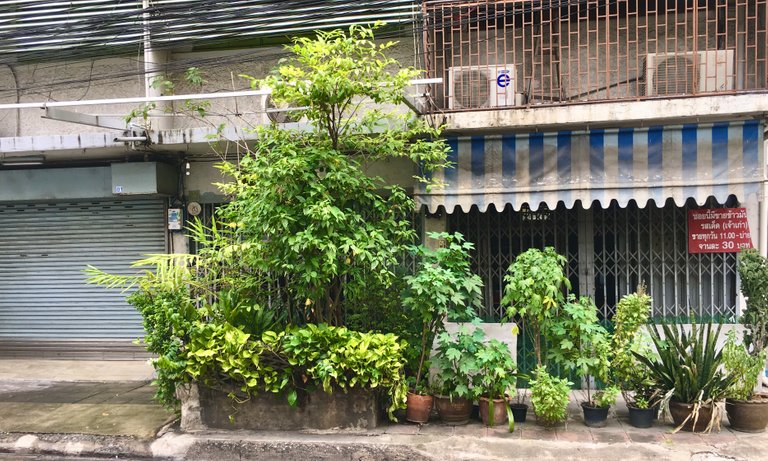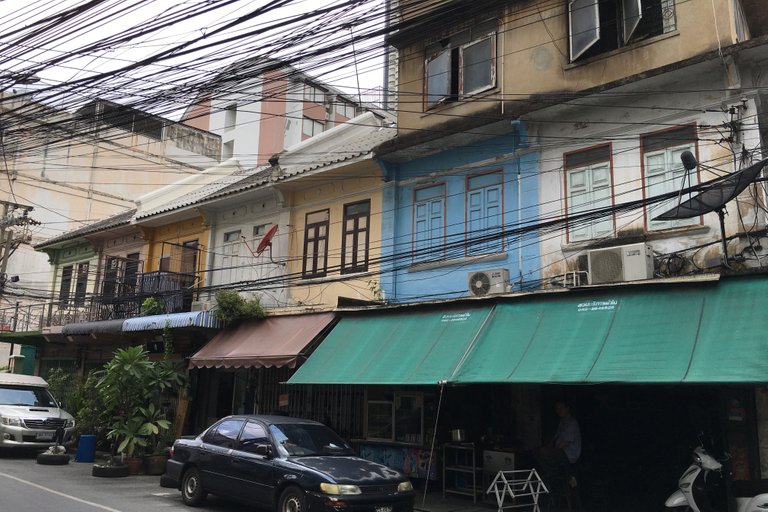 The original shop-houses have only two levels; the modified townhouses of four to five levels were relatively new and they are not as strong as the old shop-houses. These over a hundred years' old shop-houses were built with very large bricks with double bricks wall construction. All the original doors and windows were made from teak wood. I was glad to see several old houses with original teak panels.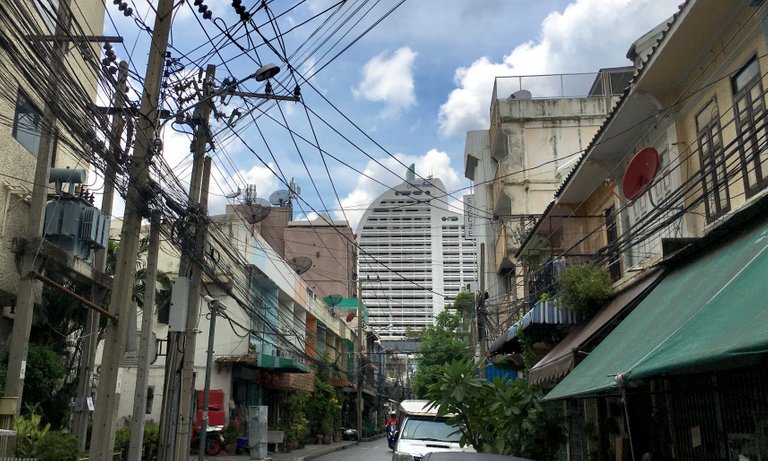 I had no idea that one local lady had been watching me walking around taking photos of old houses. When I approached her house, she asked me why I was taking these photos. I told her how I appreciated these old houses which could not be easily seen in modern Bangkok. She was very pleased by my answer and told me to look at her old teak door panel. It was quite amazing seeing her cooking lunch on a gas stove in front of her house. The fried rice looked really good but she did not invite me for lunch. I had to meet my friends at the nearby restaurant any way. However, a local invitation would have made my day.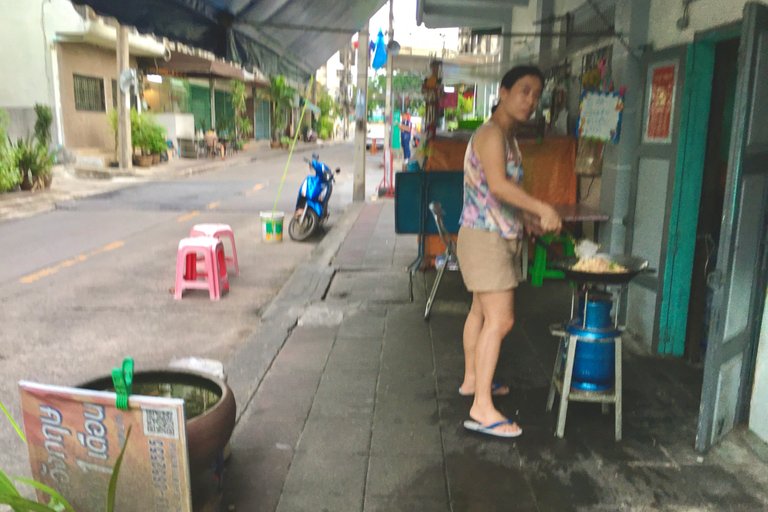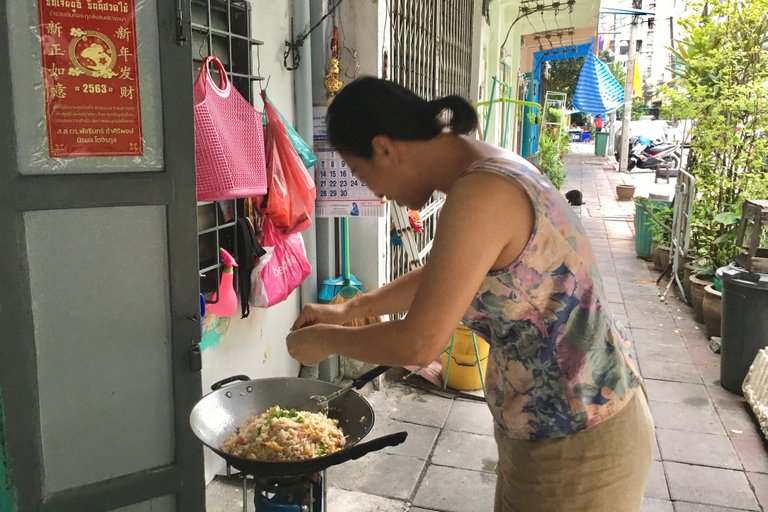 The original Sanyod restaurant is only a small one room shop-house with some modification of the old structure by adding two more levels. But it was too small so the owner has been renting the ground floor of the nearby hotel as an new branch of the old Sanyod.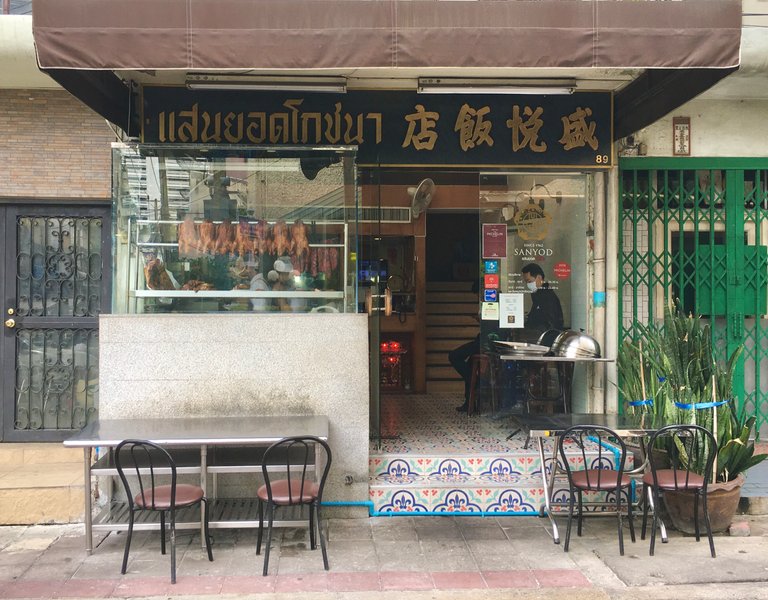 The old Sanyod and the new branch below. My friends were very glad that I introduced this local restaurant to them. One said the roast duck was very good while we enjoyed the fried Cantonese rice noodle and stewed vegetarian tofu a lot. Sorry for having no photos of the food, we were too hungry to stop eating! But they all said that the food was very good and the price was reasonable. They would be taking visiting business contacts to have lunch meeting here in the future. Perhaps I could have some commission in terms of free food! I don't think I would be that lucky.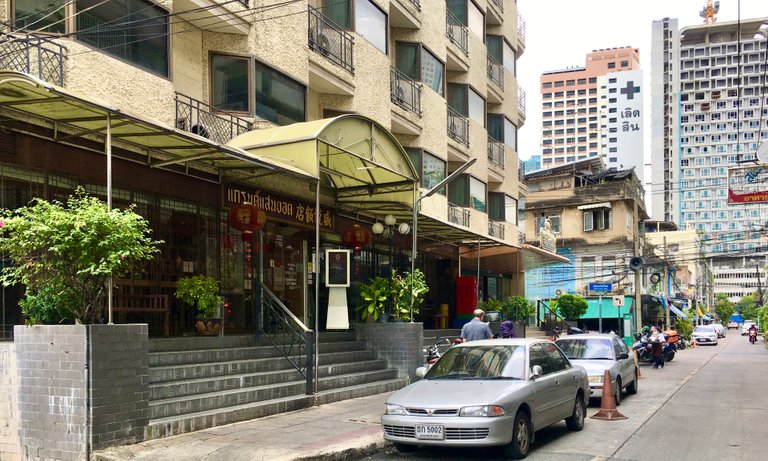 สัปดาห์ที่ผ่านมาเรานัดเจอเพื่อนเก่า ที่ไม่ได้เจอกันมานานหลายเดือนไปกินข้าวกลางวันที่ ร้านอาหารจีนกวางตุ้งชื่อแสนยอด ซึ่งเป็นร้านเก่าแก่มากเกือบร้อยปี โดยครอบครัวนี้เป็นพ่อครัวในร้านอาหารจีน ตั้งแต่สมัยรุ่นปู่และตกทอดมาถึงรุ่นลูกและรุ่นหลานในปัจจุบัน เขาถ่ายทอดเคล็ดลับในการทำอาหารมาถึงรุ่นที่สี่แล้ว เราไปถึงเร็วเพื่อจะได้มีเวลาเดินเล่นถ่ายรูปตึกเก่าแก่ ที่สร้างมาตั้งแต่สมัยรัชกาลที่5 หลังจากที่สร้างถนนเจริญกรุงนั่นเอง ถิ่นนี้จึงเป็นชุมชนชาวจีนที่เก่าแก่มากแห่งหนึ่งที่อยู้ใกล้แม่น้ำเจ้าพระยา คนแถวนี้อยู่กันมาหลายรุ่นและรู้จักกันอย่างดี เราชอบดูบ้านที่ยังคงรักษาประตูและบานหน้าต่างโบราณที่ทำจากไม้สัก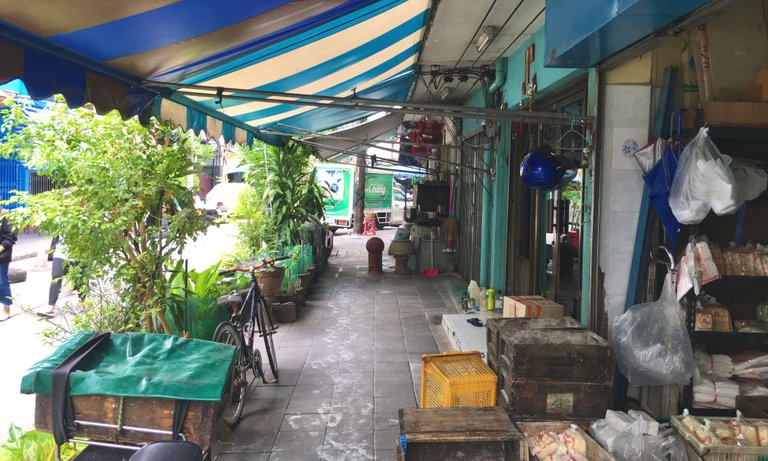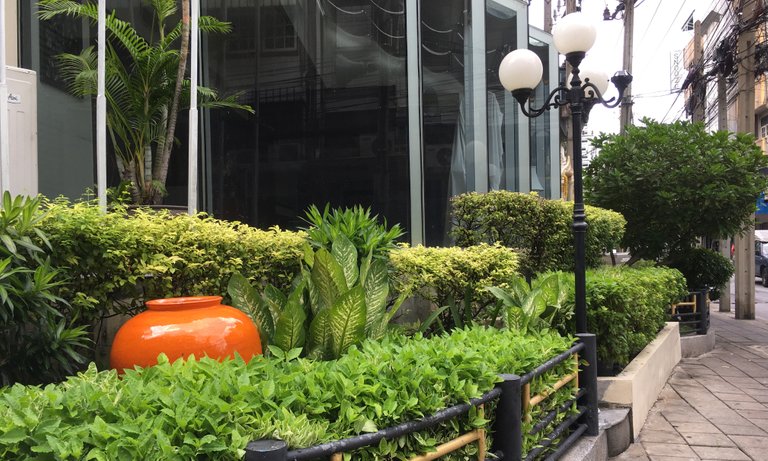 ร้านแสนยอดเก่าเป็นร้านเล็กๆ เจ้าของจึงต้องมาเช่าชั้นล่างของโรงแรมที่อยู่ตรงข้ามมาเปิดสาขาใหม่ที่กว้างขวางมากขึ้น และมีที่จอดรถเป็นลานกว้างอยู่ตรงหัวมุมถนน เพื่อนเราชอบอาหารที่นี่มาก อร่อยทุกอย่างโดยไม่มีการใส่ผงชูรส เพื่อนเราดีใจที่เราแนะนำให้รู้จักร้านอาการจีนที่อร่อยและราคาถูกกว่าที่อื่นมากด้วย พวกเรารออาหารกันนานมากเพราะมีลูกค้าเต็มร้าน เลยไม่ได้ถ่ายรูปมาให้ดูเพราะหิวมากทุกคน เราได้เดินเล่นถ่ายรูปบ้านเรือนและวิถีชีวิตจอวคนท้องที่ เราขอบบรรยากาศที่นั่นมาก เขาอยู่กันเงียบๆสบายๆ ไม่ต้องคอยระวังคนขโมยของ เพราะทุกบ้านรู้จักกันหมด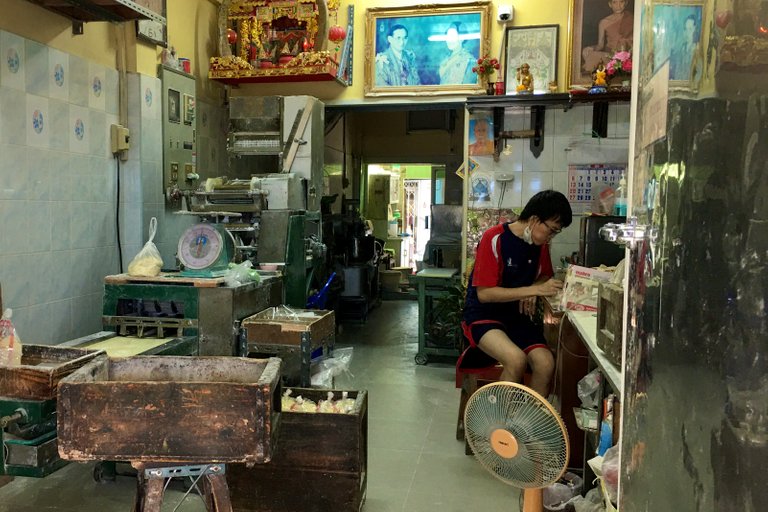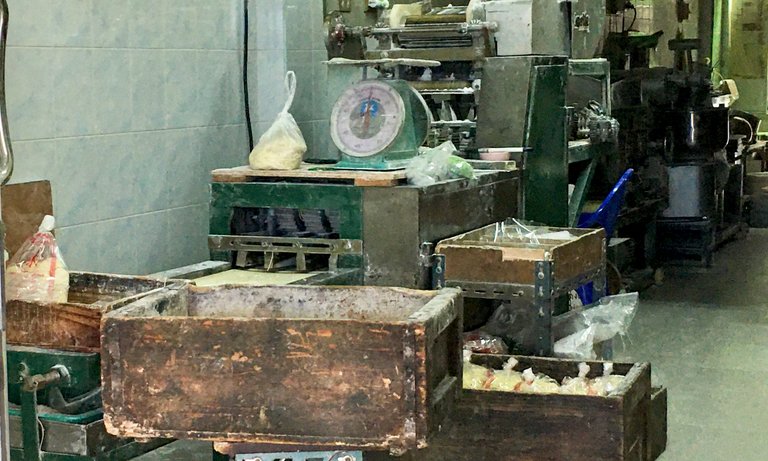 A shop selling freshly made egg noodles by kilos! These local people could buy fresh egg noodles everyday!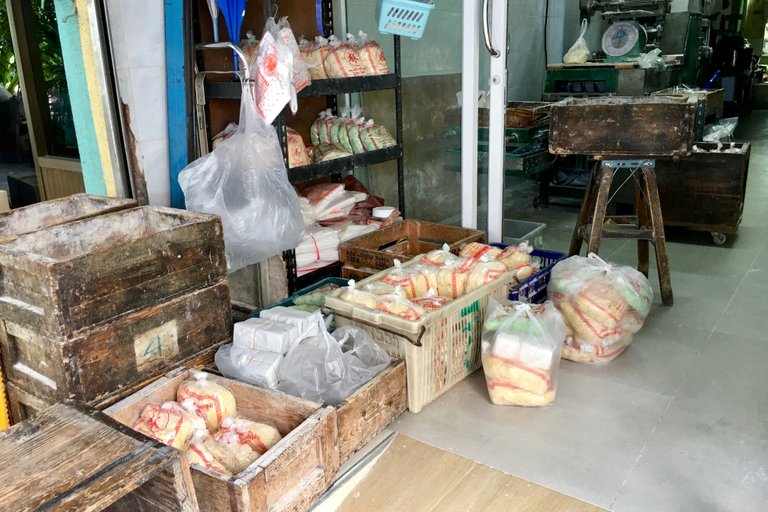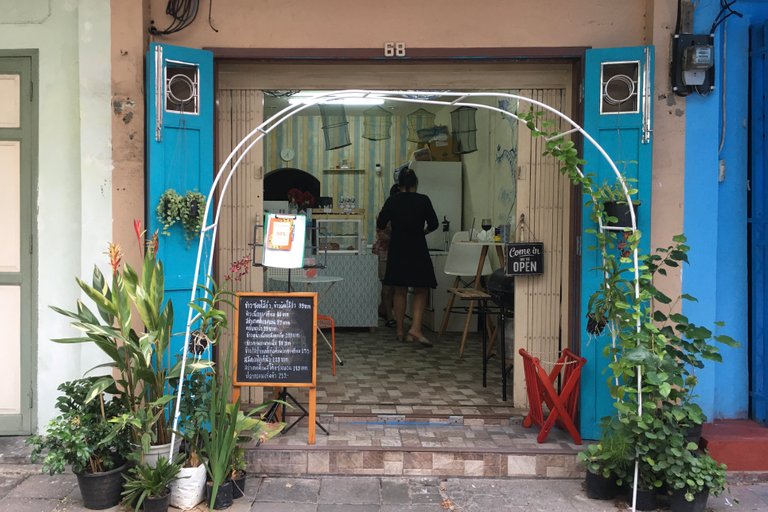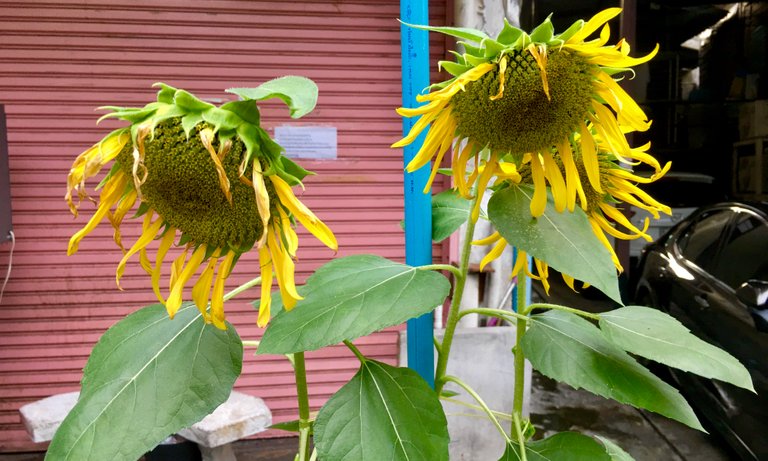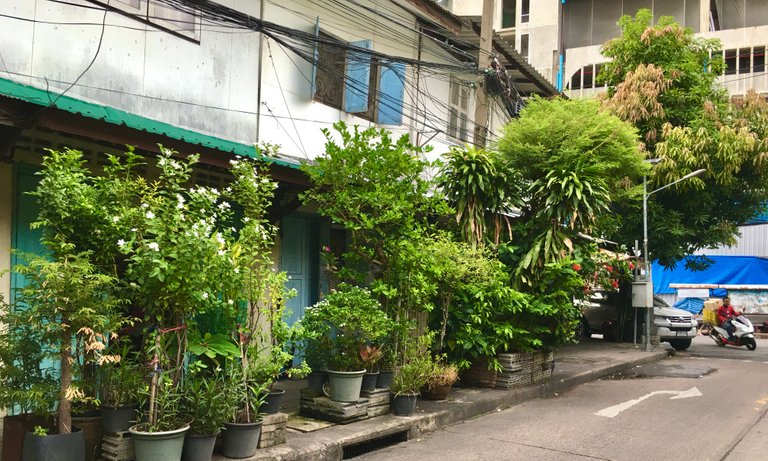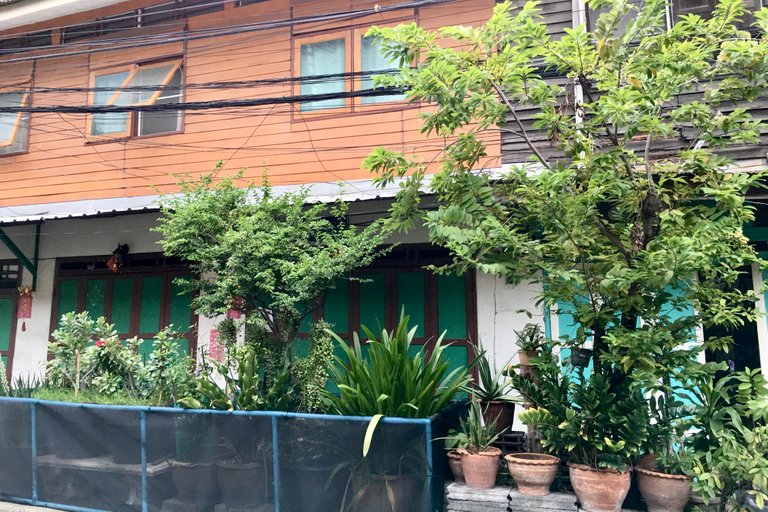 แถวนั้นมีบ้านหนึ่งทำบะหมี่ไข่สดๆขายทุกวัน เราอดอิจฉาคนแถวนี้ไม่ได้ เขาได้กินบะหมี่สดๆใหม่ๆทุกวันในราคามิตรภาพ บ้านแถวนั้นมีต้นไม้ใส่กระถางวางหน้าบ้านกันหลายบ้าน ทำให้ได้บรรยากาศของสวนหย่อมและ ทำให้ตึกน่าอยู่มากขึ้น ชีวิตที่เรียบง่ายๆแต่มีคุณภาพ และความสุขใจอย่างนี้ก็ดีเหมือนกัน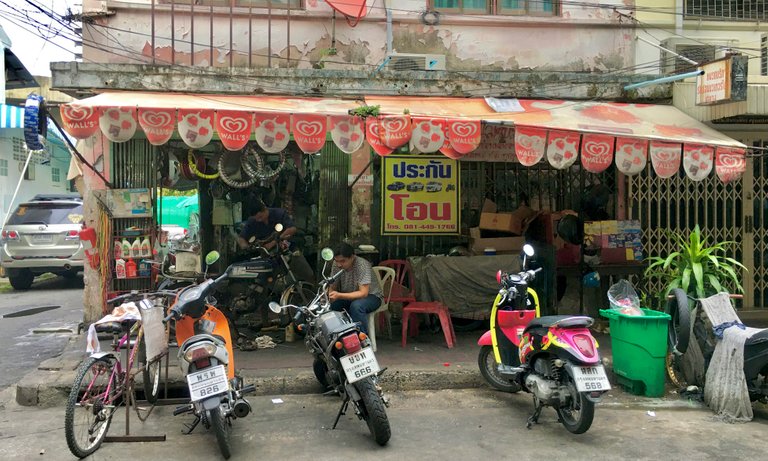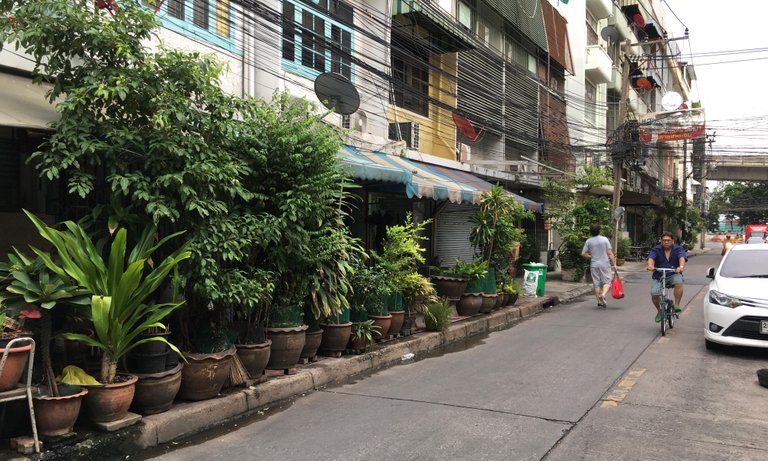 Wishing you all a very nice day!
Cheers.