This is my entry for #wednesdaywalk created by @tattoodjay. This week the weather has been very unpredictable with thundering sounds and dark threatening clouds making me very hesitant about going out. But these signs of storm threat has turned out to be a bluff several times. So, I risked going out to the old part of Bangkok for a walk in late afternoon. I took a bus from opposite the Hualampong railway station.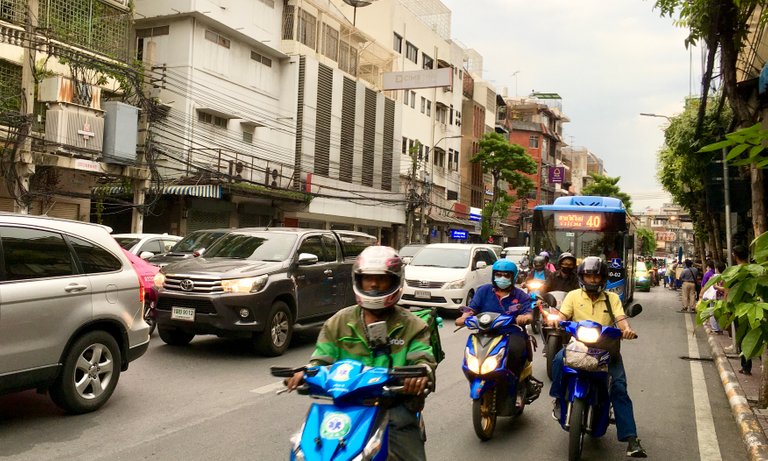 Bus number40 goes through Yaowarad road which is Chinatown and it turns left at the main crossroad into Sampeng district. Chinatown was the old Chinese settlement during the reign of King RamaI; Sampeng area was the settlement for the second generation of Chinese-Thai community during the reign of King Rama IV and V. Further on the other side of Sampeng market was the Indian community. So, if you are a keen walker, you could see the Chinese market, Thai market and the Indian market in one day.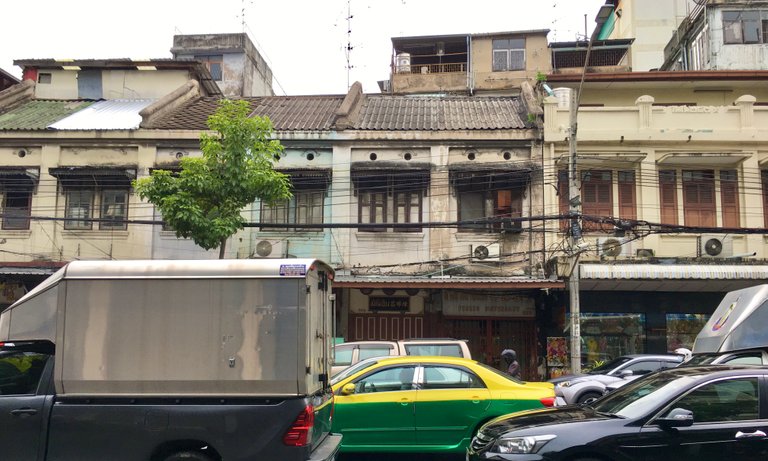 These are the old shop-houses built during the reign of King RamaV for Chinese immigrants and Thai families to lease long term at a very cheap fees. The idea was to create orderly and hygienic living environment for poor people so that they could make a decent living. Later generation has become wealthy and bought these houses so that they could modify the structures making these houses looking less pleasing visually.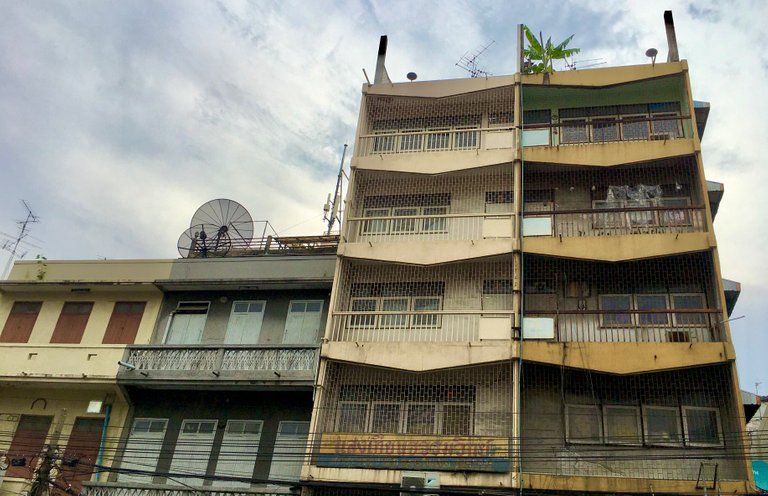 By the time I got there, most of the shops were already closed. The narrow alley should be bustling with vendors and shoppers till the evening; but the pandemic has made it uneconomical to open their shops into the night. It was rather sad seeing empty alley with very few people walking around. This was the oldest shopping mall in Siam. It could be said that Sampeng market was the first JJ market in Bangkok. That market was the only place where housewives and retail merchants had to visit for all their shopping needs fifty years ago. The first shopping mall opened in Bangkok was during the 1960s: a Japanese mall with the first ever escalator in Thailand. I was told about my grandma's adventure at this mall where she was very excited and frightened by the moving staircase.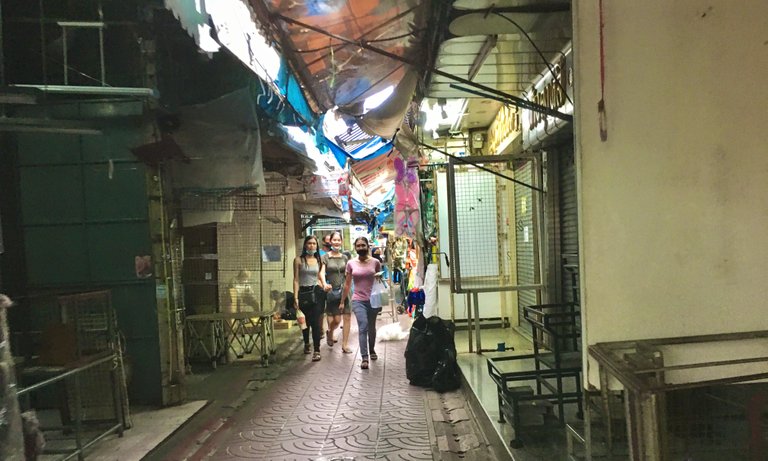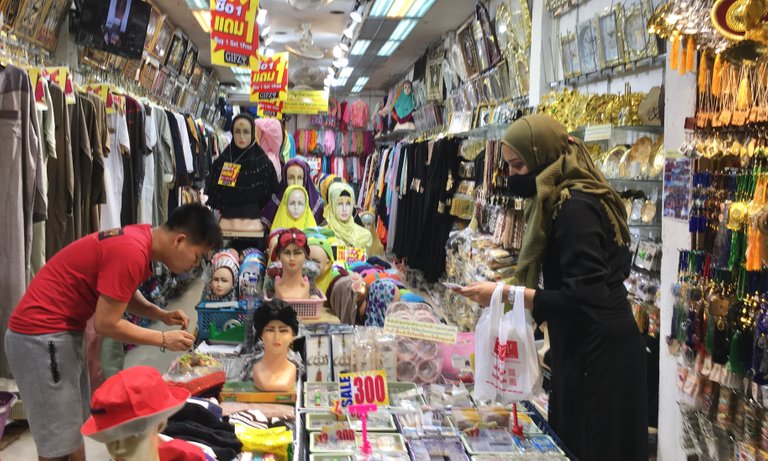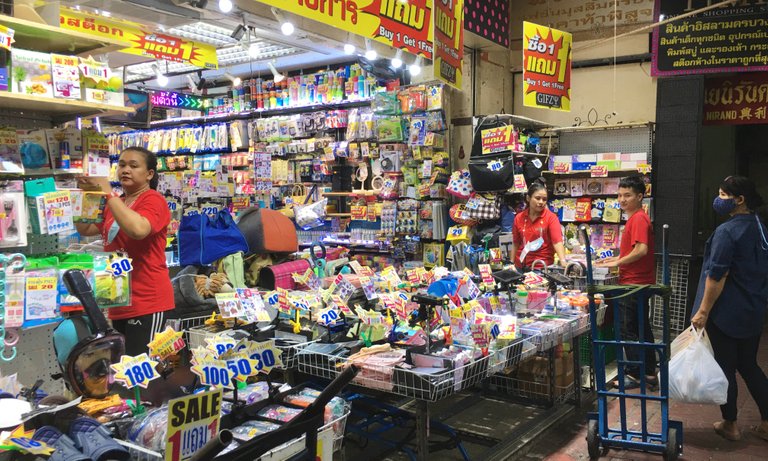 At the end of thus alley, an old bridge called Sapanharn, meaning 'turnable bridge' could be found. This area has been completely renovated two years ago. That's why I wanted to check out this old haunt of mine as a kid. My mother used to take me to a shop at the corner of thus bridge once a month for her monthly shopping spree. There used to be a few sweet shops where customers could sit and enjoy crushed iced on chosen Thai sweets in syrup or coconut milk. Those sweets were the reward for dragging me along through noisy and crowded narrow alley in Sampeng market. She needed me to carry all the shopping bags for her. How I miss those days of heat and sweets! If I could go back to that time again, I would never complain again and would ask for double or triple order of Thai sweets.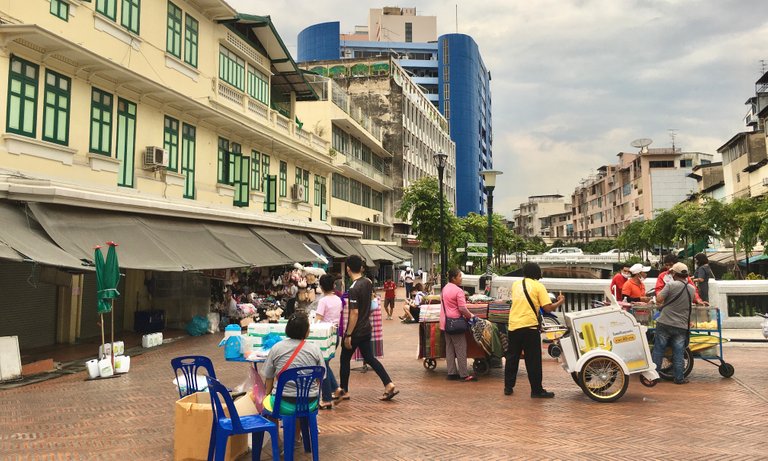 This is what the Sapanharn bridge looks like after the renovation. Originally, there was a big plank of wood for people to cross the narrow canal to the other side of Bangkok, which was considered the city area. This small canal acted like a moat surrounding the city where the Royal Palaces and government buildings were situated. This plank of wood was bolted at one end leaving the other end free for being turn side way for high rowing boats to pass along the canal.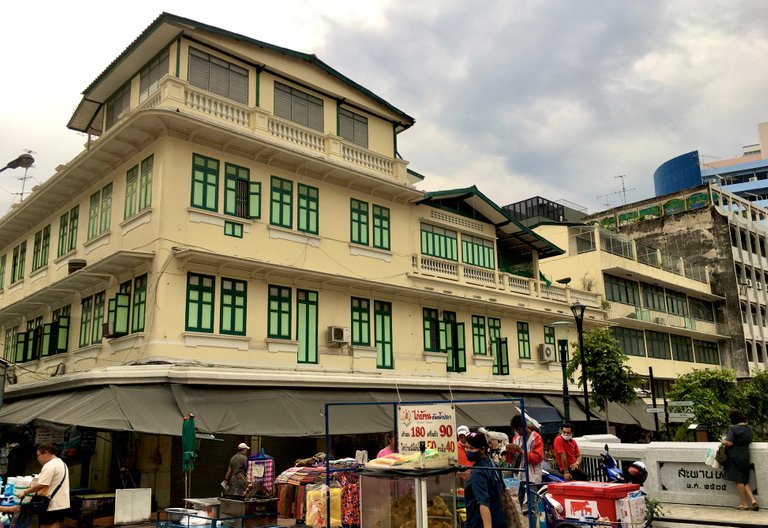 Here are some nice photos of this bridge after the renovation.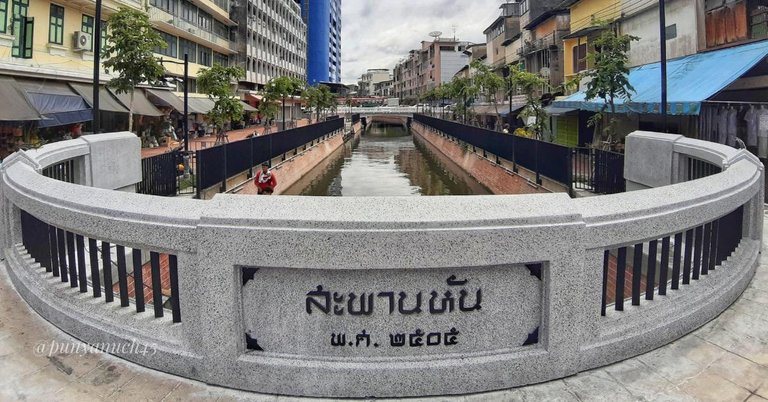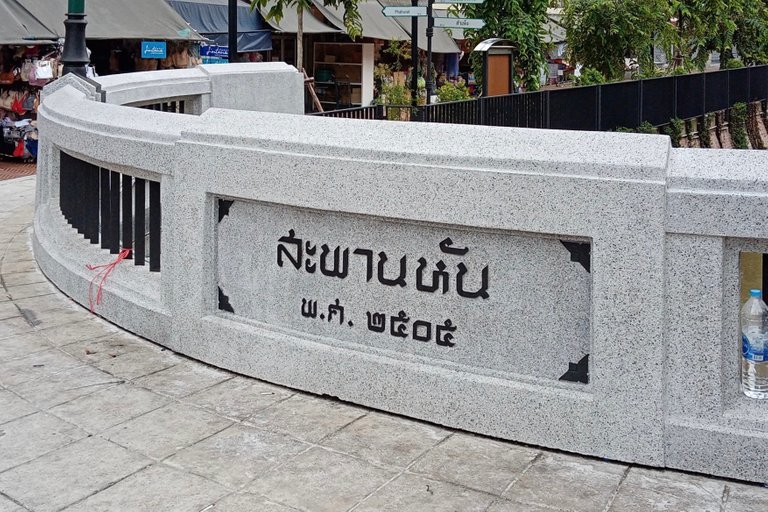 During the reign of King RamaIV, the plank of wood was replaced by iron frame with wooden planks making it much stronger and durable. This made people called this bridge Sapanlek meaning iron bridge. During the reign of King RamaV, the bridge was reconstructed and widen to accommodate shops along the bridge. The model of the new bridge was the famous Rialto Bridge in Venice. Here what's this bridge looked like almost a hundred years ago.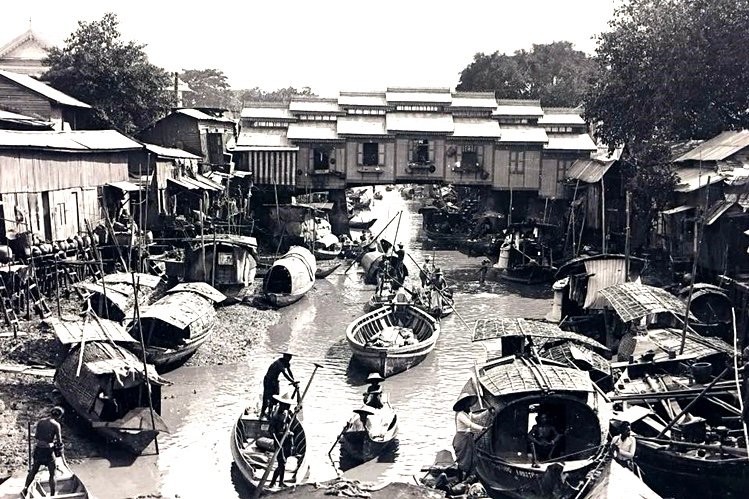 Nowadays all the old buildings along the canal have been renovated while the bridge no longer has any shops. The area was wide open for vendors with stalls on wheels selling their goods. The canal has beautiful lighting in the evening with trees along the canal. Young FB bloggers liked to visit this place for taking selfies. There are several hostels, restaurants and coffee shops in this area. As the Indian community was five minutes' walk away, there are many authentic Indian restaurants along the other side of the canal too.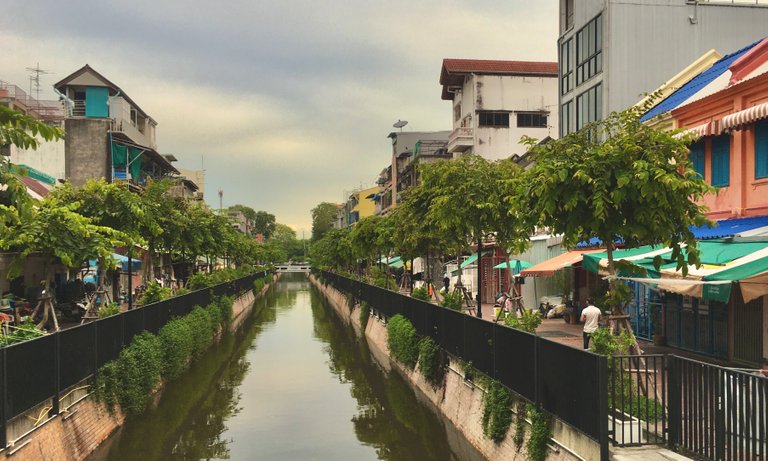 เราตัดสินใจออกไปเดินเล่นตอนเย็น แถวสำเพ็งและสะพานหัน แม้ว่าท้องฟ้าเริ่มตั้งเค้าฝน เพราะเท่าที่ผ่านมาท้องฟ้าทำท่าจะมีพายุฝน มีเมฆดำทมึนและมีเสียงฟ้าคำรามดังมาก ทำให้เราไม่กล้าเดินทางหลายครั้ง แต่สักครู่เมฆหายหมด ทำให้เราเสียโอกาสมาก เราก็เลยปะชดด้วยการจับรถเมล์เบอร์40 ไปเที่ยวเสียเลย เราแปลกใจมากที่รถติดในตอนเย็น ทั้งๆที่ถนนที่รถเมล์วิ่งผ่านมาค่อนข้างจะโล่ง เราก็ลงเดินเพื่อถ่ายรูป และชมบรรยากาศที่เงียบเหงาตามร้านค้าข้างทางที่พากันปิดร้านเร็วมาก ตั้งแต่มีการล็อกดาวน์นี้ทำให้เศรษฐกิจซบเซามาก คนซื้อนั้นกำลังซื้อหดหายไปมาก เราหาทางเดินเข้าไปในสำเพ็งเจอ แต่ก็ผิดหวังกับถนนที่ร้านค้าปิดกันเกือบหมด บรรยากาศไม่คึกคักเหมือนเดิมสมัยก่อน ปกติร้านค้าจะปิดตอนดึก เพราะผู้คนยังเดินหาซื้อสินค้ากันไม่ครบเลย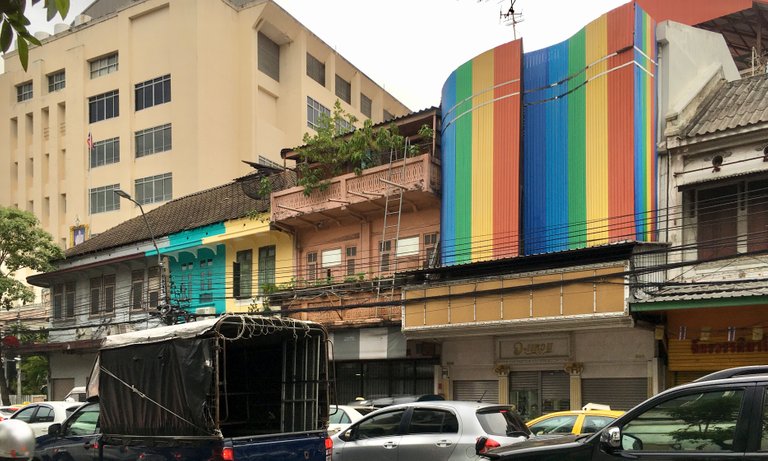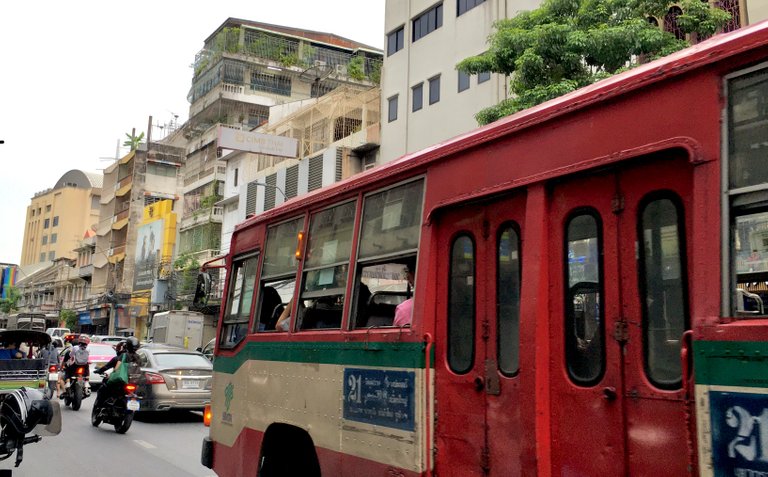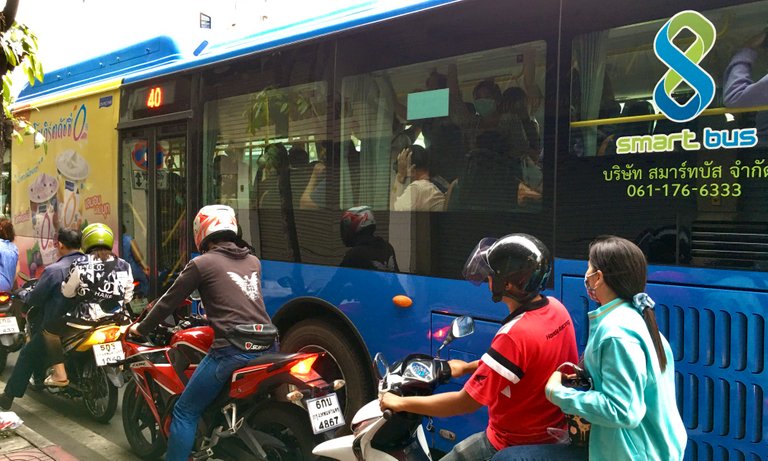 สมัยก่อนตลาดสำเพ็งเป็นตลาดแห่งเดียวที่มีชื่อเสียงมากที่สุด บรรดานักช็อปทั้งหลายต้องมาที่นั่นเพื่อเลือกซื้อสินค้า ของใช้ ของฝาก และของกินที่นั่น เราเคยมีหน้าที่เดินตามมารดาที่เดินช็อปปิ้งแบบไม่รู้สึกเหน็ดเหนื่อย และเราต้องข่วยถือถุงกระดาษหลายใบเดินตามด้วยความอ่อนล้า แต่ก็มีรางวัลที่ร้านขนมตรงหัวมุมสะพาน เราจะกินนำ้แข็งใสใส่ลอดช่องและสลิ่มอย่างอร่อย บางครั้งเราก็ได้กินข้าวแช่ด้วย ทำให้มารดาแปลกใจมาก ว่าเด็กอายุน้อยทำไมถึงกินข้าวแช่เป็น เดี๋ยวนี้ร้านแบบโบราณหายไปหมดแล้ว ร้านที่สะพานหันสองร้านใหญ่ก็ไม่มีแล้ว สะพานหันก็ถูกบูรณะซ่อมแซมให่ทันสมัย จนเราจำไม่ได้ สะพานหันดูกว้างขวางและสะอาดตามาก มีการตกแต่งไฟตามริมคลอง และปลูกต้นไม้ตลอดแนว ที่นั่นกลายเป็นแหล่งเดินเที่ยวถ่ายรูปของคนรุ่นใหม่ที่ไม่เคยเดินช็อปปิ้งที่สำเพ็งมาก่อน บ้านเรือนริมคลองก็ทำใหม่ให้สวยงาม มีหลายบ้านทำเป็นโรงแรม ร้านอาหารและร้านกาแฟ เราเดินดูสักพักก็ไปต่อที่ชุมชนของอินเดียเพื่อซื้อเครื่องเทศไว้ใชทำอาหารแขก และซื้อถั่วที่หาซื้อไม่ได้ตามห้างสรรพสินค้าทั่วไป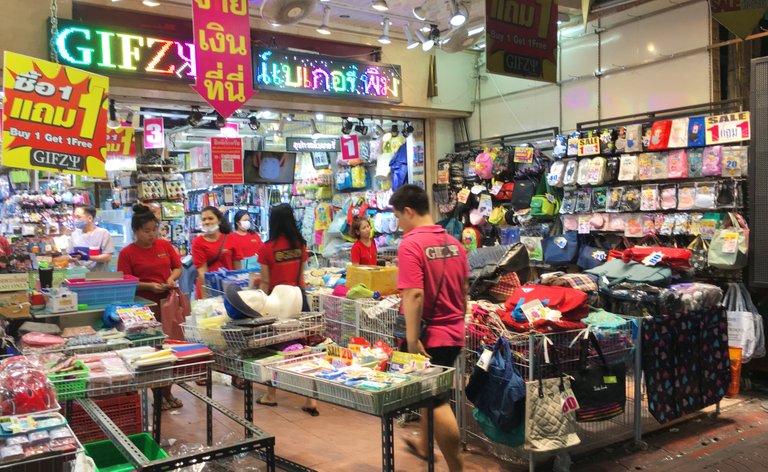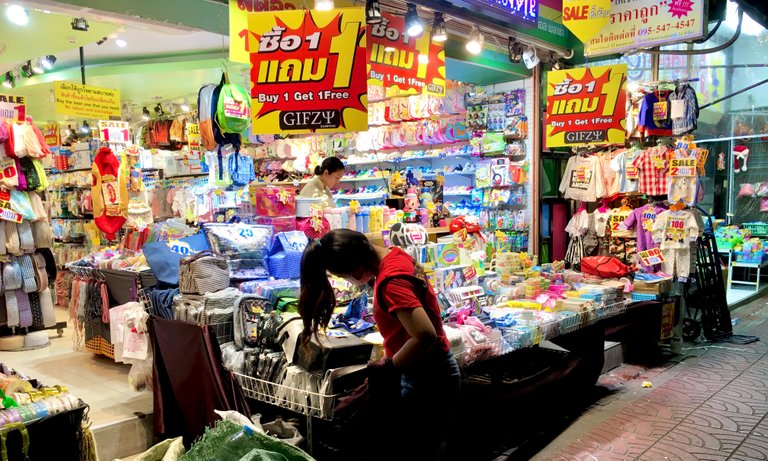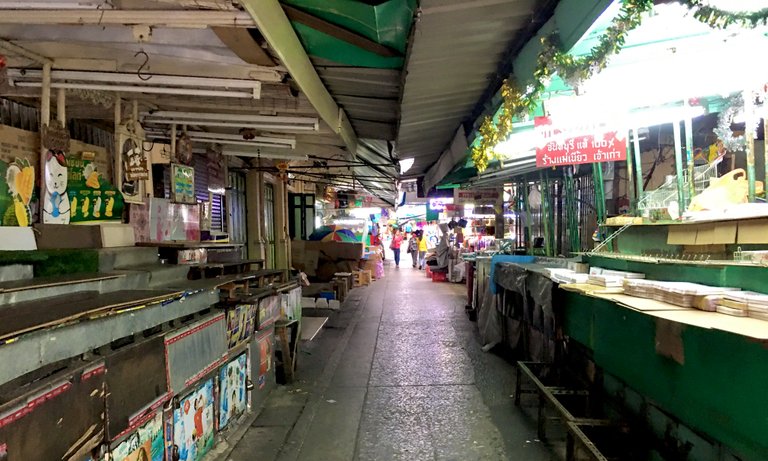 คลองที่สะพานหันพาดผ่านคือ คลองโอ่งอ่างซึ่งสมัยก่อนใีไม้กระดานพาด ด้านหนึ่งตรึงไว้ อีกด้านหนึ่งหันไม้หลบให้เรือแจวลำใหญ่ผ่านไปได้ ต่อมาทำเป็นโครงเหล็กเพื่อความแข็งแรง คนจึงเรียกว่าสะพานเหล็ก ในสมัยรัชกาลที่ห้า โปรดให้สร้างสะพานใหม่เรียนแบบสะพานที่เมืองเวนิส โดยให้มีร้านค้าสองข้างบนสะพาน ปัจจุบันกบ่ยเป็นสะพานโล่งๆ ให้รถเข็นมาขายสินค้าบนสะพานได้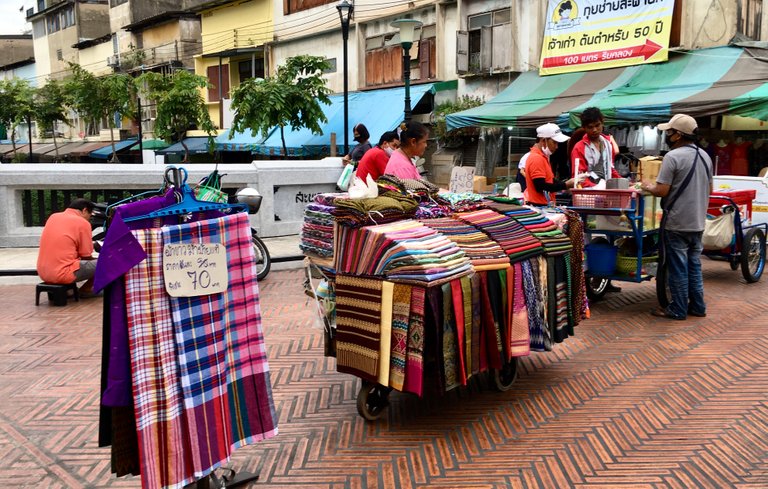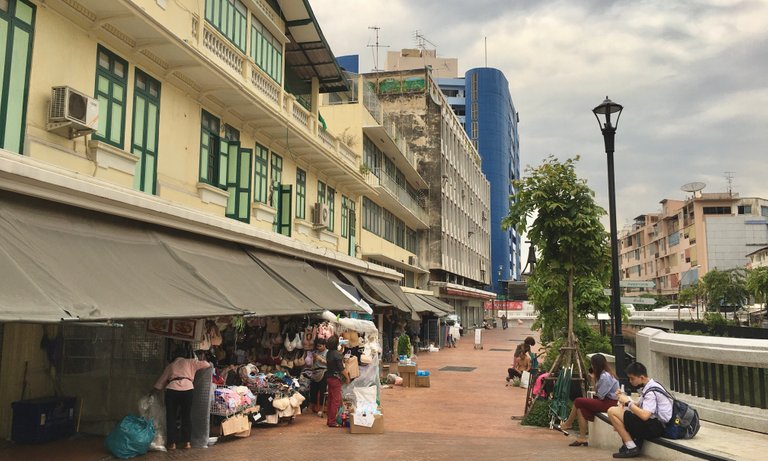 คลองโอ่งอ่างดูสวยสบายตามากในเวลากลางคืน มีไฟประดับและต้นไม้ตลอดทาง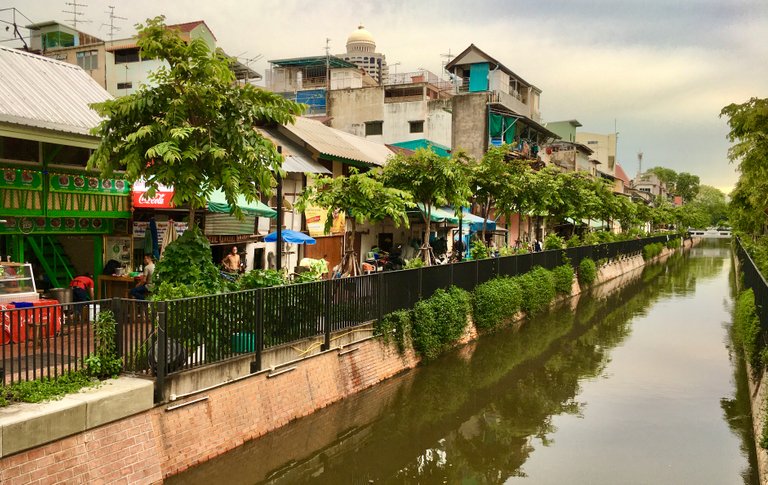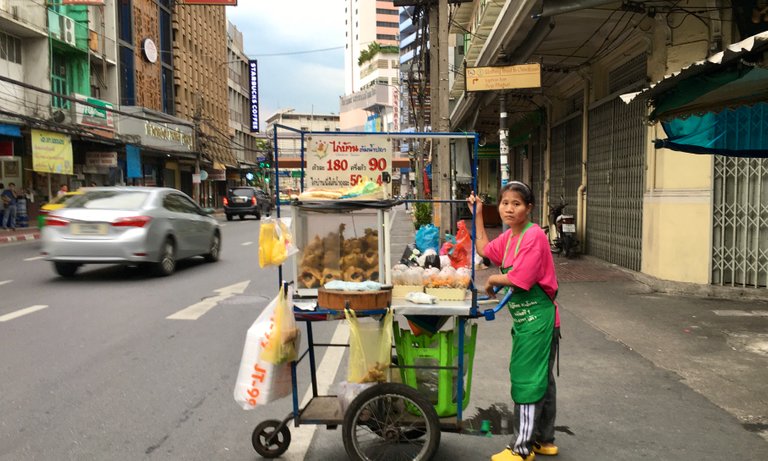 Life is tough for little people but they have great fighting spirit! Time is hard and money is difficult bro come by. But I do have lots of respect and admiration for their patience and perseverance through all difficulties with steadfast spirit. Now I have to work harder with more perseverance!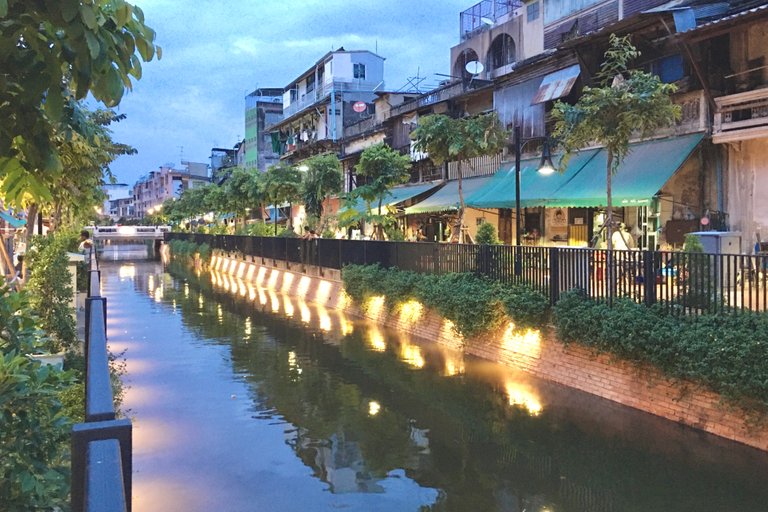 Wishing you peace, good health and prosperity.
Cheers.