Weddings can come in many different forms and shapes. Some are highly elaborate, planned years in advance, and involve hundreds of guests, hosted at fancy installations. Others are more spontaneous, minimalist, and so simple that they are over before they even start. Each type has its own perks and drawbacks, so ultimately each couple has to pick what suites them best. In my sister Diana's case, this event of a lifetime became the perfect combination of low-key and extravagance, tied into a number of interesting stories, guided by some external circumstances. Though it was her who was getting married, I couldn't have imagined a more ideal way of doing so myself.
What, There's Gonna Be a Wedding?
The first thing that surprised me very pleasantly was when I heard about her plans to get married... only about three days before it happened! In fact, I didn't even expect to see her until a couple of weeks before, when she asked me from Germany if I knew anyone on the Rivera Maya who had a place for rent. I was in Mazunte at that time, and I knew JUST the right person: Berenice, a good friend of my wife and me, had just moved to Cozumel Island in January, and had been nagging us to visit her ever since. So Elba and I finally decided to take some vacations and visit Bere, after I left Mazunte in mid April. But that's when Diana and her boyfriend Ricardo (actually fiancé, which I didn't know) were going to be in Playa del Carmen. Of course I was going to combine our vacation with visiting them too.
I had only talked to Ricardo on a few occasions while videochatting with my sister, and while Diana had met Elba (though not Bere) it was many years ago. So I was quite excited about this little reunion we were going to have. But it wasn't until I got to Cozumel when I touched base with Diana on the phone, that she told me they wanted to get married. Right away, and all officially! We arranged to meet over dinner the following evening, which also happened to be Diana's birthday, where we would discuss all the details. After hanging up, I knew my first question was going to be: "Are you for real?"
Underlying Circumstances: Why This Way, Here, and Now?
The next evening we finally met up with Diana and Ricardo in Playa del Carmen. They had reservations at the restaurant El Fuego, inside the ritzy Mahekal Beach Resort. Over a fancy but delicious lobster dinner, fine wine, and good IPAs, we caught up on the past years, as well as the adventures of the recent days. As these conversations go, we kept skipping from one topic to the next, but eventually we got to talk about the wedding.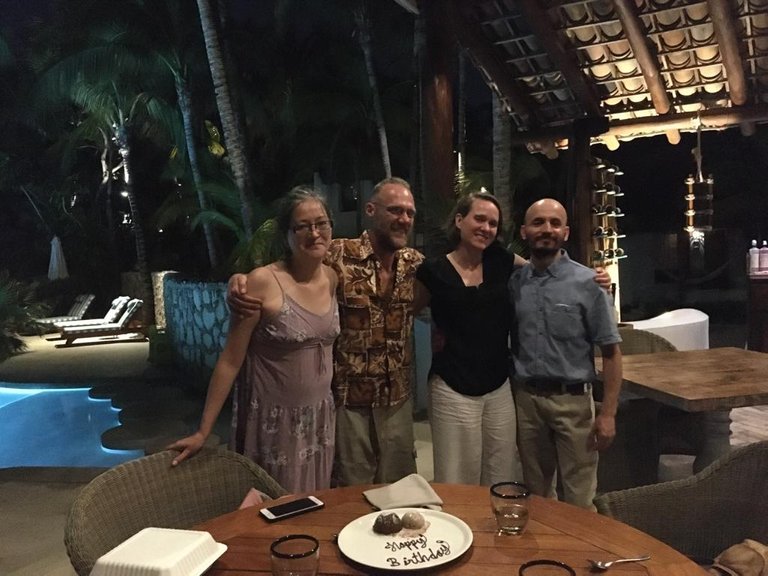 Of course, the original idea was to have a proper big wedding, with all our families and lots of friends. This would have meant a huge logistical challenge, even under normal conditions, since our families live spread out over four continents. Ricardo is Colombian but lives in Germany with Diana. Our parents live in New Zealand, and Elba and I in Mexico. But in times of Covid this already difficult plan received the final stab of impossibility. Two weeks of quarantine is only the beginning of the hassle for each guest, in almost every country. So what can you do?
For Diana and Ricardo it was clear: they picked the place with the most lenient rules, and decided to postpone the great reception until some time after the Covid (if there there's ever going to be such a time). Ironically, Mexico also turned out to be the country where the bureaucratic requirements are the most favorable for them. So they gathered up all the necessary paperwork and made an appointment with a local judge of the civil registry to come out to the beach and have them sign the papers. She agreed to do it. Now they only needed two witnesses. Good thing Elba and I were there!
Best Man? Maid of Honor? Or Just a Madrina?
The night before the wedding we had dinner at the apartment we were staying at. Additionally to the four of us there was also our friend Berenice, and her friend Silvia who works in Switzerland, and happened to be visiting Bere for vacations. Since it was Berenice who made it all possible, by moving to Cozumel and giving Elba and me a reason to visit, and thus the opportunity to become witnesses to the wedding, we decided to make her the "Madrina", or Godmother. Here in Mexico, madrinas are very common, not only for baptisms, but for example for kids' first day of school. She was totally into it, and eagerly performed her function by helping Diana put on her tiara on the wind-swept beach the next morning.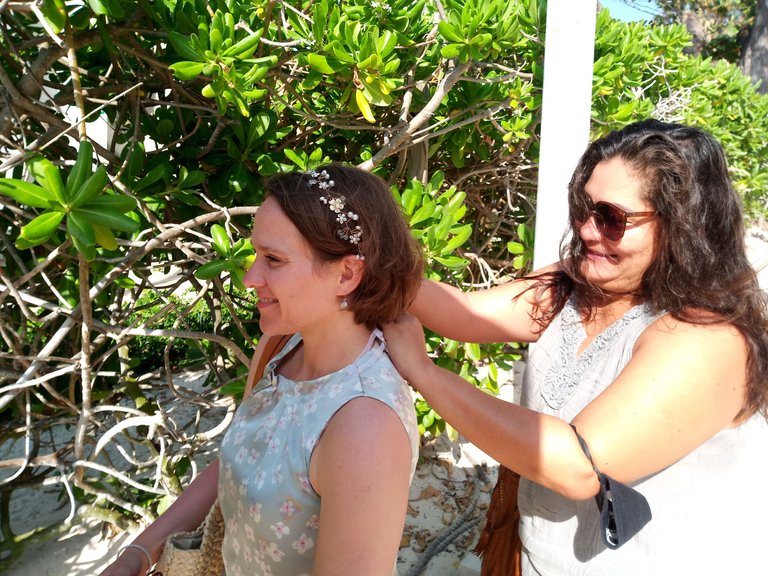 The Perfect Venue: Under God's Blue Sky and Mexico's Public Beach
The original idea was to perform the ceremony in front of the waves caressing the sand, sign the papers on someone's back, and following that sit down in a beach restaurant to have coffee with the judge. Since our dinner at El Fuego was such a nice experience, it was picked as the best place for it. Though the restaurant was supposedly only for hotel guests, Diana had no problems making dinner reservations for the four of us. So for breakfast we didn't even bother with that much.
Upon arrival we asked the wait staff if it was okay to move some tables together and order some coffee while we were waiting for the judge. Afterwards we would even have breakfast. They assured us that it was all no problem, and before soon the judge arrived. She was dressed prim and proper for the occasion, festive yet relaxed, official but still with an air of friendly disposition.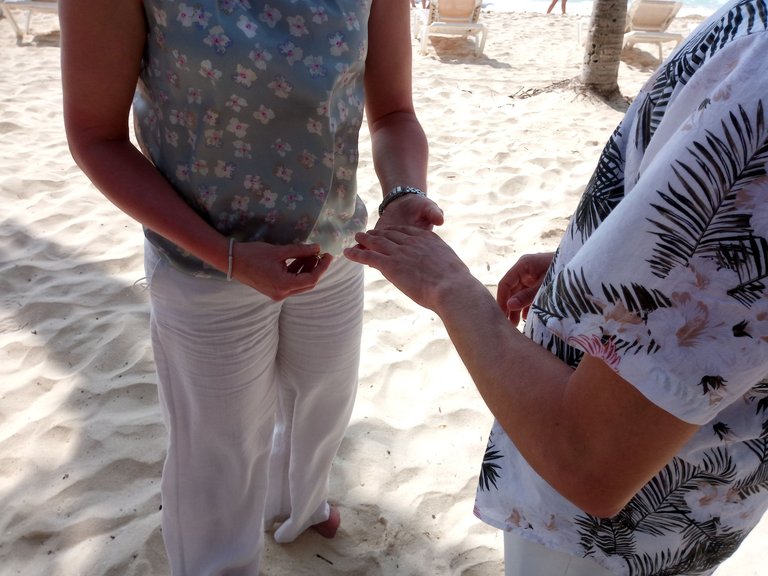 Bere put on Pachelbel's Canon on her phone, Silvia was ready to take pictures, and Diana and Ricardo stood up in front with the judge to perform the ceremony. The words she picked were perfect for the occasion: neither about the duties to god or the state, but only centered around the love and respect that a good matrimony should have. Vows were made, rings were exchanged, and then we moved over to a table to sign the papers. Finally Diana and Ricardo exchanged their first kiss as a married couple. That's when we were almost interrupted.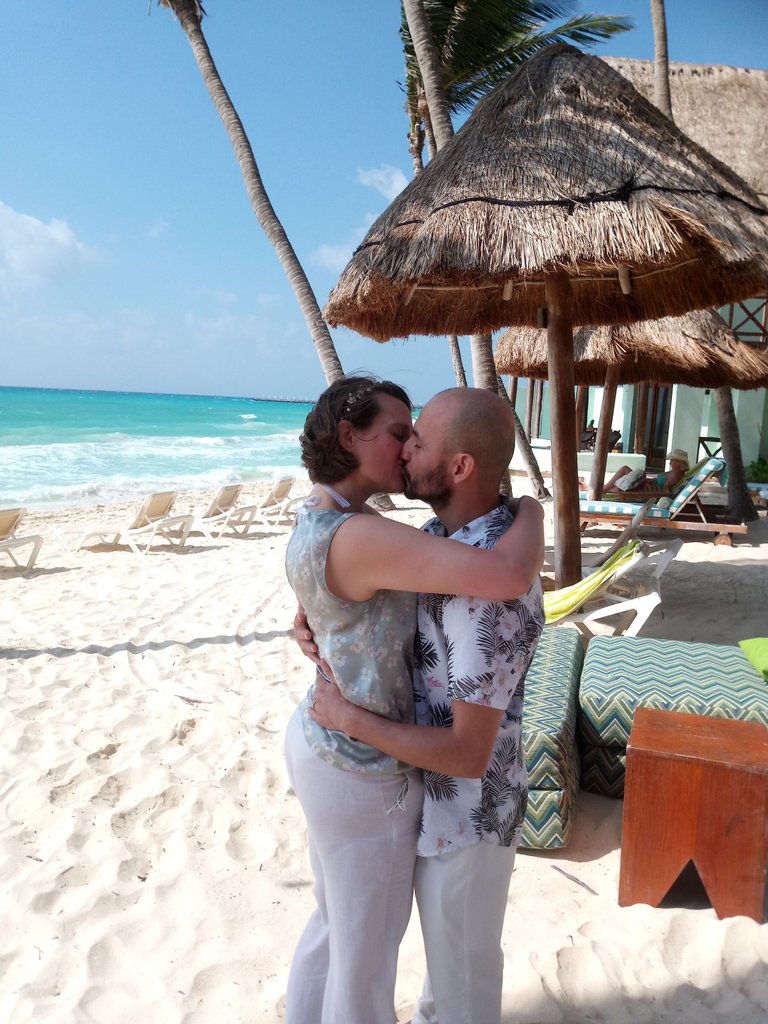 Stop the Wedding (Or Pay 2000 Dollars)!
"Should anyone present know of any reason that this couple should not be joined in holy matrimony, speak now or forever hold your peace."
These words are usually spoken at weddings, followed by an anticipative silence, just before the couple is declared officially married. In our case it was not much different (just in Spanish), and only once the knot had been tied and sealed with kiss did someone approach us, saying that we couldn't do this! WTF??? He clearly missed his chance to speak, but then obviously couldn't hold his peace.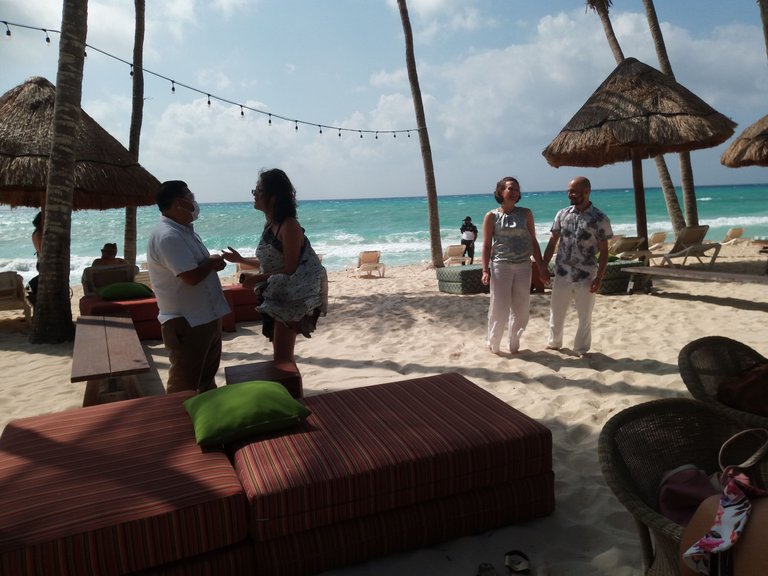 It was one of the restaurant staff, presumably the supervisor of the waiters we had talked to, who came over to tell us that signing official documents was not permitted on these premises. That is, the hotel usually charged a fee of $2000 USD for holding a wedding.
Never mind the contradiction, or the fact that we had already been given permission by the staff. Or the fact, that we were not arriving with tons of flowers, live doves, and an Elvis imitator singing off-key love songs, plus a hundred guests, occupying the place for hours on end. Or that the $2,000 fee is usually dwarfed by all the food, the music, the use of venue, and everything else spent on. Or even that the beach is always public property anywhere in Mexico (even if the hotels tend to build so close to the water that it gets reduced to a mere walkway).
Thanks for trying to ruin someone's wedding with unreasonable crap! The bride, however, thought it was funny, giving an extra twist to an already unusual wedding story.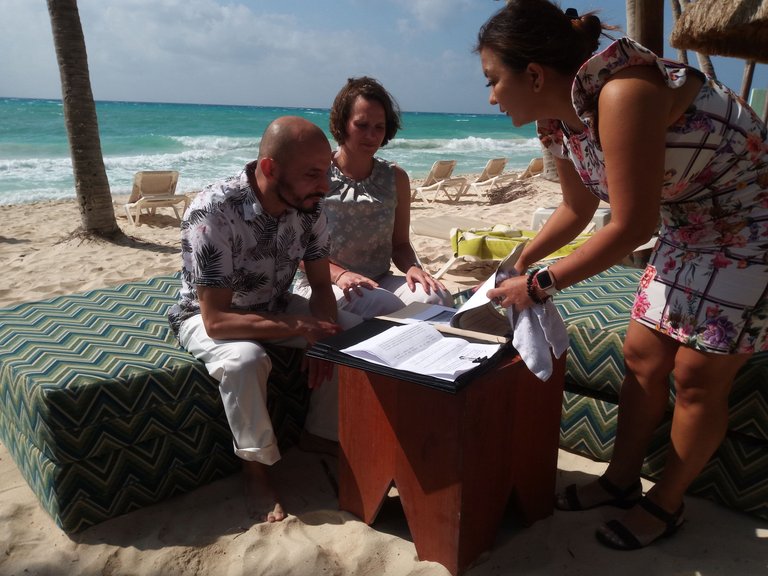 But anyway, signing official documents was not permitted at the restaurant tables. Okay, so what then? Our judge resolved the problem in a very elegant and highly profession way, closing her folder, and explaining to the waiters that she was going to suspend the ceremony (which by then had been completed), to be continued in her office the next day. Diana and Ricardo were going to go there anyway to receive their completed marriage certificates.
Thank you! Is there a place to rate wedding judges? She would get five stars plus some appreciative comments, recommending her to anyone wanting to get married. As for the Hotel Mahekal... now they really had to work for their stars!
Reception and Good Times
Following the question whether they were going to kick us out or let us order breakfast, the staff decided to opt for the latter. So we enjoyed a lovely full meal with some good conversations, more pics, and general good times.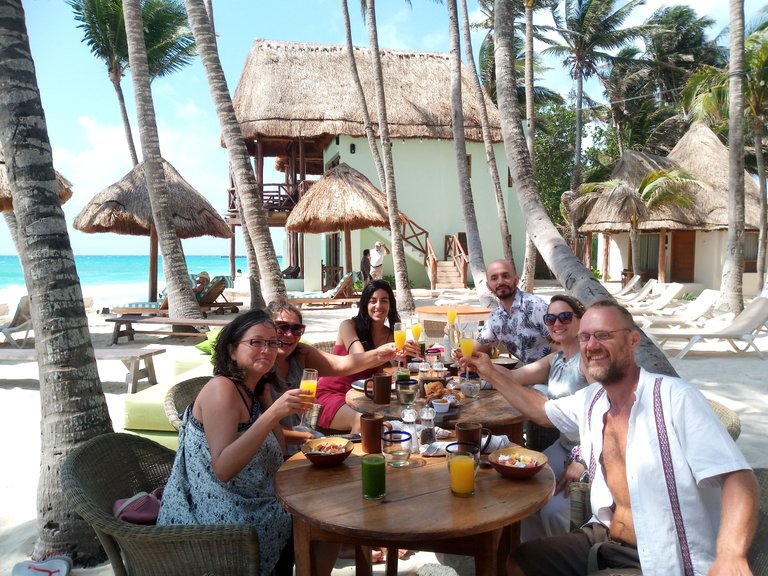 After our extended breakfast we took a walk on the beach, originally looking for a nice place to sit down and enjoy the ocean. But the beach was getting super crowded, and it was the hottest part of the day, so we ended up covering ourselves from the beating sun. The most reasonable thing to do was to go back to Diana and Ricardo's place, and enjoy a beer on their shady balcony. In the end we didn't even return to the water, but had a few more beers, tequila, and put on some salsa hits to dance to.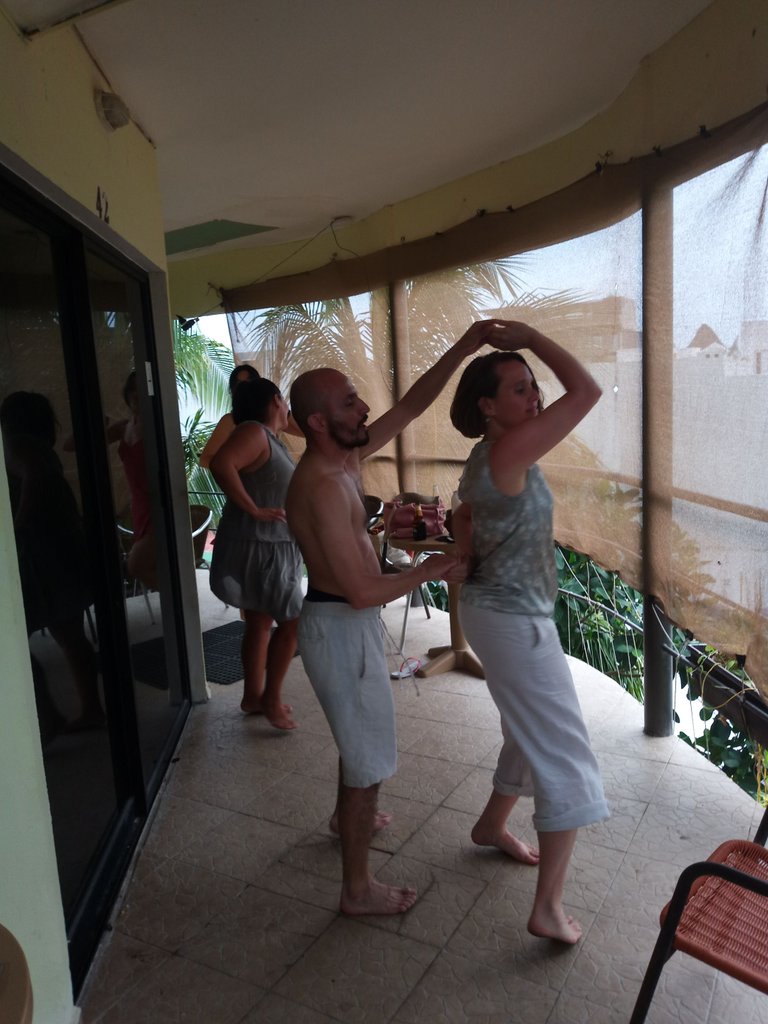 A wedding reception on a balcony? For six people no problem! We kept on dancing, chatting, picking tunes, and enjoying ourselves till it was time to get going to catch the last ferry back to Cozumel. All in all it was an amazing wedding, with wonderful memories for all of us.