A new report from the Cost of War Project has the updated numbers on the so-called "war on terror" that spans the modern world since the 9/11 event.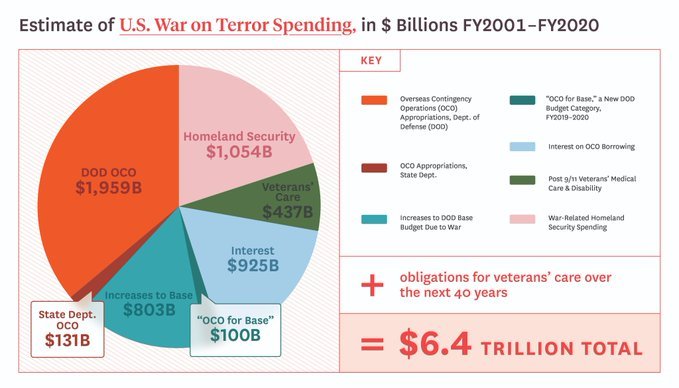 Source
Costs of War co-director Catherine Lutz spoke of the rising costs in human lives and money:
"The numbers continue to accelerate, not only because many wars continue to be waged, but also because wars don't end when soldiers come home."
*"These reports provide a reminder that even if fewer soldiers are dying and the U.S. is spending a little less on the immediate costs of war today, the financial impact is still as bad as, or worse than, it was 10 years ago." *
"We will still be paying the bill for these wars on terror into the 22nd century."
Lutz seems to get the dire economic situation these wars have put us all in as taxpayers who fund this murderous war machine. If $6.4 trillion will take 100 years to pay off, $23 trillion will take nearly 400 years. Yet, flawed monetary policies and spending keeps happening.
Lutz also mentions that all military-related spending makes up 2/3 of the US federal budget, and closing in on 3/4.
"if you count all parts of the federal budget that are military-related—including the nuclear weapons budget, the budget for fuel for military vehicles and aircraft, funds for veteran care—it makes up two-thirds of the federal budget, and it's inching toward three-quarters."
Whatever isn't war-related is second place to the war machine of the American empire.
The US national debt is now at never before seen heights of $23 trillion.
This number was reached without much to say from politicians or the media. It's dead silence on the debt slavery that Americans have been imposed with. Even most people are clueless as to how screwed they and future generations are due to statist policies.
The crazy thing is that a growing debt has become normalized to people, so it doesn't even strike them as something to be concerned about. As if it can just keep going this way. As it it's not an eventual guillotine that will swing down on the American way of life.
It's also shameful that the ignorance is not just condemning ourselves, but it's stealing the future for those to come, shackling future generation into debt slavery.
It's so bad, even the bankster crooks of the Fed are warning Congress to do something:
Federal Reserve Chairman Jerome Powell warned lawmakers Wednesday that the ballooning federal debt could hamper Congress' ability to support the economy in a downturn, urging them to put the budget "on a sustainable path."
Powell suggested such fiscal aid could be vital after the Fed has cut its benchmark interest rate three times this year, leaving the central bank less room to lower rates further in case of a recession.
And it's not just America. The whole world will be affected by just the US economy crashing from debt of $23 trillion. But the global debt is also at a staggering $188 trillion, which is more than double the global economic output. This is what fractional reserve banking and inventing money has gotten us.
The global financial system is a criminal enterprise, designed to create debt for others to get rich from. $188 trillion is the largest debt bubble in all of human history. Once the US bubble bursts, it will be a house of cards for the whole world and make the 2008 crash look like peanuts.
---
References: