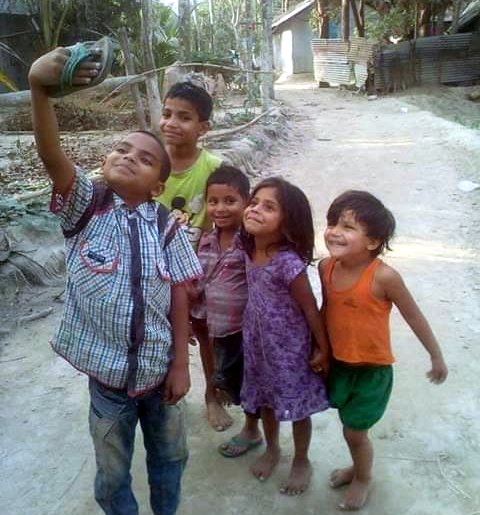 Image Source: Facebook
I saw the above image on a Facebook post and I was really touched by it. Its one of those times I remember how a simple image can paint a thousand words. The lives of many people today is like a rat race. Because they believe that living a life of luxury is the only way to be happy. Some barely sleep or even take a proper rest. Many people toil endlessly and even do night shifts just to get that elusive comfortable life. Some families, kids and loved ones are simply neglected in a quest to make it. How I wish the truth is easy to take. How I wish more people will embrace reality. I just wish everyone will think like these children above.
They may not afford a smartphone. They probably have not touched one before. But they have seen people take selfies like that. They might have watched it on TV. They just have to be happy with taking selfies with a footwear. When you see the smile and happiness on their faces, you realize that happiness is really not expensive. Having the best things of life is not bad if one can comfortable afford it, but dying for iPhone 11, the latest gadgets in town, the best cars and houses, is not worth it.
Some people are in serious debt today because they want to be like others. Wealth is not synonymous with happiness. In fact, it has been proved by some that the more you have, the less happy you are. The irony of it all is that human wants are not satiable. Now look at it this way. We have been taught (by greedy commerce) that the more you have, the happier you are. Now, the reality is that the more you have, the less happy you are. And since human wants can never be fully satisfied, you always go for more. It simply means that you are pressured to acquire more. The more you have, the more you struggle to get, the less happy you are. Many people that live expensive and luxurious lives may put up a smile to appear happy, but if they can open up and tell you the truth, they are not truly happy.
Now get the point. I am not against a comfortable life. But using all my life to acquire wealth and die for what is so illusive, is not worth it. So all of us should learn to take life as it is. Just like these kids, to be content with our present situation while we work hard to make things better. But then, do not die just to get something that cant add lasting value to your life.