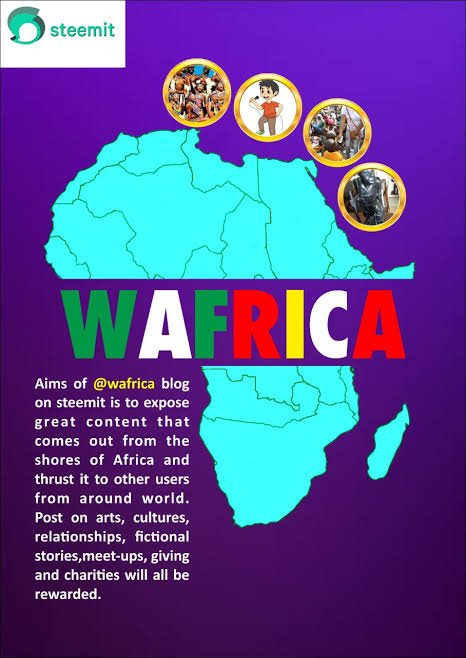 I just bought 10,000 WAFRO Tokens in preparation for the Scot TRIBE and I'm planning to buy more. This post is to specially thank the @wafrica The West African Curation community for always doing a great job promoting Africa as a whole so far and also supporting Steemians on here.

I was a beneficiary of the Wafro Token Airdrop that happened some time ago.
Appreciation goes to @surfyogi for being a man with an impeccable character seeing to the fact that Africans know and believe that they can earn a living through Crypto and The Blockchain Tech.
I can't wait for the @wafrica tribe to be set up as that will really help promote the African Heritage and Culture. My friend @ackza suggested this to me once and for certain starting up the West African Community Tribe which will accommodate all Africans and lovers of The African Culture will be a Major Development for we Africans on the Steem ecosystem and the ones we reach out to.
To add to that, A Lot of Africans will do all it takes to Support The Scot TRIBE Project even if users will have to donate a certain amount each.
Another amazing idea for the WAFRICA community will be setting up the Scot TRIBE by @dtube. That will be an expository avenue to showcase The African Culture.
To my Fellow Africans, The WAFRO Token is available on the @steem-engine market and I urge Africans to start investing on the token awaiting the launch of the SCOT Tribe.
Buy WAFRO Token Here:)
https://steem-engine.com/?p=market&t=WAFRO
It will be mind-blowing too if the WAFRO token is listed on @newdex-io.
Shout out to @lordjames, @preetyjules158 and other members of the team. I once again Thank you all for the Support I get from the Wafrica community and will in return, support this Great Community all I can.
REMAIN BLESSED!!