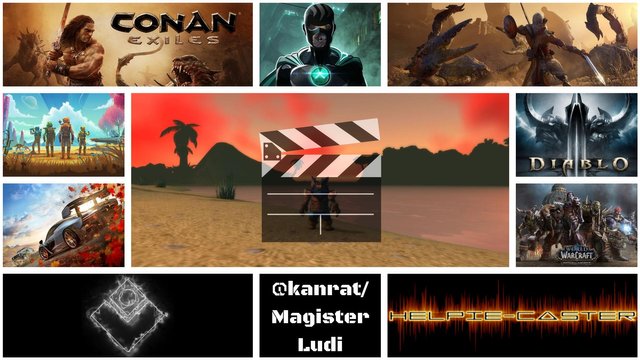 Category: gaming
Sub-category: World of Warcraft Classic

Click here to watch the live stream!
---
Tonight we go to Blackrock with a good white wine and the guild. We want to test whether we can create the arena in the Blackrock depths in a group of 4. Should actually go.
If it doesn't work at all, it could be another instance.
On Thursday comes the honor system, the 2nd phase was introduced today with the shutdown of the layers on all servers. I am curious times, how it goes off on Thursday in such a way. Think I will spend some time with Tarrens mill...
---
Heute Abend geht es mit einem guten Weißwein und der Gilde in den Blackrock. Wir wollen mal testen, ob wir in einer 4er Gruppe die Arena in den Blackrocktiefen schaffen. Sollte eigentlich gehen.
Wenn es gar nicht klappt, könnte es auch eine andere Instanz werden.
Am Donnerstag kommt das Ehresystem, die 2. Phase wurde heute mit der Abschaltung der Layer auf allen Servern eingeleitet. Bin mal gespannt, wie es am Donnerstag so abgeht. Denke ich werde etwas Zeit bei Tarrens Mühle verbringen...
---
Entschuldigt, wenn es mal einen zweiten Post gibt. Ich habe das Intervall auf 6 Stunden stehen, so dass nach dieser Zeit ein neuer Post erstellt wird.
---
If you have any questions, please feel free to ask them in the chat.
It can take a little longer, but I actually always answer.
Of course I'm looking forward to other players here on VimmTV/Steemit.
---
Wenn Ihr Fragen habt, könnt ihr die immer gern im Chat stellen.
Es kann mal etwas länger dauern, aber ich antworte eigentlich immer.
Freue mich natürlich über Mitspieler hier auf VimmTV/Steemit.
---
Informations:
System:
CPU I7-4790k

GPU GTX 1080

720p 60fps (x264)
---
Chat Overlay:
https://vimm.chat/
---
Proud Member of the Helpie-Caster Community.

Click on the image to get to the Helpie-Caster Account
Feel free to join us on Discord,
jump onto our Trail on STEEMAUTO
-> helpie-caster
or press the follow-button on our Account....
Jetzt neu Helpie Merch bei Getshirts
---
This post was generated from a live stream on Vimm.tv