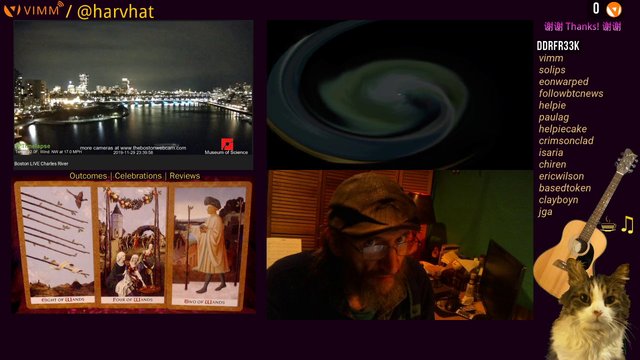 Category: creative
Sub-category: music-more

Click here to watch the live stream!
---
Oh that was yesterday. Today is still a mystery, will the veil be pulled back some? Also still getting to know my guitar, and such (such as my looper pdal). Or maybe I'll be just listening to old stuff before deleting.
Drop by and say hello, or just lurk and listen!
☕♫
Bingo, FOOD, Bearings
It was discovered there was not enough stuffing! But what about tomorrow? I'll need to get my bearings in this world again.
.. TAROT meditations ..
☕♫
Stream Schedule UTC (Some Days)
Maybe more then before!
(perhaps between the 3rd to 8th hours UTC? 2 to 4 times a week)
☕♫
---
This post was generated from a live stream on Vimm.tv