How to ask for what you want?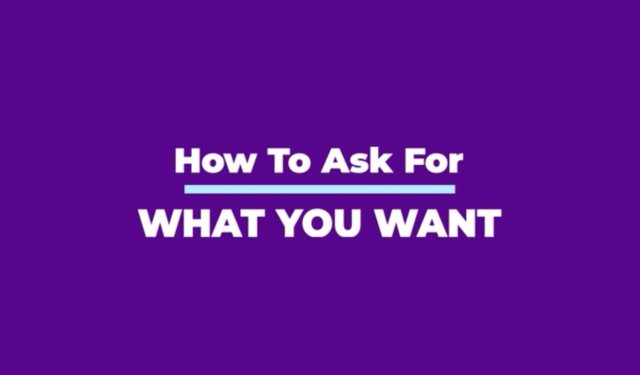 My dad always said to ask nicely for what you wanted. I said "what if they say no! My feelings will be hurt!" My dad replied that No would hurt, but only for a few minutes or seconds, but Yes would make feel good the rest of the day or longer, depending on what I asked for...".
I think it's not as simple as asking nicely for things anymore, but knowing how to ask for things is important and probably determines our success. Certainly manners and tact are important, but I think there are other things that help as well. I read an interesting article yesterday and I wanted to share it with you. It was on this website called Stand up for success.
Follow These Five Steps to an Effective Ask
Here's a process that will prepare you to ask for what you want. (I've carried through with the example of asking for a raise, but the process is equally effective when you want a promotion, an exciting assignment, time off, better working conditions, or help from your family with household chores!)
Know Your Value — What do you bring to your company or team that they would otherwise have to do without? What have you accomplished for them? Can you put a dollar figure on the clients you've won, the time you've saved through good management? Even intangibles like increasing team morale can sometimes be quantified ("our team lost only one member last year; the other teams all lost two or more")
Do Your Research — What do others at your level, in your field, get paid? How fast have others in your company been promoted? Are you being fairly compensated (often, women and people of color are not)? Should you be making more than others, because you supervise more people, manage more projects, or have special expertise?
Develop Your Strategy — You know your manager! Are they best approached at 8am on Monday morning? Over drinks on Thursday night? After a difficult project has wrapped? Should you make an appointment, or have a casual conversation? Do they need time to process, or pressure to decide? And WHAT is the argument that will win them over? (To answer this question, think about The Four Public Speaking Personalities.)
Plan Your Speech — Don't leave this important conversation to chance! Work out what you're going to say (perhaps using the Instant Speech format), and then…
Practice, Practice, PRACTICE
You're now ready to prepare an ask.
What do you think?
Reference: