source

Repository
https://github.com/esteemapp/esteem-mobile

What is eSteem Mobile
eSteem Mobile is a Steem based social application where you get paid for sharing valuable comntent with others, commenting on posts, interacting with other users and curating by upvoting other posts. eSteem Mobile is available now for both iOS and Android, updated regularly to meet your needs.

Project Details
@good-karma the founder of eSteem, (@esteemapp) launched the eSteem Translation Reward program 11 month ago and asked users speaking various languages to help translating eSteem Surfer and Mobile into several languages.

Links related to this project

My Contrubution To The Project
Translating eSteem Mobile - English-Hungarian - Part 4 - 255 words.
The initial language was English and my task was to translate eSteem Mobile into Hungarian.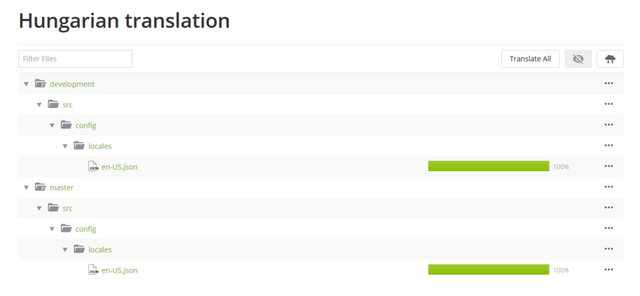 Screenshot of Hungarian Translation status, translated 100% both master and development.
Any additional string added in the future will also be translated and approved by me.